Windows 10's Microsoft Edge browser shown in video, new F12 developer tools released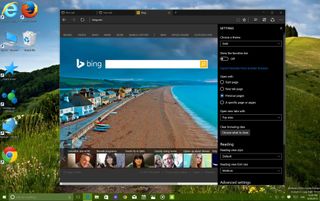 Microsoft continues its daily "10 Reasons to Upgrade to Windows 10" feature on YouTube with a look at the all new Microsoft Edge web browser. At the same time, the company has updated its F12 tools for website developers to help them make pages that work well with Edge.
The video is definitely aimed at folks who have not heard that Microsoft has developed a new browser for Windows 10. It looks at features such as recommendations when typing in words in the address bar on Edge, along with easy ways to share and even mark up pages (provided your hardware supports that, of course). It also shows how pages can quickly be saved for offline viewing later, or viewed in a new reading mode without a lot of ads.
Microsoft has updated the F12 developer tools with some new features, including an experiments tab. Microsoft says this will allow web developers to test any new features on their sites that Microsoft does not consider to be 100% percent ready. It adds that Microsoft is working to add new sections and content to its developer files. It says:
Source: Windows (YouTube), Microsoft
This ad, and more so the new Surface for Students, are the kind of ads that Microsoft has needed. SHOW the benefits of the profucts, that is all that is needed!

I agree, show the benefit and how it works, simple. I noticed a massive iPhone ad today that shows a photo with the text "taken with an iPhone". Nothing more and the picture quality sells it. Microsoft needs this type of advertising, not flicking fingers!

I don't Find it okay that we have to say "look Apple is doing this well, go and do it like that Microsoft!"

Because Microsoft has nothing to learn from Apple or Samsung?

Lol remember when they were talking about looking at photos on an Apple watch like who's gonna put their eyes close to a watch to see

but it's disgusting when the fut-skinned-worm video by iPhone is advertised on TV, and I was eating while watching the TV...

This type of ad should be on TV globally... Specifically in India... Here some idiots still think chrome is better than Microsoft Edge

Any proof to the contrary? No fan of chrome but at least back it up.....

I wouldn't knock chrome so hard. It can render windowscentral.com better than Edge can. They are both good and Edge needs some maturity.

What does this mean for me, I'm not a developer?

It means that when you upgrade to Windows 10, you'll be greeted with a new browser.

Wpcentral, frequently updating post. Good...

I want to like this browser but I don't think I can. Its too irregular for normal surfing. Adverts kill this browser and its a throwback to the days of GeoCities on every site you visit. I really can't understand how MS thinks this will do anything but drive up support costs. It makes a nice video though. :)

Agreed. This thing is years from maturity, and with th other players in the market, I dont know if it will ever get there.

When will we see start seeing decent add-ons for Edge? Like Adblock Plus? Not that I would ever use that on this site.

Hopefully the F12 updates make it as useful as chrome, although chrome can't emulate previous versions of IE.

I've found ie11 and Edge's F12 to be comparable to chrome's dev tool. Actually, the Edge tools are a little less buggy with live editing.

They should work on the mobile Edge tho

Nice ad.. Was expecting babies in it :)

Nice, this site is full of error messages :) Mostly related to ads on the front page. EDIT And with every ad error it takes up more memory which explains why I can't leave this site up all day.

I prefer to use the Windows Central apps myself, as I find that at times the performance can be really bad on a range of devices, and this is when using Chrome...

Did the dev tools actually update or is this just their official announcement?

The new Microsoft. Thanks, Nadella. :)

Sadly, Edge is still very buggy and unstable for development purposes. I've been giving it an honest try the last two days and am so frustrated at the constant crashes. Opening a second instance of the F12 tools for another tab, switching tabs within the same window while F12 is open, or dragging a tab out to make a new window all have a very likely chance of breaking Edge on my development machine, but it has been pretty reliable about recovering tabs on restart. It's come a long way, but still has a long way to go to catch up with Firefox and Chrome on stability.

did they use the search charm or am i too sleepy

It's not the charms bar but that "Share" UI is the old one from Windows 8 and is still peppered around various apps

Well, technically a mouse is enough to mark up web pages...But I get what you mean by "if your hardware supports it" as it's ultimately a better experience with a Pen or even just a touchscreen, however there are some tools not shown in the video that work better with a keyboard and mouse,like comment boxes

Great feature ad. But the music -bleh.

All i hope is that windows remain on top!
Windows Central Newsletter
Thank you for signing up to Windows Central. You will receive a verification email shortly.
There was a problem. Please refresh the page and try again.