Windows 10's upcoming Cloud Clipboard feature showcased in new screenshots
Screenshots of Microsoft's upcoming Cloud Clipboard for Windows 10 give us our first real look at the feature.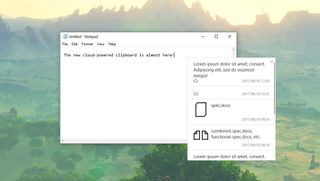 Earlier this year, Microsoft announced that it was working on a new feature for Windows 10 called "Cloud Clipboard," which gives the user the ability to copy text, images, files on one device, and paste that content on another. Oddly, Microsoft never actually showed off this functionality in full, and later was delayed from the Fall Creators Update.
Today, screenshots of the upcoming feature have appeared on the web, giving us our first proper look at what we can expect from Microsoft's upcoming Cloud Clipboard. Thanks to some reverse engineering and tinkering, Rafael Rivera has unlocked a super early version of the Cloud Clipboard feature in build 17004. Since this is an early, unfinished build, the actual "cloud" part of the clipboard isn't functioning yet, but we do get a look at the features UI.
The UI is pretty straightforward, offering your copied content in a timeline-like manner. It's a list, ordered by time, of all the things you've copied on your device and other devices that you're logged into. Content copied to your clipboard on other devices are marked with a little cloud icon, which indicates that that content is not local on the device you're pasting it on.
Cloud Clipboard will be incredibly useful for those who are often switching between many devices at one time. Instead of emailing yourself a link, image or document, you can simply copy it on one device and paste it on the other. Insiders should see this feature show up officially in the coming weeks and months, so make sure you're an Insider if you want to test out this feature before anyone else.
Windows Central Newsletter
Get the best of Windows Central in your inbox, every day!
Zac Bowden is a Senior Editor at Windows Central. Bringing you exclusive coverage into the world of Windows on PCs, tablets, phones, and more. Also an avid collector of rare Microsoft prototype devices! Keep in touch on Twitter: @zacbowden.
This looks really useful, if it will link to my MS account on my Android phone

You can have that exactly same thing with Roamit app. Ctrl+C in one device, ctrl+V on the other. You just need to enable feature called Universal clipboard.
You can use it on Windows 10, Windows 10 mobile, Xbox if I'm not mistaken, Android, and it also has extensions for Firefox and Chrome. Roamit
https://www.windowscentral.com/e?link=https2F%2Fclick.linksynergy.co...

I presume this will only work if the person is signed into t heir MS account and I also presume that it can be disabled. i already use a clipboard manager and have been for years, I do not need another one.

Interesting. What clipboard manager have you been using exactly?

Clipboard master, it does the job I need and that is to keep a list of stuff I have clipped, very useful.

No problem, there is another one I like and tired called Clipmate, but it is too expesnive.

The first thing to have disabled in companies due to security!

I do not know why you got the thumbs down, because you are correct, Our computers at work are locked down, you can not even stick a USB drive in them as ithey will not allow it. so even if we got windows 10 at work, I can not see this feature being enabled. Not that I can see us going to Windows 10 for a long time, only just updated to windows 7 from XP.

Than this feature is not for them, but for somebody else. Simple as that. The features definitely isn't bad like his comment suggests. ("Oh, yet another thing I'll have to disable"...) We don't care.

I do not think they said was bad unless you are reading something I am not, all what was said was that companies will disable it because of security. That is if Ms makes it easy to disable mind you, they do not like stuff being disabled, you only have to look at cortana, still running int he background even when disabled. Not on my computer mind you, Cortana is well and trully gone.

I wonder how microsoft will drop support. I hope not though...

Even i can see that the UI is early days and I expect it will get better, but then t windows 10 ui is ugly anyway. So nothing new.

The UI looks awful, but it's theoretically a useful feature. I would not use anything like this without End-to-End Encryption, or without it only working for devices in close proximity to each other (and auto deletes after a short time). Otherwise, every piece of text, image, URL, etc. you copy is fair game. I really hope this is not a service that runs automatically on my machine, cause I don't even have a Microsoft Account and don't want this kind of stuff sent to them. If this is the case, I'd likely replace Windows with Ubuntu the day this update releases.

It's just a new way to spy on your personal business and to try and force a reliance on cloud, it's no wonder windows 10 is doing so horribly with adoption, 2 and a half years later and still can't break 30%.

thhis is the problem with a lot of stuff, they want to try and push us onto the cloud, mayube they think once they get us all relying on the cloud they can charge and we will be stuffed.

What I really want to see is a detailed description of what sort of encryption is used etc. The way it's done (if at all) won't affect a lot of people but MS are the ones who need to be looking out for the average consumer and making sure this is secure. I'm sure they will be....But they should open up about that in a Blog Post for Insiders at some point.