Windows 10X is the name of Microsoft's OS for dual-screen devices, according to leak
A new fork of Windows 10 could be announced soon according to a new leak.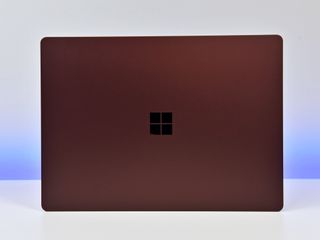 What you need to know
A new leak states that Windows 10X is a fork of Windows 10 built for dual-screen devices.
Rumors state that a dual-screened device will be shown off at the October Surface event.
The Surface event is only one day away and could be one of the biggest Surface events yet.
A new leak from Evan Blass reveals the name of Windows 10X, an alleged fork of Windows 10 designed to run on dual-screen devices. Rumors of a dual-screen Surface device from Microsoft have circulated for months, and many believe that a new dual-screened device will be shown off at the October 2 Surface event.
Blass's account is private, so many users won't be able to see the tweet, but as reported by The Verge, Windows 10X will run on the rumored Centaurus device. Windows 10X is also reportedly the same thing as Windows Lite.
Blass's tweet does not include any images of Windows 10X. It does state that the operating system is designed for dual-screen devices like Centaurus.
In addition to rumors around Centaurus, there are also reports that suggest a new Surface Pro, a new Surface Laptop, and a Surface device powered by an ARM processor will be announced at the Surface event.
Windows Central Newsletter
Get the best of Windows Central in in your inbox, every day!
News Writer and apps editor
Sean Endicott brings nearly a decade of experience covering Microsoft and Windows news to Windows Central. He joined our team in 2017 as an app reviewer and now heads up our day-to-day news coverage. If you have a news tip or an app to review, hit him up at sean.endicott@futurenet.com (opens in new tab).
i dont really care about a dual-screen device but what device comes with the burgundy color pictured?

Thanks! That is a good looking machine. I wish the surface pro came in more color's than silver and black.

I'm guessing Surface Pocket will be running something called EdgeOS. You will have the color option of burgundy, but probably not with the initial developer's edition.

Windows TenTen, great name! Not going to confuse anyone when their new Windows machine doesn't work like it has for decades.

I agree with you regarding the name but one thing that isn't specified in this article (probably because most of us already know) is that the OS will be able to run legacy apps via "localization" containers, something most users won't notice or care about. The power users like us might be less willing to jump on the Windows 10x bandwagon but most people aren't power users.

Haha exactly, come on bleached.

Just a joke based on Apple's iPhone "X". If it is Windows. Call it Windows. If it isn't, don't call it Windows. They started with Windows 10M, then 10S, and now 10X. How long before they rebrand it as "Windows 10 in X Mode"?

I think they should name it something else, but the OS still runs Windows applications, Win32 and UWP.

We don't exactly know that, or at least the mechanics of it. We will see tomorrow I assume. If it runs Windows apps, then just use Windows. Add whatever you need for dual displays to Windows. Otherwise, tying it to the Windows brand will not help adoption. It will just confuse depending on how different it is.

"We don't exactly know that"

We know that and have been saying it for months. It runs Win32 apps.

Then I wonder why someone would want this instead of Windows? It seems to me this operating system is competing with full Windows first and foremost. I guess we will see what argument Microsoft makes tomorrow.

As far as I can tell this OS is supposed to scale better for unique display requirements than standard Windows.

This is hilarious. And honestly, being genuine, it's even funnier bc is coming from you lol

How about suggesting a better name @bleached?

Are we sure 10X is specifically for folding devices and not WCOS as a whole?

HoloLens 2 runs WCOS and is just called Windows Holographic. Hub 2 runs WCOS and is just called...well, not Windows 10X.

I can't help it... the X keeps reminding of https://www.youtube.com/watch?v=cROY4m4Ftiw

Au contraire. Names are crucial. After years, Microsoft has finally learned this. It will not be called 'Windows 10X.'

Jeez just call it Windows.

It's just 10X. Not ten ten, unless you are still a Roman or like to pretend to be. Xbox is not "Ten box". Better than Lite, which sounds like a diet drink.

So, 10-10...? A bit lame, i'nit?

Better than Windows Lite. Also, genuine lol at the people in this thread who apparently read all X's in their life as if they were roman numerals.

It is a joke based on Apple's claim with the iPhone X. They want you to call it iPhone 10. I personally call it iPhone Ex.

Same, I call it iPhone X.

And why should I buy that now that I have a Samsung Galaxy S10? I mean I am still looking at the Lumia 950 XL on my table.... What do we need it for? What function does it have that an Android phone plus a small laptop cannot do?

Tune in tomorrow to see Microsoft begin to make the case. Until then, even having an opinion on it with so little information (or not having seen the device) is super premature. I'm not sure when people starting making conclusions on so little information, but it's a bit weird and illogical imo. Bigger point is this (and it's a a hard one for some people to swallow): Not every PC created is meant for you or meant to meet your needs. The more interesting question is does Windows 10X + foldable PC bring value to some people, let them do something that current technology cannot?

Yeah does that device do that? That is such a good question you asked there 😊

Everyone makes conclusions with little information since always. It's not weird, nor illogical. Just thoughts.

It's entirely riding on how the OS works in conjunction with two screens, because the device itself (based on information currently known) isn't unique.

The 64000 Dollar question is can the "Centurus's (AKA 2019 Courier)" 10X OS be upgraded to run
full Windows 10 Pro or Home. If it can it may sell better in the Market place One thing for sure
is The Centaurus device will be hacked by someone to run an OS other than Windows 10X

Why would you want to run Windows 10 on the Centaurus?

No... This question is actually worthless. No one is asking that. You JUST made that up
Windows Central Newsletter
Thank you for signing up to Windows Central. You will receive a verification email shortly.
There was a problem. Please refresh the page and try again.