A closer look at Microsoft's new Start menu and taskbar on Windows 10X
We go hands-on with the new Start and taskbar experiences on Windows 10X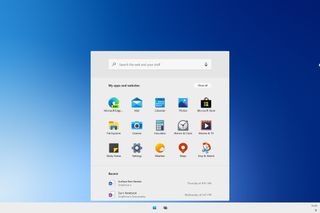 (Image credit: Windows Central)
Microsoft is building out brand new experiences for both the Start menu and taskbar on Windows 10X. The new variations of interfaces we've been using for over 20 years give us an interesting look into how Microsoft is adapting Windows for future devices and form factors. With fluidity and minimalism front and center, Windows 10X is all about making the Windows experience simpler, stripping back unnecessary legacy bloat in favor of a streamlined user experience.
Today, we're taking a closer look at the new Start and taskbar experiences found in the first public preview build of Windows 10X. Now, this is all pre-release content, so it's likely that these features will have more capabilities and improved interfaces by the time it launches later this year. So keep that in mind.
Everything you need to know about Windows 10X
The new Start menu
Microsoft has completely redesigned the Start menu experience on Windows 10X with a focus on enhanced productivity and minimalism. Gone are the noisy, colorful live tiles of yesteryear, and it's a static grid of icons that has proven popular and functional on other platforms with a GUI. To compensate for the removal of live tiles, Microsoft is updating all in-box app icons with new colorful designs, which look great with Windows 10X's modern aesthetic.
The Start menu on Windows 10X combines three core system functions; search, apps, and recent activities. On Windows 10, these functions are split into different areas, so it's nice to see Microsoft consolidating these on Windows 10X. Along the top is an inconspicuous search bar that allows you to search your apps, files, and the web. In the current public build, this search UI is a little barebone, but I understand that this isn't the final design, and a more feature-complete search UI is on the way.
There's also a microphone icon inside the search bar, but it doesn't work just yet. I think it's fair to assume that this will let you search using your voice instead of typing on a keyboard. I don't believe it's a Cortana-driven experience, but I could be wrong.
Below the search bar is your list of apps. This is a customizable list, similar to a smartphone home screen, in that you can reorganize the icons to your heart's content by clicking and dragging. The default view is three rows of five icons, and if you want to see more, you can press the "show all" button in the top right. Right now, Start menu customization is very barebones, but I understand that features like app folders and notification badges are on the way.
Interestingly, the Start menu makes mention of websites in addition to apps. The integration isn't fully baked just yet, but in the final product, Windows 10X will treat web apps as if they were native Windows apps. Users will be able to install websites as apps, and they'll show up in the Start menu and taskbar as if they were a regular app.
Below the apps list is your recent activities area. This is similar to Timeline and the "Recent activities" area in Search on Windows 10, except without visited websites. The recent area in the Start menu on Windows 10X only appears to show Office documents, and installed apps. This can and likely will grow to support more content at launch, but for now, it's a quick way to find your most recent Office documents.
The new taskbar
The taskbar on Windows 10X is also brand new. It has been rebuilt using modern code and is a more streamlined and fluid experience over what we have on Windows 10. Firstly, the experience is now centered by default. The Start and Task View buttons are aligned in the middle, with open and pinned apps showing up between them, pushing each system button further apart the more apps you open.
I've seen some people show dislike towards this design, as it means the Start and Task View buttons are continually shifting. I see why some might consider this a problem, but in practice, it really isn't. Visually, you can always see where the Start and Task View buttons are, as they are distinctly at either end of your pinned and running apps.
Beyond foldables: Where Microsoft is headed with Windows 10X
Still, if users can't handle this design, I believe there will be configurable options in the Settings app to change this behavior. If you prefer the old-school taskbar with its left-aligning design, you can re-enable that if you want. You will also be able to change the size of the taskbar with three options; small, medium, and large.
One significant change to the taskbar on Windows 10X is the removal of the system tray as we know it. There's still an area on the far right for the time and system icons, but it's more of a single button that opens the Action Center now. We'll be taking a closer look at the Action Center itself in an upcoming article.
The tray icons that do appear on the taskbar won't be from apps minimizing to the system tray. Apps that are designed to minimize to the system tray won't show up there anymore. The only tray icons you'll see on the taskbar are status icons such as battery status, internet connectivity, a notification icon, as well as miscellaneous system notifications. I really like this change, as I've always found the old system tray to be noisy and unnecessary. I don't want apps minimizing to the system tray, and now they won't on Windows 10X.
I mentioned above that the new taskbar experience is more fluid, and that's thanks to several subtle animations included with this new design. For example, when you minimize an app, the icon on the taskbar will bounce a little to match the minimize animation, which makes the whole experience feel a bit more connected.
There are also new fluid animations for when you hover over an open app to see a thumbnail preview. When you open an app, the icon will fluidly push the other app icons out the way to make room for itself.
Also new with the Windows 10X taskbar is a visual separator that divides your pinned apps from your running apps. For example, in our screenshot above, we have Edge, File Explorer, and Mail pinned, with the other apps being running apps that aren't pinned to the taskbar. This is a small change, but one I think really helps with organizing the taskbar. Your pinned icons are always on the left.
What do you think?
So that's a closer look at the new Start menu and taskbar experience on Windows 10X. Of course, this is pre-release code, and therefore is not representative of the final product. These features will likely be enhanced and improved with new additions before launch. For now, what are your thoughts on this early look at the fresh new Start and taskbar interfaces? Let us know in the comments.
Windows Central Newsletter
Get the best of Windows Central in in your inbox, every day!
Zac Bowden is a Senior Editor at Windows Central. Bringing you exclusive coverage into the world of Windows on PCs, tablets, phones, and more. Also an avid collector of rare Microsoft prototype devices! Keep in touch on Twitter: @zacbowden.
This is thing is a joke. I prefer the task bar to have the app name next to the icon.

Can you guys give us a look at Cortana on Windows 10x? I have not seen any mention about her and what to expect.

I have to trust the hierarchy of MSFT to do what is in the best interest of the company. However personally I am sad to see the Live Tiles go away. I've always felt that was such an aesthetically enhanced why to provide information at a glance that was far superior to other form factor. The reality is it never really caught on so I can't say I'm surprised that MSFT is slowing removing it's presence. Still Windows 10X looks more like something I would see using a Chromebook and that doesn't interest me at all..lol. I'll just have to wait and try it out and see how the functionality is so I can provide a better assessment of it.

How about enter 2020 already?

20 years of improvements and enhancements and this new UI is just a step back to make dumb Android users happy and able to use a computer.
Why don't they bring back Windows 3.1 UI, it is not so different than the direction MS took.

I get the sarcasm with Windows 3.1, but suggesting a step back for another step back, it's not really a solution to the problem. UI/UX department has done a great job on this upcoming release. Long live XFCE.

Then why don't you go back using sticks to start a fire but press one button on a lighter instead? You dumb lighter user. Got it?

Windows 10 feels so good right now, I would hate to see it change so much. I wish they would put all this energy into just working on the back end.

Call me an outlier, but I love everything I'm seeing. This is the Windows I've wanted since I bought the Surface RT. I get that their needs to be a big, bloated mess of Windows for legacy and enterprise, but I don't need that stuff. I need a sleek, minimal, modern build that is as smooth as iOS. Neo is the computing device I've dreamt of for years.

I will miss live tiles, but all the rest i see i do really like.

Couldn't agree more. I NEED Neo, its my most anticipated devices this year besides Xbox Series X.

I love this new Taskbar new look so far, which seems to improve few things like pinned and open apps separation and a proper system status area that acts a button (or swipe?) to open Action Center, similar to the mobile OS including W10M used to do. Gone are the cluttered system tray icons just to keep Win32 keep in the background. The centered UI of the Taskbar looks fresh and good thing there is still an option for left align which is better when it will be more predictable to target the Start buttons and other Taskbar icons when using mouse. For touch, this is not a problem and centered Taskbar will have more benefits for touch users because of proximity. So maybe Left aligned Taskbar for Desktop Mode and Centered Taskbar for Tablet/Dual-Screen mode. Start Menu is something I have a mixed bag with. Likely due to being unfinished and lacking several basic features that we take for granted like Folders, Notification Badges, Letter Categorization, and Jump List. At the moment Start Menu is tad too basic that even Stock Android Launcher is way more feature-packed in comparison or let alone the iOS/iPadOS which features Jump List-like feature and Widgets, more into later. For me the All Apps needs a Letter Category like the current All Apps list to better separation between the list/grid of apps. Makes it easier to scan through apps when browsing through, and also acts a quick jump between letters when pressed/clicked. Win32 Apps should be automatically put into folder, since they are not design for this flat hierarchy All Apps even since Windows 8. Actually like Windows 8.X where All Apps don't support Folders, this is bound to be cluttered quickly by other Win32 executables, help and uninstallers. At least Windows 8.X are grouped so this at least are organized. This is worse for new Windows 10 X Start Menu if categories/groupings and folders are not implemented. Now on to Widgets. This is about again for Live Tiles. Now honestly I'm sad that we are moving away from it, but I'm perfectly okay if there is a replacement. The problem is there is none at all, or at least we know of. Which looks more basic now as compared to other platforms like macOS, iPadOS(always shown widgets)/iOS, and Android (messy widgets system but at least useful and highly customizable). Microsoft Launchers have Cards/Widgets but oddly that concept didn't make through to Windows 10 X. So the experience is now disjoint between two platforms, despite the Microsoft Launcher and Windows 10 X new Start Menu seems to share similarities. I think its better if Widgets or more fancy, Cards UI be implemented for Windows 10 X as a replacement for Live Tiles. But unlike Live Tiles, the new Cards do not replace grid of icons on the new Start Menu, instead you pin them on the Desktop where it is always visible. This makes them useful since you can always able to glance information and interact with its functionalities when desktop/homescreen is shown. Also unlike Live Tiles which is more of a core experience, the new Cards is bit more optional. User can choose not to Pin anything on the home/desktop and just have wallpaper. So its a win-win in terms of customization. For existing apps already make use of Live Tiles, with new Cards UI. They simply become Cards but without buttons or any other interactive features. They are just to show information and when tapped/clicked, only opens the app, just like what the Live Tiles do. Also they are now forced to be Wide or can be resized to Large Tile, but no more 1x1 or 2x2 Tile just for consistency with Cards. Or they can also have Cards to be another column for new Start Menu, while keeping the grid of icons. If nothing is pinned, then it will look exactly like what is on the current Windows 10 X build.

Great minds think alike! Was about to say exactly this. The desktop seems like a waste of space now just emptiness! put livetiles/widgets on it and it will be beautiful Ive said this many times for win 10 as well

I personally would still opt for a full screen option for start...

I would prefer a dock to a taskbar. I don't think this is going to be good for the Surface Neo. It will have onscreen caption buttons and a taskbar. The new app design doesn't look very good either.

With Edge Chromium I can "install" websites as "apps" and then pin these apps to the current Windows 10 Start menu. So my Start menu contains a mix of links to websites (e.g. Windows Central, Microsoft, ...) and local programs (e.g. Outlook, OneDrive, ...) Is the expected Windows 10X Start Menu experience (much) different from this?

Reminds me of Deepin Linux distribution.

Seems that without a Start Menu with quick access grouped and variable sized tiles, I'll need to start cluttering my desktop with icons all over again. A step backwards imho. How are you supposed to see the weather, your calendar or even the news at a glance with the new Start Menu?

"it's a static grid of icons that has proven popular and functional on other platforms with a GUI" BOOOO... Lol, but whatever 😅💖💻📲

It reminds me of chromeos.

Hopefully feature of background wallpaper for startmenu &
App icon shortcut on desktop is there during release.

a new flexible (many options to change) design is always welcome, but what i really care about for now is having a faster OS than what we have.

Hopefully it's faster than Android Vista then I can hack it onto my crappy Android phone

Looking good so far. I like it. Clean, simple and does the job. Wish it was translucent though. But what happens when you pin too many icons on the taskbar and the screen estate ends? And can you open multiple instances of one program? How the taskbar behaves? Is W10 Timeline going to be implemented instead of the task switcher only?

In the past technology used to look to the future, when mostly only tech specialists used to use it.
Nowadays it looks to the past, since it needs to make happy dumb consumer users not able to move forward.
Metro UI was the future, instead what MS is doing now on Windows UI is just a step back to the past.

It comes down to the state of society, humanity and the World in general. Can't you even understand that concept? It's not a regression by any means. It's psychology

As others here have mentioned, getting rid of Live Tiles without replacing it with a system like widgets to provide information at a glance will be painful for many users including myself. If I wanted a Chromebook I'd buy a Chromebook. I'm a grown up. I need information at a glance on my devices.

Yeah at the moment, Windows 10 X is more akin to Chrome book when it comes to lack of Widgets or dashboard-like homescreen. Even Android (though messy) still have widgets and pretty powerful, only if Widgets have more uniform looks. Hopefully there is still time to add it ON Windows 10 X, even not Live Tiles but Widgets or Cards would be a better replacement. That seems to be more proven since Android, iOS/iPadOS and macOS has it. I guess some Linux Desktop Maneger as well also supports Widgets? Can't think on top of my head.

They need to add more options to control it, everytime you open an app, the start keeps shifting to left side, so the position will change as of how many apps are running, i would have positioned in center all the time.
Windows Central Newsletter
Thank you for signing up to Windows Central. You will receive a verification email shortly.
There was a problem. Please refresh the page and try again.