Windows 11 benchmarks show potential promise for big.Little CPUs
More Windows 11 benchmarks show improved performance, but we shouldn't count any chickens yet.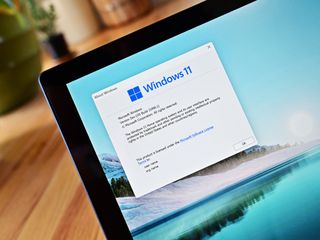 (Image credit: Daniel Rubino / Windows Central)
What you need to know
New benchmarks tested on hardware running Windows 11 appear to show a boost in performance.
One theory is that Windows 11 has been optimized for big.Little architecture that's seen in Intel Lakefield processors.
As with all Windows 11 benchmarks, it's important to take any results with a grain of salt.
With Windows 11 leaking online, people around the web are rushing to see how it compares to Windows 10. A report from HotHardware suggests that the new operating system from Microsoft delivers a performance boost compared to its predecessor. HotHardware's theory is that Microsoft optimized Windows 11 to work with the big.Little architecture that's seen in Intel Lakefield chips and that will likely be in Alder Lake CPUs.
Before we dive any further into benchmarks and theories that attempt to explain them, it's important to put these figures into context. Windows 11 is not officially released, so any version that someone tests is incomplete. It also won't have drivers optimized the operating system. This affects benchmarks, especially 3DMark.
Additionally, benchmark reports don't always provide a complete picture. There may be other differences between machines than the operating system or other factors that affect performance. We recently saw a story about Windows 11 benchmarks prove to be inaccurate.
With that context, we'll take a closer look at the results by HotHardware. The site tested a Galaxy Book S with an Intel Core i7 processor running the Windows 10 May 2021 Update and Windows 11 (21996.1).
Geekbench 5
Geekbench 5.0 (CPU) (Higher is better)
Swipe to scroll horizontally
| Device | Operating system | Single core | Multi core |
| --- | --- | --- | --- |
| Galaxy Book S | Windows 11 (21996.1) | 895 | 1,801 |
| Galaxy Book S | Windows 10 21H1 | 875 | 1,707 |
BrowserBench Speedometer 2
Web Application benchmark (Higher is better)
Swipe to scroll horizontally
| Device | Operating system | Score |
| --- | --- | --- |
| Galaxy Book S | Windows 11 (21996.1) | 84.6 |
| Galaxy Book S | Windows 10 21H1 | 76.3 |
Cinebench R23
3D Rendering (Higher is better)
Swipe to scroll horizontally
| Device | Operating system | Single core | Multi core |
| --- | --- | --- | --- |
| Galaxy Book S | Windows 11 (21996.1) | 766 | 1,842 |
| Galaxy Book S | Windows 10 21H1 | 708 | 1,810 |
Futuremark PCMark 10
Applications (Higher is better)
Swipe to scroll horizontally
| Device | Operating system | Essentials | Productivity | PCMark 10 | Digital Content Creation |
| --- | --- | --- | --- | --- | --- |
| Galaxy Book S | Windows 11 (21996.1) | 5,975 | 3,533 | 2,490 | 1,974 |
| Galaxy Book S | Windows 10 21H1 | 5,755 | 3,222 | 2,424 | 2,022 |
UL 3DMark Night Raid
Graphics (Higher is better)
Swipe to scroll horizontally
| Device | Operating system | Score |
| --- | --- | --- |
| Galaxy Book S | Windows 11 (21996.1) | 4,286 |
| Galaxy Book S | Windows 10 21H1 | 4,266 |
.
The benchmarks suggest a performance boost when moving from Windows 10 to Windows 11 on the Galaxy Book S. HotHardware theorizes that this is due to optimization of the big.Little architecture inside of the laptop. Until Microsoft announces Windows 11 and explains how it differs from its predecessor, we can't say anything for sure.
Luckily, we don't have to wait long to hear official word from Microsoft. The company will hold an event on June 24, 2021 to showcase Windows 11.
Get the Windows Central Newsletter
All the latest news, reviews, and guides for Windows and Xbox diehards.
News Writer and apps editor
Sean Endicott brings nearly a decade of experience covering Microsoft and Windows news to Windows Central. He joined our team in 2017 as an app reviewer and now heads up our day-to-day news coverage. If you have a news tip or an app to review, hit him up at sean.endicott@futurenet.com (opens in new tab).
Is this i hint that Samsung will become first party for Windows 11 on mobile devices they have traditionally only done on android? and if so, is that more fuel for the prediction that Windows 11 store will support android apps to help bridge that?

This means that Windows 11 is better optimized for intel's newest processors that use the Big.Little architecture.

Don't forget the compatibility of DDR5 RAM with Intel's 12 Gen CPUs
IT WOULD BE SO AMAZING i hope Windows 11 will be next gen both Looks and Features wise
LETS SEE THE EVENT GUYZ , i hope they blow our minds away XD

so essentially just fixing their architecture problem they had been penalized by for years because of spectre?

There's not such thing as optimised for a processor. You don't need drivers for base hardware. You either have a PC or you don't, on or off

The only reason they will be supporting Android apps if they actually a Windows 11 mobile. In the Windows store right now you can find all the apps you actually want on computer. Or 2 in 1.

@KJW23 android apps will in effect cause the same problem with WM10. Let me explain
1)Microsoft will have to re-do large amounts of work to get api hooks into WM11.
That introduces a massive attack vector for android based malware. 2)Since Wm11 will not run Google's mobile suite by the very nature of it being a windows device - you are not getting access to the play store period. 3)Android apps HAVE to be run containerised with passthrough and that is a s****** experience. I use Sailfish O/S that runs Android apps but containerised with passthrough and I can tell you know it's not for the average joe or faint hearted. I can work round these issues with SSH and Terminal - native tools built-in to Sailfish O/S. Also due to pure containerisation, certain things will NOT work such as tap to pay. Again you need API hooks, again you have introduced another security flaw into the o/s. Android based malware is extremely prolific as there are crazy amount of android devices out there that are unpatched and insecure due Android fragmentation. WM11 or whatever it is called will not have such tools without rooting the device which again defeats the whole premise of a secure mobile o/s. Sure, you could run Wm10 in dev mode but you never had root access.

@blahism Do people not understand the long term ramifications of bringing Android apps into windows? 1) They are hardly optimised for large screens, 2)Malware, 3)Why would any dev make native windows app if they can get away with Android app for Windows, Android and ChromeOS - which effectively makes everything Microsoft has done for the past decades useless. So can people stop clamouring for unoptimised apps on Windows, instead they should pushing Microsoft to fix the fiasco that is the "dev support" in the Windows store.

I am curious about Windows + AMD relationship
How will Windows 11 deliver for AMD processors I hope Windows 11 will be best of all its predecessors
Doing justice with both Desktop and Touch devices EVENT IS UPON US !!!
SO EXCITED

One thing is for sure. My PC from the early 200s takes a long time to boot versus my SP7, which is way faster than my Surface Go. Obviously, I should buy a new PC, but I only use it to drive a desktop scanner. Takes 20 minutes to start PC, get Scanner working and the file transferred via email.

Put an SSD into it and it will be like a new PC.

@Paul Warner chances are that @ddn123's PC uses IDE or EIDE... the fastest HDD around then would ba PATA drive or similiar (which used to overheat so you needed a seperate cooling fan for it lol). Also It's most likely using PCI not PCI-E so PCI-E adaptors are not an option lol.

Honestly a raspberry pi could hook right up to that scanner. With a little work you could probably expose it over your network and access it wirelessly from other computers. Use a lot less power to do it too.

Well no wonder it's having issues. It's 1900 years old.

Computers only started to get fast after the First council of Nicaea.

This could be useful for WoA too. Both 8cx and Samsung's own processor lines use Big.little architecture. I'm actually surprised we haven't seen an Exynos Galaxy Book Go yet.

Everybody need to remember this is Windows 11 Pro.
I just can't wait to see the performance of Windows 11X and Windows 11ES

So it seems to me that Windows 11 performance gains are not real. As it stands the current Windows insider builds are using the Cobalt "under the hood" improvements that is essentially Windows 11 without the wrapping. Any person can test the current Windows Cobalt performance versus public release builds, but these so called performance gains are only being paraded after "leaked builds" have become available.