Windows 11 relies too much on the web, according to Windows Central readers
Our readers want to see native apps take priority over web apps on Windows 11.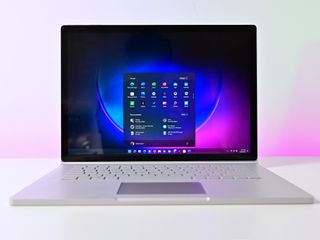 (Image credit: Daniel Rubino / Windows Central)
What you need to know
Windows 11 features several first-party web apps from Microsoft.
Several elements of Windows 11 are also built around the web, such as the Widgets panel.
Window Central readers overwhelmingly believe that Windows 11 relies too much on the web.
Windows 11 has a growing library of web apps, such as Clipchamp and the Teams chat experience. Additionally, several components of the OS require the web, such as the widgets panel. According to our readers, Microsoft should switch its priorities to native applications.
Over the weekend, we ran a poll about Microsoft's use of web apps on Windows 11. Just under 77% of polled participants think that Windows 11 relies too much on the web. Commenters pointed to high RAM usage, poor performance, and other issues when complaining about the heavy use of web apps on Microsoft's newest operating system.
"Web apps rely too much on web browser and the performance might not be adequate,"said Subsided animatronic in our comments section. "Basic os level applications should be native for ultra fast performance."
Others, such as Mapplesoft, believe that web apps have a place, but that native apps should be the priority. "Web apps are great as a backup option, but yes, native apps should be the priority. Native apps have better performance, security, customization options (generally), integration with hardware, accessibility options, and so on."
Some argued that web apps aren't flawed but that Microsoft has not utilized the technology correctly. "Web Apps aren't inherently bad, it is actually conceptually great since it allows developers to create apps that write once and run everywhere, and I think this is pretty much most of the app platform area headed to," said aXross.
"But the issue I find is how Microsoft approached and executed it, and not just as an app but an actual part of the shell which seems have bad execution of it."
Overall, readers heavily leaned toward native applications over web apps.
Windows Central Newsletter
Get the best of Windows Central in your inbox, every day!
News Writer and apps editor
Sean Endicott brings nearly a decade of experience covering Microsoft and Windows news to Windows Central. He joined our team in 2017 as an app reviewer and now heads up our day-to-day news coverage. If you have a news tip or an app to review, hit him up at sean.endicott@futurenet.com (opens in new tab).
Speaking as someone who wants ubiquitous access to my information, the web aspect doesn't bother me. What bothers me is how ugly, stupidly-designed and user-spiteful Windows 11 IS as a mechanism to access that information. I hate it with the passion of a million suns. And I hate every person who thinks it's a good OS, because they're largely the ones that pushed for this garbage.

You can accomplish the same with fast and lighter native apps, you can use something called APIs to keep synced all the stuff

It's not related but I need to vent... From a tablet perspective, Windows 11 is pure trash! I just bought a Surface Pro 7+ with Windows 11 and it's terrible to use as a touch device compared to when I got a tablet during the Windows 8/8.1 era...

Do yourself a favor. You want a tablet? Get an iPad. I gave up on Windows tablets when 8.1 went away, and even that wasn't nearly as good as an iPad.

What a ridiculous question. There is no such thing as "too much web". The internet is everything these days. "Commenters pointed to high RAM usage, poor performance, and other issues when complaining about the heavy use of web apps on Microsoft's newest operating system." Yeah, that's what happens when your "newest operating system" is actually a 30 year old desktop OS, that MS continues to patch in a pointless attempt to turn it into a "modern" OS. All that happens is that it gets bigger, slower and even more difficult to maintain.

Go back to study:
- The 30 years old desktop OS, use about 1gb of Ram to do everything a full OS can do
- The modern web widgets and chat use at least 300mb of ram each
Now do the math and come back again

In short. Offline and independent software >> Software as a service.

Office 365 desktop apps are actually software as a service, but it is a full fledge native app that will work even you are off the grid. But if connected, then you just get extra features like for collaboration and always updated which is obviously needed internet connectivity. Thing is, it is a matter of implementation and execution and not just only the technology itself. Web apps can be great, but how it is on Windows 11 and some of its apps are just nothing but a Web page wrapper in its own window/shell without offline capability.

It's only really an issue for me when using the search function. The amount of times it brings up web links instead of the file on my PC that I'm actually searching for is infuriating. Windows 10 did the same thing though. And also if my web connection is patchy for whatever reason it takes forever for the results of a search to populate (or even the search window to appear) even though I'm searching for local files. Very frustrating.

There is a Bing feature on the Windows 10 Search bar, that has the button 'map it'. Once click it won't open the UWP Maps app, but Bing Maps on the browser. Like, they have a Map app, but abandoned.