Windows 8 app update roundup: Music, Video, and Evernote receive new features and performance tweaks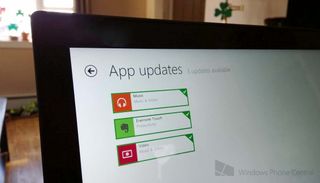 If you enjoy writing down notes while listening to music and watching a movie at the same time, then you are in luck because Music, Video, and Evernote for Windows 8 have received updates. Microsoft's Music and Video applications serve as the gateway to Xbox entertainment, while Evernote provides a Class A experience for organizing various types of data.
Music (2.2.767)
This week's Music app update includes more mouse friendly additions to please non-touchscreen users along with app reliability and performance tweaks. Now, users can easily re-order existing playlists and send songs to the top or bottom said playlist. In addition, adding music to one of your existing playlists will no longer automatically add it to your collection – you decide what goes where.
Video (2.2.767)
If you are more of a movie and television sort of person, you will enjoy the new updates brought to the Windows 8 Video app. Along with minor fixes and improvements to the application, opening the app now brings you to a "curated" section that intends on making video discovery easier.
Evernote (2.2.1.5)
Evernote, Microsoft's biggest OneNote competitor, has added a new "reminders" feature to make sure that you never forgot important tidbits. You can now add a reminder to the application and it will automatically pin it to the top of your note list. In addition, you can set the ability to receive in-app and email notifications when a due date is approaching. Lastly, you can mark off notes when have completed them to keep everything organized.
This week, three important applications have received updates that introduce new features along with improving the existing user experience. To download the current updates, you can head to your Windows Store app or click the respective links below for each application.
Update links: Music, Video, and Evernote
Which applications help you relax and enjoy your lifestyle?
Get the Windows Central Newsletter
All the latest news, reviews, and guides for Windows and Xbox diehards.