Windows 8 app update roundup: Music, Video, and Evernote receive new features and performance tweaks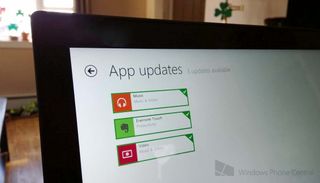 If you enjoy writing down notes while listening to music and watching a movie at the same time, then you are in luck because Music, Video, and Evernote for Windows 8 have received updates. Microsoft's Music and Video applications serve as the gateway to Xbox entertainment, while Evernote provides a Class A experience for organizing various types of data.
Music (2.2.767)
This week's Music app update includes more mouse friendly additions to please non-touchscreen users along with app reliability and performance tweaks. Now, users can easily re-order existing playlists and send songs to the top or bottom said playlist. In addition, adding music to one of your existing playlists will no longer automatically add it to your collection – you decide what goes where.
Video (2.2.767)
If you are more of a movie and television sort of person, you will enjoy the new updates brought to the Windows 8 Video app. Along with minor fixes and improvements to the application, opening the app now brings you to a "curated" section that intends on making video discovery easier.
Evernote (2.2.1.5)
Evernote, Microsoft's biggest OneNote competitor, has added a new "reminders" feature to make sure that you never forgot important tidbits. You can now add a reminder to the application and it will automatically pin it to the top of your note list. In addition, you can set the ability to receive in-app and email notifications when a due date is approaching. Lastly, you can mark off notes when have completed them to keep everything organized.
This week, three important applications have received updates that introduce new features along with improving the existing user experience. To download the current updates, you can head to your Windows Store app or click the respective links below for each application.
Update links: Music (opens in new tab), Video (opens in new tab), and Evernote (opens in new tab)
Which applications help you relax and enjoy your lifestyle?
Windows Central Newsletter
Get the best of Windows Central in in your inbox, every day!
I'm curious what proportion of windows 8 users regularly use the native Music app to listen to music on their computer. I personally use Zune or Spotify (on the desktop). These applications just seem easier to deal with when im usually on the desktop anyway..

I use it for the radio mix portion of it

I use it all the time too. Xbox purchases and music from the hard drive, it's all there and it works great!

I wish I could use Music app, but without lossless it is not useful for me...

Try WMA-Lossless. If you're ripping CD's, you can rip them in that format. (At least, on the desktop in Windows Media Player. I don't even know if you can rip CDs in the Music app. I just know WMA-lossless shows up and works in it.) Plus, the format also works on Windows Phone. I've even taken 5.1-channel 24/96 audio from Bluray, converted it to WMA-Lossless, and then played it without issue on my 920, (where the left channels are at left, right channels at right, and center/bass channels on both.) It's worth looking into if you want lossless. I'm sure there are plenty of programs that could batch convert an entire FLAC (or whatever lossless you may use) library into WMA-Lossless.

Audio snob haha. why don't you rip to .wav, flac is a lot of stuffing around to only halve your storage requirements. Can you 'really' tell between flac and 320kbs mp3. Test yourself to find out.

If you don't hear the difference between flac and 320 kbps mp3 files you must have a really bad audio setup or you are close to deaf. Think twice before saying something.

I hear music in both cases haha. Whether its good music or bad music depends entirely on your taste. 24bit SACD does sound different but the choice of tracks available in that format is limited, which defeats the purpose. Computers aren't supposed to be involved in two channel home hi fi anyways, keep that stuff separate. If its music for mobility then 320kbs plays the songs just fine.

ahahaha, i'd tos you and ask for your abx results but this isn't hydrogenaudio, so let's just leave this on 'ahahaha, yeah, sure'. much more if we're talking about listening on a mobile device...

Have you tried FLAC Player? It is not the easiest for getting the files to your device (i.e. you have to load them from your OneDrive) but it is a decent player on my 920. I keep a handful of my reference recordings on there.

I've created a few playlist that I really like on my phone so it is nice that they are synced with Xbox music on my desktop so that I can enjoy the same experience.

I use Music always.. in fact it's the only one I use (sometimes 8tracks)

I use the app all the time. I especially like it because I just type in the artist and hit play.

I want a 'folder player' app for w8. Its an essential app on my android tv box. Shuffle or straight play contents of folder, everything beneath a directory. Simple.

it already supports folder play Add your main folder and every folder that contains a support file will be listed and played.
No matter what folder it is in. If you are looking for something that will play everything (Video and Music) I am sure there is some app that can do that. Still think that is a pointless feature through.

I use it because i like the way it shows up with media controls when i press the volume keys on my laptop :)
The playlist import is really annoying though as it doesn't (as far as i can tell) update i.ported playlists
I manage all mine in itunes as i have an ipod but i have to delete 10 or so playlists manually whenever i get new music and then re import them...

How do you export iTunes playlists to the Xbox music app ?
I'm about to get a Surface (waiting for shipping) & I want to copy my entire iTunes library & playlists to it.
I'll copy the music folder to the Surface (which one is better ? Keep it internal or on SD) , but I have no idea how to move the playlists. Thanks.

I don't have a surface but if you're getting a surface pro it'll be the same as my laptop.
If you copy your itunes file (it contains all the playlist and artwork and settings data - i can't remember what it's called now) onto your internal along with the artwork folder and then copy the media (music etc) onto the sd then you should be able to open itunes and locate one of the files on the sd and it'll find all of them and you should have the playlists still
Then in the Xbox music app you just click the import playlists option at the bottom of the left hand navigation bar and it finds all the itunes (and media player) playlists
My main issue is the app has a limit of 1000 songs so my longer playlists get split up Am alternative is to export playlists as m3a files (i think that's the type) from itunes and then import and the app finds those.
The issue with that is you have to export again when you change the playlist

No, I'm getting an RT one.
• The 1000 songs limit, is that per playlist ? Or the entire app ?
• Regarding the Artwork (& IDtags) , can the Xbox music app read & display artwork of music edited by iTunes without coping the iTunes filter ?
• Can't you edit the imported playlists from the App it self ? Sorry for the long questions, I have no prior experience with the Xbox music app on W8+ , I'm still running W7 on my laptop. Thank you very much for all the information you gave me, I really appreciate your help.

I use the music app. Its more easier to use on my tablet and plays in sleep.

I use the Music app with my music pass. It's awesome being able to add any album I want to my collection and having it sync to my phone and my two laptops and tablet. Of course I only have the albums for as long as I keep paying, but I still love it.

I use Zune. Interface is more appealing and easier to manage my music.

Gave up on the Music/Video app and just uninstalled it. Until it matches Zune and iTunes in quality, it was just upsetting.

I use Windows Media Player or Amazon Cloud Player in Windows 8.1. I think I only used the Music app twice, mostly just to see if it worked.

It's update day. Now give us WhatsApp. ;-)

This is about Windows 8, not Windows Phone.

You are right, but who cares? Never expected firmware for Surface 2, but waiting for WA.

Great how about a fkn Stop button? And the Music app uses 10x more RAM than Media Player Classic.

Since Zune, you don't stop the music, you pause it. from there you can resume or simply play a different song. There is no real need for a stop when all it does it pause and resets the track back to 0, with pause you can at least resume.

Just give us the button :)

Why? It's a pointless button. no value to it. no reason for it.

How about dragging and dropping artwork? Cloud locker?

I can't wait for that day when they add that feature. Has to be in the top two annoyances for me about Xbox music, and that it will sync everywhere

I use Zune but appreciate the updates nonetheless :)

Im tired of bringing this up, but I swear no one at Microsoft listens. Everyone I know that uses the Music or Video app says the same thing:
FOR THE LAST GOD DAMN TIME - GIVE US BACK THE ABILITY TO MANAGE OUR PERSONAL MUSIC AND VIDEO LIBRARIES!
So tired of all my Movie and TV shows being lumped in a mess under 'personal' with meaningless frames as the thumbnail. Go see the Movie Premier app. That is how it should look. Same goes for the music app. It males a complete mess of my library and there is no way to tweek the tags. Even worse is the cloud fiasco.
START LISTENING TO US, YOU CLOWNS!

Oh-please-what, little man?

Why? You chip your nail polish?

Best comeback of the day!

Oh please get an xbox music account and use it like its supposed to be used

Good idea, lets all pay a fee to listen to streamed versions of songs we've already bought. While we're at it, lets make the Xbox One stream the standard edition of my Lord of the rings DVD when I insert the extended edition disk in the drive - but only if you pay to rent the movie.

100% with you, not so much on the Music but the Video part. I have a movie library of about 1000 movies, still using Media Center and My Movies as they are in VIDEO ST format. I would love to use the Video app, but it's completly useless, there is no way of diaplaying the actual DVD cover, and there is no way of switching to alternate audio or displaying subtitles. Every single video player in the market is able to change out audio or display subtitles, except the top of the line Xbox Video app.

Better than having nail polish on them...

Still cant rearrange track order in the now playing list. Rubbish.

It'll eventually come, but I agree with you that it should have been the first thing they fixed.

Why windows 8 updates on windows PHONE central why not just rebrand the site to windows central? And Cover all of Microsoft's mobile platform?

Jeez man, untwist your knickers

lol i apologize that wasn't out of anger i just read it over again out of context but seriously it would be awesome to make the site all about Microsofts Mobile Platform Windows 8 RT and Windows phone 8 i mean the systems will eventually Merge into one codebase anyway

That makes sense, and it wouldn't necessarily require site rebranding. iMore covers a lot of OS X material, not just iOS.

that's true. but i'd really like a single news source for all that content i really like the writers on this site they are really informed and don't just post up whatever i'd like that kind of news for all the ecosystem i kind of get tired of all the terrible uniformed "News sites" around nowadays

I go to MacRumors all the time and see iOS things. Names mean little these days.

A lot of Android content also appears on Linux.com.

I concur. I asked privatley this question but no one responded. Frustrating to get a ton of articles showing up in my reader that have nothing to do with the Windows Phone. I have other places to visit if I want regular Windows/XBox updates.

I use both the Music and Video app without issue....was a longtime Zune user, and fought the new Music app tooth and nail. I still think Zune software was amazing, but I now 'get' what they're going after with these apps. Since they fixed the syncing between phone and Windows 8, I'm now pretty happy and have no issues. One thing that's so annoying is that Music somehow needs to be online to display album art. If it's not online, I get grey thumbnails. There's probably 2 pages of features these apps still need, like ability to manage ID tags, and better support for higher quality audio...but at least it's serviceable.

I am with you although I still miss the ease of the old Zune system especially around community playlists which I loved. I do however just use the music and video apps mainly because I move between so many machines now.

Is there a batch way or a way to select all playlists so that I can delete them all. I think I imported the playlists 3 times so I have duplicates. I like to clear all of it and re-import to start new.
Also would like to select multiple lists to rearrange or other options.
For now I gave up and just choose the duplicate or whatever and play it.
I am one of people who use music and video apps. I like it because it fits nicely with the whole UI of Windows 8. I am disappointed it can't play FLAC or other open source codexs which I just switch back to Windows media player to do that.

I give Zune 9/10 and Xbox Music about 6.5/10 when it comes to functionality/usefulness. You can do so much with the Zune desktop program including wireless syncing with Zune devices (if you have one like I do). I can't even fast forward and rewind in the Xbox Music app unless it is open in full screen mode. There should be a team working on making these apps even more useful than their dead end software. Cloud collection is great, but that can be implemented with Zune. Plus, you can add your own album art to non-Xbox Music content in Zune. But, using a Surface RT I am stuck dealing with the flaws of the current Xbox Music app. It does work, it just bugs the crap out of me sometimes. I mean what are you supposed to do if you download lots of mixtapes and there is no album art in the Music Store to match it?

Still using Zune. Gave Music app another try but just hate it compared to Zune.

Bit jarring and most irritating to find windows 8 articles on a Windows Phone centric website. At the least you should have a different section within your website.

I'd vote to keep the Windows 8 news right here. That way I don't even have to check any other sites.

Its been more than a year after the release of win8/8.1,still my country(India) havn't had the full features of music/ video streaming services.
Windows Central Newsletter
Thank you for signing up to Windows Central. You will receive a verification email shortly.
There was a problem. Please refresh the page and try again.