Windows app developers will see new age rating process in the Windows Store soon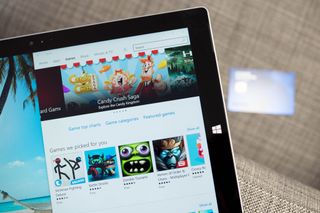 Developers who submit apps to be published in the Windows Store will see some new features and improvements rolling out over the next few weeks. They include a new age rating process for their apps that is being previewed to select developers now and will begin its preview rollout in December.
Microsoft says:
Microsoft has also released new badges for Windows apps that can be placed on websites so people can automatically start downloading them from the Windows Store. One has been made for all Windows-based apps and games, while the other is just for apps that are exclusive for the Windows 10 universal app platform. You can check all of the new and upcoming Windows Store additions in the source link below.
Source: Microsoft
Windows Central Newsletter
Get the best of Windows Central in in your inbox, every day!
Seems cooler you mean. A New Age rating system? Does it go from 'Heavy' to 'Groovy' then, I suppose? Definitely cooler.

Great!! Hope this translates in more games available here in Brazil

Way too late. This should have been available since 3.1...
Please note the sarcasm

Windows 3.11 for Workgroups was my jam!

if they do this earlier, then we will see 'Get it on DOS' badge. Everywhere. /s

Lol Microsoft and "soon"story will never ends.

I counted six "will"s in the source article.

Better than six "won't"s.

Badges that we actually stinking need! =D

I like the new Windows 10 badge.

I would love for companies to start using these. Half the time, even when a company has a windows app, they don't advertise it. I've seen a ton of commercials for apps that only have the iOS/Android badges, but then no Windows badge..yet they have an app in the windows store. Then they complain that nobody uses it and they drop support for it (Chase for example). I wonder why nobody uses it...maybe because they don't let anybody know that they have one! This is part of the app gap problem as well, there are alot of apps out there on WM10/WP8.1, but nobody knows they exist because all they see are the other OS badges on the advertisements or websites.

That is true,many apps have Windows versions but it's nowhere to be seen on their website.
Rudy tries to start a movement to encourage these apps to start putting the windows logos there, but it didn't catch on

Wish it would have worked. I really don't understand why anybody would go through all the work of hiring someone, making an app and then not wanting to take the half a second of effort to add it. If I went through all that effort, I'm going to make sure people know about it. LOL. My favorites are the ones that advertise the ".com" badge, but won't advertise the Windows one. I'm not sure how paying for a TV commercial works, but I'm sure it couldn't cost much more, if anything at all, to add another 300x100 px badge to the bottom of a commercial.

Yeah you are right! I have also seen many windows apps in India being not advertised even though they exist!

One thing i have noticed is a lot of ads now use Microsoft lumias..Paytm for example..or the Airtel one with Rakul Preet Singh

With Twitter also, its the same..They have an app but it's not in the same place as Android and iOS badge

I'm just ready & excited to see what iOS apps ports we're getting.

Well, they managed to go "Pro" by having Office apps so why not!

Aah aah come on faster faster
Windows Central Newsletter
Thank you for signing up to Windows Central. You will receive a verification email shortly.
There was a problem. Please refresh the page and try again.