Windows Camera appears on Xbox One, and it supports Kinect!
Microsoft's Universal Camera app has appeared on Xbox One ahead of the Summer Update's launch.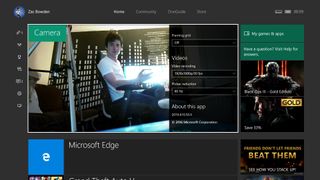 Windows Camera is typically designed to work with tablets and phones, but it appears to function just as well on the Xbox One Preview.
Appearing first on Reddit (via ICXM), we've been able to verify that it works utilizing Kinect — you just can't save images and videos as of yet. Windows Camera uses a joystick-controlled cursor at present and retains the same functionality as the app on other Windows 10 devices.
Here's a gallery of how Windows Camera functions with Kinect on Xbox One, just to give you an idea:
Image 1 of 4
Currently, there's no way to save photos and videos recorded with the Windows Camera, doing so just gives you an error. This functionality could arrive with Microsoft Photos, which is presently unavailable in the Xbox One Preview store. Presumably, if Windows Camera is coming to Xbox One, it seems likely that the UWP apps for OneDrive and Microsoft Photos will arrive as methods for storing photographs taken with the Windows Camera. There's also the chance that Windows Camera appearing in the store is either a mistake or simply a test to see how well UWP functions line-up across Xbox One and other Windows 10 devices.
If this is intended, you have to begin to wonder how much additional functionality the Xbox One will receive as a result of the Universal Windows Platform. With mouse support, Microsoft Edge, Skype, Cortana, and the UWP Office apps, the Xbox One could get closer and closer to becoming a casual PC albeit with a heavy gaming slant.
The Xbox One Summer Update is set to launch in the very near future, bringing Cortana, background audio, Universal Windows Platform apps, a revamped Games & Apps section and many more new features to the console.
As more and more Universal Windows Platform apps show up on the console, the old joke of spreadsheets on your Xbox is looking less and less like a fantasy.
You can pick up Windows Camera by searching for it in the store on the Xbox One Preview, but some users on Reddit have mentioned that they can't find it. So it may have already been pulled. Stay tuned to Windows Central for further updates.