Windows Camera, Microsoft Photos updated on Windows 10 desktop and mobile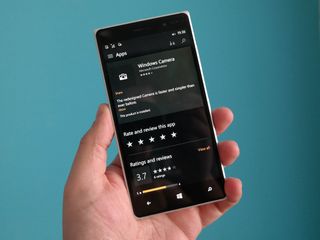 Continuing the trend of frequent updates to its core apps, Microsoft is pushing out a duo of updates to Windows Camera and Microsoft Photos on Windows 10 and Windows 10 Mobile.
As is par for the course with these updates, there aren't any changelogs included, so what's new is up in the air. The updates are most likely being pushed to fix some bugs and polish up performance however, which is never a bad thing. If version numbers are your thing, you're looking at version 15.820.15120 for Microsoft Photos and version 5.49.2004 for Windows Camera.
Update: As noted in comments, the Photos app for Mobile now has a pivot (swipe left or right) to access Albums and Photos versus the old hamburger menu. A huge and welcome change!
To grab the updates, you can hit up the links to the Windows Store below.
Dan Thorp-Lancaster is the former Editor-in-Chief of Windows Central. He began working with Windows Central, Android Central, and iMore as a news writer in 2014 and is obsessed with tech of all sorts. You can follow Dan on Twitter @DthorpL and Instagram @heyitsdtl.
I really don't like the new "no changelogs" Microsoft. Can I know what I'm downloading, please?

When we had a "changelog Microsoft"?

They used to go into very clear detail about the patches they were pushing through Windows Update. Now they've literally said they'll tell us about what patches via Windows Update contain sometimes. :/

Windows Update different from Store updates, they rarely put changelogs there.

So you're saying it has been the wrong way since the beginnning. I agree. And with the new Windows Store they have even removed the "last updated" information about the apps. May be because people knew that some particular crap app has not been updated ever after initial release years ago. And suprisingly we never had an "article/news" about that on WC. Surprisingly because every other (again) crap app update is featured here and such an important feature omission was ignored (or was told to be, may be).

I think they don't even change anything! Or if they do they don't know what kind of bugs they are removing! That may be as difficult for them as for us in understanding! This thinking reflects life. And it's way of doing things, that none of us know. But still we keep them doing. "Do great things" Posted while running with the ninja cat

MS already posted about "last updated" info in a blog post, and it will be add later this year.

They are probably trying to slip in something to spy (if its not already built in) on you so the change log thing kinda doesn't work great with that idea

No, wrong OS, you're talking about Chrome OS.

Its already started to an extent, monitoring your OneDrive files, constant location data saved, apps used etc etc..... Its less than Google but its a bad habit that is starting...

They have been monitoring OneDrive files since the day it was called Windows Live Folder. I just decided to test it out in the days of SkyDrive and uploaded some pics to the site and they removed it from the cloud copy but my local copy was unafected.

It's not "spying" if you agreed with. They warned you they'll be using your OneDrive files and yet you click "Yes, I agree". They told you that!!!

Seems to like your complaining about a precedent that has already been established with Google and Apple maybe including Amazon. The fact is; You don't even have to use Onedrive or Outlook. There for instance Dropbox, etc and email clients out there that have been around for sometime. You don't have to use Cortana, nor Bing or IE/Edge. You don't have to use Office. How about just exercise your "Right to Choose".

I am not worried about anyone spying on my Onedrive, Google or any cloud storage....I have nothing to hide!

Go somewhere else with your hideous tinfoil helmet.

Don't be paranoid. Many pieces of data are stored in the cloud, but since you are not a terrorist or something, nobody cares about it. All information stored about locations, interest etc. are used for your own benefit + some customized ads.

Unfortunately I don't see it the way you do

Exactly how would spying profit Microsoft? Microsoft makes billions of dollars from their products and services. With this generation of OS they are adding Mobile to their list that can run on many innovative devices that came out with 8.1 and have yet to add Hololens. Example; Bank of America is going all in with W10 a pretty large bank in it's own right so Microsoft don't have anything to gain by spying which can cost them valuable clients and business in the long run.

We changed two Grids height value to auto and grid.rows to * and auto, reduced the code in some places, added NotifyUser Method... Is that what you want?! Developers can and will not bring this in update descriptions as this is under the hood. And even the Dev Center itself says "make the description readable and understandable for users!" No tech things and if changes are under the hood what do you expect?! A song lyric? Maybe a Grimms tale? :D but really, relax. Developers often push updates for minor stuff and something the user can not understand.

well, they could add something like Given default value for grid height(two grids height value to auto), Made unlimited rows visible in single scrollable page(grid.rows to *), Reduced the code, Added notification(NotifyUser Method). This one I will be happy to have and even the Dev Center itself says this!!!

Photos finally has pivot on phone

Wow, no hamburger menu anymore.

Settings page is also much cleaner. Also, there's a new option in the menu when you go to a picture to set the photo as the photo on the live tile. The option is right under the set as lock screen and start screen.

YAAAAAAAAAAAAAAAAAAAAAAAAAAAAAAAAAAAAAAAAAAAAAAAAAAAAAAAAAAAAAAAAAAAAAAAAAAAAAAAAAAAAAAAAAAAAAAAAAAAAAAAAAAAAAAAAAAAS PIVOT PIVOT PIVOOOOOT!!! ^First things first lol i gasped and almost shed a tear Now: i'm able to scrobble videos on photos app without pressing play first.... Has it always been this way and i just never noticed or is this new to this update?? i'm not sure, because the hamburguerness was really really annoying in this particular app i barely used it, lol, not really, but almost... The thing is i haven't recorded many things and the videos i have on my phone were inmediately synched to my College's Macs to edit a commercial spot and i never played them on the Lumia.

No hamburger menu means that there is no consistency in UI across Microsoft's own apps.

Agreed. I'm not a big fan of the hamburger menu on phones, I can't reach it without two hands which is annoying. However, I do like the consistency, I wish every app had hamburger (if only it was at the bottom!) along with pivot at the same time. In my opinion the hamburger icon was needed but it could have easily been placed in the app bar similar to the hub in edge mobile, that would have made more sense I think as new users on windows phone would know by the icon that it's the menu doesn't matter if it's at the bottom of the screen instead of the top. I also wish all menus would flow from the bottom of the screen, it gets frustrating when the option you want is all the way at the top on a large screen phone and there's a bunch of white space where you hand can reach!

May be they are making their apps consistent by removing hamburger in all apps perhaps? ;)

Or perhaps they are trying different things to see what sticks with users? It does seem a bit odd though, WM is still in preview but W10 is not, so this is effectively an rtm release.

The hamburger menu looks better than the elipses, easier to find and use. They need a shortcut to access the hamburger menu. We have holding the microsoft button to lower the screen. People still complain. so give them maybe double tap of the microsoft button to open hamburger menu. Ios uses double tap to bring down the screen. So you can do a lot of different shortcuts with the 3 buttons MS has.

At least they still look great. That and the performance is all I'm concerned about.

Well they got rid of the hamburger nenu. It was there before. Perhaps they are making a welcomed chabge

For real? The adaptive code they've been talking about is powerful in the end. Bravo, Microsoft!

On phone: Now at the to you can swipe between 'Collection' & 'Albums'.
They also moved the Refresh button, Select button, & Three Dots to the bottom. Since hamburger is gone, tap the three dots in lower-right corner to get to your account profile and Settings.

This is a welcome change. I hope to see a lot more of this. (funny to even say change considering this is where we started. But hey, whatever I guess...)
-
-
Edit: Also, my phone and SP3 did not receive the update. Camera did, but not photos.

Noticed another change: When you are on the multi-select mode by tapping the select button and hit the back button, the app used to exit. Now it exits from the multi-select mode. This is another needed changed. What is pending now in Photos App? Ans: Add an option delete single image or video by tapping and holding it. Its annoying to go to the mult-select mode just to delete one item. Also MS should bring back the option of favorite photos.

Favourite photos are mainly used by me to select pics for live tile, missing it badly. We need it Back..

What about Favorites :) would fit there

Did You found an anwser? I need favorites too!

No other folder. Only camera roll, saved pictures and screenshots. 3/4 screen blank with see all your album here.

I need a fix for grove music on phone urgent. I can't even sync my artists images because it crashes all the time. Camera and photos are ok but camera doesnt open properly well after I unlock my phone.

tis is a beta so dont expect fixes to be quick.

Fixes should be faster on a beta

Sometimes things need to be fixed before other things can be fixed. All part of the development process.

Mail/Calendar also updated on PC today.

Omg omg omg omg the there's pivots. Pivots eeeek

you can now select the image size on camera. prior versions doesnt have one.

Buttons on bottom of screen. Does anyone have problem selecting Microsoft camera as default. At this point what's a better app Lumia or microsoft camera?

You should think about making the switch to Windows Camera. It's well on its way to having all the features of Lumia Camera and more while also being the native camera app for Windows 10 Mobile and guaranteed support.

Problem is that it doesn't support 4K video yet. On a side note, does anyone have Lumia Moments installed on W10M?

I'm not able to download any Lumia exclusive apps. I really miss Lumia Moments.

I can't set windows camera as my default camera...

swipe to left or right is now in photo app

There is now pivot swiping to reveal the albums, be it lacking albums. Previously it was the hamburger. Hallelujah

You can set a photo from within the photo app as photo tile as well. Had anyone noticed that the scrolling is now laggy when scrolling through your collection

Scrolling is smooth for me.

Wish that there was a update for the OneDrive folder and that it didnt take 5 min to reload my camera roll every time, They are all local stored now with W10 and it still takes forever to load. The photos app is fine for a viewer but without file management, the app and Explorer integration are useless for me.

On phone: Now at the to you scan swipe between 'Collection' and 'Albums'.
They also moved the Refresh button, Select button, & Three Dots to the bottom. Since hamburger is gone, tap the three dots in lower-right corner to get to your account profile & Settings.

I wonder if the camera app will now work on my Surface 3 instead of crashing every time

I had the same problem on my Dell V8P I rolled back a older 8.1 driver and works fine now.

Had the same problem; no camera on my SP2 with WIN10. Used the link to go to the app store, allowed it to update, now the camera works! Yeah!

i don't see updates for photos app, but I got it for camera and perfect tube. :) I checked photos app version and it's not the same so I guess I will get it later? or never? who knows.

I'm not getting the update either. :( Are you on the Fast Ring build, or still on the Slow Ring build? I'm wondering if the update only shows up on the Fast Ring build...

Bug, fixes and polishes are all good but they need to be adding new features and keeps highlighting them for the idea of UWP store apps to become successful. Or it doesn't make it much of a Windows as a service if you are still adding major features with major release milestones.

If they actually ditch the hamburger and return to pivots throughout the OS I'll be more inclined to upgrade but as its just one app so far not going to count that chicken just yet.....

Phone, Contacts, Alarm and Photos. Not just one App.

Not just one app as stated above. They heard us Loud and clear that we don't want this hamburger bullshit.

Same here. I'm not seeing the Photos app update.

I think Windows Central should really download and use the app to see the changes rather than just speculate by seeing the changelog and in some cases the last date of app update,remember twitter mobile app blooper.This update too has a significant UX change.Seems like this is becoming the norm and that too when WC is in no hurry to post the articles.I dont expect WC team to download and use each and every app but that can be surely done for core windows app.

We do what we can. Sometimes the Windows Central staff are not around or don't have their W10M devices with them. Our news staff is partially equipped...but even then, it is not always to see.

Yup,definitely,we love WC!

Looking forward to updating on the 1020 I have. I've lost out on so many pictures thanks to the random hang ups and loading issues.

I read on WMPU that the hamburger menu is gone

But, the picture in subfolder except camera roll and saved picture still doesn't exist.. Why ms?

What happened to favorites photos ?

With Android now ahead of the pack now in manual controls for the camera, I wonder what future updates Microsoft has planned now that the Lumia branding is gone. On the LG G4, HTC One, and Galaxy Note 5 you get a live view of what changes in ISO, shutter speed, and color temperature have on your shot. I can't help but think Microsoft has something nice in the works for the future of imaging on the new flagships. Can't wait to come back to Windows Phone. Posted via the Windows Central App for Android

Uh... Windows has had live previews for already three years already...

No it has not and still does not. If you change the shutter speed on any camera app for Windows Phone it does not currently show you how that affects the shot in real time. For instance when you shoot a picture at 1 second exposure in the Windows Camera app does the screen turn white before you snap the photo to reflect that? And when you change the ISO to it's highest setting at night, would the screen show a grainy image? See what I mean? Also we currently don't have a custom color temperature selector in any app that also would show in real time how the changes affect the shot before you actually take the picture.

How can you even show a preview of shutter speed? That makes no sense.

It's just like shooting on a DSLR. When you change the shutter speed or the ISO value,the viewfinder or screen shows you in real time what the shot will look before you take the shot. The same with other settings. Notice in this video how when he changes the shutter speed the screen either brightens or darkens depending on the changes.
http://www.youtube.com/watch?v=ni48ymVhecE

It is exactly that. Problem of Windows Camera. Lumia Camera and Default Camera in 8.x did showed shots in real time. May be by the time Windows Camera come out of beta, it can do that as well, I guess.

Maybe you guys are new here but you have no idea what you're talking about. Even with the Lumia 1020 and Pro Camera debut the screen never showed what affects the settings had on a shot besides exposure compensation, white balance and manual focus. Changing the ISO and shutter speed did not reflect any changes until after you took the picture. http://www.youtube.com/watch?v=nh_JroUNwFE

Great changes, like so far!
They finally fixed zooming in Windows Camera took photos. I just don't get why is so hard for MS to bring Smart Albuns to the Mobile side!!!!

I got both updates on dual sim 640 XL. Is Lumia camera the same as Camera app? It won't allow me to choose Windows camera app as default only Lumia camera app