Hands-on: Windows Camera with slow motion video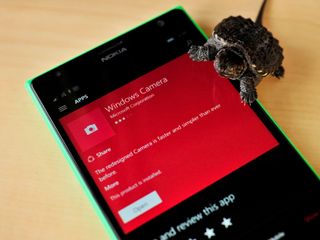 If you're running the Windows 10 Mobile Insider preview on a Lumia 930, 1520, or Icon, you can now try slow-motion video with the updated Windows Camera app. We've tested it on our Lumia 930 and we're mostly happy with it. Check out our hands-on video to see it in action.
To enable slow motion capture, go into video mode and tap the turtle icon. Tap the video icon or click the camera button to start recording. That's it! The video is captured at 720p (1280 x 720) at 120 frames per second. When played back, it's four times slower than normal speed.
You can edit the slow motion video from the camera as well. During the preview, tap the Edit slow motion option. You'll be able to trim and change the speed on parts of the clip. While this is a great feature to have, we found that the video quality of our saved edited clips is noticeably worse than the original files.
Another interesting thing we noticed is that even though the clips are shot at 120 fps, the files imported into our computer are 30 fps. This is great for most users because the clips are already slowed down, ready for sharing. Advanced editors would prefer to have the 120 fps files that give them more control when editing the videos.
Sample slow motion video
Overall, we're happy with the new feature. Sure, we would like to have slow motion on 1080p clips instead of 720p, but the current Lumias are probably not capable of that. We wouldn't be surprised if that's featured in the upcoming Lumia 950 and Lumia 950 XL.
Have you tried slow motion video on your Lumia 1520, 930, or Icon? Share your experiences so far in the comments!
Get the Windows Central Newsletter
All the latest news, reviews, and guides for Windows and Xbox diehards.