Windows Central App adds article deep-linking to notifications and more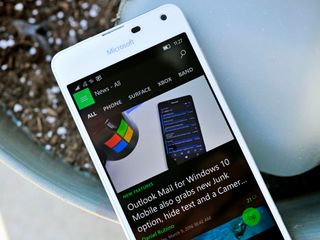 The official Windows Central App for Windows 10 and Mobile is getting a fresh update today after a few weeks off (we were busy playing with our HoloLenses, sorry!).
Today's version adds a significant new feature that we know many of you have been asking for on our UserVoice channel: notification deep linking. That translates to you clicking on a new article notification and being taken the article directly instead of just the app opening. When you tap an article notification, if the app is running it goes to the article, if not, it launches the app then navigates to it.
The new deep linking feature has not been tested widely yet, so fingers crossed it is working well on this first launch.
Here is the rest of what is new:
Windows Central App 1.1.28 (build 28)
Article notifications navigate to the article when tapped
Improved article navigation speed on mobile
Improved login flow
Forum navigation should work correctly on mobile
Removed Build 2016 sub-section
One of the areas we are looking to improve as it needs it badly is touch-feedback when navigating on Mobile. Right now, things feel a bit off, but that should start to improve with this update as the speed should be quicker this time around.
Regarding login flow that addresses some log in issues some users were having (including myself due to the elevated account status) and overall there should be fewer problems in this area as well.
Finally, we know people have had issues with forum navigation, so that has been tweaked a bit too. We still have work to do in this area, so we'll be tackling them in due time.
Our latest internal stats show that app crashing is well below 1% in all use cases now, so hopefully the experience is paying off for you on your end.
And don't forget to keep voting for features and fixes on our Windows Central UserVoice page!
Download Windows Central for Windows 10 and Mobile (opens in new tab)
Daniel Rubino is the Executive Editor of Windows Central, head reviewer, podcast co-host, and analyst. He has been covering Microsoft here since 2007, back when this site was called WMExperts (and later Windows Phone Central). His interests include Windows, Microsoft Surface, laptops, next-gen computing, and arguing with people on the internet.
Does it link to comment replies? Miss that so much.

We are working on adding that now.

Good to hear that! Windows Central for Windows 10-Nokia Lumia 830

Yey login issue solved.thanks Sent from Windows central app for Windows 10

If you sign out you might not be able to come back in. I've have try that twice previously.

Love the updates, and also your eagerness to engage the users. Kudos to you.

Any plans to fix the issue of Videos being too wide for the app... Even in landscape mode... I wasn't able to watch any of the build videos due to being unable to press the full screen button...

That is a must have feature! Posted via the Windows Central App for Android

Still having log in problems on the mobile app Posted from my Windows 10 PC for Windows Central!

Just saw the log in flow acknowledgement. Will check & get back Posted from my Windows 10 PC for Windows Central!

Hey guys, we are still hard at work on the app. We really appreciate all the feedback(both positive and negative) and will keep working to fix your problems and add new features. Thanks!

Fix the login crash issue.. And make it fast.. The app is slow.. Thankyou

Nope.. Not rude.. Just requesting..

This is requesting ?? Posted from my Windows 10 PC for Windows Central!

Yes. Just letting the guy know what all problems the app has

Y do u feel its rude? Might feel rude but i didn't meant that way..

you should know that there are people from many different countries and cultures here - what is rude to you may not be to that guy, and vice verca - they might not even know something is rude. Especially non-native english speakers. Not defending him in any way, just sharing my experience from extensive travel , after learning this the hard way ;)

Log in problem solved. Thank you! Posted from my Windows 10 PC for Windows Central!

Appreciate all the hard work you guys are putting into it. I haven't had a chance to check uservoice in a while but since the previous build when I lock the screen or switch to another app it seems WC tombstones, is that a known issue? I'll update to latest build tonight and if I still get the issue will report it (if its not been reported yet 1000 times). Thanks again!

Update: This build fixed the issue I can now lock my screen anytime I like without loosing my place.

How about adding jump option in comments any progress Sent from Windows central app for Windows 10

Tested with this same article. It works. :) From the Windows 10 app.

Still doesn't stay in background, soon as u switch to another app and try to come back u wont find it unless u relaunch the app, pls fix this Windows 10 mobile -L535

After update it fix login crash and background exit problem. I'm using .164

Works fine for me on .218 Posted with the Windows Central app for Windows 10 on my Lumia 535

Running in background works for me now. I just pressed start button then held back button to see the glorious WC app in the queue.

It's fixed for me in this build.

And you can still use it if you want. Just download the other Windows Central app from the Windows store ;) Posted with the Windows Central app for Windows 10 on my Lumia 535

Daniel still showing off his Hololens lol. Happy to receive deep linking notifications :) I hope this update addresses the multitasking problem a little bit. The app will crash pretty often when switching between apps.

Thanks Daniels! User avatars disappeared a while back in comments, by design or a bug?

Definitely a bug that I missed this time around. I'll make sure we get a fix in place quickly. Thanks!

Daniel,
Is there a way to refresh the comments without getting out of the article. I mean it would see nice to be able to refresh the comments by pulling down below the last comment. Thanks for all the hard work you guys are doing, the app starts to be better and better Posted from Windows Central for Windows 10

Still no direct link to store, I hate when it takes u to edge browser first before taking u to store Windows 10 mobile -L535

This is for analytics purposes. We can work around it, but it's not going to happen right away.

Hi daniel sny plans of adding jump to last and top option in comments

Hay, are you Daniel Rubino or what? Of no so who are you? What is your position on WC? Are you developing WC app?

Thanks for letting me know

Nice, but why do it wc app close when you visit external line, and why is offline read list remove. I save some article in my wc app for 8.1. But the feature is not available in wc app for 10. I hope the update improve stability of the app. I just update my. Hoe to see it more improve

I also miss the save to pocket option,I used that a lot. Also the offline reading option with ties to the windows central account or OneDrive, so when you remove the app you can reinstall and login and the articles are there, in the previous app that offline reading list was gone if you reset the phone or removed the app.

Yes, save to pocket is not there. But now there's a universal Share picker, so you can send it to LaterMark, Poki, or other pocket client.

didnt knew this, thanks!!

Thanks. I can now login.
The user profile pictures are missing in comments. Also need some speed improvements. Looking forward eagerly ☺

Awesome! Had been using the old app since last update as the new app crashed every time I tried to log in. Also I can't update it on PC cuz the Store app is crashing every time I launch it :(

Ha it worked. Beautiful. Windows Central for Windows 10-Nokia Lumia 830

Is anyone having problems logging into the app? When I attempt the app closes itself.

Used to, but this version let me log in. Try it

Not getting toast notifications even while enabling it :( Switched back to old WP App

Yeah I'm getting that, enabled for comment replies only but I've had nothing (and to clarify, email notifications have since shown replies so I am getting them - it's not me being expectant!)

I have comment replies checked and get them, however when the app closes and is reopened the push notification toggle is always turned back off.

Just try it a few times. It didn't work for me first as well, but after some more try, it works as it should. Posted with the Windows Central app for Windows 10 on my Lumia 535

Please bring back Jump to Last comment from WP8.1.

Please connect the app and phone themes (black and white).
And let me edit my comments! ))))))

That 1% may have been me, the app refused to run in the background and would just disappear. All fixed now though! ☺

if i put the app on the background (clicking a link on the app) then it opens browser but when i go back the app have been closed so this annoys me while i cant get back to where i was before but have to launch the app again

The app works faster and better after the update, and it also stays open in the background again, so multitasking works too. Nice!

Thanks, I like the big improvements!

Works when the app is closed but when app was running in background, clicking notification took me back into the article I was previously viewing. Cheers.

Crashes often while opening articles / going back to list. I don't get it WC, why is it so difficult to develop a stable newsreader???

Are you a developer and can help out? Just because a few other newsreaders are available does not mean that it is easy. It still is hard work.

It's not difficult. Anybody can do it. You should too. When you are done, and it is published in the store, I will pay you $100 for it. (I WILL keep my word too) And it doesn't even have to be nearly as good as this one.

This man deserves a cookie Nokia Lumia 1520
~The Power of Windows 10~

I am using the 8.1 app again, overall more pleasant to use.

YAY !!! Signed in on mobile again :) ** 950xl and loving it !!

I'm glad they fixed the running on background issue, now I can switch between apps without returning on start screen. Lumia 640 XL DS
Build 10.0.586.164

This app continues to get better and better! Posted from Windows Central for Windows 10
Using My Beastly 1520

Best feature addition so far

Please add colored status bar.

Finally I can login.
Thank for all the great work

Great strides with this app guys. My only two gripes at the moment are: No jump to last comment in forums and not being above to post in some forums(this I think is a minor bug). Other than that keep up the great work.

Stability issues fixed? I can't even log in lol

Hopefully the app will stop crashing when I lock the screen. I'll be half way through an article, lock the screen to do something, unlock the screen, and the app crashed. I don't have that issue while using the app thankfully.

App is much more responsive. Good job.

Profile picture not displaying in comment section. Posted from Windows Central for Windows 10 with a Nokia Lumia 730

It's strange. But it didn't work for me on the previous version either. But I got used to it :D Posted with the Windows Central app for Windows 10 on my Lumia 535

Yes since the previous version.

HUZZAH!!! I HAVE ONCE MORE BEEN GRANTED ACCESS TO THIS WRETCHED SITE VIA THIS CONFOUNDED APP!!! LONG LIVE WINDOWS PHONE!!!

Good work guys. Now I can login again, and the notification linking works fine too. And yeah, the overall stability has increased a lot. :D Posted with the Windows Central app for Windows 10 on my Lumia 535

Still a crash-tastic son of a gun on my 1520. Last couple builds have been that way. Maybe they are telling me my phone is too outdated to run this app. Only app doing this on my phone.

Sometimes the app disappears from the background running apps list. Still don't understand the pattern that is causing this behavior.

As a newbie to the developer world what is the bar with the text like all build etc on it called. If it is the command bar how did you get text only to appear on it

Hi Daniels, I have not been able to add posts to the forum for many builds now, on both mobile and PC. I'm logged in with my Microsoft account. I've tried posting this to the UserVoice page. Could you help? Thanks!

This app sucks on the L550 is very slow.

The app is still slow for me. The older app is faster.

T&hanks for all your hard work. Now I'm able to log in. When I tried the app (I'm new) and encountereds problems to log in, I decided to install the old app and it worked fine. Now I got this update and can use the new app. It would be cool to have deep linking to forum replies too.

Still crashes on low memory devices with 512 RAM, app switching also crashes the app....please fix this

Still have to repeatedly click on start screen tile for it to open. Don't know if the glitch is because of app itself or the fact that I'm still using a L920, that it's hardware maybe the limitating factor.
Windows Central Newsletter
Get the best of Windows Central in in your inbox, every day!
Thank you for signing up to Windows Central. You will receive a verification email shortly.
There was a problem. Please refresh the page and try again.