New double-update for the Windows Central App fixes fonts even more, loads article images later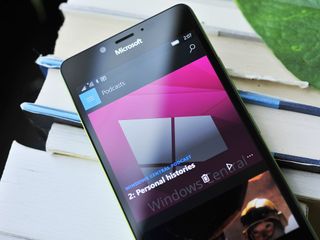 Update: Version 1.2.3 is now live in the Store and with it comes a hot-fix for two smaller issues (1) Font size selection not sticking when exiting the app and (2) Our cool download arrows were no longer showing up in the task bar. Both of those should now be fixed along with the improvements from 1.2.2 earlier today. Thanks, everyone, for the quick feedback!
Following yesterday's release, we have a rare Saturday update for the Windows Central App. This one squashes a font scaling bug that affected a subset of you. Version 1.2.2 addresses that as well as brings something a bit new.
One feature users on slower connections have been asking for are article images that load after you tap the article to read. Indeed, some of our device reviews can have a lot of images and previously you had to wait for them load to give the 'final' layout.
With today's update that all changes. Now, when you tap a story, the app will immediately download and load the text and then insert the pictures.
If you are on Wi-Fi or 4G connection, the articles will load much more quickly, but the experience won't feel much different as the pictures will still load as instant as the text. It will just feel faster. Likewise, on the desktop, the articles will just fade in now, and it gives a much nicer presentation.
For those on slower or spotty connections, however, you will now be able to read the article instantly without worrying about waiting to download all the images to pre-cache.
Windows Central App v1.2.2 & 1.2.3
Fixed font size/scaling issue
Articles don't wait on images to load
Fixed font size selection not sticking
Repaired download arrow buttons for articles with app and game links
We still have many smaller refinements to add to the app including saving pictures and more, but today's update should make a substantial improvement to your daily usage.
Please continue to use our Windows Central UserVoice Page to file bugs or feature requests. The update is now live, but you may need to go to the Store listing to see the update until later when it is pushed automatically.
For those still who have app crashes, trying an uninstall and reinstall may help in this case. Otherwise, please file it a UserVoice.
Download Windows Central for Windows 10 and Mobile (opens in new tab)
Daniel Rubino is the Executive Editor of Windows Central, head reviewer, podcast co-host, and analyst. He has been covering Microsoft here since 2007, back when this site was called WMExperts (and later Windows Phone Central). His interests include Windows, Microsoft Surface, laptops, next-gen computing, and arguing with people on the internet.
Downloaded it 5min before...
Cons:
-Often CRASHES while scrolling comments.
- forum's reply isn't working yet.
- While hiding nav bar, 'Pull to refresh ' shown on home screen.
-----------------------------------
Fixed in 1.2.3 :-}
----------------
https://s32.postimg.org/i2hh4wgsl/1_2_2_0_error.jpg
... Article Font size back to 10 after restarting app
-------------------------------

Use the uservoice instead of comments mate... Chances for a fix are much higher that way.

I already do. And they respond me with update in this article. But Forum quotation is still not working in w10 version.

We know that already. We post them here in comments for discussion.

The app does not remember the font size I choose.

Latest update ver. 1.2.2.0 if you change the articles font size to any numbers, exit and relaunch the app. It will change back to default value 10. It happens on PC and Windows Mobile.

Not happening on my phone, but I see it on PC. Flagging.

Also, download 'Arrow' buttons have now gone for some reason. I don't see them. Eg. Altos adventure article. Also, when will we get similar deep linking for forums in the app :)

We're going to push a hot-fix for that shortly.

Thanks !! You people are awesome,.. :D

App update v1.2.3 to fix that is now live along with app download arrow.

Bug report: If you enable live tile but choose not to show article previews on tile, the app title "Windows Central" is missing from the live tile. Only shows the icon.

I wish that was normal behavior for every app xD titles annoy me... The icon is usually enough.

Happening on my 950 XL. Also, fonts 8-11 are still sooo tiny (nothing changed from 1.2.1) on lowest scaling setting... On a positive note, articles finally load instantly! :)

I keep them at a healthy 16 :D /Lumia 535, scaling set to 125% (lowest possible)

The app crashes before opening twice after latest update

It's happening on both on my PC and phone..

Also, the font is now too small rather than fixed. Lumia 950XL.

Changing font size to 12 is pretty much perfect for me, but it does default back to 10 after closing the app. 950XL 350% scaling

Yeah that works, but it's not what 12 used to be. It's smaller than 10 used to be.

It happened on my 950XL. I only got it to stick at 16 which had the result that the body text got just a little bit bigger, but the embedded quote in the article became really big.

Yea embedded quotes have been much bigger for ages. Or at least it feels like it, might've been better at some point

Same for me on Lumia 950 XL.

I'm getting the font bug a well.

Also happening for me font is really small now at 10 pt and always changes back to 10 on my 650

Now only thing I'd like to see is to view and save image option. Good work guys.

Works alot better then before nice work

Again, went into settings to change font size, back to the article list and every article is duplicated.

Finally it launches without hanging, and I can see myself as I post!

Changing themes on mobile changes PC themes and vice versa. Cool.

Hey Daniel.. The app download 'arrows' are now missing..

They were missing in the last version as well

Sorry - The comment below was intended as a reply to a comment for facebook messenger. Actionable notifications must have messed something up. Haha. I can't delete this in the app. I know.. But I have video calling and voice calling. I tried it too and it works fine.

The app didn't crash for me atall... The best build for me till now

What about crashing while going through comment section rapidly

it has been solved with the previous update. doesn't crash for me now :)

Still happening on my 930.

I REALLY tried but wouldn't crash anymore.. 950XL

Its fixed on my 540 now no more crashing issues thanks for this update

A Saturday update... Splendid !!!

No not good , Now when I exit and enter the app again it changed my font size to 10 from the 12 In mobile. Hoping for a hot fix

Yes, finally article loads as expected.. Very very welcomed update

Working overtime! Dedicated...thanks

Thanks Windows Central.... Does not crash now... And its super fast... :) (mostly due to the slow net fix) :)

Nice at least now i can reply. Last update broke the send icon.

Still the most basic thing which is the loading dots which should be there at the start of the app are missing... How one should know if new articles are there or not,if it will not show the loading dots.

Thanks for all the free updates guys :-)
Any chance of adding a visual cue that an article has been selected on mobile? This shows on desktop as a 'pressed' article icon, but on mobile you don't see anything :-(
Just this one last thing hehehe!

Definitely not updating, previous build finally fixed my issues, i don't want to tempt fate again.

Nice use of Seems Faster here for windowscentral app

Download arrow icon is missing in this update. Crashes when reading comments, i think it's very difficult to develop a bugless app in windows 10. No wonder we have very less apps and 8.1 apps won't upgrade to 10.....

Maybe it has something to do with swipe. I don't know but swipe is not important for me. It's nice for menu but overkill for swiping between only two items

I can swipe between article and comments over the whole screen now. One more change, but I don't mind. My issue is resetting of the font size! Loading speed is fantastic!
No crashes!

Just crashed when trying to edit my comment :( !
Still no numbers on live tile. I even forgot how it looks like!

Doesn't work for me at all now. Just crashing and crashing, never opens up, tried uninstalling and reinstalling.

ON my Lumia Icon - Latest windows 10 mobile build (fast ring)

Same here on my AT&T branded 950. Had to install the WP8 version. Got tired of uninstalling /reinstalling. Old version works great.

This latest 1.2.3 build still did not fix it. I cant open at all. I agree the WP8 version was good and never as buggy as this. i am talking EVER!

I had to replace the previous version prior to this update. It will launch without any content, hang for a few seconds and close. Had to install the WP8 version which works much better. Had anyone else had this issue? If so did this update fix the issue for you?

Great work so far. But the live tile still doesn't update in background and I miss the unread article counter of the old app.

All good but it was about time, you reversed the order of loading when opening article. It was really annoying when link was not the best..

Yep still doesn't work well. Deleted once again, and back to the old Faithfull win8.1 version. 950xl 586.494

The hot fix y'all just pushed out for this update minutes ago seems to have fixed the font reset bug when relaunching the app. Thanks.

Just when I was going to head over to the user voice forum! Thanks for being so proactive! Your work is appreciated!

I have an issue with the news layout. On my 830, I can see 2 columns, but the second one is only visible fully, if the phone is rotated. In normal view, the most of the second column is cut out from the screen.

Am not sure if am the only one this is happening to, but it seems the new app sometimes misses a couple of articles...
E.g. I just opened the new app for this article, but couldn't find it...now am commenting on it from the old app...

Great, the app isn't crashing on launch on my Lumia 640 but crashing on fast scrolling comments

Seems more stable on my 950, let me login without crashing, so looking better

When I get a notification, I click it, and all it does, is open the app, doesn't take me to the thread of new comment, have to go back out and in and click the refresh

Plenty stable now.
One thing I noticed is that if you open an article then goto settings from the menu and hit back, the title will remain as settings.

Can tile badge work now? Mine is not working since day one.

Can someone point me in the direction of the user voice again please. Even after 1.2.3 I still can not open the applicaiton. I swear every few WC app builds it breaks completely. Right now it is jsut plain and simple refusing to open, I tried uninstalling, rebooting and reinstalling and still nothing. Let me see if I use the user voice my bug can be recognized. Some other users on this exact threat reported it as well.

Have you installed it on device ?

950xl_ download ' Arrow ' button is still there. Elsewhere work like a dream. Finger's cross.

After the last update the app doesn't crash here anymore... And its faster...

The notification Comment tapping does take you to comment screen, but with no comments. Also "Show All Comments" does not work!!!! L950 production build

I've also noticed the sleep/quiet hours function doesn't work, my phone is beeping more than a supermarket cash register

Had font bug earlier, but it's fine with hot-fix on my L930 RTM Build. Good work team.

Guys after moving from release preview to slow ring by getting the last slow ring update released my phones touch has gone funny.... Whenever I use my phone the search button in the bottom bar gets pressed on random and the display totally goes crazy. Also the touch stops working and have to lock and unlock my phone to get it to work. Mostly noticed this when the phone is plugged to charge but also happens when not charging. Anyone else experienced this bug??? This is the build ending with 93. Pls give me some suggestions

Well, a loy of updates for this app. But the "minor" crash is still not fixed.. It crashes to often!!! It need to be solved.

Finally a crash free version. Loving the app

Was going to say it is much better, but as I browse these comments, it crashed. Please fix it, been a few months.

Ya, happening for me also

Installed new updates, still app crashes while swiping comments... App is very smooth but this app crashes make me realize how stable was 8.1 app.....

Please shrink the image size when rotate machine horizontal / vertical . Also, minimize the size of avatar from user in the comments . Improving the quality of the image to show clearer picture . Additional Video HD options and improve application performance

When I switch to landscape (rotate my phone) mode in my 950, font size and pictures resize accordingly. However, when reverting back to portrait, it doesn't. End result is article title going off screen and picture cutting off. This happens in the articles list pages only.

Forums working and continuum support is great to have on #lumia950xl

The app is smooth on my 640XL. It doesn't crash, and swiping to comments is faster now than it used to be. Many thanks to the app developer.

Suddenly my L640XL stopped showing status ( Network signal, battery, wifi status ..etc ) but is showing time however...Same is happening with my brother's L640XL too....

Loving this app and it's updates, great job

When are you guys going to fix the issue of live tile not being live at all..?

Excellent fixes, I can now enjoy one of my favorite apps without the constant crashes and slow loading. In fact, those two issues made things so frustrating, I reinstalled the old app (8.1). One could only wish that every companies providing W10 apps could be as committed to giving their audiences the best experience. Thanks!

no notification from the app

No sign of the update in the store for me.

Any news on when switching to landscape and then back to portrait will be fixed? Currently on my 950 part of the subject line is cut off after the switch and switch back.

Please let us hide the comments column when reading articles.

Why there is no update for my lumia 640 xl ?

Much like Microsoft, you people have abandoned windows phone 8.1 too. Nice going
Windows Central Newsletter
Get the best of Windows Central in in your inbox, every day!
Thank you for signing up to Windows Central. You will receive a verification email shortly.
There was a problem. Please refresh the page and try again.