The app for Windows Central is getting new comment sorting and performance improvements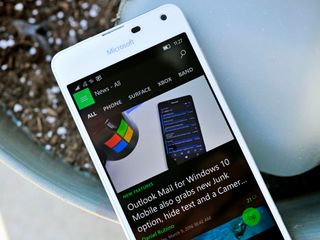 A sweet new update for the Windows Central app for Windows 10 and Mobile should be hitting the Store in the next few hours (maybe more, the Store has had some quirks lately).
Build 30 of the Windows Central app continues to add some highly requested features mostly relating to comments that should make our core users quite happy. This update follows build 29 last week that added the ability to edit comments and our notification tone for new articles.
Here is what to look for when you get the update:
Windows Central App Build 30 (v1.1.30)
Comment sorting (Local and Global) – You can now you can sort comments by oldest first or newest first. There are two places for this configuration with one comprehensive under the general App Settings for all stories by default and the other within each article, should you wish to change it on the fly.
Jump to end of comments - You can finally jump to the last comment in each article by hitting the down-arrow icon in the app bar. This feature will help in those situations where there are 200+ comments.
Refresh Comments - We know many of you thrive in our comments section so you can now hit the refresh button to see new replies and any new comments added since initial article load
Improved startup time - We're always trying to make the app faster for mobile so with this build you should see some significant improvements on app and image loading. We know this is a pain point for Windows Phone users, and we'll continue to optimize where we can.
Improved comment loading performance - Same as above especially with the revised user avatars this should help to scroll
Call to action for comment - At the bottom of the comments you will now see a comment box if logged in for quickly posting and a small dialog to share your thoughts or asking you to log in
Note: We found there may be a rare case where quickly scrolling comments could crash. We already have a fix in place and that patch should roll out tomorrow morning.
Besides all of that, there are a few other more minor tweaks to the app bar and icons. The Share feature is moved to the sub-menu, but we'll be adding the icon back on the next release likely coming later this week.
What's coming next
For the next update we're looking to add a few more categories to the top of the app and haptic feedback (vibrate) for feed and article loading. We also have to fix some indenting issues with text and move around some icons from this build. We may be able to get that update out later this week.
Afterward, we also have a few more ideas for comment sorting we'll be working and later on, we'll try to do something about adding the ability to collapse individual comment reply threads, but that is a little tricky and will take some time. Reworking some of the forum layout and functionality is also getting close, and we'll try to make it so that a notification for a comment reply takes you to that comment, but that is also not easy so give us some time. We'd also like to add back support for Pocket (read it later) too.
We still have a lot we plan to do for the app, so don't forget to keep voting for features and fixes on our Windows Central UserVoice page!
As always, if you have left a review for the app in the past and would like to revise it based on our work and improvements, we'd appreciate it. And if you have never left a review for our app in the Store, and you are happy with how it's going, please take the two minutes to rate it as it helps app visibility for new users. Thanks!
Download Windows Central for Windows 10 and Mobile (opens in new tab)
Daniel Rubino is the Executive Editor of Windows Central, head reviewer, podcast co-host, and analyst. He has been covering Microsoft here since 2007, back when this site was called WMExperts (and later Windows Phone Central). His interests include Windows, Microsoft Surface, laptops, next-gen computing, and arguing with people on the internet.
No live tile notifications ?

They already do this job.

But they don't work properly... only see old articles on the tile.

I've never been able to get it work. Anyone else have a unread tile count work for them?

Working fine on my L930 .318 build.

Ever since 8.1 it stopped working for me

This app only for Windows 10 Posted via Universal Windows App on W10

Same here. No count on the tile and only article previews up to the last time I opened the app.

Sweet. Now waiting for the new Redstone build for Windows 10 Mobile.

Maybe even Hero image support from RS1 (that also work in TH2 I might add)

Good to hear. Fix some bugs too. Tile counter stuck at 1 and doesn't update. No article deep linking for comment reply notification.

"No article deep linking for comment reply notification."

I mention that in this article. It's not trivial for us to do.

Yes. I agree that. Not many think about that. May be hope for the future update. Really appreciate your work.

I'm getting love this app more and more,but there's some issue I still notice:
1. The app is crash some times on my Lumia 650
2. The live tile hardly update until I open the app
3. It's very hard for me to write this comment because when I hit reply,the keyboard appear and cover my comment contend. I have to scroll up to see it
I don't know if others has these issue or just me
thanks you for reading my comment. Sorry for my bad English

I have the same problem too. Its not the top priority for fix I think Posted from Windows Central for Windows 10

You didn't mention the hilariously embarrassing "add repy" spelling mistake you STILL haven't fixed yet! But I guess you're "keeping it" lol...adds character to the rest of this site...pun intended

Its fixed in current build 30

Only took them a couple of months hahahah

Yes thats a shame. That issue was came up on build 28 , continued in 29 and fixed in 30. Kudos

It says "Reply to Comment" Posted via Universal Windows App on W10

Oh, wow, I'm in one of the screenshots. I'm famous! :P

Wow, you noticed that quickly too! So dare I ask... Did you ever find out if Ben was on an Insider build? Posted from Windows Central for Windows 10

Lot theres 2 screenshots but they're technically the same thing Posted via the Windows Central App for Android

The most important comment fix I'm looking for is to click on a notification on a comment you left and go directly to that newly added comment instead of just the article, and then having to wade through hundreds (if not thousands of comments). Oh, and the spelling of "Add Repy" on the notification button, but that's less urgent (but I'd imagine it would be really easy to fix). Even in the email notifications, clicking those links take you to a page that does not exist. It would be nice to somehow see the context of someone's reply. Posted from Windows Central for Windows 10

Great! I will definitely enjoy these updates. Commenting is painful on mobile.

That "Add Repy" typo has been bothering me. :P

The forums are even worse. Want to catch up on a ten page thread? Get your scrolling thumbs ready...

Yeah .... the way the forums are implemented in the current W10M app is really bad at the moment. I never want to look through the forums on the app now. I loved checking the forums on the old WP8.1 app.

It's getting better though

I reported "Add Repy" like few weeks ago, still not fixed?

As mentioned in the reply by Daniel above, comment notification deep linking is not trivial to them as of now.

As mentioned in the reply by Daniel above, comment notification deep linking is not trivial to them as of now.

Can you add a purchase option? Doesn't need to add any features, or take any away from people who want the app for free, but I exclusively access WC through the app (99% of the time anyway) and there's no ads or other obvious revenue stream there, so I'm essentially 100% free loading. I'm sure there's others who feel the same. As long as free users don't lose out on features nobody should complain. Maybe when posting from a paid app you can have a small icon on your avatar for those who want a token something to show they paid for the app in support of WC

Appreciate the feedback and call for support. Currently, we do not have such plans, but I'll explore the option for users. Thanks.

I'd probably pay too. I spend a lot of my spare time reading Windows Central, and I think a number of folk here would like to show our appreciation in some way other than just commenting on your articles. Another idea that would help us show appreciation *and* get more people together and help with some localized networking... Perhaps it's time for another random location meet and greet? Posted from Windows Central for Windows 10

I second the request. I'd gladly drop a few dollars into the app to support WC!

An in app purchase that can be purchased more than once would be great.

I never bought the original app and never got the app, even when it was free, just to keep the ads and supporting you guys :D.

It would be nice if there was a "Donate" button in the settings of the app, maybe in the About section. I would donate, for this simple reason: The Windows Central (WC) app makes reading and commenting on a million times better versus browsing WC via Edge Mobile. With the app and Continuum, I can be productive in the comments section like a boss, wherever I am now.

Yes a donate button would be better since having advertisements in-app is terrible Posted via Universal Windows App on W10

Add this option, I will pay. Posted from Windows Central App for Windows 10 on Lumia 950

Hamburger Menu --> Tip us!

Yeah that's a great idea...! I am willing to spend for the WC app :)

How about you update old school 8.1 app and add much requested filter/sorting of articles? I'd like to hide articles about games. I don't like w10 on my second phone

As I have said before, we are not updating the 8.1 app any longer. It was made free and ad-free and is there for legacy users, but all efforts are on the Windows 10 app, sorry.

Some people just don't understand that to make an official Universal Windows 10 app, you need to start from scratch (or use an project bridge). Posted via Universal Windows App on W10

what's your problem here? I said thanks and left

You cant expect them to have 2 apps working properly. It's too much to ask for such a small "company". The windows 10 one has a lot of bugs and errors.

I guess the WP8.x app has been abandoned. That right there is just another reason why the app gap persists. Fragmentation. The OS I'm using is still supported by MS, but not all devs. Windows Phone has really had a tough roadmap. First person that tells me to "upgrade" my phone will get struck down by lightning. You've been warned.

We're paying for app development and giving our product away for free. In order to split development time and increase our costs for diminishing returns is not something we are currently prepared to undertake, sorry.

Totally understandable. My comment was directed at the horrible WP roadmap Microsoft has created. Think of what you just wrote and now realize EVERY other dev feels the exact same way. It's no wonder WP can't gain traction with devs.

I hear what you say lippidp but I think we start to understand that this is it and we have to look to the future from now on, looking back is a waste of time. I am of true believe Microsoft is on the right track with windows 10 so I am not complaining, I really start to love 10 and developers should put their efforts there. Posted from Windows Central for Windows 10

Forgot to mention, GREAT WORK on this app windows central team. Real happy with the refresh in the comments! Posted from Windows Central for Windows 10

Actually, the current roadmap lets devs write one app that'll run on anything, instead of supporting an app that'll *only* run on phones. This means that while targeting phones may not be the prime objective, it's a nice side-effect of writing an app for the desktop, tablets, and xbox one (and HoloLens.) Posted from Windows Central for Windows 10

Exactly. "Current roadmap." MS's history of changing directions every two years means your significant investment today is at risk and could be completely lost during the next strategy shift/next CEO.

To your point how many still use 8.1 vs 10? All my Windows Phones use 8.1 or 7.x. I purchased a 950 and promptly gave it to my son because let's put it this way it's not 8.1. I have not seen nor heard of ANYTHING to pursuade me to move to Windows 10. But lets hope the future has better things to come.

Not to be rude but if you have the option to upgrade and don't take any of the avenues available to you, how can missing out on new features be put on anyone but you? Development isn't free or easy.

There is no upgrade path from the Lumia 1020 that doesn't include losing significant features that I value. Therefore, Windows 10 Moblie is not an upgrade. It would be a migration to something different, but not an upgrade.

Understood but I do feel a little bad that you'll miss out on certain apps. Hopefully, the features you like will be added back or given an equivalent over time.

You really think it's any different on android or ios? Every phone hits an end of life date and that phone is 3 years old. I wish a successor would come out so there was a good upgrade path but you really can't expect Microsoft or developers to support such an out of date device.

Don't argue in the alternative. I have higher expectations for Microsoft than I do Google or Apple. Otherwise I'd be using their craptastic phones.

MS supports Windows Phone 8.X the same way that they handle Vista/7 and better than many Android manufacturers. They'll provide critical bug fixes for security flaws, but no new features or non critical fixes. To keep their sanity, most developers attempt to follow the same "rules" when working on updates... Sometimes you have to cut the lowest denominator The 8.X release is feature complete and still usable, and to be honest many of the new features in the Windows 10 version are possible in the 8.X release either because the APIs aren't there or it wouldn't make sense without a major rewrite of the app. The Windows 10 version IS a major rewrite of the app, which is why they were able to do things differently; it doesn't make financial sense for Windows Central to devote development resources to a deprecated system in order to try and appease a very small minority of users. The smart business decision is to dedicate all development time to the new platform (Windows 10) where you can reach a MUCH wider audience of people. As a software developer, I can tell you that it is VERY rare that you would be allowed to spend business time updating something like the 8.X app. And lets be honest the development of the Windows 10 app has been slow; that's not to day anything negative of the developer out Windows Central, it's just the nature of the beast... But trying to split up and already slow development cycle to rework and app on am old platform is just silly from a business standpoint. I can tell you that there are MANY times where I've been forced to just make a decision where I've had to abandon users and it sucks. I want to make everyone happy and provide the best service I can, but I can't do that if I'm catering to old while trying to learn the new and do my work as quickly as possible to meet deadlines and work on other projects. As an individual, I would love to see the 8.X app updated for you guys - however, looking at it objectively it's just not something justifiable

I understand all that. To use your language, the point I'm trying to make is that Microsoft can't keep deprecating entire OS's at an unprecedented rate and expect devs (and users) to just take it with a shrug.

WP8/8.1 lasted about 4 years with mainstream support and developer support - about twice the expected life of any smartphone. It did pretty well. People are used to needing to jump ahead and move to the next thing, however, because it's how technology has worked thus far. W10M is meant to be the 'last OS' in that it's core is sophisticated enough now that it can be incrementally updated with no need for radical jumps like 8.1 to 10. That jump may not have been ideal, no, but it was the last one and now sets the future. You have to break an egg to make an omelette, right?

In old app,as soon as i ON my internet, i get notifications and all news will be loaded before i open the app so i can open the app nd see all news offline.
In the new app, if i ON the net, i get notifications thats all. After i open app, i have let it refresh or i have to refresh manually!

Their old app was built in 2011 and got features during 5 years. Of course it was faster and better at a lot of things. But the new app is more capable design wise. And it will get as capable as the old app and it will even more capable.

haptic feedback (vibrate) yes been waiting for this, I dont know why i find this usefull but i do so thanks you

It's one of my top features too, but alas, even my needs take back seat to others :P

Please add read/unread so that we know if where to start from since we last checked.

But, the new comment box wants some ui tweaks it should be at the very bottom, it seems uncomfortable and oh i cant see what im writing now cause the keyboard is hiding the box that I write in.

Yup, we'll fix that asap, sorry.

I was just about to comment and say the same thing.

Checking now on Dell Venue 8 Pro

Would love to be able to customize the live tile color. Also, the live tile counter has never worked for me, but it's supposedly there? Thanks!

Looks good although keyboard does not show suggestions and double click on spacebar does not put comma. Just two space characters

I think the app uses the standard keyboard. Does it work fine in other apps? Mine seems to work fine. Both suggestions and double tap on spacebar for comma work fine.

Next feature I'd like to see is the ability to collapse comment reply threads. Hard to read comments when some troll has taken up half the page with a single conversation ;)

Lol. Consider that app finished. RoJo Arlington, TX Waiting for 6.2" Surface Phone Pro

Nice, but that "jump to last" icon is actually the download icon. You may change it a bit.

The plus button is the add comment.

I am not talking about the plus icon.

Formatting appears wrong on mobile.

Change the font size to 9.

Commenting filters in forum section also would help to jump to last

Sooooo happy for this. Woohoo.

Liking the app so far but whay about speed improvements? The app is so slow to open and still occasionally crashes when scrolling through comments or articles.

Would be awesome to be able to instantly share an article from the Windowscentral notification on the action centre

Pls can you add offline reading list to the app to enable one read some article at the time they prefer.

This update is looking good. already updated. day by day this app is getting more useful and informative. keep up the good work.

Kind of odd having the universal "download" button as the "jump to last" button. Maybe just an arrow would be better? It's great having constant updates, though.

Yeah, that's an odd UI choice. Considering it was the download icon in the past, it will cause some confusion for users.
Same with the save/floppy disk icon. I thought that meant save for offline reading.

Hopefully, add repy would be corrected to add reply in notifications. This spelling error is from build 28. Now carried on to build 29. Windows central devs please give it a thought

I mean, we fixed it in this build (build 30) so not sure why you are mentioning it.

So, why do I still have the old app?

The update is awesome but when I'm typing this msg im not able to see the message editor. It's behind the keyboard please fix it. Also text typed in the box has very faint colour change it to black.

Good update. Please add this function to forum too. Also, the keyboard covers up the comment box, and you can't see what was typed. On 950xl, release preview.

Yeah the text Box is not visible while typing... Pl fix this ..

Any way you can direct the download links straight to the store like appraisin does instead of going through the web browser

Great update. Please fix typing issues. The text is hidden behind the keyboard

Great update. Please fix typing issues. The text is hidden behind the keyboard

Great update. Please fix typing issues. The text is hidden behind the keyboard

Wow love this windows central..I'm getting addicted day by day with this app !!

I mean more than the website..

Yeah. That makes more sense.

For some reason I'm still totally unable to reply to forum threads or create my own posts in the app, whether PC or mobile. Haven't been able to from day 1.

Where do u view your inbox messages?

I like the app overall, but the live tile needs major work. Mine has been showing the same thing for a month. Even with app hosted updates it never changes.

Afterkeyboard covering text square

Great addition! Thank you, Windows Central. Great Work :D

I'd like to see, what I'm typing. Envoking kbd covers text square. It should scroll up... But I like the fact, that app is improving. I still use 8.1 app on my 1520 with W10 slow ring, and it is still faster. But the wait with the new one is getting better and the features too.

I just remembered I could move my keyboard holding space button for few sec to up and down Lähetetty Windows 10 -puhelimen Windows Central -sovelluksesta

This app is still absolutely slow. And this new commenting is bad since I can't see what im writing, example with word flow like before on the old comment box

Hi, Is there any way to turn off the notification sound? Thanks!

Hey, I really love what you're doing with this app. It's noticeably faster but still kind of slow. Also, the dialog window at the bottom of the comments section doesn't work properly. When I type in it, my keyboard overlaps the dialog window, so i don't see what I type. Keep up the good work and I'm sure it will be an even greater app in just a short amount of time.

Lol terrible sorry, keyboard completely hide input box

Slower! Much! In fact, under four bars on AT&T in New Haven last night, the page wouldn't build at all. Eventually, I got headlines, but no pictures... Hmmm.

They did forget the number counter like the old windows central app shame its downgraded

I can't see the bar when I am writing the comments my phone 950xl..rest are super

Awesome sauce, thank you very much. The only other thing we need is for the keyboard not to cover the box you are typing in and I'll be set. The fix for the crashes is a fantastic thing.

Done a search for updates on windows store 2mins ago and nothing seems it's live for some but not others. On a Nokia Lumia 635 btw.

You sure it hasn't already auto-updated?

Yes but I did manage to goto a link that took me to the new build in the store I had to uninstall my old build to reinstall the new one.

Typing a message on Mobile means that the typing box is obscured by the keyboard. Otherwise, great update. This app is turning into something quite powerful, which is remarkable for a news app when you think about it.

Had the same problems as Londonlumia above only mine would randomly crash the app while I tried to scroll fast down an article. It also would crash when I pressed it to open the app so it took a good 4 or 5 goes just to get the app to open. Looks nice tho but far to buggy for me to use at the moment only reason this got posted was I've already uninstalled. And gone back to my older version.

Looks amazing very W10 I like it I just cant get around error code 0x803F7000 to actually install & use the app :-( not WC fault I know

I don't seem to be able to turn off the chime sound that plays when someone replies to a topic, even when I have set notifications to OFF in the Notifications section.

This is much better.. Had problems with scrolling between the articles and the comments section in the older rendition.. nice

good to have on your device it's free as well! You will not need SHAREit App start the transfer instantly. Are looking for Download links of nice.
Windows Central Newsletter
Get the best of Windows Central in in your inbox, every day!
Thank you for signing up to Windows Central. You will receive a verification email shortly.
There was a problem. Please refresh the page and try again.