The Windows Central App grabs fixes, improvements and more with build 33 today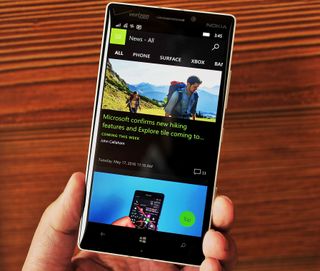 In the next few hours an update to the official app for Windows Central will be hitting your phones, PCs, and tablets.
The app was just submitted to the Store, and it can take a few hours before it is live, but for now we'll give you a sneak peek of what is new.
Windows Central App Build 33 (v1.1.33)
Swipe to comments from article - Due to constraints with WebView adding swipe was a bit of a challenge, but Daniel Gary managed to get it to work. You can now swipe from right edge to shift between the article and comments. Note that swiping from the left brings up the hamburger menu, so just swipe right as it will cycle through article and comments endlessly.
Jump to last in forums - As we have added features to the news feed we said we would bring those to the forum, and we're starting with Jump to Last. Just like in comments you can now hit the down arrow to jump to the last comment with the caveat that you may have a tap a couple of times in topics with a lot of posts. We have more to do with forums, of course, but this is a start.
Improved video playback - The embedded YouTube player should now look better on desktop including correctly formatted size when in full-screen mode
Video Playback should no longer cause the app to freeze - Some users had issues with the playback freezing, that too should be fixed here
Improved performance - Once again, this build should, ahem, feel faster for the article and feed loading. We moved Article WebView to its own thread to help here. If you are on a high-end Windows Phone and a fast connection, the app should really feel zippy now.
Fixed login issues - For some users after an app update the login icon would disappear under the Settings cog. It was still there, but invisible. This was a tricky bug that only affected some users, but it should now be fixed with this release.
Search fixed - In the previuos release Search would turn up the correct articles, but they would not load (only the comments would). That issue should also be resolved.
We'll see how this build goes out and continue to improve things where we can. We'll soon be starting to add more features again and begin to do more with the forums as well.
Let us know what you think but more importantly continue to leave feedback and vote on our Windows Central UserVoice page.
Download Windows Central for Windows 10 and Mobile (opens in new tab)
Windows Central Newsletter
Get the best of Windows Central in in your inbox, every day!
Daniel Rubino is the Editor-in-chief of Windows Central, head reviewer, podcast co-host, and analyst. He has been covering Microsoft since 2007 when this site was called WMExperts (and later Windows Phone Central). His interests include Windows, laptops, next-gen computing, and for some reason, watches. Before all this tech stuff, he worked on a Ph.D. in linguistics, watched people sleep (for medical purposes!), and ran the projectors at movie theaters because it was fun.
Fix Pull to Refresh message, when move System Navigation bar down in app.

Fix when adding a reply you have to sometimes click in the dialogue box for text to actually show up (if it's not initially viewable). Oh and why does this app crash so much?

OMG, this build sounds amazing

Good work guys!
Pls one more request :-) Links from the app open twice in web browsers, this affects at least 4 different browsers..

Please use the UserVoice page and we'll look into that issue Posted via Surface Pro 4 or Microsoft Halo Phone

Yes I already did, just wanted to slip one in quickly while Dan is here, maybe I could get lucky and jump the queue hehehe!

I guess i am the only one who can't see comment box Lumia 540

U guys are working really hard. Thumbs up

Harder than the MS employees building the built in Windows 10 apps.

There is a notification bug that I'm facing. I receive the same toast notification 3-4 times.

Have you tried using your Microsoft Halo phone? Posted via Surface Pro 4 or Microsoft Halo Phone

Great job guys thank you.

Good job guys. Btw Where is message inbox gone to?

No need to wait. It's available now (950 UK) was looking forward to swipe for comments.

Yup, downloaded and working nicely !!! I thought it wasn't working at first, but I have to swipe from right off the display to get it to move (can't use my left thumb unfortunately, so will have to try and use my right hand :) Nice one guys !! *** On the PC

Use the navigation bar at the bottom. It's swipeable in both directions left and right and friendlier to your thumb. :)

Cool, so it is... Thanks ** 950xl and loving it !!

U can never satisfy humans.... Even if this app has all the features in the world, some twats will still complain

I wish that it allowed us to complain even more by linking the UserVoice page directly in-app Posted via Surface Pro 4 or Microsoft Halo Phone

There is a UserVoice link in the navigation menu - it's the smiley face

I know people have been asking this, and I don't want to beat a dead horse, but is the notification counter for the live tile working? I know it has been for some, but has never worked for me, no matter what I do. Thanks!

"but is the notification counter for the live tile working?"

Disable the Live Tile and it will default to just a number on the Tile for new stories.

Thanks for the reply Daniel! I'll try it out!

After trying this update, there's some bugs that I still encounter : 1. The app still get crash sometime especially when switch from other app to it ( multi-tasking) ,scroll down the comment section also make the app crashed but less than the previous version. 2. When I click to a headline of an article to open, instead of open that article,the first article of the newsfeed was opened . This is not happened every time but annoying when it happen.
Other than that lm pretty happy with this app right now

Sorry Daniel, this also does not work. This is still the only thing stopping me from using the new app and getting rid of the old one. Really, really annoying

Sorry to say it's still not working Daniel. Have had it disabled since this update and still nothing. Love it otherwise!

Lol haven't had working since wp8.1

No word coming about your thoughts on this surface phone leak that has been doing the rounds?

Windows Central generally checks their sources before posting anything about rumors. Chances are they haven't written anything yet because the rumor/leak has no substance. Also, that's really off topic.

You guys are doing amazing work. I would like to donate through any means. I use WC app and website all the time. Hey Daniel, you said you are planning on such thing. Hope to see it soon.

Hopefully in a future release coming soon (TM) Posted via Surface Pro 4 or Microsoft Halo Phone

Swiping from middle to right also switches from comments back to article here... No idea if this is by accident or meant to but I like it!

I think the article subtitle and posting date/time should be present in the article reading mode as well as on the home screen. Also when doing an article search, it would be extremely helpful to see the article's date in the search results.

Thanks WPCentral. Love updates

You're Welcome, and it's called Windows Central (WCentral) Posted via Surface Pro 4 or Microsoft Halo Phone

Someone has to do it:
Seems faster :D

This is my favorite app on Windows! Great work!

Thanks guys, been waiting for this one as I can never reach the top of the screen one handed!

The current app is a buggy, constantly crashing mess. Let's see if this update makes things better.

Curious to when the beta tag will get removed?

Why does everyone care about the beta tag? What does it matter?

I just don't get the logic to leaving it in there. If you are making your app available to everyone then I would think you as the developer now have enough confidence in your product that the beta tag can be removed. Also W10 is all about an evolving development platform, my expectations are the apps for W10 fall under the same logic. By that I mean I fully expect the app to be updated regularly going forward. What does having the beta tag at this point accomplish? The only logic I can see is it can be used as a means to counter any negative feedback given on the apps performance.

We'll likely remove it with the next build or two. People are picky on Mobile and have very high expectations. I think we're finally there now, so we'll likely remove the label, thanks.

Awesome! Keep up the great work.

I personally think it crashes way too much to remove the beta label. It's a polished product aside from that. But that's a big aside.

The Windows Central app is arguably the best Windows Phone app. One of the few that takes advantage of everything the OS offers.

Readit is the pinnacle of WM10 apps imho. Posted from my Lumia 950XL

Swipe to comments is not working on my Lumia 930... Also I don't see the field when I'm typing a comment, cus the keyboard covers it. I don't see any fixes, and btw it's crashing.

Check your version and make sure you're on 1.1.33 then. We tested on 950, Icon, 950 XL, both release and Fast rings. If not, try an uninstall and reinstall.

Did soft reset and it now works.
But still has little issues

No way are you on 1.1.33 then (check settings > about) because I'm running it on the Icon with zero issues.

Well I deleted the app on my 930, then installed It again. Same problems. Version is 1.1.33. Nothing seems to be fixed for me. Oops, I just wrote this comment, and app crashed. :(

Make sure you are swiping right from the right edge of the screen. I find it best if I start me swipe just before the screens edge.

It works just fine on my 535 ;) Posted with the Windows Central app for Windows 10 on HP 250 G1 notebook. It is a scary old monster, I think :D

Clicking from the windows notification center brings me to the app, but the loading wheel never ends and the related article doesn't show up. I have to click on the home button to get somewhere within the news feed. Am I the only one having this bug?

No you're not. Is this in the uservoice already?

This should be resolved in build 33. Please verify which version you are using and let me know if you are still seeing it.

The WC app always stays 'stuck' (laptop W10) while trying to scroll down the page after I click on an article. I have to turn to my phone (8.1) to use the app.

I just went to the store and updated. Hopefully this update fixes the 'stuck' issues. Thank you, WC. Best regards. ~~Just a flat-out high speed burn through Baker and Barstow and Berdoo.~~

Okay, but remember that the 8.1 version of the Windows Central app is using different code, so you are referring to both the Windows 10 universal Windows app (UWA) and the old phone-version for Windows Phone 8.1. In the latter case, the 8.1 version is not likely to get any bug fixes, I would think, unless they are parallel-supporting the 8.1 and Windows 10 version.

Great app getting better with every update. WC is by far the best site for Microsoft news, etc.

Would love an actual refresh button on mobile. Pull to refresh is always a 50-50 proposition.

Sorry to hear that, can't say I have or have seen that issue. Problem with adding a manual refresh button is we would have to add back the app bar, which then reduces viewing space on mobile. Make sure you hold PTR for a 1/2 sec until it says "Release to refresh".

I can confirm I experience the refresh issue as well. I usually try pulling down from different areas (center vs further right) to get it to work.

Perhaps consider adding refresh button to the left or right of search icon. I believe Perfect Tube does this.

Yes, we're considering that option. Could appear in next week's update.

The app bar is less intrusive when I'm browsing the front page than when I'm in a story... I don't know the minimum height, but a good ole ellipses at the bottom of the screen might work (could move feedback and settings under it too). Or as Dojo said, you could put it up top. The pull to refresh thing isn't just this app, it's on phones in general.

Yup, we'll consider both options, thanks.

And of course since writing this, I've had unparalleled success at refreshing... Your pull to refresh skill has improved [2]

for me it works if i first scroll down a few pixels and then scroll up till i see the refresh text, it was the same in the wp8 app, i hope it'll get fixed soon, so i can quickly refresh. (it seems many w10 apps using pull to refresh have issues, maybe it's a windows issue)

On a related topic, does the app refresh at load, or should it? I don't believe it has on the past.

It SHOULD...if you're not seeing it, please report that.

Awesome! I'll watch for it.

OMG jump to last on forum topics...finally! Yay, surely going to be installing this update.

Thanks for the fixes. No longer crashes when scrolling through hundreds of comments.

I forgot to include this fix in the change log!

Article search is beautiful, genuinely great search and eons better than original app. But, it only loads the comments and not the article. Hats off though guys, the UI looks real nice.

That should be resolved in build 33. Verify which version you have and let me know if you're still seeing it.

We should be able to download images from an article like the win8.1 version. I keep saying this.

OOC, would a "save" button over each image work for you?

A context menu would be great if you can manage that. Or maybe you can add a link under the download button in the ellipsis menu that's something along the lines of "save images" that brings up a menu with all Tue images available in the article. Windows Central for Windows 10-Nokia Lumia 830

A swipe from left to right to show comments is not working at all. The only beauty of this apl updates is the login option that is live now

A swipe from left to right to show comments is not working at all. The only beauty of this apl updates is the login option that is live now

Swipe from right to left from the edge of your screen. It has to be within 12 pixels of the edge(just FYI)

The swipe option is truly working. Thanks DanielGary for a good job Posted From Nigeria Using Lumia 640 XL

will it be fixed later, so it swipes from anywhere? or is that impossible because of webview?

But the app is still longing itself off several times after this update. It doesn't also stay at the background

I'm going to be honest, I don't know what to make of this comment.

It is logging itself off. That s the naked truth

Ok. This app is getting better and better. Thanks guys ;)
The only issue I'm having is that when I write a new comment, my signature doesn't automatically show up, just at replies.

Guys, please fix the links openning twice in Firefox (desktop). I reported it a long time ago.

Off-topic. CCPlayer was made UWP today and it's awesome; suggesting reviewing it

Very happy on fixing the log in problem, because I can't login on my tab.
And secondly, can you guys consider to being "save to offline" feature back, because it help me alot. Great work guys.

Still can't use the hardware camera button when in the WC App. It's been in Uservoice since Feb and Daniel even responded to a user mentioning it in the comments several builds back. https://windowscentral.uservoice.com/forums/348765-general/suggestions/1...

Oh ****! I just noticed that... This message is an Auto Reply. Powered by AutoRe Version 1.2

The login thing still isn't fixed for me... the icon is still invisible.

Login is fixed but you can't put a new content in this version Lumia 540

On the desktop, if you scroll down to the end of the comments and then continue scrolling with the mouse it goes to the previous article. Is that supposed to happen?
And it can then scroll through two or three if there are only a few or no comments. Edit: I see what I did.
If you put your mouse pointer on the bar at the bottom, and scroll the middle button.....

Keep up the good work guys!

Just wondering, after all this time, why can we still scroll at a 45 degree angle in an article?
feels very web pagey and not very appy.

Because the article is displayed in a WebView This message is an Auto Reply. Powered by AutoRe Version 1.2

It won't let me reply to a comment -.-. I haven't updated yet. But anyway.
Yes, that would work for me. A save option over an image. Also if possible make it so that we should preview the images in the article. Tap in the image, and it opens a preview window, like how Facebook app works. I don't know if that's too much but it would be nice. Thanks for replying ⌒.⌒

The only new feature I want is for it to stop crashing... UX looks nice, tho! :)

This app seems to crash almost every time I try to open it (L950, on 10586.318). Have to try at least a couple of times before I can use it, and then, while reading a story, it crashes. I know it still has the "beta" tag but it just goes to show that building a good app for Windows 10 (mobile) is not as easy as it would seem, especially if we take into account how long this app has been around and how many updates it has had. I am not complaining, mind you, just making a point about the management of expectations, in reference to the actual Windoes 10 mobile OS. If an app takes this long to get right, then we should show patience in this massive effort MSFT is making to create a brand new, all conquering OS.

I still don't know how to get this app. Isn't the app supposed to update automatically?

Same problem. Not seeing an update. AT&T 950XL

Well, I guess there's some comfort in knowing I'm not the only one. I have a 950XL as well, though with Telus, but I can't imagine that the hardware would prevent us from getting this app.

Is crashing while viewing comments fixed? It is difficult to read comments beyond certain point :\

And comment box is also not showing Lumia 540

Showing on mine. Lumia 950

Lumia 950 and 540 has a huge difference may be this problem is on fast build Lumia 540

Can WC app download button work similar to appraisin. I mean directly going to the store without opening a webpage ?

i hope they will get rid of the webview soon, there has to be a way to use embedded media without using webview
Windows Central Newsletter
Thank you for signing up to Windows Central. You will receive a verification email shortly.
There was a problem. Please refresh the page and try again.