The Windows Central App now has haptic feedback, animation fades and more!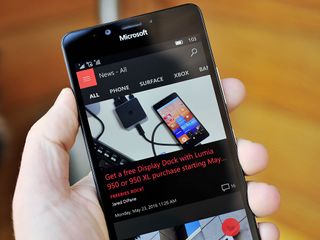 Windows Central is kicking off the week with an update to our universal Windows 10 app for PC and Mobile. Build 32 should be hitting your various devices in the next few hours (it's live for some now) and with it comes quite a few new features and improvements that we are very excited about.
Let's see what's new!
Windows Central App build 32 (1.1.32)
Fade-in animations - Articles now have a subtle fade in effect when loading
Haptic feedback - Under the app settings you can now enable haptic feedback aka a small vibration to let you know the article or article feed has successfully loaded. This new setting is off by default and only applies to Mobile.
Improved performance for article loading - We say it all the time, but we are making strides here. Along with the animations fades and haptic feedback you should also experience much faster article load times.
Jump to First - Last week we brought Jump to Last for article comments and this week we now have Jump to First to let you zip through comments with ease. Note that both arrows (up and down) are context sensitive an only appear when you need them.
Fixed some issues with app crashing during comment scrolling - We're still not completely done here, but there should be fewer issues when scrolling. It's a memory management issue regarding how many comments to pull at once versus what mobile devices can handle. We'll continue to improve this area.
Fixed article author spacing - A pet peeve of many is now fixed with this release. There is now less space between the title and author in the main article feed.
Comment backgrounds - Instead of a gray or off-white background for comments it is now either solid black (Dark Theme) or solid white (Light Theme) for greater contrast
We're quite proud of this release as app performance on mobile is finally reaching where we want it to be on Windows 10. Things like haptic feedback and the animated fade should significantly improve the app experience and make it feel more refined compared to previous versions.
Let us know what you think but more importantly continue to leave feedback and vote on our Windows Central UserVoice page.
Download Windows Central for Windows 10 and Mobile (opens in new tab)
Daniel Rubino is the Editor-in-chief of Windows Central, head reviewer, podcast co-host, and analyst. He has been here covering Microsoft since 2007 when this site was called WMExperts (and later Windows Phone Central). His interests include Windows, Microsoft Surface, laptops, next-gen computing, and for some reason, watches. Before all this tech stuff, he worked on a Ph.D. in linguistics and ran the projectors at movie theaters, which has done absolutely nothing for his career.
i feel like you guys update this app every day your team working hella fast

They had a few weeks with no updates because of everything that was going on but I think we'll get consistent and numerous updates until E3. Windows Central for Windows 10-Nokia Lumia 830

Still crashes a lot though

Yeah I've noticed that. It's quite annoying.

Must be a built in feature to prevent people leaving too many comments...

Not going to stop me haha.

It is getting way better though. Starts up faster and crashes less.

Crashing is more like an inbuilt feature that comes with windows 10 mobile and all its app. Posted via the Windows Central App for Android

I'd have to disagree with you there. Threshold has been very nice. RS1 has its problems (especially with Edge) but it's getting there.

Yeah, it crashes almost every time I start it up the first time, then on it starts up ok...

Just got to warm it up lol

Yes I still have that initial crash issue often.

I only really get it crashing when trying to play videos in the app every now and again, and sometimes the box for entering comments won't appear even though I'm logged in. I just view in browser for the videos if it seems to be crashing so don't really notice it much in any of the recent builds.

No no I see the most crashing when trying to open the app through a notification. That almost always crashes the app. Windows Central for Windows 10-Nokia Lumia 830

Laggy mess that crashes constantly. Oh well.

Crashed the instant I posted this comment.

It's getting better though. Still a million times better than MSPowerUser's app.

It has been on beta since a long time..

Yes. And I still really like it.

I would like it too if it was usable.

I think it's perfectly usable. I can deal with occasional crashes.

Lol perfectly useable and crashes in the same sentence

Yup. I get crashes maybe 2% of the time. And never when I'm actually using the app.

What about when you reply to comments and it doesn't type it, but have to click on the dialogue box to input text. Do you get that? So annoying :(

I rarely actually go into the app to reply to comments. Too lazy haha.

It still sucks tho so it doesn't matter. The old app has never had this many updates but it worked so much better

What about Live Tile notifications? Does this work for anyone else?

Also, there was a bug with the last comment not loading. That should be resolved now

Reduce spacing between article-comments bar and title. And also line spacing for article title.

@rohitth513, manners, manners lol. Also use the feedback site:https://windowscentral.uservoice.com/ Not the comments.

I'll teach you: please be polite. Right now, you are coming off as rude and not making many friends here. There is a reason why you are getting downvoted. We are obviously open to changes and requests, but it would be nice to have a thanks or please once in awhile. We're not your slaves. Thanks.

Sorry if it appeared as rude to you. I just wanted to make sure that he knows such things. You know that users never stop saying "what about this...". But this isn't about bring rude. I'm being polite.

It appears that English might not be your primary language. In English, if you are asking for something that you aren't entitled to, it's customary to say please so people don't think you are demanding something.

That was a request. Sorry. I might have forgot to say please. And if you look at my first comment, it seems like it was neither a demand nor a request. Just a statement. So no offence intended.

Overall @rohitth513 you're still a rude and unwanted person here. If you have issues then use the UserVoice page. If you have issues with other people on Windows Central then go directly to jail. Thank you for your cooperation and I look forward to seeing you in jail. Posted via Surface Pro 4 or Microsoft Halo Phone

I thought you Muricans are my personal slaves. I am Kenta Kinte, king of ze Dschungel...

Please add swipe right to go to comment section . I think only wipe left is not fair

Had you carefully read the comments on the last update article, you would have known that it is currently not possible. The article section uses a web view component which does not allow (at least for now) swiping to another part of the app.

I'll take your cat avatar and one up you with a fish. Posted from PornHub

Slowly getting there, the intention of having a good, working app is there I suppose. Too bad you're not slaves, things would REALLY get done then ;) Well done though, you're getting close to what the old 8.1 app was like. I like that one.

oooh is that you're "sexual desires" to be a slave? Posted via Surface Pro 4 or Microsoft Halo Phone

The irony of devs wanting 'polite' feedback. Oh wait, you aren't a developer.

Notifications still don't work.

We said in the changelog that we fixed the notifications, but there are still some OS level issues.

Why do you have to be so rude??

Are you affiliated with Hells_Angel Posted via Surface Pro 4 or Microsoft Halo Phone

Lol... No, we hate each other

I just read your original comment before you edited it.

Yeah keep down voting me you idiots, atleast Jay never responded like a total ******.

@danielgary. Awesome, thank you for all your hard work. The app is shaping up pretty nicely :).

App is getting snappier and nicer. Now only deep comment linking and its perfrect :)

Things are looking great I like how you guys have applied all of the new apis to the app and fully taken advantage of what windows 10 can offer app wise. It is a great example of all you can do with an app with all of the new development options Microsoft has put out. Can you please add the windows central store to the app so there is a more direct way to purchase your items to help support all of your guys' great work?

Please add fade when the article page is refreshed and a new article comes up. Just like in the old app.
And a Crimson red theme. Right now Red theme looks like Orange.

This update is just awesome!!!!!!!!!

Now it's time to remove the beta tag from the store.

I don't get how others are not having issues with this app. You can't comment or sign in or out of it. Im back to using the old app on my lumia 950xl because the new one doesn't work. I tried uninstalling and reinstalling still no go.

I'm having the same problem with the app. I like using my 1520 for certain things like the WC app, but there isn't even an option to sign in anymore. I have been using the iPhone app, but it is pretty shabby, to put it nicely. But at least I can sign in!

I have the issue with commenting since the recent changes, but the apps solid otherwise - Great for reading content, and replying to comments is consistent for me - It's just writing a new comment but that will be sorted and ironed out.

I like the app and the fact that it's getting updated all the time. It's still a little slow to load articles but I know it'll improve with time. Great work!

Sometimes app was crashing while loading comments , I hope update fix this issue

Thanks for your hard work, WC. Cheers!

The app is really looking good. I liked being able to navigate between articles from within the article though. Maybe you can make swiping on the ellipsis menu navigating between comments and then everywhere else how you navigate the pivot.

@Zachary
I agree. I loved that feature and think your idea is a good one :-)

I think it's a good idea too;) Haha I understand you shouldn't try and shove too many gestures into an app but I think using the nav bar is a good way to divide the "windows" if you will that decide what happens if you do a particular gesture

What about the formatting problem when switching from landscape to portrait?

I just re-read the changelog and didn't see it mentioned.

Lol!! Posted from Windows Central for Windows 10
Using My Beastly 1520

Manners please. We're not your slaves, sometimes toning down on the sarcasm would be nice. Posted via the Windows Central App for Android

Please don't listen to him, Daniel. I come to read just your comments lol Otherwise, it's more WhineCentral than WindowsCentral

Pfft lol Posted via the Windows Central App for Android... I'm sorry

My windows central apps crash every time I scroll the comments. It happen randomly. Lumia 650 with latest win10.

Are you on the Public Release or Windows Insider? Posted via Surface Pro 4 or Microsoft Halo Phone

Really great update. Articles load much faster

This app just keeps getting better! Thank you! Would be cool to have "Jump to First " and "Jump to Last" for the forums as well

A lot of the smaller changes will likely worth their way into forums once we start on that section.

Thanks Daniel!
Posted from Windows Central for Windows 10
Using the Alcatel OneTouch Fierce XL for Windows 10 (Redstone)

The overall experience for reading articles is great so using the browser for the forums is no biggie. Great work so far and from all the recent updates really like the new layout with comments to the right (on applicable devices)

Really, my only issue with this apo has been the crashing. Glad to see that addressed in the change log.

And it just crashed on me while scrolling comments (slowly) in this very post, so still work to do on that end. -- Lumia 640 (Windows 10)

When I move down navigation bar on 640XL I see "Pull to refresh" message in top Home screen.
Please change color notification bar in app to gray.

It also crashes ir fails to load.

I hate how Windows phone 8.1 is left out

Out with the old, in with the new.

But I really hate how Windows Phone 7 is left out.

Bah, what are you young'uns complaining about. I hate how Windows Mobile 6 is left out. Come on MS, support your devices

Why won't the app install on my Pocket PC?

That's nothing... I hate how MS-DOS is left out of this. Why isn't there an DOS program for Windows Central? Posted via Surface Pro 4 or Microsoft Halo Phone

The 8.1 app is much more reliable though.

Yeah but only reliable if you use Windows 8 and pay to remove ads Posted via Surface Pro 4 or Microsoft Halo Phone

Okay sorry for the dumb question but how do you log into this app? I had it before but recently reset back to a stable build and get off Redstone. Now I can't find the app login so I've gone back to using the old windows central app. Thanks.

Most likely the button is invisible. We have a small number of users that have reported this. Tap the blank space beneath the settings cog and tap logout. Then close the app and try to login again.

Thanks, this was driving me crazy. FWIW, the invisible log in button occurred on W10 current fast ring insider preview.

Also same problem with me (I'm using the public release - W10 Build 10586.318) Posted via Surface Pro 4 or Microsoft Halo Phone

Okay I'll try that thanks Daniel

Bottom of the hamburger menu.

How can i sign in pfff i am unable to see where to log in tu turn on all notofications

Does the developer use a virtualized panel for comments? It seems like that would solve most or all comments memory use bugs. Even if you load all comments into memory at once (remembering to dump them when done of course) the UI elements to show the comments take much more memory, and the virtualized containers take care of loading the visible elements and keeping the rest of the elements out. The virtualizing panels also recycle UI elements, so it's very lightweight. Of course, if you find that loading all comments at once, and virtualizing the visible UI elements isn't enough, then of course load only small portions of comments at a time. Developer 2 cents.

Yes, I'm actually using an ItemsStackPanel, but I also have to parse through the comments since we support nested comments as well as re-ordering them. It's not as simple as "just use a virtualized panel"

What's up with the signature bug? :D

This sounds better. Hope this solves much of the crashing.

Haaaaaa I was just typing on Mobile how good it feels, but finished my comment and it will not allow me to post, the > is totally none responsive :(

Article loading is very quick now

Getting better and better! Well done WC team, have my 5 star rating on the store!

They are right! Much faster on Mobile!

It crashes many time. Solve this.

Is there any setting in present/future app build for changing image quality?

Delete this comment before Windows Central blocks you for mentioning other websites here. LOL!

Lol,right away Windows 10 Mobile

Like the hepatic feedback but and you do this for when the app loads and not just when articles load cheers

Lovely update. Thanks a lot for keeping the app updated and adding new features. Left my feedback where it was supposed to be left and came here to thank you for the work ☺

Wish I was able to sign in so I can post comments Posted via the Windows Central App for Android

You guys are getting quite fancy! Keep it up. The Windows Central app is a good place to showcase the Win 10 capabilities.

Why can't you order(jump to last/first) the comments in the forum discussion pages?

They said they are currently working on news section and soon they'll go for forms section Nokia Lumia 730 on build 10586.318

Your update log has more news than the whole Windows mobile ecosystem

Crash while i m scrolling down in comments...looks the old central app is work good for me still...this app is need way long to go

Agreed. I don't look at this app as "daily use ready" yet, obviously. It's got potential but I'm not holding my breath that it will ever be as good as the previous app by Jay.

Very solid update indeed! Article loading speed is drastically faster, main screen layout perfect...

I really miss the previous way of accessing comments. Swiping the bottom bar was so intuitive and fast.

Can still swipe the bottom bar...just swipe horizontally instead.

Wow some backward people still using windows mobile

Beautiful Build. Enjoy it!

When will background loading of new articles come back? Got rid of the WP8.1 version and am now missing this feature, but also don't want to have both versions installed at the same time

Can't seem to long in to enjoy community conversations did I miss the login memo

See earlier posting. Tap under settings where login should be. Appears to be blank space on some devices like mine - 650.

Yea its blank on my 950 XL too that's why I was being sarcastic about missing the memo.

Keep up the good work Windows Central and Developer! Thumbs up!

Every little bit helps...

Its much smoother on my L550 but swiping from side to side does not alway load the next section. It can take about 30 second to see the next section (app-band-all etc).

Hi guys, thanks for all the updates. You guys are workhorses!
Recently you made the change to how comments are accessed via the top - just some quick feedback on that - essentially this forces people to stretch (on a 950xl) to the top of the screen to access comments. Quite a jarring change when used to simply