Windows Central Podcast 73: SteamVR is here!
This week on the Windows Central Podcast: We talk new Insider builds, SteamVR on Windows Mixed Reality and the Surface Book 2!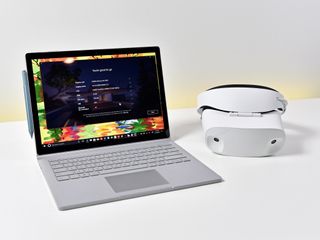 We're back with another exciting episode of the Window Central Podcast. This week, Daniel Rubino and Zac Bowden talk new Insider builds for PC with new changes and features, along with our Surface Book 2 review. Also on this weeks episode, we talk to Daniel DeSilva from Thrifter about the latest Microsoft-related deals.
Help us make this show the best Microsoft podcast in the world. Tell your friends, share it on social media using the hashtag #wcpodcast, and give us a five-star rating wherever you download your podcasts! Thank you so much for listening!
Show Notes
Subscribe to the podcast
Hosts
Make this show great by participating!
Send in your comments, questions, and feedback to:
Windows Central Newsletter
Get the best of Windows Central in in your inbox, every day!
Zac Bowden is a Senior Editor at Windows Central. Bringing you exclusive coverage into the world of Windows on PCs, tablets, phones, and more. Also an avid collector of rare Microsoft prototype devices! Keep in touch on Twitter: @zacbowden.
I think. Apple and Microsoft will become the duopoly. (tablets is an exception) of the AR/VR world. (MS has PC, Console, Standalone and potentially Mobile VR) in terms of AR. I think Microsoft will need to create the android of AR. Skinning OSes to make it gain market share, but do it in a way where everything is updated at the same time (hence Windows Core OS)

For the question of "why buy Rift or Vive?" I think it's still a pretty obvious answer. You gave it yourself as well: SteamVR functionality is in beta for WMR. Even as you guys say "SteamVR is there, you have the full library," that's not really the case. Only about 35 games are tagged as WMR-compatible in the SteamVR marketplace. I have about 15 VR games on my Steam wislist, and not a single one of them is on that list. So, I still have to spend $400 and hope the support doesn't take so long I don't feel like I wasted my money on the headset because of a content dearth. I'm close to having my new PC ready for VR, and I've been watching WMR the whole way. I want to buy into it, but it just continues to not get where I want. I wanted the ASUS HMD, then it ended up the ONLY launch device to get delayed, and we still don't ahve a release date (heard late-2017 and early-2018 for a month now). I was excited when they said SteamVR was coming last week, but seeing it have none of my wishlist listed as compatible is a drag. So, despite trying to find any excuse to buy into the platform, the Rift and Vive are still well ahead of the WMR device in content. Not sure how quickly the content will get added compatibility, or what level of compatibility exists on a SteamVR game will have, if any, when you try to play a SteamVR game that doesn't have that "WMR" tage in the store. Buying the platform is a total diceroll for most consumers, and that's going to hold it back. That's especially true for someone like me, who has watched Microsoft abandon so many things used by myself and my family (WP7, WP8, W10M, WinRT, Zune, Band, Kinect, Lumia). Too many instances of ideas Microsoft doesn't push to the finish line,. So, when a Rift is the same price as the lower-end WMR HMDs, and I'm left to pick between living with sxternal sensors and living with spotty software support, I'll take the former. Luckily, they've got a few more weeks to improve support before I have to pick a device. However, I wanted to get one at Black Friday, and they just haven't delivered yet. I really want a WMR headset, but I want VR games more.

I'm not sure what the reason is for those games, but a WMR headset "just works" with SteamVR -- Without any code changes, it appears as an OpenVR headset and gives the correct specs for resolution and field of view, and the positional tracking works great. Perhaps it's something with the hand controllers that is markling those games as not compatible? I haven't tried those out in SteamVR, and the app I am working on doesn't use them.

No idea, but Steam has its own "Windows Mixed Reality" section on their store. There has to be SOME reason that the headset is treated as a different product. Not sure what it is, but it's hard to just throw out $400 and hope for the best. The controllers definitely give me the biggest pause. I wish Microsoft would expand the WMR demos at Best Buy. The Rift has had a demo station at my Best Buy for probably a year or so, where as I'd have to drive 2 hours to find a Best Buy that offers a WMR demo.

can you let me know one of the games on your list that isn't WMR compatible? I can try it here in the office if it's free (or has a free demo) and let you know. It may just be that some games haven't been tested yet and so aren't on the compatibility list. I can't think of a technical reson why it wouldn't work...

You're struggling to find and running out of new and interesting topics to talk about already, aren't you Daniel? Damn silent Core OS and CShell development process, right?

I played Assetto Corsa with the Lenovo Explorer, no problem even if it's not listed. I just set it to OpenVR in the in game settings.
Windows Central Newsletter
Thank you for signing up to Windows Central. You will receive a verification email shortly.
There was a problem. Please refresh the page and try again.