Windows Central's Halloween Contest 2014: Share your photos with #TrickOrWP and win!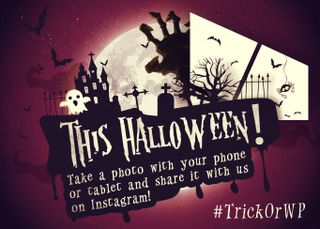 Windows Central's No Tricks, Just Treats Halloween Contest!
HAPPY HALLOWEEN!!! We have had a fantastic time with our Halloween Contest the last several years, and we can't wait to see how you guys top it this year! While you're out getting spooky, be sure to snap a photo with your Windows device (you can include other mobile gadgets too, but you know... we love Windows best). Then Instagram it using hashtag #TrickOrWP. We'll put together all the photos received into a sweet video for the blogs. And beyond that, you can win some awesome prizes for taking part. Full details below!
What You Need to Do
When you're out at Halloween parties or Trick-or-Treating on Friday, be sure to take some pictures. Be scary, funny or do a crazy pose. Whatever you want is cool. Have fun with it. For brownie points, load up WindowsCentral.com in the web browser or throw on a Windows Central wallpaper and show your phone or tablet in the photo. Group photos with friends, family, and co-workers are more than welcome too.
Submit Your Photo
With your photo taken, all you need to do is share it on Instagram with the hash tag #TrickOrWP. Be sure to use that and tag us so we can find your photos! It would be super helpful if you included your Mobile Nations username when you post it, so if you're a winner we can contact you easily. Also, if you would like to include a caption or any other information about your picture, be sure to do that. Each site has a fantastic prize to give away at the end, plus we'll do runner up prizes, because we love you.
IF for some reason you absolutely can't post to Instagram, or if your account is private, you can email your entry in to halloween@mobilenations.com. Include your Mobile Nations username and any other information you'd like to include.
The deadline for entry is Sunday, November 2nd at noon PST. Entries after that will not be included.
How and What You'll Win
Come November 2nd we'll go through all the photos and pick out a bunch of winners in a variety of categories - scariest photo, funniest photo, sexiest costume, best group photo, best family or theme, and more! We'll put all the winners and other photos received into a video collage and post it up on the blogs. Check out last year's winners here.
As for the prizes? Well... it's Halloween - which means you might get a treat, or this could all be just a nasty trick. But you know us... we like treats. We're going to keep the treats a surprise for now, so take your photo this Halloween, share it on Instagram with #TrickOrWP, and stay tuned.
From all of us at Windows Central and the Mobile Nations team, have a safe and Happy Halloween!!
Lol, they used my pumpkin from last year... I actually thought I wasn't gonna get anything but I got $50 for the WPCentral online store.

We should still do tricks. Like tell someone they won a 1520 and send them a Moto RAZR. Now that would be a trick.

Lol, a Nokia 3310 would be even better.

That's horrible Sam. Why would you even do that to someone?!

Sam should takes a sexiest costume picture, and you'll win for sure.

Don't celebrate this or any holiday, don't care :)

How do you have fun with the family then? IDK if people really celebrate Halloween, it's just a way to have fun and take the kids out Trick-or-treating...

What about people from other cultures/places where there is nothing like Halloween?

They can enter other contests. Not like we don't have plenty of chances to win things. :)

Yes...my questions is same. Here is nothing like Halloween. So what to do

Dress up in a costume and take a photo? Is it really that difficult?

Then create a Halloween costume go to your neighbors home and ask for candy. You're welcome

Yeah... Just that there is no such thing as 'Halloween' outside the US

Not true. "Halloween" is celebrated in many different ways in many places around the world. :)

In some parts in germane we celebrate Halloween as well... so holla at us (not US :P ) too

Ich bin Wpmaniac 25. Wie heiße du

Some people just don't believe in/ celebrate Halloween

@WPmaniac Halloween has nothing to do with "belief". But it's a non-event in most countries around the world... we generally don't celebrate it in Australia, except for the occassional costume-party. I wouldn't know what to do if anyone ever came to my door to Trick or Treat... I'd probably have to give them a tin of soup! haha

Halloween all goes back to belief it was originally in the UK saints day eve but somewhere along the line got plagued with evil and the devil, so your argument makes no sense

Has nothing to do with belief or religion (if that's what you are trying to get at)... Now. You don't have to participate but don't try to make it less fun for everyone else. Wait for the next contest...

It has everything to do with that, its just that some IGNORANT people don't know the truth take you for example

The "truth"? So you are preaching now? First of all you don't know anything about me or my beliefs. If you truly believe that everyone in a Halloween costume has some tie to the devil or some Satanic ritual then stay home... Ignorant Pu$$Y.

I don't have time for five year olds with shockingly rude vocabulary, come back in 13 years mate

I'm sorry. Did I offend you? I must've overreacted after being called "ignorant" by a man who has trouble telling the difference between reality and fantasy.

No you didn't offend me, you're just irritating everyone on the site

Lol because ppl love being preached by a Christian opposing their faith on them. Apparently your mind has been warped by your faith and rationality has gone completely out the window for you. I'll pray for you because there's obviously something wrong with you if you feel contempt to preach about Halloween and the hand the devil plays in it without being asked. Remember this is a tech site and Windows Phone has nothing to do with JC.
For anyone else... Know I'm a god fearing man who believes evolution also played a part in our creation. I'm sorry that doesn't fit in the box most of us created but my relationship with GOD is my own and contrary what this guy might think I will not burn in hell because my GOD won't allow such a cruel punishment. Middle finger to this guy because obviously he has other issues.

Plus its the actual celebration not the people who celebrate it

"plagued with evil and the devil"? Just because something is "scary" doesn't mean it's "evil". I don't know what the "devil" has to do with any of it as he's just a red guy with horns people made up to scare little children. Halloween is just an event for kids to dress up and eat a lot of lollies. In much the same way that Christmas is just an event to exchange presents & eat good food with your family. While Easter is an event for kids to get a lot of chocolate & adults get to eat lamb roast and hot-cross buns. They're all just a bit of fun and can be celebrated without any religious belief or meaning in them at all.

Well I am a christian and celebrate Christmas as a celebration of Christ's birth. Easter as the celebration of Christ's resurrection

It's funny to me as they're both all truly Pagan celebration days, with mostly pagan symbols & traditions - such as easter bunny, hiding eggs, hot-cross buns, easter hams, exchanging christmas gifts, yule log, christmas tree, use of holy / ivy / misteltoe, santa claus etc. It's no surprise then that Christmas is celebrated on the Winter Solstice and Easter shifts yearly following the cycles of the moon. And exactly like Christmas and Easter, Halloween is also a Pagan tradition that is celebrated worldwide by Christians as a Christian tradition (All Hallows' Eve etc).

@Michelle It's mostly true - it seems like it's the biggest event in the year for the US, but it's barely more interesting than Easter in most other countries... and nobody celebrates Easter over the age of 15 :P

Michelle you look so preaty :)

Yes in Canada we have Halloween. Strange I know.

Do you guys also celebrate it in Québec?

I dont use instagram ...so pass and happy halloween everyone.

Same plus, I don't have a costume

Any word on who won the photo contest from last week?

What about those of us where Halloween is banned and we celebrate 'Beggar's Night'? (Yes, its weird... http://en.wikipedia.org/wiki/Beggars_Night ) "In the Des Moines Metro Area during Beggar's Night, children ring doorbells, say "Trick or Treat" then tell riddles or jokes such as "Why didn't the skeleton cross the road? He didn't have any guts!" Homeowners will groan and laugh, then give out treats."

I was mostly trying to add a little humor since I live in a location where the kids can't actually Trick or Treat on Halloween...b/c its so 'Evil'. LOL!

All them witches and goblins man, can't have them running amuck and having fun now, can we? ;)

lucky you we don't have a great celebration such as halloween actually it is forbidden to celebrate halloween in my country it is wired but it is true there are some dreadful places in this shit planet i hate my country i hate my life i hate everything :((((((((((((((((((((((((((((((((((((((((((((((((((((((((((((((((((((((((((((((((((((((((((((((

I choose not to celebrate Halloween - stop complaining

Why do you want to celebrate Halloween in Iran?

We don't have Halloween :/ but we have Dia de los Muertos!! :D jajaja good luck everyone ;) greetings from México 8-)

This contest open worldwide??

LOL! That's funny to scroll down and see my Wolverine costume.

Let's take shot of steam horror games. I bought many games this time

What happened abt the mugs and t-shirts??? :-p ......

Don't worry, still happening! I just had a hectic week, and lots of entries to sort through for sizes and stuff. ;)

Love Windows Central contests. But I guess I'll pass this one.

Still with the paranormal activity going on in INDIA you know the movie :P

Glad there's an alternative way to enter than by having an Instagram account. I hate when these contests assume that everyone has an account on Facebook, Twitter, Instagram, etc.

Please let the price be a Microsoft band
Windows Central Newsletter
Get the best of Windows Central in in your inbox, every day!
Thank you for signing up to Windows Central. You will receive a verification email shortly.
There was a problem. Please refresh the page and try again.