Windows Embedded Handheld 6.5 OS released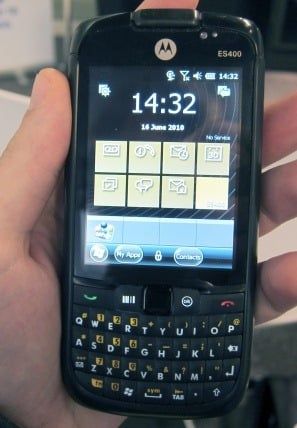 Way back in June, we told you that Microsoft was developing a new OS designed specifically for enterprise hardware, like pricing and inventory scanners, like the Motorola/Sprint ES400S. Yesterday, MS made it officially available for use. As the name implies, Windows Embedded Handheld 6.5 is built on the Windows Mobile 6.5 platform and "can take advantage of multiple screen sizes and input methods, peripherals to extend device capabilities and multiple connectivity options." It is already set to be used on products by Motorola, Intermec and Honeywell.
MS started with version 6.5 to give its customers a clear upgrade path from the current software, to Windows Embedded Handheld 6.5, to a newer version of the OS that will be based on Windows Phone 7. While official support for version 6.5 will last up into 2014, the newer WP7-based OS is due out in the second half of 2011, according to the big guy himself, Steve Ballmer.
Source: Microsoft (opens in new tab)
Get the Windows Central Newsletter
All the latest news, reviews, and guides for Windows and Xbox diehards.
I have been looking at the phone for months now. I would own it if not for the $550.00 price. This phone is a rugged device to MIL spec. Have you tried it out?

No, none of us here have tried it. Not sure if it's available in retail channels.

It's not - only able to get it strictly through business channels. See the Update note over at Engadget Mobile, as Sprint will carry it.http://www.engadget.com/2010/06/17/microsoft-outs-windows-embedded-handh...

i have this phone and after only two weeks i am having problems with it,The phone is running out of ram memory and locks up, have contacted motorla to fix problem but still have not herd back . The phone specs say it has 256mb of ram but the phone is only showing 178mb to use , the phone with normal use as a phone uses 140mb of ram if you try to use any thing else it trys to lockup ,until they fix the problem with windows i would wait to buy this very over priced phone ,but if they fix the problem with the missing 78mb of ram this will be a very good phone .

the problem with the es400 is when they partition the phone i think they do by a percentage the device specs 1gig of memory and 256mb of ram but they have it set at 653mb of memory and 178mb of ram ,and all the programs on the phone only use 47mb of memory this is the same reason i stop using the htc touch pro2 microsoft needs to fix this if they what to have a chance against andriod and I phone this is why people dont like windows phones .