Windows Hello gains traction with nearly 100 biometric-enabled Windows devices and accessories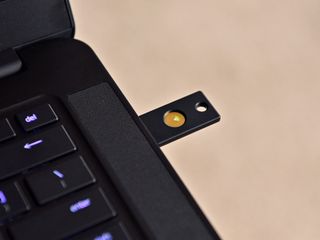 It looks like Windows Hello, Microsoft's biometric security feature built into Windows 10 has been seeing quite a bit of success, as far as adoption is concerned. In a new blog post, Microsoft has announced that there are now nearly 100 biometric-enabled Windows devices and accessories on the market. In other words, securing your PC with Windows Hello has never been easier.
It's important to note that Microsoft's counting includes not only accessory devices, but also laptops and tablets with embedded Hello-enabled sensors. From Microsoft:
Windows Hello opens up a host of ways you can further secure your PC in some interesting new, password-free ways. Microsoft highlights some of these examples, which include the recently released YubiKey for Windows Hello, and the Nymi Band, which is a wearable that verifies your identity with your heartbeat and lets you unlock your PC with a tap of the wrist (we're planning to review this one soon). There are definitely a ton of other cool Windows Hello-compatible devices out there, and there are sure to be even more that impress down the line.
What's your preferred way to use Windows Hello on your PC? Let us know in the comments!
Windows Central Newsletter
Get the best of Windows Central in your inbox, every day!
Dan Thorp-Lancaster is the former Editor-in-Chief of Windows Central. He began working with Windows Central, Android Central, and iMore as a news writer in 2014 and is obsessed with tech of all sorts. You can follow Dan on Twitter @DthorpL and Instagram @heyitsdtl.
Security is finally taking on the importance it should have had a long time ago. Especially when you now have a guy in washington who doesn't believe hacking even exists. I am hoping Hello improves and the cost drops.

and new guy con artist believes MAKE RUSSIA GREAT AGAIN! what about rest.banks,stores and list is on....?

Huh. Trump wasn't hacked, the candidate that smells like "farts" was "hacked" as she was hiding/stealing government documents and her campaign manager was "hacked", and the their party. However, most of the information released from Wiki suggests that it was an inside job at least her campaign manager and the dem party stuff. Either way, not sure what Trump or anyone else has do with computer security.

Re: MakoDaniels,
More fake news.

Looks like the Trumpsters on here are handing out thumbs downs.

HP Elite x3 use the fingerprint unlock all the time, and it probably works 98% of the time very quickly. The iris scanner is similarly effective but takes a lot longer and requires me to hold at a certain distance, so not quite as natural as the fingerprint. And because it's so easy to unlock, I feel great about having it lock on a really short timer, which means increased security. HP Spectre x360 so far is about 95% with the facial recognization, and usually even faster than the fingerprint on the Elite. My work ThinkPad fingerprint reader sucks. It works about 5% of the time, then after those rare cases it defaults to not showing the password box, so then it is even more frustrating when it doesn't work again since I have to click the other options and password icon before typing it. I wish it would always default to showing password while allowing Hello. I'm tempted to buy something for the desktop because with those 95%+ devices, it really does make it so much nicer to log in.

Where are the web sites with FIDO support? I want my bank to authenticate me with Hello.

USAA "supposedly" uses Edge with Biometric.

Hello is it Trump your looking for,..

Which none of the RealSense cams work with 14986 and later.

Okay that's good they have all those devices running "Windows Hello" but please fix the problem with the 950XL and the black screen and sensor not working like they should. I have to press the power button more than 3-4 times to see my lock screen to enter a code. Come on this has been going on long enough.

It's incredibly annoying when it happens (about twice a week) but a restart gets rid of it

Happens on my and my Wife's L950. Annoying.

Wish there was a list cameras somewhere would love to retrofit my home PCs with some Windows Hello love. No need to reinvent the wheel if I just need an add-on.

Haha. You don't even have to mention the guy by name anymore. Perfect.

Hmm. Actually, the more I think of it... you were probably more correct with your first post than I gave you credit for... as I think the comb over is in NY. My bad. I see your problem is with the guy currently in DC. Either way, if you expect him to solve your computer security problems... well he did hire the fart girl and you see what happened there... good luck with that and all.

We have competing goals, though. On one hand, you have those who are living in fear of every hack, security flaw and thief out there, and on the other hand you have a growing market of people wanting a seamless, effortless interaction with their data and media (e.g., Cortana, Alexa). All these Windows Hello-compatible devices are great, no doubt. But I think the real gold will be in someone coming up with the best mechanism for validating access rights on the fly. For instance, a system capable of listening to your commands would need a way to validate your right to view emails or access bank records, etc., when you direct a command like, "Hey, Cortana, what is my checking account balance?". A system that responsive but also secure should really be the goal.

Security through voice seems still on infancy but would really revolutionize the mainstream usage of voice-enabled devices and software such as AI assistants. Basically the AI assistant knows the voice of who exactly the user is, thus only responds and reply a specific information only for that user. Some sensitive information such as asking your account balance through voice should be restricted and not possible on devices that doesn't have display and only show on personal devices such as smartphones, smartwatch, tablets and PC. As long as the user who give that command is only actively using and on front of the device receiving that command and only tells the user on voice that the information is on the screen without telling it through voice. Devices like TV, IoT devices, Speakers, any public devices must not execute any commands that provides sensitive information.

I just started using Kinect 2.0 a couple weeks ago. Works good so far. And by the way all it takes is a download, Kinect for Windows Runtime 2.0

I bought an ASUS Zenbook with Windows Hello facial recognition for my son. It uses my son's face...and his brother's face...and their friends' faces...to unlock. It seems to unlock for any teenage boy who sits in front of it. (Yes, we've repeatedly tried storing new security images of my son to see if we can hit on one that works only for him.) Anyone heard of such a thing? Ideas appreciated.