Windows Insider app scores an update, may have blocked Preview hack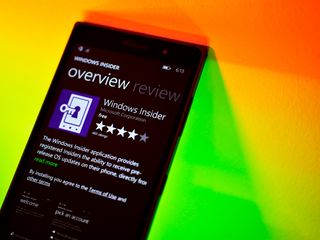 Update: Reports suggest that Microsoft has plugged the Insider app. Using Fiddler to spoof Windows 10 on your unsupported device will no longer work. Although this was only one method to install Windows 10 unofficially, it was a popular one for those without an SD card.
If you're running the Windows 10 preview for phones on your device, an update for the Windows Insider app is waiting for you bringing it up to version 1.2.217.1. There's no telling what the update does, but it would be a good idea to go ahead and pull it down.
Feel free to hit up the source link below to grab the update. In the meantime, be sure to head on over to our forums and chime in on your experience with the Windows 10 preview for phones thus far.
Thanks to everyone for the tips!
Dan Thorp-Lancaster is the Editor in Chief for Windows Central. He began working with Windows Central as a news writer in 2014 and is obsessed with tech of all sorts. You can follow Dan on Twitter @DthorpL and Instagram @heyitsdtl. Got a hot tip? Send it to daniel.thorp-lancaster@futurenet.com.
woo win10 for 620 plssss :D

May be they blocked the hack route??

That's what im thinking...

Hope they did, just imagine the bad press when things really go wrong.... We will get there, for free and other models will follow before final release... MANY of you want it all and please yesterday...... Be realistic

There will be no bad press for Microsoft because ding dongs pull a hack from xda

Hack didn't work for me anyway :(didn't brick my phone tho, was able to revert

I tried Windows 10 on my Lumia 920. It's not recommended. The phone will respond sluggish and it contains lots of bugs. I flashed back to 8.1 without de developer preview and my phone is once again solid as a rock and responds fluidly. I'll wait till the official release.

It did block hack for my Lumia 520. I was using WP 10 TP for 3 days now. I was on developer preview wanted to go back to Denim so I thought I'll just check WP10 for once. And now I'm going back to Denim. It is cool but performance issues are too many for daily use.

Hi, bro you said you did TP of wp10 on lumia 520 right.. But how you do,it?? And is it works fine on it or not??and is it confirm that MS may do something about lumia 520? ?

I got it in my L525 by hack..........runs great bt some problem with gallery app

So then it don't run great

It's same for my 730. Gallery app doesn't show pictures.

Yes, my Lumia 630 Dual SIM works great on windows 10.

The gallery app works "bad" for the preview to various people with supported devices so... Um... Yeah.

Are you a professional jackass, or is this just a hobby that you are really good at?

Heck was vey simply actually. I did install 10 on L1520 but rolled back to 8.1 because of buggy photo app and related tasks.

Same here, on my rm-937 L1520. Tested for a day or two and rolled it back.

Microsoft cutting out extra work and tension..!!

Now that microsoft saw that virtually every lumia can run win10, they could release a tool for cleaning up some sys memory. I mean, thats not so complicated at all. I'm only missing 5-10mb and did not even reset, lumia 920

We want Windows 10 for more phones!

I don't, not until it's closer to being useful. Right now it's a massive downgrade.

Not really. I considered downgrading to 8.1, but between the amazing new settings, the actionable notifications, and the vastly improved Xbox music, it's definitely an upgrade if you don't mind a few bugs.

I agree, and the bugs aren't even a deal breaker, a gentle reminder that, hey, for once, I'm actually part of the OS-making process, kind of a cool feeling (even if it is on a Lumia 920, heh).

I agree with you except that Xbox Music has the same version on both Win 8.1 and Win 10 (2.6.657). They doesn't updated it yet. How could be vastly improved?

But cbox music seems faster!! XD

Because, so far, it has never once crashed on me. It is so much more stable than 8.1. I think that the core part of the app is built into the OS like in 8.0, but the rest is updated dynamically through the store. No more black screens, no long loading, no crashing... Much better

Maybe they removed bloat from Xbox music

Except there's a lock screen for songs that are playing.

It is a downgrade ... No more Rooms in W10

I was not aware that there was any improvement to the music app. What changed?

Bullshit. Xbox music vastly improved?! Yeah, they made a version just for you.

Its a massive addition to see where we go, bite the bullet and buy the cheapest device that can download 10 to DON'T use your daily driver till just before final release

Ok, I'll get right on that...

My 620 is working just fine and it's my daily driver also! The bugs don't bug me!

I don't know why people talk so much about bugs in windows 10. It works really fine in my 920.

When in India ? ....i had to say it lol

Well unless it gets me W10 for my 930, I can wait. I won't bother with the hack.

Gotta wonder if the people who have hacked it on haven't created a slew of bug reports for stuff that only appears to be broken because its on a hacked device

The device isn't hacked. All that happens is the phone reports it's "supported" to MS, and then win10 downloads. It runs fine on unsupported devices; same bugs present on the supported ones. Don't kid yourself, this tech preview is not ready for anyone's daily driver. You WILL revert back to 8.1.

You underestimate some of us. I wouldn't revert back to 8.1. I live life on the edge. lol

Me too -- running on my daily driver (925) to boot. Sure it's not ready for most people, but some of us really will put up with a lot to be on the bleeding edge ;-)

Oh you is so elite, here, let me touch you.

There is a reason they call it "the bleeding edge" ya know. But, nick, I've read you for about a year here, your smart, I think you know this.

Yep, totally. There is definitely pain involved! :D But as a fan and a developer myself it's personally worth it for the enjoyment of seeing behind the scenes.

Nothing"bleeding edge" about a 925, to be perfectly frank.

I'm sorry I don't have the money to buy the latest phone whenever it comes out. I must have spent it on my SP3 instead. At least I can stay up to date with free software. /s

Unlike some people, I actually used the hack to help shape the future of Win10 instead getting the new features.

It actually downloads the wrong image to your phone. That's how that hack works.

Well, the image must be like x86 windows then, because it somehow has drivers for all of the individual components of these different phones. I doubt Microsoft uses the exact same exact parts in every Lumia.

Sorry, Dan. The image OS is the same for ALL phones.
Just the firmware that's diferent and Windows Insider Program and Preview for Developer just download the OS, not firmware. :)
And just like Windows 10 Desktop, when you update to a new version, you use the old drivers (firmware).

I will not go back, been using for almost a week on my 1520

I'm sorry, but W10 is running better on my 720 than 730 :)

Is that true that WP10 runs better on your L720? If so I hope Microsoft will soon make it available to all L720 users like me! :-)

Yes. The 730 are buggy on the navigation bar and wallpaper that doesn't show. =P
The really problem to others phone is the partition. if MSFT had released to everyone, 80% would need to clear the system partition, there would be no space for installation. And you can only do this by reinstalling the firmware. Now, Microsoft is working on a way to get this larger partition before upgrading to Windows 10. I suppose then we will have a preparatory update before!

Don't bother with either. The hack is the official win 10 preview, but It's just not ready. AT ALL. For your daily driver. I went back to 8.1

It is not a Preview, it is a Beta..... Simple as that.

It's a figure of speech, leave em alone.

Tbh... This is probably the most nonsensical point I've seen so far.... Isn't a (public) beta a preview of what is to come (aka the same thing), to give users a means of providing feedback for changes and or improvement?.. Or I have been mistaken ever since I became cognizant of modern app/program development...?...

It is something you interact with in a completely different way than with a Dp preview... something that a lot of people seem to be unable to grasp.

Yes in most cases the terms are interchangeable.

Umm... it IS called the technical PREVIEW.

Ummm... So you're saying because it's called "tech preview" it's not a big fat beta OS?... In the end , giving something a more welcomed name doesn't change what it is and what the purpose should/is/or will be.

Been using The hack on my 930 for two days. So far not many issues other than one dropped call and freezing. Had to restart.

Or the ugly unfinished UI with no padding so text goes right to the edge, schizophrenic UI, inability to download new languages or keyboards and borked Cortana. I had to go back to 8.1. I'll try again next build:P

I'm glad I'm not the only one who thinks this was a massive downgrade. :D

What do you expect ITS A PREVIEW NOT A FULL OS! GROW UP PEOPLE!

I don't think otherwise. I think as a first release this build was, and is, quite terrible. It's far from stable to use as a daily driver and, relatively speaking, was nowhere near as good as the first release of the TP desktop counterpart. That's just me though; I cant speak for original OP of this post.

Damned if you don't, damned if you do. MS released it early because people where getting antsy. They could have easily delayed it, included more features and support for more models. Now it is released, people are still up in the air....

THANK YOU I THOUGHT I WAS THE ONLY PERSON

I actually agree with you! I wish they'd delayed it instead of folding to the demands of the few. I feel like people waiting for the preview build were expecting something on par with the PFD's. I didn't, in any case but I didn't think that first build would end up releasing the way it did.

It is a Beta! If you want a Preview.... do not bother with it. This Build is for Beta testers only!!!

Anybody who went ahead and hacked doesn't know the purpose of the preview and is better of with 8.1. For us that want to be part of the build process we've installed it on a secondary device are giving feedback to Microsoft

Its not ugly, its much better UI thn 8.1. Yes, it has bugs but that will be solved in later build

I had the same problem, couldn't download new keyboards and it was very frustrating because there is no Flow for Romanian keyboard in 8.1. Couldn't solved it even with hard reset. But I've reverted back to 8.1 with the Microsoft Tool, made all updates, reinstalled Windows 10 again and this time I had no problem with downloading new keyboard languages whatsoever. There is a problem, though, after switching languages the keyboard layout scrambles and you are forced to make a reset.

There no stinking cellular toggle on the 10 preview either.

Yep one step forward two steps back.... As per usual Microsoft.

How is it two steps back? This preview isn't even official, and you shouldve expected a few downgrades due to a preview. Please, give the feedback to ms.

It is official. If it was compiled by someone who is not Microsoft, after stealing the source code, it would have been unofficial.

THIS is one of the most pain full parts of W10M Preview that make me back to WP 8.1.1, the second one is that useless laggy photo app...why do I need those expandable quick actions, when I actually have no regular and needed actions to choose and use. Okay, Okay it is beta, it was cool option to see it, even if I had to use hack with my 920 :D

Uhhh.. Settings >network>cellular. It's there..

He's meaning in the action center. It was added in 8.1 Update 1 (probably after the development of Windows 10 started, as to why it wasn't included - yet). ;)

Windows 10 for 535 please

Who are you asking? What do you think WC is? Hmmm side note, when you type in WC a toilet pic comes up
... Lol

I would like a Big Mac and fries. Um I'm asking the same person as the guy above.

Well, 535 is an official MS branded phone, unlike the MSkia phones W10 is currently available for.

Xbox Preview dashboard also got an update.. no changelogs.. but hmm may be they r connetcted in some way?

The updated app no longer lets me select a channel (fast or slow). It just says no builds available. Lumia 635 here.

Might need to update something on their end, I wouldn't worry too much about it, yet.

You need to flash your phone with Windows phone recovery tool ... Then check for the update ... After installing, signing in on Microsoft account ...

Got this update on my 930 running 8.1 Denim. Wonder why.

Everyone with the app gets the update. Just like every other app.

I would love to see new and powerful phones with Windows 10. https://windowsphone.uservoice.com/forums/101801-feature-suggestions/sug...

Microsoft isn't a chip maker, and what the guy's implying is to make a new SoC (system on a chip) that uses NVIDA's graphics card... That would be one heck of a bulky phone.

No one's implying to make new SOC. Read the suggestion again.

The NVIDIA mobile chips do exist. That's what they used in surface 2 but I don't think the user experience would really be any different. That being said, I think they should support other brands and not just Qualcomm.

Maybe they added support for more devices. Posted via the Windows Central App for Android

If Microsoft wants developers to use the changelog feature in the store, they need to set an example and start doing it themselves. Having an empty changelog is just amateurish. Posted via the Windows Central App for Android

Well this is not the first time... Besides there are plenty of developers who make use of it. Furthermore even if they did, you will still have lazy devs.

This. This. This. Why are MSFT created apps not the best of the best, open source, and follow design + store standards???

Lol you guys kill me with this "seems faster" foolishness.

Who exactly are you asking?

It means for some Lumias wp10 preview

Seems like everybody getting updates except for AT&T lol

Funny as I downloaded everythin a couple hours ago,but it wont install on my att 1020...must be the reason.

Running W10 on my Lumia 830, after updating the app I says my phone isn't compatible anymore. I don't get the slow or fast options anymore.

I hacked my L1320 and installed Windows 10.. OMFG it sucks.. Thank god I was able to get back to WP 8.1.. I'll wait until the official update..

It's a technical preview for petes sakes... I hope they blocked all the hack routes thus preventing people like yourself who have no idea what a technical preview is from installing it.

Anybody who went ahead and hacked doesn't know the purpose of the preview and is better of with 8.1. For us that want to be part of the build process we've installed it on a secondary device are giving feedback to Microsoft.

I hope I can get windows 10 for my Lumia 1320

Stop with these useless posts

This won't stop them....rendering this post as useless also :P (they really won't stop you know)

Gabe aul Said on Twitter that they added certificate pinning to the app... And Yes, I don't know what it means

Maybe it relates to the hack. The hack uses a certificate.

Certificate pinning means it won't look in your trusted store, it'll look for a specific CA to verify the cert - pretty much a guarantee that it can't be spoofed, which is exactly what the fiddler trick did.

Gabe aul ( we Just added pinning support for the application...)

Been running it on the 820 for a day now, and I downloaded the update of the windows insider, nothing happened...still the same

Now my HTC One says no builds. Rather than slow or fast. My guess is they patched it. I wish the recovery tool worked on my device. Win 10 is pointless. Basically no new features right now. Start screen themes don't even work on my HTC.

What were you thinking? Hacking an early build on your phone with no way to go back? That's insanity.

Only reason I installed it was because the recovery tool was mentioned on here..... So figured worse case I could back up. It's called "Windows Phone Recovery Tool". Not "Everything but HTC One M8 Recovery Tool". So why wouldn't it work? Not enough info. That's the issue. MS is always so vague.

Even if it was called that way, you wouldn't have paid attention. What part of "your phone is not supported yet" you didn't understand? Or maybe the fact that you hacked your phone to run an unsupported version did not give you a clue... Anyway, I knew that I could reflash my Lumia using the Nokia tools. It seems to me that you failed at doing your research before hacking. Btw, MS was not vague. Your phone was not supposed to get the preview.

The tool is to put 8 on any phone. 10 or not. Even if your on 8... It'll put 8. Your rude response isn't helpful to the community.

N I do research. Not enough info this early. Good god your an ass.

This preview really sucks anyway. Bugs aside the reason I downloaded the preview was for the new outlook apps but they aren't present in this build so it was a waste of time for me. I really wanted to see how the new email and calendar apps were but this preview has the old email and calendar apps. Plus the mix of old menus with new creates a confused UI. I will wait until it is more cohesive experience and until I get more features.

They released it early although they could have delayed it to support more devices and have more features. Either way people weren't going to be happy, so what do you do?

I agree but Joe Belfiore was showing a build at the event which showed the new email and people apps. They should have at least waited to give us that build. This current release really was a mistake because it has most of the old apps and it doesn't feel much different which killed the wow factor. I really don't know what they were thinking by releasing this build. It is a poor representation of Windows 10 for phones.

Ummm if it weren't for you guys pressuring Ms to release it early may be they would have added the features

This is exactly what's wrong with this build. Misleading is an understatement. Literally... It's less useful LOL. Cortana is broke to hell and I use it daily.

Way to go Microsoft. Shafting your consumers once again. Tell me again how large your market share is.....3% and likely to drop further.
...
This isn't about some partition stitching. No. Microsoft just loves to shaft it's dwindling consumer base with the help of championing cheerleaders here, who yet to display the negatives of this company and it's policies. Then denigrate and belittle those who do.
...
To the point....
You are blatantly in the wrong Microsoft and the very premise of the TP is to locate bugs and with the help of consumers, effectively resolve them. Yet you explain to us that there are to many "issues" to even release the TP to your high end users contradicting the very reason that said previews exist.
...
And all the hack does, is trick the system into recognizing the phone as one of your more sainted versions on the compatibility list. No "stitching" and no issues. So what is really behind your discriminatory selection?
...
Is this some sort of social posturing. That by snubbing high end users because you are under the impression that if you have a high end phone you can afford it and therefore can wait in the back? Not realizing most are actually on a payment plan to use what was thought a flagship phone.
...
Yeah. It's glaringly apparent that the issue you used to explain away your epic snub isn't a real concern and you intentionally meant to shaft your consumers as a sales gimmick or social repurposing. If Microsoft shares continue to dry up, you're aptly deserving of every bit of it.
...
Like I stated before..consumer perception is all that matters and you are doing a great job reinforcing all the reasons to not join the Microsoft family.

Your jumping the gun here, so what they MAY have told a white lie. This is stage of development where the software is tested on a small batch or a single device to ensure everything works as they want. Once they are happy, that batch is increased to other models. By limiting the batch it is easier to identify core issues.
Having feedback, yes helps however having too information in one go is also detrimental. They have to find the right balance that works for them. Remember they could have easily conducted this stage behind closed doors and not have to deal with the aggro.

Stop the God dammed crying, this is a staged preview OS, and people are act like Microsoft stole their baby or something. If you cannot mentally grasp the reasons why they are doing these things, go see the psychiatrist and get help for your retarded brains

Too many trolls in the comments nowadays, and Tommy Henderson just topped the list.

Oh grow up. Microsoft released the tech preview on low end devices because guess what? This is a buggy, slow and a unstable build, with the added risk of bricking a phone at any given moment. The smart choice was to release it on low end phones that people can afford to replace or use as a backup. Imagine if that phone that cost hundreds to purchase or was on contract had been bricked. You couldn't have done a single thing about it because downloading TP voided your warranty. Not only that but altering the phone's system data voided your warranty as well.
If you really want to get this preview then pick up a Lumia 635.

Words words words.. two word response.. Pre-Release!!!!! my bad its one word!!!!

That's quite a post. I guess its your opinion. I however will wait for MS to release for the higher end phones. Who knows, maybe there is some awesome incredible extra thing for the 1520 that is not available on the lower tier phone. YOU and I do not really know what is going on at MS and neither does anyone else. It's all speculation. Have patience.

This ignorant belief that having a high end phone should put you at the front of the line to get the preview is fucking ridiculous.

Can almost guarantee he'd be the first one complaining if it bricked his phone. I think that's also part of the reason why MS circumvented the hack because you know people were breaking their phones through it and blaming MS.

People who have under one year old phones will return them for warranty if they brick them. Microsoft doesn't want this, they lose money.

My 920 and 930 work flawlessy with W10....

And that makes you very fortunate but apparently not everyone got it to work on phones outside of the official list. Think of the fiasco of people who had a similar experience to yours then decided they should try it out on their friends and family's phones. Yes, some might get the warranty as mentioned above if it breaks but not every one is eligible or even realizes that it exists.

Not only the fact that I am a "fortunate" one, intended as one of the few, who succeded is your own interpretation you also "forget" to mention that in case your upgrade was unsuccesful there are tools to revert to W 8.1. As fo people who are not aware of their options.... they should not embark in beta testing at all.

​I'm guessing you missed the part where people bricked their phone attempting to roll the phone back to WP 8.1, and yes that is using the tool provided. Just because you are in the know and it worked for you, that doesn't mean it isn't foolish to recommend it to others.

No, you are missing the central point: people who do not know what they are doing.... should not embark in it at all. When I board a plane I get an aisle seat not one in the cockpit because I am not qualified to fly a plane. The word I used is "tools", you replied "the tool provided"... See the difference?

Anyways 3% of a billion is still quite a lot.

Hopefully they have plugged all the hack routes. Was getting tiresome seeing all the threads and comments from those who have no clue what a technical preview is - used it on a unsupported device then start complaining about the a)bugs b)bricked their phone during install c) bricked their phones reverting d)lack of festures. By installing it on a unsupported device the risk is inherently higher. Those who installed it on a unsupported device and do understand the risks plus what a technical preview is, got respect for you fellow mavericks.

Not going back to 8.1 on my 920.

To everyone who says the preview sucks. ITS A FUCKING PREVIEW CUT THE SHIT! That is all.

Updated in my Lumia 630 DS . I hope W10TP For mobile will be providing new updates soon. Feeling excited.

Sorry all, but I used the exploit to install the preview on my 1520. Is it perfect? NO, do I care? NO. I like being on the bleeding edge and as someone who develops software I am happy to offer up suggestions when I find them. The big issue I have with the whole thing is that Joe B demonstrated all the W10 stuff on YouTube on a 1520.... Come on, we ate all grown ups, let me choose if I want to try it out.... I can always go.back and reset the phone..... I like it so far..... It's got some issues but it's just a phone and I have others if it goes all wrong.

Tell us about this software you develop. I see constantly here I am a developer but you can tell by his post that he cannot grasp something like the reasons for a small batch, limited roll out of something.

And what being a Developer as to do with Beta testing?

Mind to elaborate your opinion or you are a fan of Hermes Trismegistus?

Well Markus. I have been developing software both small and large scale since 1993 using a wide variety of languages from the good old Turbo Pascal back in DOS days to VS2013 which I use currently. I do not develop applications for phones just corporate level software for the company I work for.
*****
I grasp the concept of a limited rollout. I also will not be the one complaining about how crappy it runs on my not yet supported device. I will run it on multiple devices, including the supported one that I specifically bought for that purpose. When I find an issues on my 1520 I will then attempt to duplicate it on the supported phone and send the feedback from that device. So how about holding off on the comments like that until you actually get to know someone.

If you were bleeding edge you would have jumped on VS15 months ago. Much better then a phone preview ;)

Ahh, love the internet. We are testing VS2015 but are not using it in our production development yet. :P Just like the preview, I don't mind test in it on my personal devices but would not install it on a work device yet.

I'm using it on my 1520 also, and I like it :)

Now it doesn't show the Insider ring selection for my Lumia 635 (which is already running the preview build). We'll see if that causes any issues when the next build is available. Hopefully it retains its status in the fast ring.

I'm noticing significant improvements in general stability and speed with the update on my 830! Very pleased.

When 520 get an update? Please

Stop it! For fucks sake!!!!!

Thing is, Windows Central isn't run by Microsoft so no one here has a clue when the 520 (or any phone MS hasn't mentioned) will get an update. It really is an off topic question to ask, hence why people here get annoyed by that question.

When me update get in Lumia 800? Me 7.8 OS too old...... Seriously though, I swear these people post this crap just to troll simply because they know it PO's people in here.

When will Lumia 1520 get Windows 10 Preview? Can anyone help me please?

It will never, now go inhale carbon monoxide

Ask Microsoft. Seriously, stop asking these kind of questions.

Well dang. I just today wiped my 520 and 920, was going to install W10 preview tomorrow.

Just pins the certificate page in new update

How to install 520 windows 10

Watch the youtube video posted by techcat..

Hey ! They supressed the disponibility in the App for m'y Lumia 635 ... Why ?

It's so funny how people are complaining that a Technical Preview is just a Technical Preview and not a RTM release. And this two months after Microsoft made available for everybody the last OS, 8.1 Update 1. Lollipop is available only for 0,1% of Android phones. And when CyanogenMod release something for only one phone model, something that has no working cellular, Bluetooth, data or camera, something that is out dated by months anyway people has no complaints.

Now how can I updated my L520 to win10.

No you cant...you just missed the opportunity...wait for next month..))

Well already installed it on my Lumia 720... And enjoying it too..

I missed it to ... Just see in forum an easy to install windows 10 preview to lumia920

Don't install W10 guys, Nothing new except some app update and settings that are too buggy and lags so much.
Wait for next 1-2 update for W10.

It is ok if MS block preview hack but they should have to know why lots of windows users, who have windows phone which don't support windows 10 previews, have tried to do preview hack.

Let's pretend i don't know jack regarding development of OS and app related features, now Someone please explain to me why so many people are comparing a preview to a beta? Last time I checked the one on the same and have the same objective - garner feedback for improvement. Unless of course people wanted MS to just leave "preview" as us getting glimpses of what the final product would look like on a stage from the conference in January.... Or they wanted MS to call it "W10 for phone public beta" to provide some solace when stuff doesn't work the way they saw (in the 'preview' on stage) or expected (given that they expected a perfect preview /beta build sorta like W8.1 that agreeable was freakin' awesomeness). Granted, I have yet to test it out as my 520 is not in the early list of supported devices, and that's little point on using the hack at this point since W8.1 is quite fine right now, plus I'm getting a couple new devices soon anyways, so I'll just wait - for now - for the list to get larger and for the W10 flagship phone to drop... Again, if there is a difference between the terms preview vs. Beta at this point for W10 with how MS positioned it, I'd be happy to hear...

I don't think it's a preview to a beta. To me preview and beta are one and the same. There can also be several stages to a beta or preview release for testing. They chose to release to a minute subset of devices. This too is a common practice and we will at time test only on certain hardware for early beta testing. The difference here is that some of us like to get in on the fun ahead of schedule. Nothing wrong with that, I accept the risk and know that my device is not supported. My choice and i am having a good time testing it out and getting an early peek at the changes they are making.

I dunno know if are agreeing that they're the same thing, or saying a preview is a pre/post beta, lol, but many thanks for your reply

It does not let me choose between fast or slow updates anymore.
On the Lumia 830.

Let me know if the call Cortana in your car feature works again. I uninstalled 10 cuz Cortana sucks on 10. Slow home screen reaction was another reason. I have the 830 which is a supported preview phone

Concept of window 10 good...plzz add more features.....whatsapp support audio ...minimize app etc

is there a way to download and flash the W10 TP to a phone? Like we used to do using Nokia Care Suit and putting files in Products folder and using Work Offline Settings.

What about the warrenty ??Will Installation of windows insider voids warrenty?

It's best to say yes it will.

I've upgraded today to WP 10 Preview in my Lumia 930 and the hack still works :) Nice. Some problems here and there. Denim is smooth as silk compared to WP10. I liked a few features, like the new keyboard (which is not present everywhere) and the 'Don't forget' message after the 'Goodbye' when turning the phone off. Really nice touch, although not worth upgrading so far. Going back to Denim now.

It's refusing to let me check for previews on a Lumia 630, which is weird considering I already installed WP10 Preview on it. Hope they update it asap.

when is preview comin to 520??
it has been a long interval after the first release of the preview

I hade installed Windows Phone 10 on my lumia 920 and just for no reason I recovery my phone, but now I want to install second time the windows 10 and I cant install its just showing me No Build. Can someone help me how can I install it again please.
Thank you

How far with the preview windows ten still many bugs I always

Tries it over 5 fi e times but men the blue screen that always appeared as another page turned over it comes little bit as another page opens and I was missing my Cortana she doesn't work is it because there at no voice supprt for her yet because an on Lumia 830

Is this small blue appearance bug also I don't understand
Windows Central Newsletter
Get the best of Windows Central in in your inbox, every day!
Thank you for signing up to Windows Central. You will receive a verification email shortly.
There was a problem. Please refresh the page and try again.