Windows Live Calendar goes mobile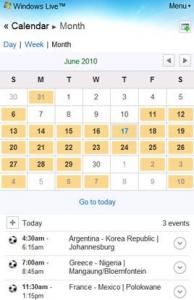 There seems to be a lot of work going on over at Windows Live. We've seen ActiveSync support show up and now LiveSide.net is reporting that the Calendar is now accessible from any web-enabled mobile phone. Supported phones and browsers include: iPhone/iPod Touch with Safari 3.0+, Opera on Windows Mobile 6.1.4+, S 60/5th Gen+, Blackberry 5+, Opera, Palm, Android.
Just type in calendar.live.com into your mobile browser and you will be prompted to enter in your Windows Live ID/password. From there you will either go directly to your calendar or you will receive an interesting message that reads, "Windows Live is designed for you, but maybe not for your browser". The message continues to say "the website works best when viewed using Internet Explorer 6 or later, Safari 4.0 or later, Firefox 3.0 or later, or Google Chrome 4.0 or later". All of which is a little confusing seeing that these are desktop browsers.
You do have the option to disregard this message and continue with the cautionary statement that, "some webpages may not work correctly." In using Opera 9.7 on an AT&T Tilt2, Windows Live Calendar "mobile" crashed the browser about every other time. In using Internet Explorer, while I still received the warning message but continuing worked better.
When Windows Live Calendar "mobile" worked, it worked just as it would by accessing it through a desktop computer. I could not replicate the nicer, cleaner graphics and interface of the "mobile" version on the Tilt2. Oddly though, I was able to access the mobile version using an iPhone.
In a jam, being able to access your Windows Live Calendar via your mobile browser will but the inconsistency of appearances and performance is really disappointing. One would think a Windows Phone would reflect the "improvements" to the Windows Live calendar before another device would.
I just can't help but think Microsoft could come up with a more effective, efficient and easier way of making Windows Live truly mobile.
George is the Reviews Editor at Windows Central, concentrating on Windows 10 PC and Mobile apps. He's been a supporter of the platform since the days of Windows CE and uses his current Windows 10 Mobile phone daily to keep up with life and enjoy a game during down time.
I will check it out on my tilt2 and see.

I have opera 9.5 opening did not cause a crash but I could not get into the calendar where I could read it on one page in the mobile browser and on IE it was worse. Why can they not get it to us in a mobile calendar format like pocket outlook? Jimminy cricket they are made by the same frickin' company.

I assume that the screen shots above are from someones mobile browser what device were they using?

Jeff...the screen shots are from Microsoft and are what the calendar should look like. I was able to replicate similar on an iPhone.

If anyone was in any doubt that Microsoft now prefers to develop software for the iphone over its own mobile OS this should clear that up completely. Comments on liveside.net tell the same story, doesnt work properly on WM devices BUT works perfectly on iphones. Time and time again Microsoft sticks it to us WM users, I hope and pray they have a total failure with WP7 and exit the mobile scene entirely. They have proven over and over again they dont have the intelligence or desire to succeed with their own product.

Definition of pessimistic.

Worked all right for me on Opera Mobile 10.
Looks pretty good, but a calendar app would be simpler.

well I tried to get it on my tilt2 and could never get it sized right to be able to read it on a screen with averything viewable like that on either opera 9.5 or opera version 10 which I downloaded or the native PIE very disappointing indeed. If thats hwo it loks natively on the ophone then thats another reason to give up on wm and switch to the iphone or android.

Looks superb!I haven't checked it yet but after reading the reviews,it seems great.Calendar app with mobile is pretty good and helpful.
personalized business cards

Some very interesting stuff here - hopefully this will help Windows Mobile gain an edge over other smartphone OS's.

It will never work with any MS OS prior to phone 7. Folk wouldn't upgrade if WM6 actually worked. Anyway, isn't WM6 a 'legacy' OS now?
Windows Central Newsletter
Thank you for signing up to Windows Central. You will receive a verification email shortly.
There was a problem. Please refresh the page and try again.