Shazam and Windows Maps receive minor updates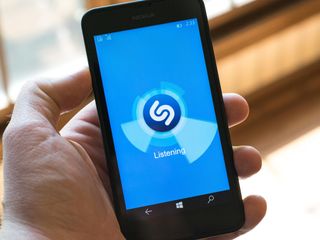 Both Windows Maps and Shazam are the subject of minor updates pushing out now. Unfortunately, there are no changelogs accompanying either update, so it's tough to tell what's new in each app.
It's likely that both updates simply take care of some nagging bugs and bring performance improvements, which is never a bad thing. As for version numbers, you're looking at 4.7.8.0 for the latest version of Shazam, while Windows Maps comes in at version 4.1601.10150.0. If you happen to notice anything new or notable after updating, be sure to let us know in the comments below.
Update: As pointed out in the comments, Windows Maps now has a settings toggle for the Live Tile option, allowing you to turn the feature on or off as desired.
Thanks for the tips, everyone!
Windows Central Newsletter
Get the best of Windows Central in your inbox, every day!
Dan Thorp-Lancaster is the former Editor-in-Chief of Windows Central. He began working with Windows Central, Android Central, and iMore as a news writer in 2014 and is obsessed with tech of all sorts. You can follow Dan on Twitter @DthorpL and Instagram @heyitsdtl.
Perfect tube just got updated as well.

Replying to your comment just to get up top since I saw this late. How many different ways can Windowscentral say "it's likely that it includes bug fixes and improvements"? Also, another question is why don't developers include changelogs anymore? It's almost as bad as OS updates that say NOTHING about major interface changes prior to the update. Windows used to give the "something's changed" if you tried to do the screenshot the old way.

Mine now has a live tile although its not very useful. So far I've had it show me a stock map image with the car icon on it. It might do something more useful with say walking directions.

Alternative routes (u can now see all alternative routes on the map) and live tile for maps

That was in a previous update

Yes it was. Been using it for quite awhile now.

It's quite strange with Maps updates, some see new features earlier, some others only the next update or so. Sometimes I read news over the latest Maps update with a new feature just added and think to me: "How is this new? I already had this since the last update a week ago..." And sometimes I cannot see the announced feature after the update, but one update later.

You could of course download the app and see what's new... Anyway, Windows Maps has new live tile.

Just had 48 apps update at the same time.

Did you change the scaling?

Multiple waypoint in Maps yet?

A and B only still, no C.

I think that depends on the route, I've seen up to 4 options.

Routes and waypoints are two different things.

Shazam just gets caught in a "Listening" loop for me. It was doing that before the update, too.

New Live tiles is what I see on maps

Still can't able to find public transport directions..

That is dependant on public transportation providers (although a nice feature)

Network had an update 2 days ago.

Yeah me too, got it today

Why do we need shazam when we have Cortana music search? Oh yeah, because they took an amazing feature from 8.1 and stuffed it into the most obscure corner of Windows 10, so the average user goes and looks for shazam instead.

And cause shazam it's basically better on traditional songs (non us)

Shazam is much faster. It's also better when there is conflicting ambient noise. I use both, but Shazam is broke right now, so I've been using Cortana. Unfortunately, she just isn't as good.

Because Shazam is superior Posted via the Windows Central App for Android on my Lumia 950 XL

How do you get "Windows Central App for Android" on a Lumia 960XL?
Did I miss something! :-/

6tag gets another minor update too, but I can't tell the version jump.. It fixes large font size in the comment section of the post..

It's just a fix for that big font size, appeared few hours after the original update

There is a new live tile!

Poki and Picsart got updated a few days back, Poki's update was without changelog. And I doubt if Picsart's changelog is different from the last time!

Okay, my live tile only gives hints that the app can save your car location that you can see traffic and cams and that you can choose alternate routes. Am I doing something wrong or is that the live tile and if the latter, how is it live?

I've been wondering the same thing.

I think you have to enable one of the features advertised on the tile to have a more relevant content. For instance, save where you parked your car or switch the traffic layer on.

Traffic info for GTA Toronto still listing"not available". Engh... Someone please bring Here Drive/Maps back until MS fixes this....

Shazam was 4.6 before this update, it's jumped to 4.7

Cortana Music search is only available for you US and UK residents. We Indians and other countries are not privileged to get that feature yet. So for us, Shazam is quite useful.

Is Shazam working at all in W10? On my old Lumia 720 was super fast, now on my 950 even the UI is laggy and it doesn't work.

Man I thought they would've ported their amazing Windows 10 app over to Mobile by now.

Update for Microsoft Word too

Office apps (Word, Excel and Power Point) received an update too

Not on lumia 640xl with windows 10mobile insider fast ring

There's a workaround for Shazam on 950. While in Shazam lock then unlock the phone. Then pressing Shazam button works.

maps just got a very cute live tile..too good

Now can we have the "Live Tile" OFF button for "People"

That would be nice. Then their telemetry could watch everyone turn of those incongruous circles, going diagonally, when everything else is square or rectangular and slides up and down.

What happened to Cortana integration? In a previous update when you would start navigation Cortana would say "here we go" (would be cooler if in Mario's voice) and she would give directions. Now, like in old preview builds, it's just the old Microsoft Zira text to speech voice. Ask Jenn Taylor to be navigation voice

Was anyone else having an issue with Windows Maps (and Here Maps, btw) where the map and voice directions were lagging way behind your actual position? It is SO much fun to hear "turn right" a hundred feet after you've passed the turn. I ended up having to switch to Waze. I'll keep my fingers crossed that this update fixes the bug for me. But I'd love to hear if I was alone in experiencing this.

Me too. I'm the only one who uses the maps when the family's riding somewhere because one has iPhone which doesn't allow downloaded maps, and another has Google maps, which drops signal. But the directions are either too verbose, or it doesn't come at the right time

Go get HERE for iOS and Android. I'd get it for Windows if they made it.

Shazam has never worked on my Lumia 950. Gets stuck listening and doesn't find dog. Update didn't resolve it. Deleted app and went to reinstall now I get error code 0x8002000a.

So after whatever they were updating on shazam, the app just loads on my Nokia Lumia 520 denim. What an update!