Windows Mobile 6.5 for T-Mobile Touch Pro 2 also leaked...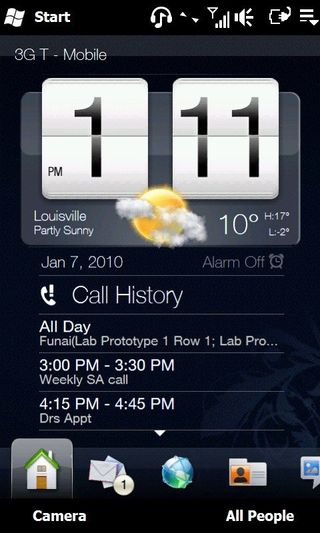 Geeez, when it rains it sure does pour.
While Verizon official released their Windows Mobile 6.5 upgrade for the Touch Pro 2 and Ozone today, looks like some fancy cats have found the shipping ROM for the T-Mobile Touch Pro 2 update.
Of course, soon there after it was pulled down by HTC and then, shockingly, mirrored everywhere (here are a few).
Changes include:
Windows Mobile 6.5
HTC Sense 2.1
Fix: Browser favorites in the TouchFLO menu are not user customizable / editable.
Fix:TouchFLO SMS shows that there is one new message but there is not.
Fix:HTTP links and phone numbers embedded in SMS messages are not actionable in the TouchFLO screen.
Fix:The weather displayed in calendar events will show as New York as default and user must change the default location in the World Clock application in order to change
Addition of Visual Voicemail Application
Addition of Mobile Backup with Opt in and On Demand Sync option
Client enhancement from Telenav to improve the billing
Addition of Microsoft Application Store
Addition of My Phone (Web based Mobile Backup Application)
MSN Widgets
Facebook
UI Improvements (Today Screen, New Themes)
MSN Mobile Messaging Improvements (Conversation View)
Send key change from white to green
End Key change from white to red
Home Key change to Microsoft Flag
Daniel Rubino is the Executive Editor of Windows Central, head reviewer, podcast co-host, and analyst. He has been covering Microsoft here since 2007, back when this site was called WMExperts (and later Windows Phone Central). His interests include Windows, Microsoft Surface, laptops, next-gen computing, and arguing with people on the internet.
Any word on when Sprint Touch Pro 2 owners are joining the club?

the way things are going today, I'd say...in 14 minutes, lol. seriously, I have no idea, but we have to be close. heck, I'm amazed the Verizon and T-mo didn't leak at all. That's a shock right there.

Hmm the picture on the article above is sense 2.5 isn't it? Does it come with 2.1 (b&w icons) or 2.5 ?

Nope, that's Sense 2.1. That's an actual screen shot from the T-mo update.

The HD2 has been referred to as the first HTC WM phone with HTC Sense, so there's no way there's going to be an official HTC Sense upgrade for any of the TP2s. But you can get Sense easily from XDA (GSK) or PPCGeeks (CDMA). I'm running NRGZ 6.5 Sense ROM on my Sprint TP2. Love it.

I think Malatesta knows what he's talking about... HTC renamed all iterations of TouchFlo to sense after the Hero was announced. The HD2 is the first phone with Sense 2.5, and that's really only because it only is the only current HTC device with the required processing power. Now sense 2.1, on the other hand, is more like the build of TouchFlo 3D we saw last year. This can be handled effectively by our weaker qualcomm processors. For example, Sense 2.1 was included on the Tilt2 stock rom if i am not mistaken.

There are plenty of people running HTC Sense on their Touch Pro 2s. I am one of them. All you have to do is flash a ROM from XDA.

Very Nice! So far I can tell these: - Phone Work Faster
- Better Sound Quality (Both Voice and Speaker) - Very Surprising!
- More Bars
- Smoother Animation Everywhere
- Nicer 3D User Interface For HTC and Also Windows Mobile (Both)
- Animation Weather in Home Screen and Base on Your Location (GPS)
- Many Extra Cool Apps from Microsoft
- Better and Much Nicer Lock screen

Does anyone knows how to change background for Windows Mobile Icons start menu? Seems like by default HTC purple background choosen for Windows Mobile Icons inetrface. Is there anyway to change it? I changed my home screen wallaper but it didn't change background for WinMo icons when you click on Start.

Start > Pictures & Videos > Open the image you want to use > Menu > Set as Today Background It'll change the background on the Start Menu and your lock screen (if you're using Windows default).

Where is Sprint's update? We will get SenseUI 2.1 also, right?

I flashed this ROM today and it is running great! My battery life has been outstanding. Usually at this time of the day I am around 40% left - right now I am at 70%. Seems very stable and snappy.

I think this "leaked" rom was in response to the people who made comments on the tmo forums calling for a class action suit.
the lack of patience probably prompted tmo to leak this thing as a way of saying: "well, if you want an unfinished update, here it is."
this also would void the waranty on the devices... and the inpatient flashers will certainly flash this. I did. I just hope that there will be an official update that will fix this. :)

Whatever their reason, they need to make this official soon! I flashed from the stock t-mobile rom to this leaked version and I am very happy. Lots of subtle changes that make this phone much more usable. Looking forward to this official release.

Very impressive. Look forward to the final TMO release.

I called T-Mobile, i dont think they were suppose to tell me this but the windows mobile is schedule for release on Jan 20th. its through the website only though. cant wait =o)
Windows Central Newsletter
Get the best of Windows Central in in your inbox, every day!
Thank you for signing up to Windows Central. You will receive a verification email shortly.
There was a problem. Please refresh the page and try again.