12 reasons we're proud to be Windows users — #PCProud
We're Windows users, and we're proud of it! Here are a dozen reasons why we simply wouldn't have it any other way.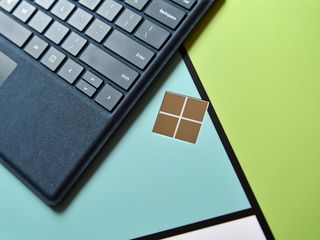 (Image credit: Daniel Rubino / Windows Central)
There's never been a better time to use Windows.
Microsoft, like any other leading tech company, has certainly seen its share of ups and downs during the decades since its birth in 1975. But the company is without a doubt at the summit of one of those peaks in 2018. As is the Windows personal computer (PC). According to research firm IDC, almost every major notebook maker saw increases in laptop PC sales during the first quarter of the year in the U.S., and European and Middle Eastern countries also saw steady growth.
In other words, Windows is alive and well. And PC users — consumers and businesspeople, alike — are reaping the benefits. To kick off the summer of 2018, we decided to celebrate the current state of the Windows world by rounding up 12 reasons why we're more than proud to be Windows users. And we decked this story out in the colors of Microsoft's Windows logo: blue, orange, yellow and green.
We're hoping you'll join us in our celebration. So we created a hashtag for use on social media (#PCProud) and a thread in our forums where you can share your reasons why you choose to use Windows. We'll include the best responses in a future story designed to spotlight our readers (and you may even win a prize), so be creative! If you want to be considered, hit the forum thread listed below, leave a response, and then share the link to your forum post or this story on your social network of choice. And make sure to use that hashtag!
Are you a #PCProud Windows user? Tell us why!
1. That first Surface: Flawed but adored
For the longest time, I was a Dell user. I loved my Dell Inspiron, but that all changed when I saw Microsoft unveil the Surface RT and Surface Pro in 2012. I was mesmerized by its design and fluidity with Windows 8 compared to the clunky and now ancient-looking Dell Inspiron I was using.
In a heartbeat, I picked up the Surface RT that I used until the Surface Pro 3 came out. I loved the Surface RT so much that I didn't feel the need to upgrade to the Pro line of devices right away. I really wanted the idea of "Windows RT" to succeed, but sadly it never did. The Surface RT featured an all-metal magnesium body, 10.6-inch display, and a keyboard accessory that turned it into a laptop. Admittedly, it didn't feature the best specifications, with the screen resolution being less than 1080p, and the CPU being rather slow.
But I loved my Surface RT more than anything, and it's why I'm still a Surface user, and more importantly, a Windows user, today. That very first Surface made me proud to be a Windows user, and the Surface line continues to make me feel that way to this day.
— Zac Bowden, senior writer
2. Gaming flexibility: Crossin' streams
While Microsoft's extension of the Xbox platform to Windows 10 hasn't been perfect, some unique features have surfaced through this merger. Bringing Xbox One and PC closer than ever before, Xbox "Play Anywhere" is an unrivaled solution for bridging gamers between the platforms.
From a value perspective, the ability to access a library of titles between systems is compelling – eliminating the need to choose which platform is best. Cross-platform multiplayer is slowly becoming more common across the industry, though Microsoft has led this resurgence with an official platform-level solution. Maybe the library of supported titles could do with an expansion but with strong first-party and indie support, there's sure to be something for you.
In a time where PlayStation appears to be actively pushing against cross-platform features, it's great to see Microsoft leading this movement and getting more platform holders onboard. Its gaming ecosystem might not be perfect but there's a lot a love about these increasingly open offerings. Microsoft has made Windows and Xbox the most inclusive platforms out there, and I'm proud to be on the side that could make history.
— Matt Brown, Xbox writer
3. Bigger and better things: Windows as a stepping stone
I'm proud to be a Windows user because the platform has enabled me to get skills and training I otherwise wouldn't have. In fact, Windows got me this gig ...
I wasn't a particularly academic kid, I dropped out of high school before finishing my exams. IT classes back then were far behind what some of the more tech-savvy kids were doing at home. Ultimately, I felt like I had learned nothing from school. Thanks to Windows, I was able to get my hands on copies of Macromedia Suite to learn web design, Flash animation, and Photoshop (totally legal... of course), in my free time and on my own. Simply having a computer also forced me to learn basic PC maintenance, networking, and upgrading. Having these foundational skills, all self-taught, helped me begin a career in IT, which eventually incorporated Windows Server, Office 365, marketing, social media, and web design (now seriously totally legal).
Starting a hobby blog covering Xbox led to me working here, writing this story today. So in a way, I have that 8MB RAM Windows 95 PC my parents got me when I was a bonnie wee lad to thank for my current job as an Xbox blogger.
— Jez Corden, senior Xbox editor
4. PC gaming: It's the only way to go
You can't really be a gamer and not use Windows.
But it's no longer just something that is a necessary tool. Microsoft has really pushed its gaming efforts in recent years across both the PC and console. With Windows, you have the freedom to game your way. You can buy, build and upgrade. You have choice galore for laptops and desktops, and the Xbox One is brought into the mix.
Microsoft is constantly pushing the boundaries, and initiatives like Game Pass and Play Anywhere, along with supporting cross-platform play with Nintendo and mobile devices, show that Microsoft really is where it's at if you're a gamer. The only limit is your imagination (and your wallet). You sure as heck can't do all of this great stuff on a Mac!
I've been a gamer for 25 years now, but until I really embraced the PC, the power of Windows and the freedom to tailor my own experience, I wasn't truly gaming.
— Richard Devine, reviews editor
5. PC modding: Build the PC of your dreams
The PC has always been considered the ugly duckling when sat next to a MacBook. Older notebooks from Microsoft vendor partners were usually black slabs of uninspired plastic, but those who prefer Macs over Windows-powered machines don't need, or forget about, the huge modding market, which continues to expand today. This is where the PC really shines as not only technology, but also design.
You can make a Windows PC look like anything you wish. There are a variety of applications and form factors to choose from, and that includes the installation furniture and environment. Look at some of the crazy designs we've seen at gaming and technology shows. Manufacturers continue to push boundaries on RGB lighting and crazy aesthetics.
I built my first PC almost two decades ago, and components have improved drastically since then. Cases can be assembled without a screwdriver; important parts are smaller and more powerful than ever before; and new advances have added many additional features. The first tower I put together was a beige metal cage, powered by an old dual-core AMD processor with an incredibly loud 40-mm rear fan, which rivaled a jet engine in noise production.
Today, we have stunning cases like the Phanteks P400S (opens in new tab) with tempered glass for viewing what's inside, and the insane Thermaltake Core series (opens in new tab) that makes it super easy to install mods and turn your PC from a piece of kit you keep locked away in a cabinet into a centerpiece you show off to visitors. And that's only the beginning because the case is just where you lay the foundations. RGB lighting, water-cooling liquids and impressive motherboard design can turn heads.
I think it's cool to own a Windows PC. But it's even cooler to tinker with your Windows PC and turn it into something you're truly proud of.
— Rich Edmonds, staff reviewer
6. Efficient productivity: The power to work better
I was a long time Mac user, but my job as a video editor introduced me to the wonderful world of Windows.
My tool of choice back then for editing was Apple's Final Cut Pro, but as time passed, more companies required the use of Adobe Premiere Pro. That application is also available on Mac, but I quickly learned that it is optimized to run better on PC. To edit and deliver videos faster, I decided to switch to a PC, and I can't ever see myself going back.
With Apple, I only have one mobile choice of hardware: the MacBook Pro. On Windows, I have several laptop choices from companies including Dell, Microsoft, Lenovo, HP.
Windows enables me to do my job better. And that's more than enough to make me proud to be a Windows user.
— Mark Guim, video editor
7. Flexibility: Do what you want with your PC
My journey with Windows started when I bought my first computer, featuring an astonishing Intel x86 DX4 processor and 8MB of RAM, which I upgraded from Windows 3.1 to Windows 95. Since then, I've always been amazed with the flexibility of Windows, allowing users to perform tasks in more than one way.
Another aspect of Windows that I really love is its support for customization. Unlike certain OSes, Windows is an OS that isn't restricted to a specific set of hardware, and the ability to build a custom computer that Windows just runs on — that on its own is amazing. There are some OSes that offer similar options, but they're not as easy to set up and use.
— Mauro Huculak, help and how-to writer
8. Virtual reality: Best-in-class VR experience
VR has become a big part of my life over the last couple of years, starting with the HTC Vive and Oculus Rift and then moving into Microsoft's own version, Windows Mixed Reality (WMR). Coupled with SteamVR and the proprietary stores and apps — like Oculus Home and WMR Portal — these VR systems offer up a ton of experiences, games, and tools. As long as your stomach can handle it, you can lose hours to VR on a daily basis. And that's a good thing.
How does this all come to fruition? In most cases, with a Windows PC. Sure, Apple has recently added some support for the HTC Vive, but it's nowhere near as easy to set up and get working. Plus, compatible VR hardware is far more expensive when it comes inside a Mac, whereas you can often find pre-built VR-ready PCs somewhere around the $600 mark. If you build your own, that price could drop further.
Using a VR headset has a certain futuristic feeling that goes along with it, and the fact that you can essentially enjoy a near plug-and-play experience with a Windows PC says something. Sure, there are a few steps when it comes to setting up the software, but you can usually be inside VR within about 10 minutes of unboxing a headset. VR undoubtedly has a long way to go in terms of wide appeal, but the fact that Windows PCs are leading the way makes me proud to be a Windows user.
— Cale Hunt, staff writer
9. Tech's bleeding edge: PCs are the only way there
If you are into technology — and really, who isn't these days? — being a fan of the PC is kind of a must. While desktop PC usage has waned and smartphones rule the roost, the idea of a "personal computer," whatever form it may take, is still leading the charge.
If you want the coolest, most innovative stuff, you get into PCs, period. Dual-screen laptops or portable PCs with NVIDIA GTX 1080 graphics? Only with a PC. If you want a device with a touchscreen and pen support that also turns into a tablet, your only choice is a PC. Maglev keyboards, optical sensors in your keyboards, facial recognition cameras? There's no Mac or Chromebook that has that.
Not all cutting edge tech makes it to the mainstream. Some forever stays niche. But, if you want to be on the forefront of technology where companies take risks, push boundaries, and do just crazy things then you have to be a part of the PC world.
With the rise of cloud computing, distributed networks, A.I., assistants, ultra-fast processors, and ubiquitous 4G connections, I believe we're on the cusp of a new PC revolution.
Being a part of this modern PC world is what got me to where I am today. By adopting, using and interacting with others in the PDA community, I eventually landed this job and have never looked back. Understanding this tech, using it, living it, and being part of that community for the last 25 years is reason enough to have pride. I can't wait for the next 25.
— Daniel Rubino, executive editor
10. Nonconformity: When it's cool to be 'uncool'
Let's face it — it's 'cooler' to use Apple products these days than a Surface device or another PC. At least that seems to be the opinion of the consumer-tech masses. But you know what's really cool? Not giving a shit what the masses think and using whatever tech works best for you. That's cool.
If you go to any coffee shop or café in any major U.S. city today, you're almost guaranteed to see and hear a few things. First, you're going to see a lot of people drinking coffee. You'll also likely hear some jazz music or some other slow, soothing tunes. And you'll see people glaring at their laptops, faces bathed in artificial light, clacking away in their own worlds — and most of those notebooks will be MacBooks.
I used to use a Mac. But I switched to PC about a year and a half ago, and I haven't looked back. Today I use a couple of different Surface PCs. They're not perfect — no technology or piece of hardware is — but they more than get the job done. And, frankly, I'm proud to whip out my Surface Pro or Book 2 at a local café, where it's almost a statement of independence due to all the Macs.
But every once in a while, somebody will sit down next to me at my local café, and out of the corner of my eye, I'll peek over and see a Dell XPS or an HP Spectre x360. I usually act like I didn't notice, but at the same time, I'll sneakily take a peek at that person, maybe even give them a nod, because let's face it, not using a Mac when everyone thinks that make them cool, is what's really cool. And that makes me feel some PC pride.
(Author's note: I proudly wrote this in a small neighborhood coffee shop in Boston's South End, on a Surface Pro, while I was literally surrounded by people glaring at and clacking away on MacBooks. Suckers.)
— Al Sacco, managing editor
11. No place like home: From Windows 3.1 to the present
I had an early start with Windows, beginning with the ancient Windows 3.1 machine that my parents graciously let me toy around with as a tot. For me, it was never a question of whether I was going to use Windows; it was just a matter of which machine.
Fast-forward to my senior year of high school, and I began tinkering around with custom gaming builds with what little money I had at the time. (I had a burgeoning World of Warcraft addiction to keep up with, after all.) Given this was when the Mac craze was gaining steam, it's a wonder I never gave the other side so much as a glance. (I was that kid with an OG Zune while surrounded by iPods.) But I knew the PC realm – and by extension, Windows – was the place to be for games, particularly when it came to keeping up with the blistering speed of hardware advancements.
I briefly flirted with using a MacBook Pro when I started working for Mobile Nations, Windows Central's parent company, (and yes, I loved the keyboard), but it never felt like home. Windows is and always has been home for me.
I haven't had the time or money to keep up with PC gaming and the hardware race like I used to (my Xbox One X fills that niche now), but the freedom offered by Windows PCs and custom rigs will always give them an edge. And if I need to feel a little stylish, my Surface Book 2 handily fits the bill.
— Dan Thorp-Lancaster, news editor
12. Versatility: One device to rule them all
I fell in love with Microsoft's ecosystem more than 20 years ago, after the company I worked for switched from OS 2 Warp to Windows 95. Windows and Microsoft Office were a different animal than IBM's OS and productivity tools, to which I had grown accustomed. Microsoft's tools grew on me, however, compelling me to buy my first Windows laptop in 1997. I've had a host of Windows PCs, laptops and tablets since, but none compare to the power, portability, and versatility of my new Surface Pro.
This device is literally every device I need, wherever I go. Windows 10 and Office absolutely shine on Surface Pro, and the combination of touch and Windows Ink makes digital inking seem almost as natural as writing and drawing on paper.
Whether I'm writing an article, running my business, drawing, watching videos or reading comic books, Surface Pro is perfectly designed for business and pleasure. With my black ESR leather cover (opens in new tab), this slick beast, with black Surface Pen looks professional wherever I take it. Microsoft's ecosystem of personal and professional productivity is hard to beat, and Surface Pro truly embodies that vision. It is a device I'm truly proud to carry, because it makes my life, and my jobs, easier.
—Jason Ward, columnist
Over to you ...
These are some of the reasons Team Windows Central is proud to call ourselves Windows users. But we want your thoughts. And we want them in our related forum thread and then on social media using the hashtag #PCproud. So leave a comment on the forum, hit the little chain-link button to grab the URL, and then share it on social. We'll be watching these places closely, and we'll feature the reasons we like best in a future story. You may even win a great prize if you're selected ... so give us the best you have!
Get the Windows Central Newsletter
All the latest news, reviews, and guides for Windows and Xbox diehards.