Windows Phone 8 – Office 2013 spotted in mockup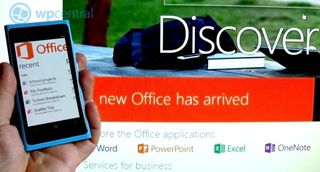 Microsoft today blogged about their strategy for Skydrive and how its going to fit in with Office 2013. Skydrive is already the backbone for many MS services, everything from Xbox Cloud-saved games to providing a space to upload photos when sending from Hotmail. In this little preview, we get a look at how Office may look on WP8, complete with new style Windows logo.
This year will see Office 2013 released, as long as you're signed into your PC with your Live ID it will automatically save your documents to Skydrive as the default option. The post then goes on talk about the new feature of Office 2013 where it will remember the exact paragraph you were last reading so that when you pick up your next device you'll be right where you left off.
Whilst a mockup - its showing off that new Windows Logo
The post goes on to state that those features will extend to the mobile device also. Synchronised reading position for a document being worked on certainly sounds very useful. What more can we speculate will be rolled into Windows Phone 8? If WP8 is going to be much more business friendly than Windows Phone 7 then I am expecting a good deal of features baked in.
We know that Skype is going to be first class citizen with Office 2013 but I would expect to see Lync thrown in here for good measure. If they are talking about synced reading views then I would expect the same form of touch based reading experience that is offered in Office 2013. Currently Windows Phone already has some nice touches in the Office Hub, recent documents already exists but Office 2013 takes that slightly further by showing documents from all applications the the various storage locations you have been using.
What else might we expect? Well Word 2013 can now edit PDF documents. Perhaps WP8 will be able to dispense with a PDF viewer completely in favour of Word in reading mode. Presence is a huge thing in the corporate world so seeing who's online for live document collaboration or chat using Lync or Skype? I don't see why the already excellent Windows Phone version of Office can't go on to be a real star in the Windows 8 story.
I'd love to know what you would like to see in Office 2013 on Windows Phone 8.
Source: Microsoft
Get the Windows Central Newsletter
All the latest news, reviews, and guides for Windows and Xbox diehards.