Windows Phone 8 version of PlentyOfFish online dating app released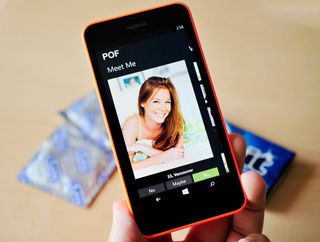 The PlentyOfFish (www.pof.com) online dating site has now launched a new Windows Phone 8 version of its app, after previously releasing one for Windows Phone 7 devices just over three years ago.
PlentyOfFish claims it is the world's number one online dating website, with over 80 million registered users worldwide, and 60,000 signups recorded every day. Unlike services like Match.com and eHarmony, there is no cost to sign up and start browsing and chatting with the people in the PlentyOfFish data base.
The Windows Phone 8 version allows users to find, send and receive messages from others on the service. Users can also edit their profile and see which PlentyOfFish members have viewed it, review their own matches and more.
You can download the new Windows Phone 8 version of PlentyOfFish right now from the Windows Phone Store.
Thanks to spider monkey for the tip!
Windows Central Newsletter
Get the best of Windows Central in your inbox, every day!
What about FarmersOnly? No app for that yet... Ha ha.

my dog voice: "it is farmersonly dot com)

Not available for the indian region

It's a US dating site, of course it's not available.

It's actually a Canadian company, but whatever.

You don't need this in India. Indian parents are more than happy to do all the filtering for you and provide you their pre-approved picks, right at your front door!

What about family fued and plants vs zombies 2 and windows phone 8.1 ??? Oh ok !

Not going to happen. At least this and Next year.

Ha my bf's dad was complaining about how this app was crap just last month. I need to tell him it was updated so he can try it out on his ativ se and see if it has improved.

Cool cool. Now, I'm finally able to look for ma soul mate :-)

I met my girlfriend on there.

Did u go buy those condoms or have they always been in your wallet?

You think he would go through all that trouble for a picture? My bet is that he had them.

And there's a mouth freshener too lol....perfect

I just wondered yesterday when they are going to release the new version...

I don't know, I'm not sure if I'm looking at fishes, whales, or......WTH was that!?? Was that Megatron!??

Lol. This made my day!!! Too bad I'm happily married, so no dating apps for me...

Maybe you should say, "Thank God I'm happily married..." Your spouse will feel much better! ;-)

Looks way more organized with better design than their website.

Whut? Who wants to date a fish?

I would but only if she looked like the little mermaid Arial...

Omg wow, the flows of apps is crazy. Go Microsoft, the tide is slowly turning

The old version of the app was a joke. I'm glad they took the time to update it!

Met my GF on PoF. Took them forever to update the damn app. Initial version was a piece of shit - extremely limited and buggy.

Well hello there, pretty face. ;-)

Just buy an Icon, and show it to any chick. Instant win!

Ok... Listen up okcupid and release an app!

I'm amazed at the number of times people can comment on new app releases bitching about unavailability of other apps that have nothing to do with the app they're commenting on and with an attitude that they assume Microsoft is the one company developing and releasing all apps. "Hey Microsoft, where's my app for [x]?" - Microsoft doesn't make all the apps, the company or service develops their own apps for different mobile operating systems and we should all be happy that they're starting to do so in what appears to be a recent flood for Windows Phone. Be happy people!

LOL at the domes in the picture

Plentyoffish! That's awesome! Lets go fishing guys.

I really like it... My wife on the other hand....

I have a funny story regarding this app and windowsphone but I shouldn't post it online. Lol

The header picture looks fishy.

It's about time. The previous app was an embarrassment. Hopefully other free online dating dates will follow (OKCupid).

Met my girl on POF, 6 years on, still going strong

Wow! Finally! Well worth the wait though. It is a beautiful and fast app.

I was on POF before too many weirdos

Dating app never satisfied me lets see what does this do

Eat your heart out Tinder.

Way better than the old one, yet strangely enough it doesn't have notifications? So it doesn't notify you when you get new messages.....that's odd right?

An app to date girls ? Are there any hot and undesperate girls over there ? Just curious Posted via Windows Phone Central App

Does not work: When you create an account and then click the continue button, it merely resets the page and asks the same information all over again. SDK yea, not a great first impression. World be cool if the WPC writers actually installed and tried apps before hyping then...

Nice! Been waiting for an update to this app. It's pretty good and good design.