Windows Phone 8.1 Update 1 SDK and Emulators now available for developers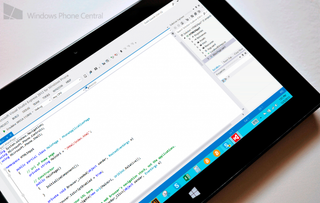 Windows Phone 8.1 Update 1 is now rolling out to those enrolled in the Preview for Developers program. Enthusiasts and developers can try out the latest version of Microsoft's mobile operating system by participating in the program. This update introduces new features, like Live Folders on the Start Screen, and also introduces support for new device resolutions. Developers will want to grab the new Windows Phone 8.1 Update 1 SDK and emulators to test against those resolutions.
Head to the Windows developer site and you'll find the Windows Phone 8.1 Update 1 SDK and emulators package now available. It adds the following to an existing installation of Visual Studio 2013 Update 2 or later:
Windows Phone SDK 8.1 Update 1
New Windows Phone Emulator 8.1 Update 1 WVGA 4 inch
New Windows Phone Emulator 8.1 Update 1 WVGA 4 inch 512MB
New Windows Phone Emulator 8.1 Update 1 WXGA 4.5 inch
New Windows Phone Emulator 8.1 Update 1 720p 4.7 inch
New Windows Phone Emulator 8.1 Update 1 1080p 5.5 inch
New Windows Phone Emulator 8.1 Update 1 1080p 6 inch
Despite there being new APIs with this release, some for smartwatch support in Windows Phone, it looks like developers will only have access to the new emulators.
Full details on the update will be available in a blog post in a few hours. We'll update if there's anything new information.
Any devs out there grabbing these new emulators to test against all the new resolutions?
Source: Microsoft (opens in new tab) Via: @cliffsimpkins
I'm confused... What are consumer getting out of this??....
.....................
Oohhhhhhhh.. This is so that developers can make sure their apps scale correctly with the new resolutions that future devices might have... Got it!

The emulators/SDK are for developers. Consumers can download the 8.1 Update 1 from their windows phones if they so desire (and have the developer preview).

Update downloaded, but cant open! 80188306 how tp resolve it?

Same. WP is slowly becoming a joke.

Wp is becoming a joke because your PREVIEW & BETA software has some glitches?

Android fanboy obviously...

Isn't Beta, and you know it, right?

How much available space do you have on your device?

Hey how to put live folders ? Installed gdr1 but don't find anything about it

Works like iOS...press and hold a tile, and then move it above another and wait a moment; then release.

But where's the update for XBOX MUSIC app? I thought it's included in the Update 1?

It was due last Friday (but got delayed).

Update 1 facilitates the new functionality, but the app itself needs to be updated to take advantage of it.

Dropping one live tile over another equals folder

On your start screen just hold tiles over one another and it'll create a folder

Just highlight the app and place it on another app you want to bundle with...they will join side by side and you will have the option to name your group

Long press a tile, and hover it over another tile until it turns into a folder.. You have to make live folders!!!

It's easy. Press and hold on a tile, then slide it over another one. Presto-chango!

The new update did not bring the new xbox music app that you previously mentioned, when is it gonna be available?

When the update becomes available.

Why did I didn't think that.... 7.7
So useful, thanks.

Xbox Music is a separate app now, not bundled with the OS. I'm guessing the update with the new tiles, etc. should come out in a day or two now that Update 1 DP is out.

Now that was helpful!! Thanks :)

Nice.. Will update tomorrow

As a dev here is a question to Microsoft : "where is the documentation for live lockscreen APIs" ? There is documented every inch so far and i really like the docs of WP dev center but for live lockscreen apps we have 0. Or i missed the info about it?!

It is still in beta, i guess they will release the documentation together with the full release of the feature.

You are not supposed to use that api. They are currently microsoft only

Having same issue as vicky. Update downloads but will not install.
Any tips on how to resolve?

I hoped for a fix for Facebook where the pictures get zoomed in!! Was disappointed :(

I downloaded it but someone needs to post a video of the features

What's in the update apart from the above mentioned options ?

For preview for developers?

Just select any live tile and press and hold to create folders

when will i get update for my 720 in india ... pls tell me??

When its ready. Apart from that nobody knows the exact date except microsoft. So start asking them.

Availability in Asia Pacific - Nokia

Where are the links? I don't see them any where

Is it now advised to develop against 6" 1080p and let the device renderer downscale for us?

No, it's better to develop a UI that adapts responsibly to the screen size. You can fit more into a 6" screen, so why not take advantage of it?

I'm probably going to be at Microsoft's Atlanta (Alpharetta) offices tonight for a user group meeting tonight, and that will be my next opportunity to connect to Wi-Fi so I'll upgrade over their Wi-Fi for both the dev bits and the update on my phone.

Hopefully the devs will care more about the scaling of apps in large screens.

When is Facebook inc making an Official Fb app?? Microsoft said earlier it is in woks but will it ever appear.

They're more likely to take over the current one at some point than do a full rewrite.

Do we have Cortana for India in u GDR 1?

Missing option to pin songs/Albums to home screen. Don't know why Microsoft makes a downgrade everytime. -_-

Should I download the beta

If you use Bluetooth in your car and want a Siri Handsfree-like experience, enter 555.555.9876 as a voice dial with your car's Bluetooth system. Voice dialing Cortana works like a charm!

Store Live Tile now shows apps pictures....nice....

I have updatert preview developer but i no have yet get live tiles folder. Please help me

IMPORTANT : If you install the 8.1 SDK , you'll see that there is no more limitations to the number of xap apps you can deploy to your phones via Application Deployement !!!!
YAAAAAY

Got update on Lumia Icon.

Does anyone have the iso images link to this sdk?

Is it available for lumia 520.. I have not got that even if i change the rehion to US , Idon't get that

Hey guys, after installing the wp 8.1 update 1 i m noticing my mobile rebooting twice thrice a day automatically (lumia 520), is there anyone facing this issue?

After this update myvwifi connction keeps saying no internet conntion but wn i checked with my other device my Wi-Fi connection is very fine... What the....

Man today is developer day.

Sorry newbie hr. Whts the difference between sdk nd gdr update..

There's no update shows on my phone. How to download this update?

You are dealing with beta firmware so what are you expecting? a fiat run as a Ferrari? Pleace people.......
Windows Central Newsletter
Get the best of Windows Central in in your inbox, every day!
Thank you for signing up to Windows Central. You will receive a verification email shortly.
There was a problem. Please refresh the page and try again.