Windows Phone 8.1 Update 2 apparently part of Windows 10 preview release for some phones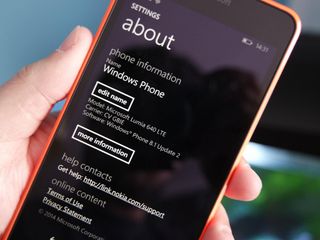 Alongside today's Windows 10 preview for phones release, it seems as though some devices are actually receiving Windows Phone 8.1 Update 2. The Windows Central tip box is getting filled with reports from community members who have gone through the process to install Windows 10 and ended up with Update 2 arriving first.
While we're still devoid of any official word from Microsoft, Windows 10 guru, Gabe Aul, seems to have indicated that this is the case.
In response to a tweet asking why Update 2 appeared in place of Windows 10, Aul had this to say:
We're getting multiple reports of this affecting the Lumia 920, Lumia 1020 and Lumia 1520 at present in various locations. We previously reported that Microsoft would officially be pushing out Update 2 at some point this year for the Lumia 735 and Lumia 830 in particular, but this latest development certainly came out of left field.
Are you getting Update 2 first? And are you keeping it or pushing on to Windows 10? Let us know in the comments below or head over to the Windows Central Forums!
Update: We're now seeing this for ourselves on the Lumia 830!
Thanks to everyone who tipped us!
Windows Central Newsletter
Get the best of Windows Central in in your inbox, every day!
Managing Editor - Tech, Reviews
Richard Devine is a Managing Editor at Windows Central with over a decade of experience. A former Project Manager and long-term tech addict, he joined Mobile Nations in 2011 and has been found on Android Central and iMore as well as Windows Central. Currently, you'll find him steering the site's coverage of all manner of PC hardware and reviews. Find him on Mastodon at mstdn.social/@richdevine
Perfection... Perfect....
......
If only they gave us landscape mode on the start screen....

Who would use that really?

Someone. But every possible feature should be made available.

No, just no. That's the Android mentality.

"Android Mentality" Saying that is the old WP7.0 Mentality...
.......
We've already learned from those mistakes, and we want functionality now... F### the BS.

iPhone 6 Plus has this feature as well. It's useful if you have your phone sitting landscape in a stand of some sort, you can swip left or right like it's a tablet.

Damnit❗ It's a must have feature..

Send a Windows Insider feedback now.

Screw it. I had never seen a landscape mode on an android home on phones..

well.. Symbian on my N8 have it! :) But my L1020 does not...

That is NOT the Android mentality. I'm sick of people saying this for every feature that is requested by the users. Adding features is not harming you in any way possible. Don't like them, don't use them. However, please don't help MS in creating a useless OS just for the sake of being called "lag-free" & "stable". P.S. I don't mean to sound rude & would like to apologize beforehand. But I've really started losing patience now(not for this feature). I hope you will understand.

And why should MS really drop a feature just because Google might have had it first. Now that's a stupid mentality. I would love to get screen recording and I don't care it came from Amdroid

I don't even think its lag free or stable. My nexus 4 is quicker than my 1020 since 8.1. Apps take ages to open and resume. Also still have bugs with volume control and apps self closing

Oh, we wouldn't want lag free and stable. Android is the opposite of that....

Well said.... Well said.... It's a shame we still have to explain this to people.

You don't program on mobile platforms do you?

Every possible feature? That's ridiculous.

There is a difference between 'every' and 'every possible' features. If you don't want em, that's your problem.

Nokia 1520 users, like Rodney, would use it. Because it makes sense to use a phablet on landscape, specially with the bluetooth conectivity, you can turn your phone into a Word writting tool.

Yes, yes, yes..... And, in my car... My phone sits horizontally in my car, so does a lot of other peoples...
.....
And, I better not hear anyone say get another car.... That's a loooong workaround... Lol.

I use CarDash with an NFC sticker in my car. Works well in landscape.

I have that.. Always forgot to use it....
......
It's stupid that XBM doesn't work in LSM.. Dumb.

You're being too greedy Rodney. Let it WORK in Portrait mode first. Now that our geniuses are working on "Universal" app, it might take 4 more years to come to the current stage.

Rodney, any suggestions for a good 1520 car mount?

Not really... I just have an area in my center console where my phone just happens to nestle perfectly in.. It's literally millimeters bigger than my case....

I use a magnetic mount. Works great.

I have had my L1520 since last October and the only mount I found that works is this:
http://www.amazon.com/gp/product/B00AOCSFYC/ref=oh_aui_detailpage_o05_s0...
Works fantastic! Doesn't vibrate or move over bumps, solidly built, and will even accommodate my thick case (~ 1/2 x 4 x 7).
Also has a thick, bendable, 90-degree micro USB cable at mount for connection to phone and a 9ft extension USB cable. Hope this helps!

Yeah Major, I might give this a shot.

Landscape mode would be awesome on the start screen. Why would it be any different than on a tablet?

That's what I said... What's the difference.

Aye, me too...rod, did you update to 10?

It wont work.... We're supposed to be using the app, right❓ It did work, but then I waited.. Decided to backup my phone, which didn't work for some reason... Now, I'm getting that pesky server message again....
.....
Probably too many people trying at once..
......UPDATE: Working now.

I had trouble earlier...at Orlando Magic game, will try later...thanks.

I'd like me too the landscape mode, but this feature has few votes on uservoice https://windowsphone.uservoice.com/forums/101801-feature-suggestions/sug...

Yes yes.. Lol..... I'm fresh outa votes... SMDHID

I've just voted for this. Thanks for posting the link.

My Lumia 1520 is working with my Microsoft Universal Mobile keyboard using Bluetooth, though I'm not sure if that's an update 2 feature or a Windows 10 feature. It's awesome to use a physical keyboard to type this comment.

As a 1520 useer I want that feature as well

Yes, yes.. Go vote for it❕

I would certainly use it on my 925 when am on bed for sure! and so will people with larger screens like 1520, 1320 and 640XL

Chances are it will be only for 16:9 screens(with the exception of above 1080i)

That makes sense... Perfect sense.

Yep I agree, makes sense...

I have 1520 and I don't need landscape mode for the start screen and I can't vote for it to be included. This is my opinion

Is it very buggy on l925 or should I install it?

Ummm, well, me for one...

A 6inch phone users doe for that man...

A question: If i open Windows Insider app and select slow ring, not fast ring. Will i get the build which came with 830 at first? I don't want this latest build of windows 10 because it has data connection issue. I want a stable one. Plz answer this question.

Plz if anyone really knows the answer...mail me to: lokeshpande93@gmail.com

as of now wait for another update to come or else just get the final release........ coz i tried and tested on 1020/830 and win10 is buggy and slow and lags............ reverted back to 8.1 and then back to update 2............. awesome fast..........

I would use it. A lot of times if ur phone is landscape and you wish to switch apps.

I've actually been wanting landscape start screen too. Even if I'd rarely use it, it's good for it to be there.

I've been wanting it since 7.0.... Check out Uservoice.

Been thinking about this for a day or so since I saw you mention it. Would you want it to switch the image on the tile around to fit the tile shape, or a separate user defined layout or like it does it on tablet?

I haven't put too much thought into it... There's definitely going to have to be some reorganization.... I know MS split up the tiles on W8 so that we choose groups for them. That way when it flips we give the OS a way to organize tiles..... But, with WP the OS would obviously have to breakup tiles...
Or.... It could just scroll up, and down, as usual, but with a wider screen... Maybe the tiles could resize slightly to fit the screen... IDK.
.........
Nevertheless, I don't get paid to figure this stuff out, and MS usually does a pretty good job of implementing things... I have faith they would hook it up.. Lol.

I would use it really much!!!

Misty eyed memories of the N900...

N900 was primarily a landscape device

On my 925 I get, downloaded but was unable to install. So.... What do I do? Posted via the Windows Central App for Android on my Oneplus One

I tought it was going to happen to me I wanted update 2 and I got this buggy w10 version, I wanted to try it yes, but or I'm not ready for this or this is not ready for me, I kinda like smaller fonts :/ :)

In 8.1 Update 2, Individual settings are now able to be pinned to the Start screen!

nope........ they are only sorted well......... not able to pin....... thats the feat of win10

+9999999999999 i have voted in the feedback forums for microsoft but there arent many votes for this one. Its quite annoying when you are using your phone in landscape mode and when you tap on the startsceen, suddenly goes back to potrait. And the store too. If u keep your phone in landscape mode and open the store, it will be in potrait mode, but then again, when you try to search an item on the store, it will go back to landscape mode again. And once you tap on an app, it will go back to fucking potrait mode again. So annoying. It is a very much needed feature.

I think the reason why we have standing tiles is for the landscape view. Windows 8 sort of rearranges itself by groups when changes scapes. If we have standing tiles, there's no need to change the arrangement of the tiles. Only the rule content rotates.

I'm getting something, just don't know what yet. It's taken 30-minutes to get from 36% to 39%

yea my gears screen was stuck at like 1% for about 20 mins.

I'm about 15min into the gear screen. I'll try to catchup on my social feeds to get my mind off of it.

Good that you commented it, I taught its freezing ...

I really want GDR 2 on my phone, but still want to wait with W10. Does someone know if you can delete a downloaded, yet not installed, OS update on WP8.1.1? My forum post: http://forums.windowscentral.com/ask-question/350674-can-i-delete-downlo...

My L820 went through the update in about 45 mins or so and I have ended up with update 2 and the question of pushing through to W10 is a scratcher.... Think I'll keep 8.1 for couple of days more. L820 UK CV variant.

If anyone with a US 1520 updates successfully please let me know...

Yeah, it's downloading now.

Installed update 2 on my 1520.3 on AT&T. So far no problems. Didn't install 10TP. Just disabled auto update after update 2 was done.

Cool, cool... Now please do the TP, and get back to us..

My download was stuck for HOURS at 7% with a working wifi. Oh god, will check tomorrow when servers are not under stress anymore.

I tried for windows to preview and got 8.1 update 2, LOL guess I gotta try again and hopefully get thru again

@von: What device do you have, and where?

I have a 735 and I'm in Connecticut

I have got this ..in India for l1520

What about lumia 1320?? Any news for it?

I'm from India,with a Lumia 520 on WP 8.1 update 1.please tell me two or three things.you got WP 8.1 update 2 on your phone?you did it by opting for the slow ring in INSIDERS app?or by opting for the fast ring?I wish to install WP 8.1 update 2.please guide me

Same here. Thought I was downloading win 10, turned out to be update 2. Lumia 920, south Africa. Now all I'm getting is, my device is up to date. And windows insider keeps on giving me an error.

LOL I not home now and don't have enough juice to check for 10 guess I'll have to wait til later

Is your whatsapp get connectivity error after update 2? Mine dont get any notification in background unless the app is open..

Try now. Got update 2 on Lumia 535 yesterday. Now it says there is update available and I should connect with WiFi to download.

Would be nice to know if this is happening to all the lumia 920 (I'm in Finland) so I could get just the update 2 and try this for now :) then win10 when it is a bit safer..

When its a bit safer. Long wait then ;)

I got it on my Lumia 925! For those who ask when in India, it is now in India :P

Cant find it on my 930 :(

Restart your phone. Then check for phone updates again, it will show.

Add the 822 on Verizon to the list.

Still not able to get it on my 520 the server problm pls help

Just keep trying. I tried a lot of times before i passed

I changed my time zone to US. It worked.

I am not seeing it on my Lumia 638 yet, checking and checking still!!

WORKED! Thanks for the tip!

Finally downloading zone : India

For me it was going to Windows Insider app that did that final trick, but not sure if the time zone had to do anything.. may be both worked!

Yup this works - put your time to Pacific US then un tick the update time automatically. Now downloading for my 1520.

Great news, but unfortunately we still suffer from missing apps on the store. Windows phone is good, but this lack of apps makes me sad

Quality of apps in windows store is equivalent to any other store. And u get all necessary apps for ur phone, so stop saying store doesn't have much apps.

He said in a tweet that some phones had to "meet the baseline" in order to receive Win10 updates...

If Lumia 920 did, then almost every other phones with 1 GB after 920 should IMO. But let us see which ones actually gets it!

820 and 1020 getting the Update 2 over here also. Updates make me happy.

My 920 looks like it failed to finish the update process, shows the windows logo at start up with a "not for resale" then goes blank. Looks like I restore coming up back to 8.1 sad....

You have a demo phone that really wasn't to be sold.

They could even throw my 930 a bone with GDR2

I'm with you on that, Darren

Why dont you try the Windows Insider route for Icon/930? May be that could help you get the GDR2 at least! I did it for my Lumia 925 and it worked!

I tried it and it allowed me to enroll in the fast ring, it's downloading something now, good call!!

well all the best then!! do share if the install completed and you are able to see GDR2 updates on your phone :)

I am getting update 2 in my 930.

I'm downloading *something* onto my 930 via Windows Insider (it gave me the option of joining the Fast Ring) - I presume it'll just be GDR2 as w10 isn't supposed to be happening this time round - still looking forward to seeing what happens...

How do I know its update 2? My icon installed something but everything in settings seems to be the same. Build creation date is 1/9/15

It's update 2, I can pun any setting to the start now! My 930 was thrown a bone after all lol

You going smoke that bone?

am not sure as i am not doing it for my wife's L930.. but if it is not GDR2, then it must be an update you missed. try checking again and see if this works? go back to your Windows Insider app and hit "Get preview builds" and then check for updates via your settings... may be it works.

Settings says windows 8.1 update not update 2. I was on denim as far as I know that was the Las update pushed. It installed something I just can't figure out what lol

Got 8.1 Update 2 on L920(CV/Hungary). Now downloading Windows 10!

Can you stop at update 2?

I'd like update 2, but not W10. Does it give an option after 2, or does it do the lot?

you certainly can, as thats what has just happened to me, and now i cant update to win 10, says no updates, so you could stay on update 2 if you wanted, by unticking technical preview

How?? It is showing no updates available for my Lumia 925 after GDR2

Keep checking Insider. EDIT: I got another update after installing Win10 Tech. Preview.

Must be the fast ring update!

Got Fast ring configuration update too.

We can also expect a firmware soon then..? Not for GDR 2 but for 10 surely.

I got​ the 8.1 update 2 instead of Windows 10, I'm using Lumia 1020 uk

Darn, how did you manage that. Ive been trying since 6pm and nada. Nice going though. My question is, if you roll back from TP, will you go back to Update 2 or Update 1??

If you are rolling back via the Software Recovery, you would get GDR1.. seems logical as GDR2 is not available without Insider. Also if you want to keep update 2, many here are suggesting to hardformat your phone. I am going to try doing just that, let me see if that works.

It works Brian! At least it did for me. I did format my L925 to be on a safer side to retain GDR2 as my L638 will rock the Win10 Preview (which was already on preview)

I can confirm that hard reset doesn't remove TP. So I guess ill have to use recovery tool and then update to gdr2 and stop.

That make sense(re software rollback) but after seeing gdr2 I want to keep it to fully delve into what they put into it, plus I love the new settings page so I might try out what you said. I had both my 920 & 1020 on gdr2 but upgraded my 920 to TP it wasn't coming through to my 1020(my DD) which has now received it at 4am UK time.

Would suggest keeping one of them on GDR2 .. 10 has a known issue which makes 1-2% of calls silent.. So there are chances you wont hear your phone ring and vibrator wont help when you are travelling as you wont realize...

How can they have such an unfixed bug.

Can't live without vibrator..."that's what she said"...

same.....same phone, same country.

Yes. I have Windows phone 8.1 update 2

I have a 1320 and I'm still getting the server problem...

Really? It's fixed. It works for me and Gabe Aul said that it's fixed

anyone else thinking of signing in and getting Update 2 and booking it! lmao :D I wont be dealing with the W10 preview yet, I need my Office apps. But that Update 2 shenanigans sounds intriguing lol.

That's what I'm trying to so on my 1520.3 lol
TP on my only WP? Not yet...

I'm about to attempt this.

Try updating to GDR2 and hard resetting it ;) it'll keep you out of the insider update and you'll stay on GDR2 (as long as you don't install the insider app)

Is there a way to leave the insider after getting the 8.2 update?

Certainly you can! :) Just dont check for Windows 10 builds after getting Update 2.

Yep. Just stop checking for further updates or remove the app. I'm doubtful about the later as the app changes registry settings to enroll you in the preview. I just updated my 920 to Update 2 and its been pretty good so far.

I'd like to know that too.

Where i download the 8.1 update 2
Insider app?

Got Update 2 on my 1520 and 10 is now installing.

Which 1520 and where? I've got a 1520.3 (RM-938).

Downloading and update in my 1520.3 right now
Edit: GDR2

Plz share ur view on the wp build...after installing it

The insider program accepted my L1020. I don't want Update 2, I want W10

Well, you're ou of luck. You need the GDR2 before you can install W10TP. That's the case of my 1020.

Is it possible to keep the GDR2? I don't want W10 on my 1020 yet, I have a 630 for that purpose.

Yes, once GDR2 is installedand your phone boots, check for updates and if it says your phone is up to date, delete the insider app.

im from Portugal, and i changed the time to US and boot the phone and now is donwloading the winows 10

I was able to select fast build in Windows Insider then it reboots but my phone tells me it's up to date. No Update 2 showing. I've tried this several times to no avail. Sigh. AT&T 920

Same with my 925 but it's on GDR2

Same here on 830 RM-985 Updated to GDR2, now no more updates shown. Insider app let's me opt-in to fast-ring, then reboots the phone and that's it.

Check Phone Update through Settings.

Go to Settings -> Phone Update, mine did that and I looked there and it shows an update downloading now.

How would I have known my phone was telling me it was up to date if I didn't go there already?

I'm going for update 2 and stopping.

I am not on that technical preview thigy, but I have got an update this morning (GMT 0600 around that time), there were no details, it just said the update was very important. After installing I didn't notice any changes. How can I say whether or not I am on GDR2? I use a Lumia 535.

Just an OS update. Also received on my 930.

Go to: 'Settings->about' If you are on GDR2 then it should say: 'Windows Phone 8.1 Update 2' in that section.

I'm keeping the update 2 on primary phone, but pushing on to 10 on test phone.

Ditto here. My old 920 is my test phone for windows 10, but my 1520 will just get GDR2.. for now ;)

Havent seen it yet on 925!

yeah, I was wondering, I got a small update notification on my Lumia 830, and OS version starts 8.10.xxx So that what it is.

it is update 2, Already on real Demin for a month, and since the the demin update also bring an OS update prevent me to get into the insider build, today is the first time I can enroll in the program.

Got update 2 on my EE L920. May just stop here while all is dandy!

My Lumia 635 got 8.1 Update 2 first as well. Can't find 10 yet. Server error. Re-logged into MS account. It rebooted. Server error.

Now try Settings -> Phone Update.

Lucky For them... Unfortunately for me my L635 on Fast Insider Ring running the first W10TP Build says there are no updates, yet. And how does that feel?

go to windows insider and check for buids.. should get you there soon

All I need is windows 10 not update 2

Meanwhile, I ONLY want GDR2, NOT W10.

Wouldnt that mean you need to hard reset your phone in order to activate the theft prevention?

No, only new models can get it. Read the article from earlier this week for details!

the people who are not receiving windows 10 preview or WP 8.1 uptae 2 . change their time zone to US or UK . it works

Can I at least have update 2 on my HTC One M8

Not till it's released I guess

My Lumia 925 received 8.1 Update 2, moving on to Windows 10 TP :)

How?? My l925 is showing no updates available after GDR2

Zaid go to Windows Insider app and request for it again - may be that would help

I did it 3-4 times it says rebooting then after the phone restarts I do check for updates, No updates available.

If your phone doesn't see update on insider app downgrade os version to basic and then it will be shown. Happened to me with 930

Check if it says "Software: Windows Phone 8.1 Update 2" under settngs > info

Oh hey, anyway to guarantee only getting GDR2 and not Windows 10? And is GDR2 stable on the 1020? I know it's not a huge update, but small improvements without installing a really unstable build are nice.

Yeah, I want to know too.. 925

Try updating to GDR2, then hard resetting your phone and don't instal the insider app (I wouldn't restore either because restoring it would re-download it)

Why not just simply uninstall the insider app ?

Can I install this 8.1 update 2 and then don't install 10? Because in the screenshot I see that on 4/14/2015 it will be forced installed

You might be able to update to 8.1 GDR2 by updating to it, then hard resetting your phone and not installing the insider app

I'm checking with my L1520, but I think once you download Update 2, you must go back into the Windows Insider app to get the preview build to install W10. This happened to me on my L635 and I'll confirm if this works on my L1520

Or you can just let it happen to get a quick glimpse of WP10 and if your done with it then you just rollback your phone to its previous state (Windows Phone 8.1 Update 2) using the Windows Phone Recovery Tool on your PC by connecting through USB and flash a new firmware image of the OS.
But make sure to make a backup of user data so you can restore it later. Good luck :)

I am in the same boat can't seem to cancel

This happened to me on my Sprint Lumia 635! It was cool to see the changes in Update 2 while the 10 TP was downloading...

Insider app wont load :S I click on the button (get preview builds) and nothing....it loads

update2 then windows 10 for me :)

Confirmed. Just got GDR2 on my L925 and was like wtf.

I am getting something on mine, hope it is the GDR2! I am not in for Win10 on 925 as it is my main device... getting it on my L638 which i got specifically for win10

what is the actual size of gdr2 update ??

So they are pushing GDR2 as a prelude to new 10 build? like the one came before 8.1?

I updated my 1020 but after i put in my password. i get a black screen. the only thing that shows is battery symbol, wifi, and a message tab. Is anyone else getting this.

+820, and another problem is...It says not for resale

Server Error to me! A can not see neither GDR2 update nor WP10 update!!! Nokia Lumia 625

Same time as everyone else

Lumia 630. First W81 update 2. Then W10 alpha2.

So upated, now I can typing with bluetooth keyboard. Though the keyboard can only be used for type, nothing else for now. The question is should I go ahead to windows 10 ?

I got my 920 out of the drawer because I haven't used it for a while. I have now made 3 updates on it and the phone refused to do the last one because the battery level is too low. So still waiting ...

Low battery. Sounds like a 920

I'm assuming you've had it plugged in for all updates? If so, unplugging and plugging back in resolves that issue. My 1020 showed the "insufficient charge" icon when trying to install GDR2 despite it being plugged in with 100% battery.

Lumia 925 updated to GDR2 too

'Image Capture' in 'Search' is no longer present in GDR2.That's a BIG disappointment! Also for those who are asking why they can't get GDR2, perhaps only for RETAIL units? (I'm not sure about it though, since all my Lumia's are retail except for the 1320, which I have yet to update).

Wow, I really didn't think MS could balls up the TP roll out this badly.

Nothing yet for the 1320 in the U.S. Way to go Microsoft, 2 supposed updated that completely failed.

Happen to me too on my 1020. I had a change of hearth so i just uninstall Windows insider to keep to the more stable WP 8.1 U2. Hello setting pinning Good Bye Nokia Folder App

Got a 1020 on AT&T in USA. No updates available. None...

1020 here and interested in getting GDR2 but not the TP quite yet. Turning off TP after GDR2 is installed possible?

Do a hard reset. And you'll stay on update 2.

Do we really have to hard reset? Can we just not uninstall windows insider?

8.1 update 2...windows insider...reboot..check for updates...nothing :-(. Crasy

I ended up with 8.2 Update 2 and now I'm getting the server error again lol. Lumia 1020 btw. On a side note, GDR2 is noticeably another and faster than 8.1 and GDR1. A couple stutters, but way better.

My Lumia 820 got Update 2 today. :)

Does this mean i have to enroll into the insiders app first to get update 2?

Yup. Got that update on my 1520 in India.

Got the update 2 notification for HTC m8

My 635 did the initial update, and it was the 8.1 Update 1. I had to go back into the Windows Insider app and get the preview build for W10. It's now into the spinning gears phase of the the W10 update. I'll update this post as the update rolls along. BTW my 635 is AT&T.

My unbranded L920 indeed got updated first with update 2. Now installing W10. Netherlands in da house.

I just got it. What's new in GDR2?

All joking and puns aside... My phone seems considerably faster

Which phone? I just installed it on a 635 and it's running slow as shit now. Constipated shit, just to be clear. Not the runs. That would be better. Oddly.

Got update 2 on my 630 , India. I'm gonna keep it for a day.

What if I want Update 2 and not Windows 10??

you still have to sign up for Windows Insider and then hope that you get Update 2 instead of Windows 10!


Still don't have it, but i can immagine its far from unified too

No GDR2 No WP10 TP on my Lumia 820 (INDIA)

why the heck you guys do not read the articles on this site?

I do. But since they seem to be randomly popping up. I thought I I'd ask.

Is there anyone with a Lumia 810 that has installed the new windows 10 build? If so, what's been your experience so far?

I'm with you on that one.
Also, anyone able to get 8.1 Update 2 on an AT&T NL920? (I have both)

I just did a phone update check and got nothing! oh wait....I'm on Verizon with a Lumia Icon....I guess I'll check again in 9 months...!

Downloaded and installed both. Works like a charm except for a few minor things here and there.

Confirmed! GDR2 on my Lumia 830 RM-985!! WP10 will have to wait a little more....

How did you get only GDR2? In my case it only shows Windows 10 as available for download...

Not all Lumias are getting GDR2, AFAIK..Mine is a Lumia 830 and yours? I don't stay on GDR2, only for a few minutes then do to WP10...

I got a Lumia 830 also. That is why I asked...

I received WP 8.1 UPDATE2 on my Lumia 535 Dual SIM

Got update 2 on my Lumia 920. First thing you notice is the settings are sorted by categories. Those asking if you can use GDR2 without updating to W10? Yes, just don't use the Windows Insider app to get the 10 preview.

That's what I did, removed the app as well to be sure :-)

Thank you, I was looking for this information, for now I just want GDR2.

i got only update 8.1 update 2, cant get windows 10, why??

Can confirm. Am getting Update 2 on my Lumia 1320 in Oz, but no update to Win10 for some reason.

Got Update 2 on my Lumia 1520....for now it's all. Will install W10 preview on second device

My 930 is currently updating. Was able to select fast ring in insider app. A glitch or has MS already fixed the scaling issue?!?

Mine is updating too =O what that means???

No HTC One love. Has me thinking twice about the M9 if they do decide to bring it to Windows.

I just went through like 2 or 3 updates tonight on the M8

My 630 updated to update 2 then went to Windows 10

I signed my 520 ( backup) today... Just installed a update and now it says 8.1 Denim ? ... Second update is now coming in...

So none of these updates has to do with the 928?

My 920 thru insider got update 2 and than thru phone update in setings got windows 10.

eemh .. check the builds for my old 920 and my HTC m8 and both received the 8.1 update 2, the 920 did not receive the update from windows 10.
Insider Windows only shows "Insider Fast: Threshold Flighting" .... correction: i dont know what update was installed on my htc :S

Got update 2. Just done insider app option again and now got nee update downloading

My htc 8x is getting the configuration update and it restarted so happy its not just the lumias

Stuked in GDR2. Enroll w10 in windows insider app, devices reboots but there is no update. What now?

Go to phone settings and check for updates.

downloaded Update 2 nd now thinking if I shud still go for w10

Lumia 920 down here in OZ - got the Update 2 after joining the Fast ring but it's not seeing the update to WP 10 :(

update: left the phone on standby for a few hours and it alerted me for the WP10 update, yay! Installed and exploring it now...

My Lumia 630 got update 2, but still can't get new build go Windows 10.

Was it too hard to keep the custom ringtones for specific contacts? I mean come on...

Just got update 2 on my Lumia 635

I'm having update 2 instead of window 10 Lumia1520 what happened...

Me to update in windows phone 8.1 update 2 I want download windows 10 technical preview on my lumia 530 dual sim what should I do

BRICKED@@@@@ After finally trying for last 6 hours, got the update and it showed Windows 8.1 Update 2. Good so far. And then it rebooted again and now am stuck with "BLUE SCREEN OF DEATH" BitLocker Recovery. To recover the drive, plug in the USB drive that has the BitLocker recovery key.... Tried giving the hard finger too, but no luck... Anyone else facing this problem?

I think my 810 is bricked also. Finished the download, gear screen, shut-off, came on and all I have is the SIM, message and battery icons at the top with nothing else. My USB port is broke, so I guess I am screwed. Is there a way to hard rest with buttons?

Lumia 925 I got update 2 first and when I checked for updates again nothing is happened. Do where is windows 10 to update ?

Ok so I have received gdr2 update on Lumia 535. God bless ms for the new settings. Apparently that's the only new change I've seen so far. And yup it came through technical preview.

Don't want to update to win 10 very quickly.

I git update 2 for 8.1 on a lumia 820

Any Lumia 520 received GDR 2??

I think I am. Went to install 10 and it said I had an update to install first. It is being installed now but I don't know what it is.

are you sure?? where are you from

Yes thats how I got the WP8.1 GDR2 in my 1320 whi;e updating to WP10. I was in a dilemma on what to do next. But hehehe. Its all f9 now

#ask, I get "insider slow" & "insider fast", witch one i choose?

Fast : If u need today's update
Slow : If u need some Bug fixed update in coming days..

Just tried this on ATT-US with Lumia 830. No 8.1 Update 2 for me. It went straight to W10. Was hoping I could just stay on Update 2 but I can test how the new build works with my Band and then go back to 8.1. The last one was terrible.

Shockingly.. I got 8.1 Gdr update 2
Instead of WP 10
[ Lumia 730 Dual Sim - India ]
And now I'm not getting WP 10 Tech Preview ..

How did u get it?? I m trying bt no update is available till now..

@Dipesh Baheti1
For that u need to register for windows insider ..
Then download windows insider app & sign in with ur Ms a/c
Then for the 1st attempt , windows insider app will get automatically closed..
By that time u check for phone update
& get 8.1 update 2..
.
And if u really want WP 10
then keep on trying to get updates.. ( after getting 8.1 update 2 )
Otherwise just uninstall that app..

Both on 925, Argentina. Working good! No issues so far. :D

L1320 received the GDR2 update as well. Currently WP10 installing in progress. :)

You're gonna pull the trigger? My 1320 is unsure if should install windows 10.
In progress of installing gdr2 now.

I didn't register for wp10 on my 535 .. Bt I have receiving an update!

Then u r not getting Wp 10 tech preview
U r getting 8.1 update 2

It's not WP10, its the GDR2.

WARNING: SAMSUNG ATIV S NEO users. I just downloaded an update that became unlocked today through the Fast Insider Track and it has my phone stuck in a rebooting loop. Any tips or help.


I had the boot-loop issue too on a Samsung Ativ S. I couldn't even get the hard reset to activate. However, I discovered a ROM flashing utility on the web. You need to put your Sammy into download mode: Camera + Vol Up + Power button and the flash tool will do the rest. It might be an extreme way, but it brought my phone back to life when I thought I had bricked it permanently. You will hopefully have your important pics and apps already backed up.

Got WP 8.1 Update 2 for my 920, then Windows 10 TP, now installing it.

Got GDR2 on my Lumia 930, UK. Happy. Very.

My 1020 got updated to 8.1 update 2. No sign of w10 yet.

Lumia 1520 in the Philippines :)

Got GDR2 :D Lumia 930, sim free, playing around with it now.

Update 2 on my 630 in Argentina

I still haven't gotten anything!!
920 on DP with att......
Is this going out for selected phones?

My Lumia 930 got updated but not Update 2. I dunno what has changed. Anybody know what was that?

Got update 2 on my Lumia 930 even though I cnt get win 10 yet which I cool

Be careful, with the update. I already had 10 on a 635, and just tried to update it with the new update, and I think it bricked my phone.

I'm getting GDR2 in my Lumia 532 DS (PT CV).

Just tried to get it on my Lumia 1020 with no luck. It wants to jump straight into the Windows 10 preview, and I'm not installing that piece of shit on my 1020. It's already made my 635 slow as fuck.

Surprise! I am getting some update on my Lumia 521, will post later what it is.

Lumia 521 got Windows 10 Mobile Tech Preview (10.0.12534.56).

Got update 2 on my L730 not receiving any windows 10 update.....wth is going over here....

U got update on ur Lumia 730 in India normally or by trying to install win10?

The update 2 is also available for The Lumia 930

I'd love to get gdr2. I'd stick with it, and wait for more stable w10.

I got the update 2 on 830 but still no sign on windows 10 don't know why

GDR2 on the Lumia 925 in Australia. No Windows 10. Says its up to date

Available thru Big Red on my Samsung ATIV SE, but I will wait...can't be w/o reliable computer on the road.

Got update 2, change in ' setting ' page , more organized. Getting more updates but want WiFi connection.Why the hell microsoft doesn't give liberty to customers to choose data plan over WiFi.

got update 2 on my lumia 930 tonight, despite it being excluded from the windows 10 TP

Got gdr 2 on my 920 then W10 preview installing now. Decided to do a kamikaze and enable Windows Insider on my main 930 to see if it would install GDR 2 and .... It worked!
Deactivated Insider for insurance and now I have a fully updated 930 GDR2.

If you have an ICON, you can actually get GDR2 through Windows Insider

Att 830, did the first update but don't think I'm on update 2, the is version changed but my settings look the same... Now my is build is 8.10.14219.341 can someone on update 2 post their number?

8.10.15116.125 that's from tmos 925

My icon did an update and im on .341 not sure what the update was. My 635 got the new 10 build but no Cortana. Doing a factory reset now to see what happens

I tried on L830 ATT and didn't get update 2. It went straight to W10

Thanks mine got the .341 and after reboot the next update is W10 so I stopped there, I already have it on my 1520 so don't want it on both :)

ok, Under Developer Preview it downloads the Update 2 on my ATT L830. it didn't on Insider.

never mind, it wasn't update 2 but a pfd update....

What's you build number now? Does it end in .341

yep, ends in 341. not the update 2 I was hoping for... L830 on ATT is a fiasko

Same here. Via preview for developers. Maybe should go via insider app, but I thought it was only for w10... Confused

You got .341 using preview for developers?

Yes Formula84. Lumia Cv 830. I'll try to go via insider

T-Mobile US Lumia 925 also getting GDR2 update, just finish updating and restart, now downloading hopefully Windows 10

Anyone from India getting updates on Lumia 730?

I dont know what was going on tonight, but I just checked to see if there were any changes to the Insider program for my Samsung ATIV S Neo. I WAS able to join the Fast Track tonight. I downloaded and update, and now my phone is stuck in a reboot loop. I think I'm going to have to use the firmware tool to fix this, because it's pretty stuck.

My Lumia 920 got WP 8.1 update 2, but no sign of w10 preview, what's wrong?

My 920 got 10 but no gdr2

I signed up with the Insider app, after the update finished, I got GDR2 but no Windows 10 and it saying my phone is up to date everytime I checked my L1520 for W10

Just updated update 2.. And then its downloading some other new update.. Which is till in 0% for 30mins

Its true got it on my Lumia 630

Heyy...getting 8.1 GDR2 update instead of 10......( 920 India )

I got update 2 on my UK unlocked Lumia 925

Ya again downloading and stuck on 5% more than 20 min

Mine also stuck on 5% did it get complete bro..

Enrolled but no updates, anyone with the same problem? :(

I've got update 2 but still no sign of w10 :/

Got here too. Lumia 930!!

I'm seeing this on my Australia CV 1020. Checking for updates isn't showing a Win10 build download.

Htc one m8 got the same thing. At&t

What model? I'll on att us and it did not get update 2

I had the two installations too, L1520 unbranded

Would rather have denim for my phone..

Got Update 2 for Lumia 920 no-brand here in Brazil.

tried to get gdr2 update and it forced me into windows 10 and screwed me up. Now I'm using the recovery tool to start over again. It wasn't worth it. I have a meeting in the morning and now I can't show my phone off. Not enough time to set it up as I had it before.

Fek I wish I read this first haha, I'm in same boat as you, think I just wont dl 10 and leave it as is for now.

Confirmed on my Lumia 1020.

oh well. I have a long night ahead of me

920 Vietnamese version, got gdr2

Guys GDR2 IN LUMIA 820(INDIA) CONFIRMED

Did u dowload it through windows insider app or u got an update normally ..?

Grr! I was going to get GDR2 for my 1020, as I'm only testing 10 on my 521. Unfortunately my 1020 is trying to go straight to 10! No such luck for me with this strategy, and now I have to PREVENT my 1020 from applying the update I just downloaded... :-/

How do you prevent windows 10 install? Help!

It is strange my 1320 directly updated to windows 10 without going to gdr2 first.

Yah my 920 wants to do the same but im not letting it don't want 10 on my primary phone.

Offered Windows 10. Sticking with 10.

Got 8.1 update 2 and now going for 10 (Lumia 625)

Dont do.. I cant use my sim after w10 ... Lumia 625

Il also get 8.1 gdr2 in Lumia 830(India) instead of windows 10

Denim arrived on my 635 with preview update,but what happened to Cortana???

Oh! Where my windows 10 preview... I am using Lumia 530....

Which one to download? Windows 10 fast or slow?

Didn't give me GDR2 on my 920, wants to go straight to 10. It did give me GDR2 on my 520 first tho.

I got Windows Phone 10 update directly

Sad. Windows"Phone" 10.
Don't tell your friends that this is the name, okay?

I was already on the Win 10 build on my Lumia 830. This morning an update happened and nothing had changed on my phone. I thought it was an issue, then an hour later the next build of Win 10 came up and I installed it. I think that first update this morning was meant to reflect the Win 8.1 update 2.

Do anyone use lumia 620 and get issue with fast insider?

Guys will uninstalling the windows insider app after updating to gdr2 not force my phone to update to windows 10?

Umm, no.
You need the Insider app to get the Preview. Otherwise, you can't.

Ow..maybe slow insider much better ya?

How does this preview version affect how the 830 might get the FULL Denim update on USA ATT since we are waiting for that. Will the firmware still be upgraded when it comes out if we are on the preview version or you must be the original version? And is the camera still the "old" slow one until Denim (or what effect does Denim have on the preview versions)? Is the camera with this preview version an acurate portrail of it's function without the newest denim update?

Windows insider gives me only "fast download" option...

THANK YOU WP10 Team! 10 Tech Preview just started download on my Lumia 920! WOOT!

Got 8.1 gdr2, l1320 indonesia... Anyone same with me?

For those who are stuck on GDR2 and don't get Windows 10, head over here and post your model (RM-xxx_yyyyyyyy_zzz) and MOID (XXX-YY).
http://answers.microsoft.com/en-us/insider/forum/insider_wintp-insider_i...

warning samsung ativ S users - I tried this approach to get update 2 & installed latest s/w but now my phone continually reboots, anyone else have this issue?

Im using the one m8. And I can update to 10. I wasn't going to on my main phone and to be honest I didn't mean to. But now its sitting there pending to install. Any idea how to not install it.. It says that it's going to do it anyways at some time

I'm interested in learning this to. I must wanted the gdr2 update and not windows 10 on my main device

Hi all, I am using Lumia 1020 I didn't get any update ..... Not even 8.1update2 or windows 10 update. I have windows insider app as well as preview for developers app, my current version of my phone is 8.10.14234.375. What I have to do to get windows 10 technical preview Please suggest me in this ......

Same here. Nothing my l630 8.10.14234.375

Installed gdr2 on my 730 ...I'm enjoying the new feature double tap to turn off screen...on navigation bar only

New feature?
That was already there?

I received in my Microsoft Lumia 535

does updating to windows 10 erase all your data (photos, apps, settings?)

No, it doesn't. It's like updating to 8.1 from 8.0.

I got windows 8.1 update 2 on Lumia 530 Dual Sim... And I am waiting for next update.... Someone know about next update(windows 10 preview)????

when this update available for 730 in India

Why do you come here with half baked knowledge and when something does have full knowledge, don't read it?

I got GDR2 on my 925..after that I clicked on fast build again, it configured & rebooted my device but after checking for updates it didn't receive any new updates....Will I ever get Windows 10 ..??

Got it on my Lumia 730. A 65mb update.

Windows 8.1 Update 2 confirmed on my Lumia 635.

Bro I tried to install w10 ..but ended up with gdr2 ..its now available in India

Any Lumia 730 user here ???

"Pushing out Update 2 at some point this year"
What is this?