Windows Phone app coming for Dash, wireless headphones from the future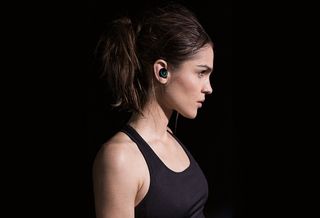 Kickstarter is a great place for creative projects to get funding. It's the largest crowdfunding platform on the web. Just today, it passed the one billion dollars mark in pledges across its user base. That's $1,000,000,000 pledged by over 5.7 million people, with over half of that coming in the past year. We've covered a few projects on Kickstarter. One recent project we covered was the FreedomCase for your Surface. Here's a cool project with an upcoming app for Windows Phone – Dash, the Wireless Smart Headphones.
Typically cool projects start out seeking funding to create an iOS app. Then if time permits, an Android app and maybe a Windows Phone app. Those last two platforms usually come after a project has hit its initial funding target. Stretchgoals are then introduced, which are additional funding goals for the remainder of a project that help the project achieve more features. Dash just passed its stretchgoal for a Windows Phone app.
Dash is an upcoming wireless smart headphone from Bragi in Germany. The company expects to ship the first 1,000 units for Kickstarter in October of this year. Full scale production of the Dash will then start in November. Dash is an in-ear headphone that's not only wireless, but full of sensors and features.
With Dash you can listen to music, just like you can with any pair of headphones. Dash however is waterproof and has both passive noise cancellation and an audio transparency mode to hear your surrounding environment. You also don't need your phone to listen to music since Dash has 4GB of onboard storage.
Dash is also more than just a pair of headphones. It'll be able to track performance metrics like speed, time, distance and cadence. You can also track various biometrics like heart rate, oxygen saturation and energy spent.
This is probably the coolest pair of headphones we've seen. Of course there's still a lot of work for the team at Bargi between now and shipping. But it's very cool to see them add a Windows Phone app as part of that roadmap. With the Windows Phone app you'll be able to control the various settings on your Dash and more.
Dash is currently at over $2.5 million in funding and still has 27 days left in for the funding period. Hit up the link below if you're interested in backing or learning more about the project. You're probably wondering what the minimum you'd need to contribute to get a pair of Dash headphones Right now that pledge price is set at $239. That's still $60 lower than what the Dash will probably retail for when it goes on sale later this year.
Has anybody backed Dash yet? Thinking about it? We're on the wire, but there are 27 days left to make a decision.
Source: Kickstarter
Thanks for the heads up A.J.!
Get the Windows Central Newsletter
All the latest news, reviews, and guides for Windows and Xbox diehards.