FreedomCase is the next cover you'll want for your Surface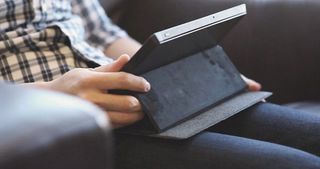 Still looking for the perfect case for your Surface 2 or Surface Pro 2? You might want to check out the FreedomCase on Kickstarter. The innovative case will give you not only a way to protect your Surface, but it doubles as a stand with adjustable angles. Let's check it out.
The Kickstarter campaign for this new accessory just kicked off. As you saw in the video above, this is part protection and part stability for your Surface. With the FreedomCase you'll get an additional 8 viewing angles for your Surface in addition to the original angles. If you're rocking a first generation Surface or Surface Pro you're stuck with one viewing angle. Microsoft attempted to spice things up a bit with the second-generation Surface 2 and Surface Pro 2 by giving you two viewing angles.
Another few bonuses of the FreedomCase? A place to hold your pen, better lap support and more. It works with and without the keyboard cover.
The Kickstarter campaign runs from today until March 15th. Late April is when the FreedomCase is expected to start going out to those who preorder or back the product on Kickstarter. Like most projects on Kickstarter you'll need to pledge a certain amount to receive the product you're backing. Pledge $39 and you're going to one of the first to get the FreedomCase when it ships in late April.
You can bet we're backing this project. Anyone else interested in using the FreedomCase?
Source: Kickstarter, FreedomCase
​Thanks for the tip Philip C!
Windows Central Newsletter
Get the best of Windows Central in in your inbox, every day!
Totally backed already. Got the leather version. Looks great! Can't wait!

same here looks amazing. :) can't wait to get mine.

Same here, I've been wanting a good angle for handwritten notetaking, and now I won't need a sleeve, which is often awkward to know what to do with once you remove the Surface from it when you are standing or have limited table space. The kickstand is totally adequate when typing but the angles for handwriting are still awkward, especially without a table.

This is just what the Surface needed

Not totally backed, only $16,000 pledged out of their $40,000 goal

22k of 40k... And 29 days left, so don't think it will be an issue

Bit more than that now,just backed.

Ditto, this thing will easily get backed. Backed and eager to get one!

Its a shame its only for the 1st gen of surfaces. Cant wait till the current gen versions are released

This is for second Gen too. It says Surface RT/2 and Surface Pro/Pro 2

Looks pretty well designed. Best of luck!

I'm planning on getting a surface 2 sooooooo looks like they can count on a pledge from me!

It's great to see projects like that! Wish them luck :)

Fantastic! Microsoft should have you on their design team. That totally smokes everything out there.

Had been using incipio feather case for my pro 2, but made it so heavy. Might pick this up just for all those viewing angles tho O.O

I could never get the kickstand to fit correctly, and then it broke when I tried to take it off. Unfortunate, love all my other Incipio products.

Yea tbh, it was poorly designed/made, I stopped using it. Have sleeve now just for protection when carrying it in my bag.

After trying incipio's awful attempt at a feather case, I was happy to find this product online. They were 25% backed in 3.5 hours; I am happy it's getting so much support!

Liked the one I made and put on the forum over a year ago better, but I'm biased.

That one is better, with it's more angles. But mine is mine, :) . http://forums.wpcentral.com/microsoft-surface-windows-rt/214488-touch-type-book-cover.html

Wow, that's a very attractive case! I will definitely consider backing them even though I've already got the Incipio sleeve.

How much does it cost to preorder it? I'm thinking that it'll cost less to back it.

Not sure what you mean. For $39/$49 early bird backing, you get the case (regular or leather style) -- After early bird pricing it is listed at $49 or $59, which I assume will be the "normal" price. Not sure what you mean by "preorder" since the only way to get one right now is to back the KS.

I thought it might also be available for preorder on their website like a few other kickstarter products I've seen.

Fantastic design. I'll be getting this.

Will this work with the original RT?

I had the same question. The site says yes but this articles reads as if the case will have less viewing angels with an surface rt compared to surface 2. I hope it does work with rt. so I don't have to upgrade to surface 2.

Hi, Andrew from FreedomCase here. Yes, it will work with the original RT and offer all of the same viewing angles.

It would be cool if there were some sort of app for tracking blood sugar levels from a sensor connected glucose meter. I guess that would require the diabetes companies to make a meter with those capabilities.

Watch the video and it will become clear.

When is surface with lte going to be available?

No wonder I could'nt finde a case 4 my pro2. It hase'nt been made yet! Just backed it up :-)

it's a dream come true with this case, so I backed it immediately

This and the Power Cover is all I need for my Surface Pro! Put in for one.

I liked it enough to back it. I like that it uses the kickstand, even if mostly just as a way to hold the case on. I hate all the cases that are just repurposed/resized iPad cases and ignore thsat the Surface line already has a kickstand. I also hope that it's been tested enough to assure that, when closed, the thickness of the mterial between the kickstand and the body doesn't put too much pressure on the hinge and cause problems.

They have a FAQ answer about that on their kickstarter website:
https://www.kickstarter.com/projects/chrisleung/freedomcase-adjustable-s...

Microsoft oughta drop 50 G's on this kid's kickstarter. Not only to thank him for supporting their products, but also because it would be worth 10 times that in publicity and as a message to other budding gen y designers/developers.

Not sure if I like the way the case keeps the kickstand cocked-open non-stop. Not sure how that will work out for wear and tear on it.

I was thinking the same thing. Might be the only real limitation here.

Im definately getting one. Just waiting for payday to put my money down.

I doubled down for two leather cases. If I were Gates, I'd give $70,000. I love this type of case. First Kickstarter project I invested in, BTW.

1st kickstarter. Definitely worth it if it does all it says. Love the design

Surface please come soon in India!!!

I'm curious to know if it would work properly on the Surface and Surface Pro,the originals.

Yes, it works with all the angles for both the original RT and pro

Made me sign up for kickstarter... Backed

Just supported my first kickstarter! Glad you ran this story! Thanks, Sam!

I never considered the lack of viewing angles of my pro to be an issue.
I do, ABSOLUTLEY, find the lack of a stylus holder to be an issue. The magnet on it is worthless. I won't trust a $30 stylus to a holder that is thwarted by slightly more than a stiff breeze or the hem of a jacket.
So thank the designer for that. I already have a case with a holder but sweet mercy, why on earth does the pro NOT have a built in sheath/holster for the stylus? Also, access to the power connector seems easier than on my Maroo which is somewhat recessed by the overlap on the case.

+1 about the Stylus - I think I may have even finally lost mine. Haven't seen it since I travelled a few weeks ago.

Seems like a lot of people have money to burn!

Got one in leather. I like my sleeve, but does not fit with keyboard. This looks perfect.

Just put in my backing for a leather one! Nice!

Already backed!! Looks solid can't wait to be rockin this!! Posted via the WPC App for Android!

This rocks, I just backed with $40. This will be the perfect thing to convince me to keep my $499 surface pro instead of forking out for a pro 2. Only remaining complaint is battery life, but I can get a pro 3 in 7 months since the pro has already been on the market for a few already.

No tanks, looks like a Apple cover.

Backed. Looks like a great product and definitely what I was looking for in a case.

I've been wanting something like this ever since I got my Surface Pro. Backed and can't wait to get it and show it off!

This is a great Kickstarter project. Some cool ideas on there too.

Wow.... At 7:30 EST on day two, so it looks like 16 hours in, it's at >75%! Hot diggity! I can't wait to get mine!

Leather on the way! Great job!

I want one in 'Rich Corinthian Leather!'

Pledging now. I've been using an M-edge stealth case for 10in tabs, which works okay, but the type cover comes out when trying to fold it back out of the way. Got the Stealth cover for cheap at BJ's.

Way to support the Surface community!! This product is a go. Look forward to receiving my leather case in April. -SAB

Thanks 4 posting this Sam, I bought 4 of them!
...and it looks like they just hit their funding goal with that purchase! :-)

Seems like on the last podcast you guys were hating on the Nokia "folio", now you are head over heals for this one. I think both are great solutions.

Just pledged for the leather version for my Surface Pro 2. Can't wait for it to arrive. I've got to protect my baby. I know this is going to make me sound way behind the times, but, my Surface Pro 2 is the first computer/tablet that I've ever owned. Hence me jumping on this great case. It's great to see the support this community is giving to those who also want to develop and build for the Surface line. Great job on this one guys! And Chris Leung, I'm not far from you. Sacramento, CA here. I can take my case to you for an autograph and treat you to dinner or coffee or something to thank you in person! CHEERS!

+1 on the support for our growing community.

Articles like this are precisly why I visit WP Central. I have never even considered Kickstarter before, and as soon as I read about this nearly risk free investment, I was in. Look forward to getting my pleather case soon, and breaking out my Stylus with some OneNotes at a meeting.
Windows Central Newsletter
Thank you for signing up to Windows Central. You will receive a verification email shortly.
There was a problem. Please refresh the page and try again.