FreedomCase is the next cover you'll want for your Surface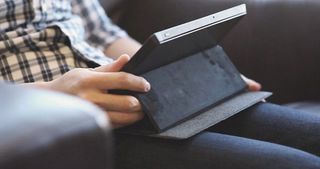 Still looking for the perfect case for your Surface 2 or Surface Pro 2? You might want to check out the FreedomCase on Kickstarter. The innovative case will give you not only a way to protect your Surface, but it doubles as a stand with adjustable angles. Let's check it out.
The Kickstarter campaign for this new accessory just kicked off. As you saw in the video above, this is part protection and part stability for your Surface. With the FreedomCase you'll get an additional 8 viewing angles for your Surface in addition to the original angles. If you're rocking a first generation Surface or Surface Pro you're stuck with one viewing angle. Microsoft attempted to spice things up a bit with the second-generation Surface 2 and Surface Pro 2 by giving you two viewing angles.
Another few bonuses of the FreedomCase? A place to hold your pen, better lap support and more. It works with and without the keyboard cover.
The Kickstarter campaign runs from today until March 15th. Late April is when the FreedomCase is expected to start going out to those who preorder or back the product on Kickstarter. Like most projects on Kickstarter you'll need to pledge a certain amount to receive the product you're backing. Pledge $39 and you're going to one of the first to get the FreedomCase when it ships in late April.
You can bet we're backing this project. Anyone else interested in using the FreedomCase?
Source: Kickstarter, FreedomCase
​Thanks for the tip Philip C!
Get the Windows Central Newsletter
All the latest news, reviews, and guides for Windows and Xbox diehards.