Windows Phone App Review: Better Movie Manager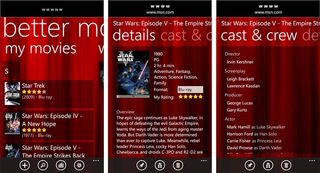 Looking for an easy way to manage your movie collection? Want to manage your collection from your Windows Phone? Take a look at the Windows Phone app Better Movie Manager.
Better Movie Manager taps into TMDb movie database (not endorsed by TMDb) to pull movie details and cast/crew information on movies in your existing collection or movies you hope to buy or see in the future. Better Movie Manager is a nicely laid out application to manage your DVD or Blue Ray titles.
Read more after the break.
App Layout
Better Movie Manager takes full advantage of the Windows Phone panorama layout. The Main Pages include a page for My Movies that lists all the titles in your collection; a Wish List for titles you hope to see or purchase; My Queue that lists titles in your collection you want to watch; and a Games Page which has three trivia styled games based on your movie collection.
At the bottom of the Main Pages you will find button controls to add movie titles, to search your collection, view your collection stats, and access the settings (list order and movie format). The three dot menu pulls up the "about" link.
Adding a Movie
Adding a movie to your collection is simple. Just tap the "+" to pull up the keyword search, enter your movie title and choose the appropriate title from the results. Individual movie listings will display the details on the movie (short summary) and the cast/crew information. At the bottom of the screen you'll find two buttons. One to add the movie to your library, the other to add it to your Wish List.
Once added to your collection the buttons change to allow you to pin the title to the Queue Page on the main pages, mark the movie as loaned out, and to delete the title from your library. When you mark a title as lent, a secondary screen will appear so you can enter who you lent the movie to and add any necessary notes. A notation will appear on the movie's Detail's Page showing that the movie is lent and to whom.
Games
One neat feature of Better Movie Manager is a game section. The app has three games that are based on your movie collection.
Tagline Trivia presents you with a movie tagline and you have to guess which movie it is from. For example, "I'll be back" would be the Terminator. "An epic presentation of miniature proportions" would from A Bug's Life. "You're going to need a bigger boat" is from Jaws.
Order Up is a game where you place a list of movies in order of when they were released. Triplet Trivia provides you with three clues on a movie to help you guess the movie title. For example the if the clues are Richard Attenborough - Director, James Caan - Actor and Sean Connery - Actor the movie would be A Bridge Too Far. George Lucas - Director, Harrison Ford - Actor and 1977 would be Star Wars.
The Better Movie Manager games are simple yet challenge and a fun way to learn more about your movie library.
Overall Impression
All in all, Better Movie Manager is a fantastic Windows Phone application if you need to organize and manager your movie library. The Games Page is an added bonus so you can test your trivia skills on the movies you've seen.
Better Movie Manager ran smoothly and the only thing missing is a movie trailer for the movies. Better Movie Manager is a mango app that support fast resume and a Live Tile that will display how many titles are in your library.
Better Movie Manager is a free, ad-supported application that you can download here (opens in new tab) at the Windows Phone Marketplace.
Windows Central Newsletter
Get the best of Windows Central in in your inbox, every day!
George is the Reviews Editor at Windows Central, concentrating on Windows 10 PC and Mobile apps. He's been a supporter of the platform since the days of Windows CE and uses his current Windows 10 Mobile phone daily to keep up with life and enjoy a game during down time.
Not available in Germany... (yet?)

If only this had some way to import from Collectorz or barcode scan with the camera. I have over 400 Blu-rays. I'm not putting these in by hand.

Tried the app.
Missing a custom format option as well as a data backup option. Else this is a very good one.

Thanks for the great review!

The app is currently in the approval process for distribution to the rest of the world. It should be approved for all other countries within the next day or so.

Data backup is on the to-do list and will be a part of a future version.

Barcode scanning will likely not be a future feature. First problem is that the source that I get the movie information from does not have barcode data. The second issue is that while it may seem like scanning a barcode would be quick, it actually takes longer to use the phone's camera to take a photo for barcode scanning than it is to just type the first few letters of the title. So really, barcode scanning may seem like a useful feature, but in practice, it doesn't speed it up much (if at all). If I find a way to implement it I'll still consider it since people are asking for it, but it's a longshot as of now.

A new version of the app should be ready either late this week or sometime next week. While it won't have the online backup option, it will include things like trailers, person details, and more searching options.

I completely agree with what you are saying but let´s say I have a large collection like one guy previously mentioned. You could open the barcode scanner, scan the DVD or Blu Ray´s barcode, check that it is the right DVD or Blu Ray and store it all without closing the barcode scanner. The only time you would close it, is when you are done. Now, I don´t know if it will be battery efficient but I think it depends on how fast one does it. The faster you can get your collection in, the less battery you will use.
I think that it will be a nice option to have.

Yeah, the only way I could see it being faster is if, like you said, you basically have the scanner open and you just take a photo to scan, it would then tell you the name of the movie and you'd click "add to library" or "add to wishlist" and it'd then go right back into scanning mode. Even then, if I just added the ability to add a movie directly from the movie search screen (maybe hold down on the title and then select add), it'd be about the same speed.

One thing you lose by not going to the details page first before adding is the ability to rate the movie and select the format. Of course, if you're just looking to add everything as fast as possible first, then go back in later to update them, then you can bipass that details screen.

Trust me, I know adding a huge collection to the app can take a bit of time, but once you get them all initially loaded, it's very quick and easy to just add new ones as you get them. I'll definitely try out a few things to try and make adding movies faster and am always open for more suggestions.

I love the app. One way you could possibly solve the issue is by getting your app listed in the results for bing vision. Then you would be able to scan a barcode or dvd cover have bing recognize it, then swipe over to the 'apps' section where you could click on your app leading to a search of the movie title. I would think this would be fairly easy to implement as a developer and could possibly be more efficient for the user than manual typing.
Realistically it only took me about an hour to put 80 movies so its not like manual typing is a huge burden even with massive collections. Keep up the great work!

I hope one of the future versions would have a "Custom Format" (along with BluRay/DVD option) entry as well as a "Personal Notes" entry for each movie entry we make.

Very nice app.

Most of my movies are in digital format, so for the majority of my collection I wouldn't have anything to scan anyway, so that's not a big deal for me.

Backup feature would be excellent.

Keep up the good work! :)

I'd like to have one has nice as this one for my huge video game collection. Please.

Well, well, well... Does that mean that I'll be able to store few new movies as well? It looks like there's still room for innovation I am hoping this is possible because I have a lot of traveling programmed in 2013 and I need some entertainment with me.
Windows Central Newsletter
Thank you for signing up to Windows Central. You will receive a verification email shortly.
There was a problem. Please refresh the page and try again.