Windows Phone App Review: glƏƏk!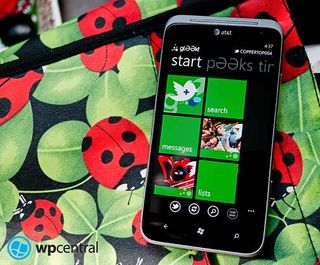 glƏƏk! for Windows Phone
glƏƏk! is a Twitter client for your Windows Phone that has plenty of features and a bit of flair. The app brings all the Twitter goodness to your Windows Phones plus glƏƏk!s and pƏƏks.
When you first launch the app, you'll need to set up an account (sign in and authorize glƏƏk! to access your Twitter Account) and from there you can update your status, view the timeline, search for people, and enjoy live tile notifications for mentions and new tweets.
And that's only scratching the surface with glƏƏk!. If you're looking for a Twitter app for your Windows Phone, glƏƏk! should be on everyone's short list.
There is so much to glƏƏk! it's a little hard to decide where to start. So we'll begin with the most obvious starting point, the Start Page.
The Start Page is a series of tiles that will let you:
Add a new Tweet
Search for people
View your messages
View friends, followers and favorites
View trends
View lists
View glƏƏk!s (more on this in a second)
View your account profile, statistics and limits
At the bottom of the main pages (except from the pƏƏks Page) you will find four buttons that will launch a new tweet, refresh the screen and switch accounts (if you have more than one set up). The three-dot menu pulls up options to access the settings, manage your mutes and view the support/about screen.
Oh...quick note about managing mutes is that glƏƏk! was the first with Mutes and is the only Twitter app that has timed Mutes.
This allows you to silence people in your Twitter stream without unfollowing them. If you see someone starting up a rant that you really don't want to listen to, set a timed Mute.
Moving to the right of the Start Page you will find pages for pƏƏks, your Timeline, mentions and retweets. pƏƏks is a collection of random tweets from other users. You can swipe left/right to view different pƏƏks and at the bottom of the screen you have four control buttons to tag a pƏƏk as a favorite, reply to the pƏƏk, re-tweet the pƏƏk and glƏƏk! the pƏƏk. A glƏƏk! is when you re-tweet a pƏƏk, adding it to the glƏƏk! page in the process.
glƏƏk! Settings
glƏƏk!'s settings cover a wide range of topics. You have pages that cover:
Account Management: Here is where you go to add new accounts and to delete accounts you no longer need.
Preferences: Here you have options to show profile images in the timeline, show media inline with your timeline, select where you move when your timeline is refreshed (stay where you're at or go to the top), where you want to go when glƏƏk! starts, and the maximum number of tweets to retrieve at a given time.
Layout: These settings cover lock screen orientation, app theme, and how you want your timeline presented (list or slide views).
Live Tile Options: Here you set automatic updates and what notifications appear on your live tile.
Tweets: These settings cover whether or not you want to add your location to your tweets, how re-tweets and quotes appear, and establishing custom hashtags.
Extras: Two options here. One to turn on and off the pƏƏks and the other to turn on/off Vlad-Mode. As described in the settings, Vlad-Mode will inaccurately report errors from Twitter services as problems with Microsoft.
And there's more...
glƏƏk! brings you everything you would expect from a Twitter client and more. glƏƏk! supports landscape view, text effects, integration with Local Scout with your searches, multiple themes (light, dark, and Today's Pick), and easy tap view of video, images and location. You also have the capability to pin accounts, friends, lists, tweets and just about anything glƏƏk! to the Start Screen.
Overall Impression
Admittedly, I'm a novice at Twitter. I tweet what's on my mind and every now and then remember to use hashtags. I have to admit that I was a little overwhelmed with all the features that glƏƏk! offers. I can see glƏƏk! being a great option for the hardcore Tweeters out there. Even the casual Twitter users will find glƏƏk! appealing after exploring the app and giving it a little time to get acclimated to all the features.
If you're looking for a feature rich Twitter app for your Windows Phone or you're just not sold on the Twitter app you're currently using give glƏƏk! a try. There is a free trial version available and the full version is running $1.99.
You can find glƏƏk! here at (opens in new tab) the Windows Phone Marketplace.
Windows Central Newsletter
Get the best of Windows Central in in your inbox, every day!
George is the Reviews Editor at Windows Central, concentrating on Windows 10 PC and Mobile apps. He's been a supporter of the platform since the days of Windows CE and uses his current Windows 10 Mobile phone daily to keep up with life and enjoy a game during down time.
LD rules. Best developer on wp so far.

Good review. I may decide to try it later. I have yet to try Carbon and Rowi.
I'm currently using Mehdoh, which is free. I have to say that it is an awesome client. It has almost all the features of the paid ones including image, maps and conversation previews, among other things. The performance is great as well.

Yeah, after using mehdoh I'm spoiled. All that awesomeness for free! Plus a UI that looks like it officially belongs baked in! I may try others, but can't justify paying for a twitter app when I can get mehdoh free, or use my me tile. That said, liquid daffodil are awesome!

glƏƏk! is by far the best "bang for the buck" when it comes to WP Twitter apps for sure...if you need free/single account, you have alternatives, but if you want a loaded to the hilt Twitter client, with more features and fun than any other out there, this is defintely the one...and the random tweets can be so hilarious!

I like the quick preview of replies, conversation, favorites, and retweets when you click on a tweet on the twitter app for ios. Do any of twitter clients have this for wp. I have seen carbon and rowi have the retweets but that's about it

glƏƏk! has an excellent Retweet area, including a "Jump List". To my knowledge it's the only one that let's you see who retweeted your tweets from that "Retweets of Me" as well, without an extra tap....

I really enjoy this app! I still use the people hub most of the time though because the load times a bit slow. Great twitter client though and fun!

This developer literaly thought of everything. He is the same as the...im a WP7 and I can say in all conficence that he is awsome!. I plan to buy it, the trial works fine.

I use mine on a daily basis and after going through 4 different twitter clients to use for different tasks it was so refreshing to use a client that has it all plus a lot besides I love the peeks they are so random and funny at times this app has allowed me to uninstall 4 different clients its my one stop twitter shop this is most definitely a 5* application without doubt the overall best overall twitter client for your windows phone. Also the developer is very very friendly and helpful for those who may run into problems using the features of this awesome twitter client.

Great app. LD rules. But.... Im still a rowi man:)

Best twitter app out...
Beautiful intuitive UI...
Brimfull of features...
Sleek and sexy...
And it Gleeks...
Buy it...

I love this app, it's twitter and more. I have since remove my tweets from the people hubs. One problem I have with gleek is that I couldn't get the tile to show a number indicating new tweets.

Bernard...shoot the glƏƏk! support folks an email via the app, they are VERY responsive and helpful and these kinds of things are usually just quick...

I WANT to love this because it does so many things better than other apps but no Read It Later is a deal breaker!! :(

FYI, Read It Later & Instapaper (and more) both already added to v1.5 that will be available at the end of the month. :)

Ive got and bought them all. most twitter apps are similar. what stands out about gleek is the live tile. one of the best so far.

Extremely fast everything you'll ever need in a Twitter app.

I love glƏƏk!. I bought it as soon as my trial expired. The Metro design layout is simply amazing.

I think at moment all devices have "..I'm wp7"! Now there is another fantastic app from LD: Gleek! This is the best twitter client. I loved Mehdoh but now I have Gleek! This app is out of schema then I like this. The support is very good and all people can also write in the "I'm wp7" forum for more help. If you want something good then buy it!

As many will know but for those who don't v1.6 has just went live. The latest update to the best twitter client has Brough some beautiful new features like being available to colour code your friends and sneek peeps is another cool feature I have said before about this awesome twitter client its simply the best client that's available on any os its fast it looks beautiful its fun and vibrant its basically 10 times better than rowi medoah carbon and the dev is the most helpful guy that you could deal with so everyone should have this app if you don't your an idiot
Windows Central Newsletter
Thank you for signing up to Windows Central. You will receive a verification email shortly.
There was a problem. Please refresh the page and try again.