Windows Phone App Review: Next Browser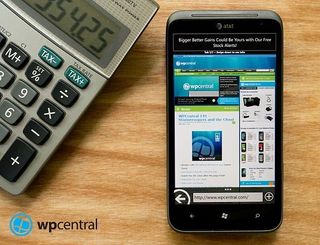 If you're looking for an alternative to Internet Explorer you may want to take a look at Next Browser. It is a fast, feature rich alternative that makes a nice first impression. But does that first impression fade any? For the most part, no. But there is one thing that holds a very nice browser back.
Oh... if Next Browser is something that looks appealing, it's on sale through the end of the day for $.99 (regular price is two bucks).
When you first launch Next Browser, a short tutorial will launch. It's a decent tutorial but a little on the brief side. You can always revisit the tutorial through Next Browser's Extra's Menu.
Next Browser is well laid out with your URL field at the bottom of the screen. You have a back button (no forward) that sits to the left and a "+" button to add browser tabs to the right of the URL field. Just above the URL field is a three dot menu that pulls up controls to pull the browser up full screen, refresh the screen, access the extras menu, and lock/unlock the orientation.
The extras menu will pull up the Actions Page that allows you to:
Share a web page
Pin the current browser tab to the Start Screen
View your browser history
Access options
Rate and review Next Browser
View the change log
View the tutorial
View the about screens
You'll also find your Bookmarks listed to the right of the Actions Page. Options for Next Browser covers display options, a few navigation options and your default home page and search provider.
Next Browser supports tabs (just tap the plus sign next to the URL field) and to navigate from web page to web page on the tabs you have two options. First, you can swipe down on the screen to see a tile display of all the available tabs. The other option (and you'll need to flip the switch in the options menu) is to side swipe to move from tab to tab. Either option works but you need to make sure you make long swipes to trigger things. Too short of a swipe won't do anything.
The Bookmark Page will list all your bookmarked pages in tile view. The only way to add a bookmark is from this page. By default, when you hit the "add new bookmark" button it will paste the current URL into the add bookmark field. Tap on a tile to pull up your options for that particular bookmark. You can open the link, open the link in a new tab, open the link in Internet Explorer, or delete the bookmark.
As far as speed is concerned, Next Browser is rather nice. The full version of WPCentral.com loaded in about six seconds. Comparatively, Internet Explorer took just shy of nine seconds to load the same page. Granted data connection speeds will influence these speeds but in general, Next Browser moves along nicely.
The page view is touch zoomable and support is present for vertical and horizontal view. For those who don't want the view orientation to change, just hit the three dot menu and lock things. Keep in mind, the lock keeps the view at the current orientation. So if you tap the lock button while in horizontal view, Next Browser will stay in that orientation.
All in all, I liked Next Browser but the one thing that spoiled the experience was stability. Next Browser crashed when switching tabs, when loading pages, when accessing the extra menu and when moving from the actions page to the bookmarks page in the extra menu. When Next Browser was up and running, it is a very impressive browser alternative. Unfortunately, the stability issues really places a damper on the experience.
There is a free, ad supported version (the trial version) available for you to try things out before you buy. The ad free version is currently running $.99 (regularly two bucks) through today. You can find Next Browser here at the (opens in new tab) Windows Phone Marketplace.
George is the Reviews Editor at Windows Central, concentrating on Windows 10 PC and Mobile apps. He's been a supporter of the platform since the days of Windows CE and uses his current Windows 10 Mobile phone daily to keep up with life and enjoy a game during down time.
I'll be keen to check this out. It can't be any worse than SurfCube - that's slow, freezes and crashes horrendously!

UC Browser is still the best 3rd party wrapper I've seen.

Metro Browser gets points only because you can watch flash videos.

No thanks I'll stick to IE9 which is FREE and works great

As long as MS refuses to allow a TRUE 3rd party browser none of them are going to be great. I don't care for IE much and its clear other devs can do it better than MS. I want more than IE with window dressings. Dolphin HD on Android was awesome. I hope MS stops being hard headed about this.

There's no need for another browser, why don't you stop being an idiot

Excuse me? IE sucks, don't be a homer jerk nuts. Have you even used other browsers on other platforms?

What do you mean excuse me? You know what I said. Yes I have, they suck compared to IE.

either trolling, ignorant, or paid.

This is the developer of Next Browser. Just so you know, the sale will end around Saturday night/Sunday morning.

Are you working on stability?

Yes, I am looking into it. It hasn't been a problem for me, so if you could tell me certain websites that seem slow or unstable it would be very helpful to me. The app itself though with 1 tab never crashes for me.

It needs an option to disable the live tile... I want it pinned to my home, but I don't want or care to know what website it's on

Just wait for ie+, the first official wp7 webbrowser with homebrew possibilities. It's possible to integrate ie+ into your system. Every webbrowserTask will open ie+ instead of IE. the homebrew-part of the app is done by goodDayToDie and requires a fully-unlocked phone. The app will hit the marketplace within the next weeks. stay tuned

Home-brew possibilities? Sounds promising. One of the biggest things I dislike on WPs is being stuck with IE and no real 3rd party browsers that can't truly add more to mobile browsing experience

IE provides the best mobile browsing experience. Stupid moron

I swear I hope you're being sarcastic. You've never used other 3rd party browsers on other platforms

If you used for example, Dolphin HD for Android you wouldn't speak up for IE. Being locked to one browser engine sucks. IE sucks on mobile.

How would we implement into a default browser??

This IS my favorite browser so far... Only one I keep pinned to home/start screen... I like to tinker with others, and test their updated versions (and there are about 3 that I will use for a few days and enjoy), but I always fall back to NextBrowser for my browsing... Fantastic browser!! ;) Very fast and I really like the full screen, desktop, and tab/favorites/history layouts.... IE will always be a part of my browsing as a must default of course, and I don't mind as it is fast as well... I just prefer a little variety of flavor with my browsers I guess, and so far this bad boy has worked its way to the top of my list for alt. browsers... We'll see if they can stick there, cuz I know 2 other browsers that I use are coming along very nicely with updates and one almost out of beta!! ;) Competition is (or can be for the consumers, anyway) a great thing!! I look forward to the progress of NB!! :)

where's operamini when u need it?!!

"How would we implement into a default browser??"
GDTD is writing a desktop-tool for this kind of tweaks. @siggystle: still waiting for your final feedback ;)

This was a nice browser and I like the features better than in the standard IE browser. Indeed it was unstable and buggy though. Got a crash while starting it up the first time. And it behaved weirdly with tabs. Making it a chore to use. But would be nice if it worked OK.

What holds me back from using third-party browsers though is that none of them are as fluid as the original. Pinch-to-zoom feels like I'm back on Android. The smooth performance is not there. Hence I can not use it without being irritated. My years with Android has made me sick of lag/stuttering and I can't take it anymore.

Dannejanne, it depends on the Memory management, the engine is still the same

Flash?..i.want ..to play the damn flash..

Sorry, that's a Windows Phone limitation.

I just found that IE touch screen forces people to be exposed to advertising. This alone just instantly turned me off buying a Lumia through ATT. You should try browsing the internet without ads, it is a different experience. There is no clamor of unwanted information, or appeals to urges to drive you to consume. I don't know a single person who responds to them in ways which encourage consumerism, and I pity those who are subjected/affected to/by them. Google is the oddest love of mine, they take their low-key well targeted ad profit, and encourage spaces where people can just be and do what they do. I was hopeful about the Windows devices, and their prices drop to gain a foothold in the market was compelling, but I would spend a considerable amount more for the ability to be left alone.
Windows Central Newsletter
Get the best of Windows Central in in your inbox, every day!
Thank you for signing up to Windows Central. You will receive a verification email shortly.
There was a problem. Please refresh the page and try again.