Windows Phone App Review: WeatherPro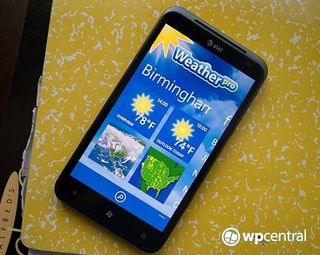 There's little argument that there is no great shortage of Weather apps for your Windows Phone these days. WeatherPro is one such Windows Phone app that was recently updated and after receiving several requests, we took a peek at it. With regards to features, WeatherPro is a notch above your basic weather app by providing both forecast information and animated weather radars.
Weatherpro is a nice app but its weakness rests within its navigation. While you can find what you're looking for fairly easy, there's a little inconsistency in how certain screens react. It's nothing detrimental but rather something that I couldn't help but feel could be better. The update (version 2.0) brings live tiles into the mix and mangofies the app, all of which helps WeatherPro's overall impression.
WeatherPro isn't a bad weather app, I just expected more for the $2.99 price tag.
WeatherPro's layout from the main pages breaks down as follows. You have a Location Page, for the lack of a better term, that highlights your first favorite location. This is going to be the first location listed on your Favorites Page. The Location Page has tiles to access:
The forecast overview that displays the current conditions and seven day forecast for each of your locations (side swipable). In tapping on a particular day, you pull up the forecast for that day broken down in three hour increments. From the bottom of the screen you have four button controls to access satellite, radar, weather charts (we'll get to this in a second) and to pin that location to your Start Screen.
The forecast outlook toady tile displays the daily forecast for each city broken down by three hour intervals. You have the same button controls as you see on the forecast overview, access satellite pages and access radar pages. You can switch between the forecast cities by side swiping.
The satellite and radar tile will display the various national and continental sat and radar views. Satellite and Radar displays are animated and can be zoomed in slightly.
Continuing with the main pages, side swiping to the right you will find your Favorites Page that lists your favorite locations. From there you move to the Menu Page that provides access to the help page (weather term glossary), units of measurements settings, language settings, and the about screen.
The Favorites Page lists all your locations and to view a particular forecast, just tap on the location. Here you will see the current conditions/seven day forecast. Tap on a particular day in the seven day forecast and you'll see the forecast broken down by three hour increments. At the bottom of the screen you have button controls to view the satellite, radar and chart pages. In accessing the forecast through the Favorites Page you can not swipe between locations (as you can through the Location Page) or pin the location to your Start Screen.
WeatherPro really needs to be consistent in how it presents the forecast information. Access the forecast from one direction and you get one set of options and controls, access things from another and you get a different set of options and controls. It would be nice to switch locations from within the forecast page view, regardless of how you got there.
Regardless of how you get to a forecast, if you want to add a city to your Favorites Page (or simply pull up the forecast), just tap on the magnifying glass control button that is on the bottom of the Location or Favorites Page. WeatherPro supports over two million locations world wide and once you find a match, tap on the listing and the forecast pages will appear. To add the city to your favorites, tap on the favorite control button at the bottom of the screen.
Okay... now for the weather charts that are accessible through the forecast pages. WeatherPro offers seven weather charts for your locations showing trends in temperature, precipitation (and amount), wind, pressure, sunshine duration, and humidity. The charts are a handy tool to give you an idea of the weather trends for a particular location.
WeatherPro does deliver a decent amount of weather information to your Windows Phone. It is a notch above the basics by providing satellite and radar imagery and weather charts. While I liked the amount of information and the general appearance of WeatherPro, the navigation needs to be simpler and more consistent.
You need to be able to switch locations from the forecast pages regardless of how you got there. I also wouldn't mind seeing a more localized radar but, in some ways, a national view is better than nothing at all. Along with the odd navigation, the other downside to WeatherPro is the lack of a trial version (don't blame the messenger) which may turn away customers.
The full version of WeatherPro will run you $2.99 and you can find it here (opens in new tab) at the Windows Phone Marketplace.
George is the Reviews Editor at Windows Central, concentrating on Windows 10 PC and Mobile apps. He's been a supporter of the platform since the days of Windows CE and uses his current Windows 10 Mobile phone daily to keep up with life and enjoy a game during down time.
"we took a peak at it" Did you toss the top of a mountain at it or something?

"but it's weakness" I see grammar is not a focus around here.

I think the strength of Weather Pro is its data. It has very good weather forecasts in Europe. A lot of Apps don't have any or only very unreliable forecasts for Europe.
I bought Weather Pro when there wasn't any decent weather app for Europe available but i stopped using it because of its very slow performance and switched to Weather View.
Now performance is (alsmost) on par with Weather View but UI wise I still prefer the free Weather View, esp. since I can configure it to open directly in the hourly forecast for today.
Currently I use both side-by-side. While Weather-View has more details for the next 48 hours (hourly data) Weather Pro has 3 hour-data for the whole week. Additionally Weather Pro has rain radar (unfortunately only on a country-level without zooming to a more detailed view like niederschlagsradar.de) and so far I trust its forecasts a little more.


There are a lot of weather apps but I sure had a lot trouble finding one. Some I had to rule out because they did not suport the metric system or have a trial...ahem. I finally settled on Amazing Weather and to me it is the best of the dozen or so I tried. It uses Weather Underground data so I'm really hoping they add Weather Underground's awesome hurricane tracking info into app then it would be slam dunk I would say.

Isn't that a bit of a waste? All these developers working on Windows Phone and they all do the same apps!

That is just the competitive human spirit I guess. The IT industry would be a lot smaller and innovative without it.

Still. This is a new platform so I'm sure there are lots of apps yet to be done/thought about. It looks like developers only put their efforts into rss readers, twitter clients and weather apps.

I tried a sh** Load of weather apps, and WeatherPro was the one which performed better, and it was the one I bought. Happy with it.

Btw, most common problems with the weather apps I tried was the poor performing Live tile, often, on virtually every app at the time other than WeatherPro stopped working after a few hours or at best days, and that was very annoying.

WeatherPro (MetioGroup) has the best foercast data for Europe. Period. Also for my travels in Asia their forecasts were more accurate than the other weather services I tried.

WeatherPro is the best for forecasts in Germany and UK (and the best weather app for iOS) - so I'm happy that they support WP7 and improve their app!
Fingers crossed for Windows 8 app :)
Windows Central Newsletter
Get the best of Windows Central in in your inbox, every day!
Thank you for signing up to Windows Central. You will receive a verification email shortly.
There was a problem. Please refresh the page and try again.