Windows Phone App Studio receives new updates, claims hundreds of apps now published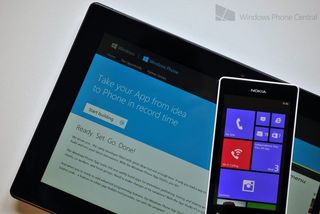 Back in early August, Microsoft announced a new program aimed at empowering you to create your own apps. Windows Phone App Studio may not be for guys who know their way around Visual Studio, but it's a great way for people to create niche apps that only they will use. That program is still in beta, but has continually received new updates. The latest came out today. So let's check out what's new.
The last update came out a little over a month ago. Some of the new features that came out included new connections for external data sources, new templates, and more. The team behind App Studio still eked out some improvements while enjoying the last bit of summer in Redmond. Here's what's new in the latest update for App Studio:
Menu bar is now easier to navigate
Navigation buttons have been enhanced, making it easier to edit collections
Dozens of new graphic elements like icons, backgrounds, and stock images
SkyDrive integration
Enhanced Visual Studio project template and the code it generates
All of the above was added or enhanced by feedback users like you give to the Windows Phone App Studio team. So they encourage further feedback as they continue to hone the experience. The team also notes that hundreds of these apps created in App Studio have been published to the Windows Phone Store. While we're always about quality over quantity, it's nice to see Microsoft give people the change to create something even if they don't development skills. App Studio could serve as a way to get people interested in creating and learning.
Already mastered App Studio and ready to actually code? Be sure to check out the Channel 9 series for beginning Windows Phone Development. And of course, go try out App Studio.
Source: Windows Phone Developer Blog
Thanks for the tip Josh H!
I created my app through this and so far I have 300 downloads. Very niche, but useful :D

Oh its an app for my friends, who are Christians, SDA to be specific. They wanted an RSS feed and links for easy access on the Sabbath School lesson for Seven day Adventists. So I made it in like 15 minutes.. It was easy and straightforward.. I hope MSFT brings more functionality to the app studio so coding will be a thing of the past..

I did a search on google because I didn't know what SDA stood for and the first thing that popped up was Satan Devil Anarchists. But I dont think that is your group.

Lol.. I clarified it after I wrote SDA.. Anyways I see more and more apps from app studio being created. It is a good sign for this who want to fill in the gaps momentarily.

Haha, I am writing a religious app too. Specifically, for a church (and I'm not charging for development.) But I'm making it a full-fledged app :P The iOS and Android versions however, are merely wrappers (Android/iOS ports are not by me)

Good for you.. I wish I could code. I have a beautiful design in mind. But I am still learning how to code, so it will take a while.. I will say that you should add a buy option in the end. You know so you might get something in return.. I added it, just to see if someone buys it.

Is it only for religious apps or can I finally publish that fart app I always dreamed of?

You can do that too!!! Lol..

And if I can really publish a fart app do I have the option of mapping the camera button to my fart app so it can fast-fart from screen lock?

No.. Not yet.. I think is not included in the app studio set of features..

Thank you so much for all your help. I guess my app is too revolutionary for the capabilities of this program. Good luck with your Anarchists group though!

Maybe you should try to develop the very revolutonary fart app to iphone's. They love anything thats include words with "innovate" and "revolutanry"
So a new "Very Revolutinary Innovated Fart App" for Iphone with IOS7 support would be a clear winner on Istore.
Charge it for 0.99 USD/download.
And you will be a millionair in no time. :-)


hahahaha, man you are killing us, keep them coming, or maybe make an app for it.

Seventh Day Adventist...my dad use to be one of the heads of the Northern Cali Conference. Nice.

How hard is it to make an app? I know absolutley nothing about coding. The only thing I've ever done like that is make a webpage in Publisher, but that's as easy as dragging and dropping and clicking and writing. I would like to make a Windows Phone app that has a shared calendar feature where people can create events and any other people who have the app can search for events, find events, and join them. Would this be difficult for me to do, or are the tools for such calendar/event features built into Microsoft's app studio?

That app has to be coded in Visual Studio (I believe) because you need some interaction between servers or users.. App studio is very basic.. Its useful for simple things, but nothing else.. Maybe in future updates it will get to the Visual Studio level

Gotcha. So I would need proficiency in Visual Studio to do it. Seeing as how this is the first time I have heard of it, I'd say that isn't going to happen any time soon

Its very tough to learn VS from scratch, but not impossible.
As far as the WP App Studio goes, it's limited to RSS feeds, YouTube feeds, Flickr feeds, URL links, Bing search feeds, photos and text content. There is an HTML5 editor, but I've yet to find any compatible code beyond basic text content.

I think App studio is actually a good starting point, you can always get the source into Visual studio after and extend the app there.

Actually, I would argue that the source code that they provide (before this update haven't checked until later today) is pretty unusable. It is basic at best. They fix the code and libraries so it is useless to try to make it sophisticated.

I love how Sam uploads articles at 10PM EST. Always getting news on wpcentral :)

Actually he wrote it earlier in the day but posted it at 10pm to claim overtime pay. Fess up.

There is a couple typos so I think he actually wrote it at night lol

Dude Sam starts drinking at lunch time.

Its always 5:00 somewhere, right!!

By using Windows Phone App Studio, I made my first app for WP8. You can search for Armin Only in the store and you can download it if you like. It's all about Armin van Buuren and his music!!!

Did you use the my favorite artist (or something like that) template?

Why the nude pic on the cover of the app? How did that get past Microsoft sensors? (sorry just trying to help you get some hits)

I found it on the store. I am interested to see how an app generated this way looks. But it had no Trial mode. Does app studio not support trial apps? You will get far more downloads, and potentially more purchases, with a trial than if you force someone to buy right away.

Yes it does support trial. That is up to the developer in the publishing section of the app

I have a couple app ideas and tries registering but never got a confirmation email.

They saw the name pookie wood and it raised red flags.

The feature that would appeal to me would be to embed individual videos from YouTube and/or Vimeo. That seems "simple" to me, but I'm no coder. :)

Can I make a fake ' GDR2 and amber update for AT&T 920' app and sell it for $100 in the app store? I know a few people who might buy it at this point.

Probably, Microsoft claim to check apps before going in, but I think we know by now that they don't do a good job of it. I'm going to make a $20 app that makes your phone waterproof.

I am trying to create a dim sum database app

I am trying to create sum dum database app

Made an app for my website. Here's the outcome: Check out "PettyFans.net" for Windows Phone http://www.windowsphone.com/s?appid=7a7ff72a-a26b-4b51-a23e-7a7d9bcda69c I hope this app serves as a good example of what is possible with this Beta. It's simple, but effective. :)

I would like to upload videos into one of my Facebook groups, I like pages manager but you can only upload photos - any ideas anyone

Gravity Guy has been updated. Any info on what's new

They fixed the YouTube bug, where it was only loading channel videos the were 3-4 weeks olds, SkyDrive integration was much much needed as well and ZOOM for images! Why that wasn't included originally, I have no idea.
...
So, I'm just gonna say it... my app is better than all of yours!
...
And you're welcome Sam/WPC.

They said thanks to a "Josh H". Are you taking credit for Josh H's work? How do we know its you?

You caught me, my name is really George.

Well shame on you George, that was racist.

how to see other people apps?? i can not find that! i want to see more ideas.

I haven't seen how either, although my apps are marked "public", I'm not sure how since they are not published to the store.

They (the devs) have to share it with you. And then you'll have access to the app

I am just waiting for them to add input fields.. and let me send that input field and send that data to a web server... and then be able to parse some standard (faux) RSS or XML and display that on the screen in some form or fashion.

I would love to make some app! But, can I build apps also for 7.8 and test them with my LG e900?

Is there a page to see all the apps people gave written ?

No they have to share the link (app) with you..

Grammar corrections. Be sure to proof-read.

I need to give myself a refresher on VS.
Windows Central Newsletter
Get the best of Windows Central in in your inbox, every day!
Thank you for signing up to Windows Central. You will receive a verification email shortly.
There was a problem. Please refresh the page and try again.