Prepare for the Bourne Legacy with our Windows Phone spy app roundup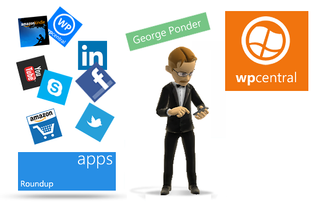 WPCentral's Roundup of Surveillance, Security and Spy apps for your Windows Phone
The Bourne Legacy hit theaters today and we felt that it would be appropriate to focus on spy type apps for your Windows Phone this week. These are apps that can be used for security, surveillance or irritating your teenage child.
We've got a security toolkit, a few hidden cameras, an audio recording app, a novelty tracking app and a spy game in this week's mix. While they may not turn you into the likes of Jason Bourne, Aaron Cross, Jacque Clouseau or even James Bond... you may find these apps can come in handy. They can turn your Windows Phone into a nanny cam, hide your camera to capture your camera shy girlfriend and record important conversations.
Now for the obligatory disclaimer. If a title doesn't make the roundup, it shouldn't reflect poorly on that app. We've got a limited number of apps to focus on and if we've missed something, feel free to share in the comments.
Sneaky Shot (free trial/$1.29): Part of being a spy is the ability to be stealthy. Be it capturing images of a secret weapons plant or your wife, you can't always just walk in with the camera app in plain view. Sneaky Shot is an app that will conceal your camera app in a fake Start Screen.
Lining up the shot is a little tricky but to take a picture, just tap the Message Tile. Settings can be accessed by tapping the Mail Tile where you can adjust the image resolution. There's a green box in your appointment tile that turns red while the camera focuses and takes the picture. When it returns to green, you're good to take another pic. The fake Start Screen mimics your current Windows Phone theme color and will reflect the date for added realism.
Sneaky Shot isn't a bad way to sneak in a shot. You may want to give the trail version a try first to see how easy (or challenging) it is to line up your pictures without a view finder. The full version of Sneaky Shot will run you $1.29 and you can find it all here at the Windows Phone Marketplace.
Phone Tracker Spy ($.99): Here's a novelty app for your Windows Phone that lets you track cell phone simply by entering the number to track. With Phone Tracker Spy you can tell your friends you have super secret government technology on your Windows Phone that lets you track their phones.
When they call your bluff, just enter their number into the app and tap the green track button. The app hones in on your friend's location (which happens to be yours as well) and the radar target zooms in with a satellite view of your area.
Phone Tracker Spy is a decent novelty app but the biggest drawback is that there's no trial version to let you try things out first. Phone Tracker Spy is currently running $.99 and you can find it here at the Windows Phone Marketplace.
Splinter Cell Conviction (free trial/$4.99): Okay.. so if you can't be a spy, why not play one in a video game? Splinter Cell Conviction is an Xbox Live title for your Windows Phone where you play the role of Sam Fisher, a highly skilled Special Forces operative set on saving the world.
Splinter Cell has eleven levels set in eight different world wide locations. You have a wide range of weapons at your disposal, surveillance gadgets, and a few other tricks you can deploy against your enemy.
There is a free trial version available for Splinter Cell Conviction with the full version of the game running $4.99. You can grab it all here in the Windows Phone Marketplace.
Security Toolkit (free trial/$3.99): Security Toolkit may be the ultimate security and surveillance app available for your Windows Phone. Security Toolkit turns your Windows Phone into a surveillance camera, intrusion alarm, voice recorder, WiFi live broadcaster/recorder, and PC webcam monitor.
There is a free computer console available that you can download here that allows the app to reach full potential. You connect your Windows Phone over WiFi so it can act as a remote camera or monitor for your computer's webcam.
Not sure you need all the tools in the kit? There's a free trial available for Security Toolkit and Venetasoft offers each module as a stand alone app ranging in cost from free to $.99. The full version of Security Toolkit will run you $3.99 and you can find it all here at the Windows Phone Marketplace.
Device Tracker (free trial/$2.99): While Phone Tracker Spy is a novelty app, Device Tracker is not. Nope. It won't let you track another phone but will let you turn your phone into a homing beacon that can be tracked online.
Device Tracker does require you to create an account (free) over at Quoox.net and from there you set up a tracking id from the Quoox website that in turn is entered into the Device Tracker app. Once you turn on the tracker it will run under a lock screen and update the phone's position in intervals ranging from 5 seconds to 15 minutes. Then all you do is go to the online mapping and see where your Windows Phone is traveling. The online tracking display will zoom in to street level and display the phone's coordinates, speed, altitude and direction of travel.
The downside is that you have to abandon your Windows Phone in the process but if you need a tracking device quick, Device Tracker could come in handy. There is a free trial that will let you get a feel for the app (lets you track for sixty seconds) and the full version of Device Tracker is currently running $2.99. You can find it all here at the Windows Phone Marketplace.
Call Recorder (free version/$1.99 ad-free version): As the title implies, this Windows Phone app allows you to record calls from your phone. With Call Recorder, simply tap the microphone icon and you are recording the call.
You can add names, numbers, mark the recordings as important and upload the finished product to your SkyDrive Account. Just be aware that in some States you must inform the person on the other end of the call that you are recording them.
There are two versions of Call Recorder available in the Windows Phone Marketplace. There is a free, ad-supported version of Call Recorder and an ad free version, Call Recorder Pro.
RGP Hidden Camera (free): RGP Hidden Camera is very similar to Sneaky Shot in that the app tosses up a fake Start Screen to conceal your Windows Phone camera operation. The big difference with RGP Hidden Camera is that you have a Live Tile that acts as a view finder.
When you first launch the app you will have the opportunity to tweak the settings (resolution, flash on/off, live tile on/off, etc.) and when you're ready just tap the "Start Camera" button bar. From there, just line up your shot and tap the camera tile. If you ever need to access the settings while in camera mode, just tap the Setup Tile.
I will have to give Sneaky Shot the nod for having the most realistic fake Start Screen but the Live Tile view finder on RGP Hidden Camera is a nice touch.
RGP Hidden Camera is a free app that you can find here at the Windows Phone Marketplace.
Detective (free): Detective is a Windows Phone app that allows you to use your phone as a sound activated recorder. Settings allow you to set the microphone sensitivity, set a delay timer if you don't want to start recording immediately, and password protect your recordings.
Detective will run under your Windows Phone lock screen and you can share your recordings via Windows Live, Facebook and Twitter. Detective will drain your battery so if you're going to use the app for a prolonged period of time (e.g. overnight) you'll need an external power source.
Detective is a free, ad supported app that you can find here at the Windows Phone Marketplace.
SpyGlass (free trial/$1.49): If you're out doing recon in an area and need to know what's around, SpyGlass might help. SpyGlass can also come in handy if you're not out doing spy work and simply are looking for a place to eat lunch. Plus it has "spy" in the name.
SpyGlass is an augmented reality app for your Windows Phone that combines your camera app, your location services and points of interest from OpenStreetMap and BING Maps to paint a unique picture of what you are seeing. SpyGlass offers two additional views beyond the AR; map and simple list.
You have the ability to create your own targets (establish your own points of interest), navigate to a target and search for more information via Bing, Google or Wikipedia.
There is a free trial version available for SpyGlass that has limited functionality with the full version of SpyGlass running $1.49. You can find it all here at the Windows Phone Marketplace.
So there you have it. A small collection of Windows Phone apps to help you on your way to becoming the next Inspector Gadget. Just keep in mind that some States have ease dropping laws so use these apps with responsibility and if caught, the Secretary will disavow any knowledge of your actions
If you've run across an interesting spy type app, feel free to share in the comments. These apps might help the double-aught spy catch the bad guy but they can also come in handy in every day use.
Get the Windows Central Newsletter
All the latest news, reviews, and guides for Windows and Xbox diehards.
George is the Reviews Editor at Windows Central, concentrating on Windows 10 PC and Mobile apps. He's been a supporter of the platform since the days of Windows CE and uses his current Windows 10 Mobile phone daily to keep up with life and enjoy a game during down time.