Windows Phone Central heads to Microsoft's Build 2014 dev conference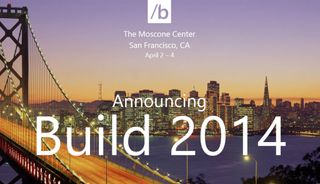 That time is upon us, folks! Microsoft is hosting their annual Build conference, where the company is expected to announce, reveal, tantalize and woo developers with their new and updated creations. Being that you're at Windows Phone Central, you're probably concerned with one particular aspect: Windows Phone 8.1.
The Windows Phone Central team is en route to San Francisco as we speak to cover the massive event. Sam Sabri, myself and Mark Guim will all be on the ground, bringing you the latest and greatest coverage as it happens. Rich Edmonds, George Ponder, Michael Archambault, and Paul Acevedo will be covering our flank while we're gone, picking up those stories that we've missed.
So what's the plan?
The big events are the two keynotes on Wednesday and Thursday, both beginning at 8:30 AM PT / 11:30 AM ET / 4:30 PM GMT / 9:00 PM IST Don't worry, we'll put up a reminder post later with a link to check for your time zone later today.
Will the keynotes be live streamed?
Yes. We'll try to continue our tradition of embedding the live stream here on the site, giving you folks a chat room and our live blog (which is usually a few seconds ahead of the stream). We'll deliver live commentary with photos, assuming everything connects up.
When will Windows Phone 8.1 be announced?
All signs point to Wednesday, during the morning keynote. That event is a whopping 3 hours, so Microsoft evidently has a lot to talk about. Windows Phone 8.1 will be but one of those topics, but we expect news on the Surface, Xbox One, LIVE, Microsoft Azure, and maybe even Windows 9.
Seeing as the keynote focuses on various Microsoft technologies, don't expect it to be all Windows Phone 8.1 though.
What else is going on?
During the day, there will be several 'sessions' going on geared towards developers, though we'll cover those too in case anything interesting pops ups. Later, at 5 PM PT, Nokia will take to the stage for their own announcement. They're expected to talk about at least two devices: Lumia 630 and Lumia 930. We've heard that the Lumia 630 with Windows Phone 8.1 will be one of the audience-giveaways, most likely during the Thursday keynote. A second rumor also claims that the Lumia 930, but with Windows Phone 8, will also be handed to developers in attendance. We'll have to wait and see.
When it comes to Windows 9, Microsoft may talk about their "vision" of next year's expected update, and we certainly expect something about Windows 8.1 Update 1. In addition, some people are chattering about a touch-optimized Office suite – something that has been rumored for some time now. That would be ideal for you Surface users out there, and hopefully Microsoft delivers.
Where to catch us?
The WPCentral crew will also head to the DVLUP and Blogger Bash events for some meet-and-greets, in addition to unwinding. Make sure to say hello if you see us!
Want follow our adventure? Check us out on Twitter and Instagram:
Regardless, you can expect us to do our best to bring the news as it happens. Do you want to read just the Build news this week? Then bookmark www.wpcentral.com/build2014, as that will be our homepage for all news tagged for Build. Share it, check it often starting tomorrow.
Enough of my chitter chatter, what do you people expect Microsoft to unveil this week? Sound off in comments!
Windows Central Newsletter
Get the best of Windows Central in your inbox, every day!
Daniel Rubino is the Editor-in-chief of Windows Central, head reviewer, podcast co-host, and analyst. He has been covering Microsoft since 2007 when this site was called WMExperts (and later Windows Phone Central). His interests include Windows, laptops, next-gen computing, and for some reason, watches. Before all this tech stuff, he worked on a Ph.D. in linguistics, watched people sleep (for medical purposes!), and ran the projectors at movie theaters because it was fun.
...posted at 34,000 feet, somewhere over the US.

How ? I had heard flights these days offer internet connectivity, but haven't seen one in india yet. Do all flights have it there ?

The only good thing about Delta. They have to give you wifi since you probably don't have a TV. Even so, their customer service is still better than United. I'm not bitter, honest.

Lol, I have a tv. And drinks. Seat 1b ;)

Sure you have everything when you can afford 1st or Business class, airlines need to be judged by their economi class and Delta's sucks, last time the pricks wanted me to check my laptop bag because "the bins are full already", bunch of idiots.

I bet you're using a Chromebook, Dan!

Its probably you get internet connectivity at 20000 feat but India the government doesn't allow it... -_-

*feet :)) Indian govt is very restrictive, we dont even have xbox music here :(

Didn't knew the unavailability of Xbox music was due to Indian government restrictions.

Yeah, atleast ms makes us think so. They've written everywhere its due to "licensing issues" (which, thinking about India's track record, sounds plausible).
Same with Pandora ! :(

Stop streading false information dude, inavailability of xbox services including xbox music has nothing to do with Indian government and everything to do with Microsoft. Itunes music and movies and Google music work normally in India just like US, UK etc.. Microsoft is just super slow in spreading ther services just like their xbox one launch. Sony was able to launch PS4 in India in 2013 itself whereas xbox one is nowhere to be seen, all my friends are already on PS4 now.

Yup And Now Its streaming live at 11 30 Woohoo

Streaming live at 11.30? What do you mean?

Xbox Music, Surface Tablets etc. to name some..

Indian government is clueless about how to approach and tax this. Then state government will try the same if the aircraft flies over their state. :-P

Happy journey, don't get lost.

Lol for the above comment

Taking advantage of the airlines wi fi.

the voice of Cortana is obliged to be sexual :)

What will be the European time for the WP8.1 keynote Daniel?

4.30am in UK and 5.30am in other parts of Eruope

4:30PM in UK and 5:30PM in other parts of Europe

Gonna be real troll-like here, so watch out :P Doesn't the time in the post say 4:30pm GMT (which, I think, should be now UTC instead) which would make it 5:30 in the UK as we're now on BST (GMT/UTC + 1) Troll back under the bridge.

Think WPC just made a mistake... I used "World Time Buddy" and it definitely said 4:30pm BST for the keynote. :)

Oh my God, so what is it now? I live in the netherlands, and there we currently have GMT+2 because of summer time. So 4:30 GMT = 6:30 in the netherlands? or was summertime already included, so that it is 5:30?

In the Netherlands it starts at 17:30. You can watch the countdown and the live stream from here: http://channel9.msdn.com/?wt.mc_id=build_hp

PM is the correct one. 6:30 PM for me in Greece

This is awesome...Technology at its best!! Wt else.. ;)

I'm excited too, especially after seeing some of the improvements listed for developers by WMPU. From what I saw, developers will be able to get their apps to integrate with Wallet and Cortana.

It seems as though my lady might cause me to miss the opening keynote.

Come On Let me see the Smartwatch... :P

Tell others what you see there!

Danniel and team have a safe n happy journey ! Hopping to hear lots from you guys over the next couple of days. We are all really excited about BUILD 2014 and WP8.1 :)

Wait, lumia 930 with windows 8 ? So you guys would give us bits about wp8.1 out of the 630 ? Aah, i hope we have lots of screenshots and videos by the end of the day ! ;) p.s. i'm still waiting for an explanation of "Facebook app would come preinstalled, and would hook into the operating system", which basically implies integration.

Nokia is not so stupid to release a phone with WP8 the day that Microsoft will announce WP8.1

The articles says they will be giving out the 630 & 930 during the event. The 930's is rumored to be only wp8.

Sorry, but this is the only time that I don't believe WPcentral.

Rumor... That's what they heard.
Their source might be incorrect but I guess we'll find out tomorrow or Thursday.

They said the 930 THE ATTENDEES would be shown would have 8, not the 930 which would go for sale.

That's what I was trying to explain but you seen to have worded it better.

Anyone knows anything about the last line in my top comment ? (the fb one)
And please, i know that we'd know in a few hours, so no need for those comments, thanks ! :)

Could you (the staff/wpcentral) also post gmt time (Greenwich) so we, the non-US readers know what's what?? Thanks

+ same from me. The conversion from GMT is way familiar to everybody.

That is 4:30pm for england

8:30 AM PT = 3:30 PM GMT, I think SF is currently 8 hours behind England due to Summer time being +1 hour of GMT.

Currently ? Does the time difference change ? :-P (kidding :-P)

Sorry, pressed send button before finish typing :) Yes, time difference does change for England. Clocks just went 1 hour ahead last Sunday. So, last week diff was 7 hrs, this week is 8.

I'm pretty sure it's at 4:30 PM GMT.

http://tinyurl.com/plwy2cv

Or just go to WP store and download fantastic and free app by MS called "World Clock" :/

PST (US West coast) is GMT-7 so the start time should be 3:30PM GMT...

San Francisco ( PST) + 7 hours or 8 hours if daylight saving has already kicked in.

Friend, you can go to timeanddate.com for time conversion.

http://everytimezone.com/

Thanks!
I'll be ready with a helmet and a bat at 09:00pm sharp.
*joking*

bhai century laga k aana!!

Complete your century by hitting a six ( Helicopter Shot ).. LOL.

I seriously LOVE the Helicopter shot..

great... i'll be back home ready infront of my rig :)

Nope, it will start 9pm IST. India is 5.5 hrs ahead of GMT.

Anyways, be it 9pm or 9:30 or 10pm, I'll set alarm at 9pm ;)

4:30PM GMT = 10PM IST, not 9PM, need to correct that. Thanks for putting IST though ;)

I just realised that the previous posts were posted during night. Time zones are confusing.

Yea, I work in a global company, It's always confusing when I get in and want to call someone @ 8am EST, I always have to look it up for the client I am calling.... Try to deal with it on a day to day thing....fun, fun, fun...

Hope for some new TOP apps comming to WP... Really want to buy me a WP but lack of apps really stops me.. Love Nokia's camera..

lack of apps went out the window ages ago, we have most of the important ones on the platform now and great third party alternatives too, also lots of great games too..but yes I am looking forward to more of the BIG Names making apps...They are just missing out on making a lot of extra dosh..I am sure someone will reccomend a great Windows Phone Handset I still think my Lumia 820 is great....but looking forward to the new WP8.1 phones.. :)

Well said. WP8.1 will certainly boost app growth.

thx, can't wait for the Live stream, I am sure they are going to impress us, and once all the new OEM's join in its going to be even greater!!!

Yeah, currently mainly its Nokia only that supports the platform but we really need a more featured OS and more OEMs to gain market share.Two local companies have been confirmed from India, I'm excited to see more! Can't wait really...

I really hope for a replacement of the current apps to sync with the computer. The ones we have now, both the Metro and Desktop ones, are embarrassing to say the least .

All I want is a grand surprise that the Dev Preview is available right after /build/. Please I am dying for it now.

Or maybe that the whole build was a belated April fool's joke, done on April 2 so that no one suspects ? :-P
Well actually, i think they decided April 2 so that people dont dismiss it as false hope (which means losing potential customers).

Yaar pagal ho gaya hai kya?

LOL! But he's correct, on the second part.

No no please don't even think about that.

It wont happen, devs actually had the sdk so it's not false :-P
Anyway, quite a depressing thought, i know :-P

Uhhh, it makes me restless when i hear about update announcement.

Finally the day is going to arrive much excited.

3:30 pm GMT + 5.5 hrs = 9:00 pm India time

Its 4:30 GMT, not 3:30 !! So 10 pm IST

Sorry, but not correct. 4:30pm is BST, it is 3:30pm GMT. Which ever way you count, India is 12.5h ahead of SF PT, so it will be 9pm

No it's 3.30 GMT, Ireland and England are GMT +1 now as its summer, GMT always stays the same, so it will be half 4 for us !

Aren't time zones nice and simple?

Daniel has already mentioned IST time.. Please read the article :P

waiting for some big gud news.....:)

3 hours of Microsoft? That's my dream

Have a safe trip wpcentral!

How do you decide who goes and who stays?

People with phones having 1GB ram or more can go. Other stays. *joking*

have fun. SF is nice this time of year.

Maaaan, Forget Microsoft and Nokia....APPLE and Google ALLDAY ERRDAY! Wait for it...... #AprilFoolsFoo!

Jealous of you all, getting your hands on wp8.1 so early !
Good luck ! :)

have a safe trip team , enjoy

Will i get cherry blossom update when i will update my device via developer preview ?

Nope, the dev preview gets you microsofts WP8.1, cherry blossom is nokias firmware update, that will come at a later date (note getting the dev preview doesnt mean you wont get cherryblossom, youll just get it when your phone is updated to 8.1 by the carriers)

Well I suspect that mire than some might elect to go on and spring for the 1520 if there both waiting on 8.1. Including me

Happy journey guys..,very excited for the big event can't sleep 2nite..,

GMT doesn't exist at the moment - it's BST / British Summer Time

Just because its BST at the moment doesn't mean GMT doesn't exist anymore!

I hope I see this @ YouTube! :)

what time would that be if your from the caribbean and where can stream it

If I'm correct, big if haha, might be 11:30 AM for the eastern islands and 12:30 for the western.

3 hours, last year it took them 1,5 hour to talk about new strategie, new devices, and Windows 8.1. What the heck are they going to do in 3 hour? I'm sure that's not only Windows Phone 8.1 and Windows 8.1.1.

Expected BBM arrives at WP

Thanks for the GMT! And thank God, for once, it will be in the afternoon. And Nokia's latest tradition of early morning press conferences are the death of me. So 1AM GMT for Nokia this time is a nice change.

Sounds like "The Avengers' Assemble" ..

It'd be amazing if they pull a "One more thing..." at the keynote. They announce and discuss everything they've been planning on EXCEPT Windows Phone 8.1, and make it look like they're wrapping things up. Then, suddenly, they'd go all Steve Jobs and say, "Oh yeah, we've got one more thing for you," And then announce Windows Phone 8.1. Not only would that be pretty bad ass (not to mention teasing Windows Phone fans, who've been waiting forever), but a news frenzy would surround this. Seriously, the iSheep would be PISSED, resulting in Windows Phone 8.1 being all over the news, whereas it otherwise might be ignored.

For that to work they would need 8.1 to be unknown and unnexpected. Which, by now, it isn't. Specially when you see mentions to it all over Microsoft's own webpages lol

Yes, because Apple manages to keep everything top secret. After all, we know how responsible their employees are, so something like leaving a prototype in a bar? Pfffftt, that'll never happen.

Are any app release dates annoucements expected? Flipboard, BBM, etc? or will it be MS only?

Nobody knows dude...sorry.

It is interesting, whether Cortana will be local into Russian and whether will work at start? The Xbox Music and Xbox Video services, and also Bing search in Russia still don't work.

Wensday? Come on why not tomorrow for WP 8.1?

Today is Tuesday. Wednesday is tomorrow...

I know it's April fools, but that doesn't give you a reason to be a fool, ya fool

omg I'm totally off! You guys are right ofc.

There's an App for that. ;) http://www.windowsphone.com/en-us/store/app/simple-calendar/977e5d54-01d8-4cf8-9891-da9579ce2692

Would be nice to see them announce Windows enabled wearables... Hopefully they can take an early stance in that area instead of have to play catch up like they did with smartphones.

I just want Nokia to say "we've worked closely with GoPro to improve the app and bring it on par with the experience you'll find on iOS and Android." Would be nice to see Strava and Fitbit too.

IST 10PM?
If yes then 21 hours & 54 minutes
Can't. Wait lolzzz

noooo it will clash with the champions' league matches....hala madrid!!!

I hope today Atletico will win against poor Barca :/

My Surface 2, my 1020, and my 8.1 PC are ready for all the new goodies and updates!

My newly purchased Lumia 1520 tomorrow will be so happy :)

Daniel I made it from Canada to the US but stuck in DTW, so I may not make it to the DVLUP dig... Buy I'll be sure to find you at BBB!

Great guys! See ya on the live blog

April 2-4? Why Was I thinking Next week for BUILD, 2nd for Nokia? :D Gettin' Giddy!!

Finally.. Its Happening.. I've been waiting for this particular article for months..

1:30 P.M. GTM -3:00 for Brazillian guys!

Hey @Sam Sabri how are you excited from 1 to 10 for Tomorrow? :DDD

For me Tomorrow they'll announce Candy Crush! I'm so sure about that.. Last rumours was talking about April... :)

Try hexic better than candy crush

I think we're gonna get the WP8.1 bits this week and not next week as suggested.

So, 4:30 UK time.hmmmmmm, what excuse can i give work for my blatant slacking off? Any ideas. I already used research related reasons for the x1 reveal so what now???

I can't wait to see what the 930 looks like!

Time.......seems slower..

Can't wait! All excited here! Anyone knows when the Keynote is streaming here in Amsterdam? I'm all confused with all these timezones and sh*t

And the journey begins. So freaking excited! Stupid midterms is keeping me from watching the live stream at home. :\

I will be tuned into the live blog since I'm nearing 2gb of my 2.5gb of high-speed data before it slows. Maybe I'll stream the first 10 minutes. I'm ready though.

So are the build conferences exciting to watch for a non developer with a high interest in xbox, windows and windows phone?
Or is it mostly about the APIs and tips for developers?

I believe it's 3.30PM GMT and not 4.30GMT like it is said in the article !

Hey Danny boy if you get something say..... For free. Can I have it when you get sick of it ???

Things that would make,me happy 930 announcement
1520 multitasking/multiwindow
filipino cortana support
wp 8.1 surprise features , more more more from what were leaked.

The good thing Wp8.1 shall be doing is user retention, all those who feel a bit shy of their wp devices lacking a couple of basic smartphone features wont ever considering moving out post this update :)

Dying to hear from you guys...tick tock tick tock...What Nadella n Elop has to disclose..Whoa..

I'm sooooo looking forward to WP 8.1 and also Windows 9 but that one is not really that important since Windows 8.1 so so great. But for WP I want so hear about Cortana, notification management (not really in need of it though since I think the live tiles are good enough with notifications) and the background on the homescreen. And of course when it will be available for 1520.
Oh and a quick thing about the 1520, if you are still having the touchscreen sensitivity issues with double click when scrolling, I did a soft reset (volume down + power button for 10 sec). I've done this before plenty of times but not after the latest extra+info that came out 5 days ago. For me at least the screen is working now so worth a try if you are having the issue and you have downloaded the latest extra+info.

What will you do there if there is no WP announcements?? It will a show for developers then.

any update from tis event guys?

For everyone living outside US, go to the followi9ng website to convert time. timeanddate.com

What I believe is going to happen is that Microsoft from now will release different versions of windows. One for enterprise and one for consumers. The consumer version might not have the desktop and the enterprise version might have both. This might sound stupid. Lets have a chat on this,.

Google and Apple might be thriving for now, but always remember, Microsoft knows what it takes to be best out there. Never ever count MS out!!

I must sleep earlier because it will start when other people sleeping ._. In Indonesia, the conference start in 11.30 PM

Any where you are it starts in 0 days, 2 hours, 38 minutes, 58 seconds Live Stream:http://channel9.msdn.com/?wt.mc_id=build_hp

The time mentioned in the article seems to be wrong. It starts in two hours, which would be 3:30 pm GMT (and not 4:30).

I think it will be live here.

38 minutes to go in INDIA :D

Haha not just in India, but everywhere !

Wow ... cortana !! lock screen customisation me too want nowww