New writers joining the Windows Phone Central ranks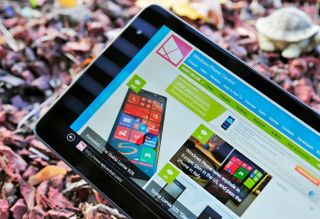 2013 has been an exciting year for Windows Phone. As Microsoft's share of the smartphone market has grown, so has Windows Phone Central, as we now near 3 million unique visitors a month, making us by far the number one site for all Windows Phone news and information.
As such, we're continuing to expand and refine how we do things. For instance, many of you asked us to re-cap app news on the weekend, which Sam Sabri has obliged you with. Likewise, we can't ignore India and how much it matters to the Windows Phone ecosystem—so we're addressing that too.
So. here's what's new at your favorite Windows Phone and Microsoft site.
Abhishek Baxi – You may not see it, but we get a lot of tips from India. Specifically from excited fans who are seeing more and more top-tier apps launching in that country for Windows Phone. Unfortunately, a lot of our writing team is either US or UK based, so it's difficult for us to evaluate what is important and what is not. Luckily we have Abhishek, or just 'Abby' for short.
Abby is a freelance technology columnist who writes for Gizmodo, ZDNet and he used to work for Microsoft too. He now writes for us as well, taking on all the big news coming from India and bringing his expertise to our site…and you.
Follow Abby on Twitter @baxiabhishek and visit his personal website to learn more about him: baxiabhishek.info
Mark Guim – If you know Nokia, you should know Mark. Starting in 2006, Mark has run the popular site The Nokia Blog (thenokiablog.com), focusing on all things Nokia, including reviews, news and featuring his awesome videos, highlighting all the great things about the Finnish phone company.
Starting this week, Mark is now writing for us, bringing some of those engaging videos and his years of knowledge about Nokia to our site. We've known Mark for a while, running into him at various Nokia events and he seemed like a natural fit with our team.
Follow Mark on Twitter @markguim and check out his fantastic photos on Flickr.
Sam Sabri – Sam of course is not new to our site, having been with us for nearly one year now. However, because Sam has been so good at his job and this is all he wants to do, we're excited to announce that he has recently been promoted to Managing Editor of Windows Phone Central and he has been full-time with us since last month. That means you can see him write more on the site, engaging with the community and in times of need, run the site when I can't be around.
Follow Sam on Twitter @samsabri and on Instagram.
Still the best team around
Of course we still have our excellent UK squad, led by Rich Edmonds along with James Richardson (who's ramping up with us as BlackBerry fades), our reviews editor George Ponder, our games guru Paul Acevedo, our new Microsoft correspondent (and Microsoft MVP) Michael Archambault and our fill-in writer Seth Brodeur.
In other words, we're still growing and we're still delivering the best news, rumors, breaking stories, reviews and tips around. We still have much more to do as we head into 2014, so stay tuned!
Daniel Rubino is the Executive Editor of Windows Central, head reviewer, podcast co-host, and analyst. He has been covering Microsoft here since 2007, back when this site was called WMExperts (and later Windows Phone Central). His interests include Windows, Microsoft Surface, laptops, next-gen computing, and arguing with people on the internet.
Keep more interesting posts coming mate.. The best forum ever for wp lovers..

Not seeing my name but whatever...

I wanna join you guys. ;)

Welcome to our community. Gud to see u abby and off course congrats Sam

I couldn't imagine my e-life without you WPCentral! Thanks for making it possible and I am looking forward more quallity articles.

Welcome to all the new guys .. so what happens to TheNokiablog ? Anyways I think you guys new a new name , WPCentral doesn't do justice to all the new stuff you've been coverying...

Curious about this as well- I've really enjoyed reading the Nokia blog, and it got better after the re-design. Excited to see such good talent join the site

Welcome new writers, and congrats Sam. I would love to know where WP central stands in viewership alongside crackberry/ imore/androidcentral :)

+ 10000 from me Welcome. The best site around.

I can cover the Brazilian news if you want... :P

Welcome everyone and congrats Sam! But, whatever happened to Mr. Jay T. Bennett? I didn't see his name up there...

He's not really a writer/regular staff, but rather the developer of our app ;)

True enough :P As long as he's still here as well lol. Hope the additional writers will allow you two to get back to some podcasting :)

do you know if the WP Central app for Windows 8 RT is available yet?

Soo whens the next wpcentral podcast? So few these Days :'(

Thank you for the inclusion of India,Daniel! That made my day & its just started!

Welcome! And congrats Sam!

Awesome! welcome to the family guys ;)

A warm welcome to Abby and Mark and congrats Sam!

You guys are highly welcome to Windows phone central.

YEAH MORE new writers !!!!!!! ...wait does that mean we will see less of dan also i see sam has a 1020 in his shirt pocket ;)

"As Microsoft's share of the smartphone market has grown, so hasn't Windows Phone Central" I think you meant has there...

Saw that also. Surprised it took so many comments before someone said something.

Best site ever. The thing I like most about having a WP is to have a site like this. I visit this site around 15 times a day, every time I open the browser is the first site I read as it is my home page. Sorry for the bad english. Thank you Daniel for this awesome site.

Same here. It's a drug. ;-)

I quite like being a drug, want more? :-)

Congratulations, guys. Looking forward to seeing your work. And a huge kudos to Sam Sabri! Easily the best material on the site.

Any chance you could open it up to app reviews from users? You guys may not have enough time to review every single app out there (including when there are major revision updates), and I think featuring the forum community could help in that.

Yay more people! Windows phone world domination here we come!!

Glad to see it, we are news hungry, hopefully there is enough news for all you guys to keep writing about lol

Thanks! I visit WPCentral like 20x a day. Glad to join the team. =)

--I've been wondering what's happend to Esquila (maybe I didn't get the name right), where there used to be MobileNations news in video every single Monday morning...

I think her name was Ashley Esqueda. They stopped doing that in April or May I think.

Ashley moved on to TechnoBuffalo awhile back.

Best site/app ever, I do be teaching my mates tips and tricks that I learned on this site and they have their windows phones much longer than me! I leapfrogged them in a week because of this site, keep up the great work lads!!!

I have been hooked on WPC since my first visit here a couple of years ago. You guys are getting better with time.

Welcome aboard everyone, and congrats to Sam! You guys do a fantastic job and have made this site one of the first two I always check everyday.

I'm glad the site has added writers--I enjoy reading the articles every day. I don't participate in the forums because the moderator Dave Blake treated me like a piece of trash to protect his buddy "The O-Man," who is now banned.

Don't let things get to you mate. End of the day you don't personally know him, so why should you care what Dave Blake says. Now if it was a friend or family who treat you like trash, that is when you should be bothered -- you'll always find 'keyboard warriors', no matter where you go on the net. You know half the people wouldn't dare treat others like trash, when it comes face to face, as that's 'fighting talk' lol

This is great news! It's always good to see my favorite source, of WP news, growing!

Must be exciting times for you guys!

Great news! Keep up the good work. I am sure more success is to come

Congratulations Sam, and welcome aboard to the new guys!

Congratulations Sam! Welcome Abby and Mark!

Sam is a life saver, he gives us news all the time, congrats on a well deserved promotion. Without Paul's in-depth reviews one would be lost, and he gives "meat" to stuff. And without Mr Bennet one would not be able to enjoy all the content all of you work so hard to present. Your all a god bunch and I love the initiative on getting people to address more locations. It gives hope to us in Scandinavia to be seen, and more from Germany etc in the future. And if I didn't mention your name as in Sam and Paul etc, I apologize, Rich and George and the rest is great to.
Thnx Mr Boss Rubino for your great ...bossing? :D keep it up. I been thinking actually about the workload you must been having that "what if this gets all to much/bigg and you quit", would be horrible. WPC is a fitting name, your att the center.
Hey, when I think of this, maybe Paul Thurrott and his friend could be with Rubino on WPC podcasts, now THAT would be something. I feel Windows Weekly is sometimes holding Paul back, and therefore I like What The Tech more. But then you have 2 Paul's and that might confuse us. :D

Thanks for the kind words. Thurrott did do a podcast with us once for the WP8 announcement ;) It was quite fun.

Speaking of podcasts..... What ever happened to those? (;

Yeah, I agree. But one time is no time :D

Oh and the kind words you all worked you butt of to deserve. So wear it with pride.

Welcome aboard! Looking forward to reading your articles.

Ahh, Growth...the true symptom of success. WPC now covering all the bases. Love it.

I always wondered when WPC was getting a managing editor. All of the other sites had one, even Crackberry.

I like the guys at wmpoweruser more since they constantly post with spelling and grammatical errors. Also they report every rumor imaginable, no matter how asinine it may be.

Haha, this is great (and true).

hahaha, yes, they provide great comical relief!

Pmsl -- I absolutely hate that site, the design of it is damn 'fugly' and the stories are shite, just like the website name.

I aboslutely love that site. They are doing a great job. When everyone else is down on the weekend, they are up. We should thank them for that. Most importantly, they understand the mobile industry as much as this site. I love them both.

Love to see you guys expanding...keep up the great coverage.

The growth of WP in India has intrigued me the past couple of months. Good move getting Abby for the inside scoop.

You need someone for Latin America!! Where windows phone grows very very fast!!

I guess all the good quality writers were unavailable? Oh well. I KID! I KID! Welcome all, and congrats! Keep up the top notch writing. Don't forget smell check before submitting. :)

Welcome all. I'm so jealous.

Well done Sam :D don't know what makes you one of the best, whether it's your excellent columns and journalism skills or just the fact that your name runs off the tongue so well, either way congrats!

Great! Hopefully less sensationalist doomsdayers!

What happened to Derek Kessler? I thought he was supposed to start writing for wpcentral, no?

Derek is now working on some other projects for Mobile Nations. He'll occasionally lend a hand, but we have other plans for him.

I think his role is more broad now, related to Mobile Nations as a whole, not just WPCentral or any other branch of it.

Wow this site keeps getting better! That's awesome and welcome new guys!

Who wrote the click-bate article regarding the "bleak" future of the Xbox One? That article was total trash.

Michael whatevemacallit. Need less of his trash.

+1 This guy is a complete tool. i cant believe they hired someone like that. Most of his articles are just click bait.

If you don't like his articles then don't read them eash and also no one is making you click on them are they? :p, there is no need to completely discredit someone based solely on your personal preference.

True. Some of his insights about where a company is headed and possible future and other analysis are very good. In fact, Michael is one of favs in WPC.

Wpcentral is addictive! :P
So keep doing well as till now!

Hopefully there'll be a windows 8.1 app...

Just to echo everyone else, you guys really do do a brilliant job at relaying info, writing pieces and generally just spreading the good word about all things Windows Phone.
I genuinely think MS and Nokia owe you more than a beer for helping push their platform distances that are far greater than they could have managed on their own. Youre one of my most used apps(also the best designed app on the Store, Mr. Bennett, I tip my hat to you sir), and the only one I have set to receive regular toast notifs. Thanks for everything lads, and welcome newbies :)

+1 on the app. Even before joining WPC, I've had the app pinned and enabled toasts. Impressive work by JayB.

This is great news, and by far the #1 Windows Phone and general Microsoft/Nokia news site!

Nice work guys, keep it up!! Would be interesting to get a female point of view once in a while ehhh :)

Yeah, too much sausage here.

We tried. Didn't work out. We're always open to new, female writers. Hard to find.

On behalf of the Windows Phone community, I want to say "welcome to the fold!"

congrats to abby,mark & sam and happy as Indian news more in future. @Daniel Rubino now your frequent articles will be less or it will same ? Actually I m loving your articles.

I'd like to write less so I can work on other projects for the site ;) We'll see where it goes.

You should separate yourself from mobile nation. we're the ones keeping it afloat, not IOS and Android and specially not blackberry users. :)

Welcome and all the best guys.. Mobile nations as a whole rocks..
p.s:- Daniel nice pic mate. :)

Good job Daniel. WPCentral all the way, Yayy!! ;)

Keep it up guys! I Love WPC almost as much as Nokia and Windows Phone ! :) and one day I WILL be on the team and writing for WPC .... mark my words!

Would be nice to have a Chinese spy agent ehem writer to cover more inside news from there

We do have Chassit, who occasionally fills us in on WPDang articles.

Just use your Q, E and R on him. No more OP. He's not getting nerfed, son!

Congrats to all new staff and to sam fro the promotion. I would like to note that Gizmodo is an awfull website and i stopped reading their about a year ago. I sure hope Abby has a higher standard of journalism than i have witnessed their in the past. GOOD LUCK!!

Hopefully these guys can write an article without a thousand typos. (No offense) :P

Aww, I'm sorry. If it makes you feel any better, I didn't mean you. :P And I haven't noticed as many typos as of late.

I like the direction WPC is going. I like how you guys are bringing a true world view, in terms of authors -- Respect Mr Rubino for catering for the rest of the world.

No worries mate, credit has to given where credit is due. ;)

Well done and welcome. Hope you guys (2.9m uniques last month) catch up with iMore (7.2 m uniques) and Android Central (11.5m uniques) soon. It's a Mobile Nations marketshare war. Source: Quantcast

Awesome, just like WP the team is growing! great to see Mark and Abhishek joining the ever so dilligent, pro-active and hardworking WPCentral team. Congrats Sam on your promotion :D, rarely you'll find a site such as WPCentral where the writers actively participate in the forum and comments (given if they have the time that is, as most of us know your all busy working to get 1st class content to us WPcentral readers and even on sundays! :P).

We love participating with you guys when we get the chance!

Great news!! And to celebrate the growth of the team and reward the passionate readers, the WPCentral app will be offered for free for 24 hours very very soon!! Right?! ;-)

Welcome U all people & congrats from Portugal!!!!!!

Thanks WPCentral! Keep up with the nice work ;)

A very solid team. Best wishes.

lets just hope they're more professional then dan considering he takes his job as a joke.

your name says Rim Lover.

actually its 'rimlover' at least get that right. i chose that name when i first entered the world of forums on crackberry (when i had a blackberry). whats that have to do with anything anyways? it's not just me who says he doesn't take his job seriously he says it him self. "Professionalism? I do this job in my PJs and often drink while doing it." not your fight bud, move on.

Woah, Dan is a professional chap or he wouldn't have the position. He's well respected within the community and most important of all, we look up to him as the EiC. It's a close-knit team and works wonders. To say Dan doesn't take the job seriously is just ridiculous.

yes for me to say that might be, but for him to say that is a whole story all together (hence my reason for not respecting him). the qoute above was from him, and if there are any doubts to its authenticity you can ask him your self. i do respect most of the wpcentral and even the mobile nation crew but do have a lack of respect with people not taking their jobs seriously. http://www.wpcentral.com/comment/546391#comment-546391 - for proof

I've manage and lead the top Windows Phone site in the world with 3M unique visitors a month and 14M page views. I've written over 1M words, oversee a budget and a staff of 10. I don't need the respect of anonymous people in comments, nor their affection or approval. Our site, quality of work, numbers and hired talent speaks for itself. Who are you to judge me, anyway? You're not a peer or a colleague.

respect leads to credibility. without the respect of the fans on this site, there would be a lack of credibility to every single word that was written leading it to be just another garbage site. i wrote that comment with the intention that the new members would have respect and integritiy for both the field of journalism (as you stated you do it in your pjs & drink while doing it, here is to change) and respect to the members on here (which making fun of other members, even as a joke, doesn't seem all that respectful nor professional). I am 1 of the 3M visitors with every right to judge the content of this site (including yours) as you have put your writing and work into the open (for it to be read and possibly judges and criticized). i dont wish to continue this animosity as for the most part this is a wonderful (albiet only major website that i know of) site for the WP community. ps. onysi you can turn off your notification as i wasn't 'spamming' you (nor did i have that intention) but was responding to comments.

rim lover, youve managed to spam my inbox with your silly comments. i should turn off notify email i thought mr. rubino was pissed at me for someting i said on here.

Wow, didn't know you guys were hiring. Do you deal with freelancers as well? Any avenue where writers can contact you about possible contributions? Congratulations to all the new staff.

It's a sausage fest in there! You guys need more female writers. Preferably photogenic ones.

Sam looks like yuvraj in that pic

Certainly the best addition would be Mark Guim (no offence to anyone) but whenever I need a detailed information on something no one would think of, a Mark Guim video will just show up ! I too browse the site constantly along with mynokiablog.com
I'll enjoy watching you around even more.

Thanks for the kind words! Excited to join the team.

not to belittle anyone, wasn't MNB founded and run by Jay?

So there's actually going to be some editing on this site?

No. Just removing of silly comments.

Nothing but congrats to the new contributors and toasts to the site I call my mobile home. I am expecially excited to hear of Mark Guim being brought onboard. WPC needs a voice that understands how Nokia runs. With Microsoft purchasing it and a new CEO coming onboard, there will be moves made concerning the structure and production of WP models. We need a voice who can put into perspective what these moves mean as the new MS emerges. I am excited to read his news and opinions!!

Wow, welcome aboard guys! Congrats Sam. All the best for WPC :)

Awesome news, since I'm quite fresh here, not yet with Windows Phone I like the style of your website. Lovely.
Keep up growing guys, in good purpose. :p

Wow Mark Guim! What a surprise, this is amazing! WPCentral really has an All Star Team now

Daniel, there is really no excuse now as to why there can't be weekly podcast, you must agree! I've always felt that this should have been the case from the get go, WPCentral had enough writers for this to be the case, not just you and Jay. As the premier WP site, we need our weekly fix of WP news, if Pockenow can manage it, I don't see why WPCentral can't, I really can't.

Well aware of the issue. We are working to resolve it but there are some complications right now. Stay tuned though, we hear you.

Congrats to Sam and the rest!

I always find it so amusing how easily people can judge and "express" their uninformed, rude, narrow minded opinions on even the greatest and well put together of sites like WPC! Keeping interest and thus traffic on a site like this at such an amazingly high level is an achievement that takes not only teamwork but also leadership and Daniel is doing a awesome job, as is every one else that spends countless hours of their day and night staring at a PC monitor and typing draft apon draft. WPC is one of the most... no THE most asthetically pleasing, well laid out and most importantly well maintained sites and comunities on the net for all tipes of technologists. So Daniel (and this goes for the entire kick ass WPC team) I say forget the haters and keep on focusing on delivering the best windows phone news in the best way because thats why we love this site!!

Finally one from India thenokiablog is also one of my fav sites

Hi, I would love to write articles for WPCentral! Any help would be greatful. I write articles for a tech blog on the side. My G+ page is https://plus.google.com/104403631073484306479/posts
Windows Central Newsletter
Get the best of Windows Central in in your inbox, every day!
Thank you for signing up to Windows Central. You will receive a verification email shortly.
There was a problem. Please refresh the page and try again.