Check out this creative Windows Phone fan video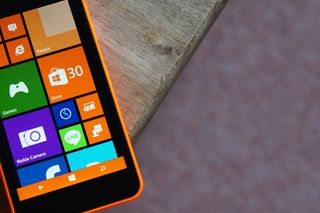 Check out this creative video advertisement from a Windows Phone fan. It's a nice little creative piece that highlights the strength of the Windows Phone platform.
It's a fan made commercial from a fellow Windows Phone user who wanted to keep those After Effects skills sharp. We've got to admit. We're a fan.
Have any other fan made projects to promote Windows Phone? Share them below.
Source: Vimeo (opens in new tab) Via: Neowin
Thanks for the tip everyone!
Get the Windows Central Newsletter
All the latest news, reviews, and guides for Windows and Xbox diehards.
That's actually a pretty great video!

And this guy doesn't work for MS why?

Because they just laid off 18,000 people.

Have not seen the video yet but your comment is awesome, very funny, very true and very sad. Great comment anyway :P

Maybe they were sent off to hire this guy? Well, from the looks he alone did more for the OS than those 18k xD Lifetime contract for this guy!!!!

there was still a net gain of employees after the layoffs. Microsoft before Nokia: 99,000. Microsoft after layoffs: 109,000. And that's not counting the contractors (which would push MS above 200K).

No, MS just laid off 18,000 people in order to hire anyone who has talent like this guy.

Should also include word flow w/c some Droid users looking for<..>

I asked him the same thing in the Vimeo comments. This was his response: Ohsneezeme 5 minutes ago Well I should probably turn 18 and start college first, but maybe in 4 years. Thanks for the feedback!

He's below 18 years of age.

Should be employed in WP marketing department for sure!

Not that I could do better but I don't think this video is all that great. It's pretty confusing.

Uuh, that video was way better than any other official WP commercial! In your opinion, what would be a better advertisement?

the video production value was great. the audio value was terrible. seriously awful music.

Welp, it's still modern, young, colorful and has that ja ne si quoi feel to it that the mass will.most likely eat up.

*je ne sais quoi ;)
Anyway, it looked great but just slightly flashy somewhere near the end (thankfully I don't get seizures...). The volume slider though, it seemed it's from 8.0, not 8.1? I don't remember. It's been quite a while since I updated to 8.1.

Yup, 8.0 had only one slider for everything, only the volume during calls was independent from this as it goes upto to 10. Whereas the universal slider went upto 30 (and still does).

It's the 8.1 slider, just in headphone mode. With headphones in you only control the master volume to your ears and whether or not the phone can vibrate and/or ring outside of your headphones.

I agree. I watched it without music first and it was better than the second time (with music)

I'm not sure. It just looks all over the place to me. It showed way too many things in a few seconds and way too fast. I don't think this would be a good commercial.

+925. Couldn't tell what was what. Messy.

I really dont think this video is zo great... Posted via Windows Phone Central App

So professional creation of video ..!! WP8.1 aint lame ;)

That is a hell of a lot better than anything they have paid for. Great video.

Exactly!! That video is the pure embodiment of what WP is, colorful, young and modern. C'mon! You can't get better than that!

Sadlly, I have to disagree. That video might be superb for in house rally meeting. However, as a commercial, it fails miserably. You love it because you already know what Windows Phone does. However, in between a TV show, it would get lost. Watch the Samsung commercials... they are perfect. You get what the product is about... what it can do.... and what it does better than the competition...... all in less than 60 secs. This? A brilliant show of what the videographer can do. A visual masterpiece. A superb commercial?.... I don't think so.

+925 My thoughts exactly. The video looked great, but wouldn't sell a single phone. For starters get rid of the app count, and instead show all the top name-brand apps. Sorry, but the 6-apps don't count, because the average person will not be familiar enough with the brand to know why they are important.

Umm, sam can u give me another link?

Microsoft, take notes! This was a great ad and shows so much in such little time. This was just outstanding! Great job!

Wow. that was awesome! Don't think Microsoft will aprove of him using their logos, but I hope they're taking notes!

APPROVE????? MS should adjust that lay-off figure to 18000 - 1 as they just hired someone to their AD department!!!!


LOL. Congratulaions, you've successfuly passed your math exam.

Oh. I thought "=0" was supposed to be a surprised face :P

Yeah, no. Sorry to say but you failed this math exam. Try harder next time. :p

Awesome and brilliant, I like simple and colorful things, Microsoft should consider hiring the author of the video. Watched the video 2 times now.

Pretty slick-o! Lots of talent on Vimeo...

It's good because he hates google too!! :D

b/c Vimeo has better video quality. that's why all the videographers use Vimeo. Youtube is just to get max viewership and it's free (whereas the better parts of Vimeo costs money). I can't stand what Youtube transcodes my videos down to...

Yup. Vimeo is awesome. And its not YouTube with ads constantly being pushed in your face.

That is actually the icing on the cake! Would love to see more content on the YouTube alternatives!

First time I've opened a Vimeo vid on my phone and it was so smooth.

That was the first thing i picked up too. Fantastic playback if compared to YouTube (or normal html video) from the browser.

Yeah!! I think it's a better ad than what microsoft advertises.

I was LMAO in the beginning.

To me the only faux pas was in the beginning by asking if Windows phone was lame. He never directly resolved that statement and gen psychology says when presented with some statement first, the brain typically believes that statement.

Give that person a job MS

Perfect commercial for Windows Phone. Why the hell is this not on TV?

Because MS doesn't have a clue on how to properly hire and execute commercials effectively.

Yeah same thing I wanna know,we can use it ourselves to promote the platform

Amazing, just amazing! Dude is sick, he should create more videos!

Great video..... Microsoft are you watching this.. You need add like this, running on every channel. On your Xbox units.. On channels people watch...

Absolutely fantastic! It's actually better than the ones Microsoft do hahaha as Mr. Kyle says... "They should take a note" (sorry for the English)

Love it except at the end when it shows the apps it has 2 open spots,
Ps if you guys are wondering what song that is its lorde- tennis court- flume remix, flume is a fucking legend

When fans can actually create better ads than the company itself.

Fans are doing it because they have the passion, the company is doing it for the money.

WIsh MS could make ads like this.:D

Microsoft clearly needs to hire this kid for marketing.....that needs to be an official video!!

Very good video, nice job!

Fan of windows phone now because of video or fan of guy who created video? For me it's both

Awesome video! Watch and learn Microsoft, even though you have some pretty good videos yourselves

Did not expect that quality! Excellent job!

Thats just awesome! Hope to see this on tv anytime soon! The video is based off of the iphone 5c designed together video, though.

Next time if ANY of you are gonna make a WP 8.1 video, I expect at least a 2 min video as WP 8.1 is incredible and I don't think that any video less than 1 min will ever do it justice. BTW that video was OUTSTANDING!!!!!!!!!! Seriously I can't help but watching it over expecting to see more but hey it's just that good. The way it's put together it's as if the OS is dancing. If that as is was put on TV right now and let's say the vol on the set was at an adequate level I'm sure whoever heard it would come running to see exactly what was being shown on that set. FYI it's that GOOD!!!!!!

Well. Done. Take note, Microsoft. Just show the OS in action and let the rest take care of itself!

Windows Phone users should use Vimeo, hey we have an app for that!

One of the best adverts I've seen hopefully MS picks this guy up he seems to know how to get people interested in the platform

whats the name of the song?

Lorde-tennis court flume remix if you want more of that type of sound listen to flume he is really good!

That's awesome, so creative.

Well, that was very nice. WP community is the best kind

Guy you're good. I think Microsoft shud just place you in their advertising dept. Regards.

Great video to remind me that not only has AT&T not provided an 8.1 update for the 920, but that there is also no replacement high-end Lumia either available or even on the horizon for AT&T. So, apparently 8.1 doesn't mean much, after all...

Pretty awesome and creative one

With a few changes this could easily be a real ad. Impressive.

Wow that's impressive! Should be on TV like ASAP and often!!!

AMAZING! Microsoft should promote Indy Advertising, a whole new grass roots advertising agency for Microsoft.

The Marketing team for WP needs to watch this .This Fan has a great career ahead of him,serious skill

MS should the people that developed this video

All those who are commenting that the video is nice should take a second to like the video and share it on social networks. Video was awesome. Just wish it showed all the unique aspects of Windows phone like Live Tiles, Kids Corner, etc and it was a lot longer :)

Makes me want to buy a windows phone oh wait I already have three of them. 920

Honestly speaking I CANNOT imagine any IPHONE,SAMSUNG,HTC,SONY or LG ad on tv EVER outshining this FAN-MADE less than a min project!!!! JUST NOT POSSIBLE!!!!

very nice, a little too fast in a couple of places to read but otherwise awesome

The person who did the video is obviously very talented, but I hate to be the negative Nancy here... This video would be very typical of what Microsoft would do, and the problem, in my opinion, is that it tries to show everything in a minute-long video. My brother, who I would classify as a standard user wouldn't understand any of it other than recognizing the major brands. That's the problem, is we are trying to convert iPhone and Android users. Not users who have never owned a smart phone... In my opinion, we need many commercials that show a single feature and the whole use case for it. Not knocking the efforts by I hope MS really tries to focus on what people want. They want to know what the phone can do on a day to day basis. A perfect example is what I just experienced personally today. I was with a friend at Canadian Tire (I'm Canadian), and as soon as I walked in my phone jingled. It was Cortana reminding me to pick up a rope. I just took the phone out and showed it to him. He immediately picked up on the fact that Cortana was asked to remind me when "I get to any hardware store". His reaction? "Wow, cool! Any hardware store!" That should be made into a commercial! Just my opinion, though.

I agree and this is exactly what Apple did to highlight the strengths of the iPhones 4. I think they made 11 ads in total, all 30secs or under with each one highlighting one core element of the OS/device i.e app store, iPod, facetime, airplay, retina display, ibooks

I hate them, but I have to admit, they have good ideas! :)

Don't get me worng I am not an Apple fan but they have good marketing. I also think this is a great effort from the creator however what Windows Phone needs is short catchy ads that make people think "Wow, can my phone do that?" by highlighting features and benefits like: Live Tiles
Cortana - Bing search - Local scout
Xbox Games
Kids Corner
Camera Experience (Picture to Pocket, RAW DNG file format, Lenses)
Skydive Integraton - Free Office
Driving Mode
Wifi Sense to save Data Usage
Offline Maps
Apps - We may not have as many as ios/android but highlight the big name ones Ads showing people using Windows Phone whilst on holiday or having a fight during a wedding look good but they typically don't highlight the features/benefits and do nothing to drive sales. Microsoft had a few good online ads back when 7.5 Mango launched however they had a crappy audio track and no voiceover for the features, just text.

+ I also Skydived with my Lumia 1520.

You are correct to some extent, I totally agree with you on the example you stated on Cortana's location based reminder as selling point in its simplistic form as you just shared, yes, unit features ads that are identifiable and shows value plus uniqueness makes sense, but I also believe ads as done by this guy that speaks to power users of competing platforms has huge space and value especially as laid out simplisticly by this guy.

It think Microsoft is just starting to do that...check out this new video it only talked about OneDrive integration http://youtu.be/2_5VDvJb1Ik

Ref osars ehi:
Thank you for the link. Yes, I like that advertisement too.

Microsoft, "join the party" and license this video to run on TV.

Just hope that MS won't be stupid enough to sue him for using logo ...

Amazing video :) pretty cool editing skills.... Good job

What a freakin awesome video!! Can't tell it was fan made... Good job bro!

That's a nice piece of work. 'Join the party'... Great tagline too!!!!

Astonishing! Very inspiring!

that was absolutely great video... wish Microsoft marketing team is talented as this guy....

This is worthy of a slow clap. Very well done. MS, make your edits and put this out in the public eye.

After having a Windows phone since Lumia 800 was released...i now think it looks cool as £uvk thanks to this video, how many views has it got? Hope Microsoft see it

Brilliant! Pay the man, Microsoft!

I liked the effects and all. You can tell a lot was put into it. However the soundtrack made my brain hurt.

Microsoft kinda has a thing for showing off only one feature per commercial. This video is waaaay better at showing off what WP has to offer

Damn tht from a fan I'm jealous. Microsoft come on guys people out there making better videos then your advertisement company that's sad. Step up

Wow! Time to post this on facebook.

Definitely these guys should do all the ads for all Microsoft products period

Better than most Microsoft adds.

Agree. Some MS adds are just Lame.

MS should pay contract this guy for more videos! And buy this one from him!

Knock knock Microsoft you got someone to hire

Anyone know the song? I want to always have it playing in the background while I'm doing stuff on my windows phone

Lol its lorde-tennis court -flume remix ,flume is amazing

There are no words that could possibly express my shock of how awesome this is in words, so...
ÖÖÖÖÖÖÖÖ :D

The video is innovative and great but the problem with this video is that only WP users can understand this!

I disagree. Its pretty to easy to understand, and entices intrigue. "Ooo...what was that about!?!".

Darkgift -- spot on mate, then people may look up those apps, to find out what they're about. Also, maybe the young lad could do follow up ads showing what each app does. .........P.S Whoever made the ad, keep up the good work ;-)

Better than Microsoft's haha

That's actually pretty awesome.

Nice AE skills man.. Makes me wanna get a windows phone... O wait, I already do!

Honestly this video was INCREDIBLE BUT the song selected didn't make it justice.

astroXP -- get up to speed mate, it's 2014 not 1994. The ad was created by a teenager, what else would want him to use -- Beethoven? :-/

Whoa! That was fantastic.

This is an incredible piece of work. Awesome.

Forgot notification center. I feel as wp grows people are looking for same features from other platforms but just maybe a different look. Other than that great video

As we say in Holland.....komkommertijd :|

Ha ha, really nice.......
Microsoft need this type of advertisement

Sadly there's no colorfull backgrounds in the actual system.

Maybe it will available in windows phone 9 ;)

Article picture shows store live tiles has 30 updates pending, that's too much.....

I've 56 updates pending to be exact. Also, I use hundreds of apps :P

Preety good video...nice effort.

Awesome! Microsoft should put him in their commercial department!

A great example of what can come out of mixing two passions. I think it's outstanding.

Much better than any WP commercial by either MS & Nokia.. Maybe MS & Nokia should ask for commercial creation by WP Users..

I agree, the public should have some part in what they use everyday but Nokia and Microsoft don't care

Wow the effects in this video are absolutely brilliant, this looks like TV ad quality

This is a fan made? Reminds me of IOS 7 advert.

It reminds you of an apple commercial because it is an apple commercial redesigned for windows phone. I didn't know that but in the creators comments he says its based off the apple "designed together" commercial. I know I'm being a bit of a Debbie downer but this would be a good reason for MS not to use this commercial. I'm a big WP fan. but I'm just saying. http://www.youtube.com/watch?v=cO3rsfE7GM0

Microsoft won't use this. When do they ever use any fan stuff. They just want money to pay rent and buy food and shelter. AKA live a life. I'm now a huge fan of windows phone but I agree. They WONT USE THIS ADVERT.

Although you say it reminds you of a IO7 advert, you can't deny it's a good ad? Come on, the IOS 7 ad was like someone was on 'smack' -- lethargic, and just plain boring. Whereas, WP8.1 ad was like someone on 'crack' -- young, energetic and full of testosterone. To me that's what Microsoft need to convey to potential customers. ***********WARNING*************
I'm not saying 'young people' and 'boring people' take drugs. They are bad for your health!

Microsoft needs to get their hands on this and use it. Pretty impressive. Good job.

The biggest strength of Windows OS, is seeing it in action, the way it transits between screens, they should show Windows is action, not just lame stock screen.

I would love to see this commercial on tv.

its actually a rehashed apple commercial. Its done very well. but people read the creators notes about the video. "The video is based off of the Apple "Designed together" video" http://www.youtube.com/watch?v=cO3rsfE7GM0 so please don't lose you poop over MS not pushing this video. If they did they would probably get a little feedback from apple for it.

Everyone says wp is lame... *shows the finger*

Actually..
iOS = Lame
Android = Dumb
Windows Phone = Modern (Stylish)

Ref Ahmed Jaishan,
I agree. I think the video would have been even better, with some other text. The word "lame" sets a bad tone. Childish?

This awesome video should be a Windows Phone TV commercial.
Hats off to the creator !

Microsoft!! Hire this person!!

Wonderful video. The music, editing, transitions were all really nice!

Great video! Love how it starts with a 1020 - come one MS, tell us about the replacement! And this guy isn't being paid? Some people are mad fir it!

oh gosh!! this thing is turning me on....S-E-X-Y....

Goodbut couldve made it even better & whomsoever he/she is they made other OS look lame.. Hahahha

I think it was poorly done. Anyone can use After Effects. It's the content that didn't really show many of the new features.

Your invited To make a even better One.

Nah, not worth my time. I'll leave that to Nokia's marketing team. Just take a look at the new Lumia 530 commercial and watch it. That showed off a lot more.

This guy Is so much Microsoft that he dint even use youtube! Got to give it to this guy..great video...keep watching it again n again...

That was a awesome video Apple shouldn't mind sense they took a bite out of Microsoft is design apple bitten is a great logo for theme use the video Microsoft cmon;)

Nice video with colors combinations and show all the best features of windows phone that the reason we love windows phone.

That was a awesome video Apple shouldn't mind sense they took a bite out of Microsoft design. A apple bitten is a great logo for theme use the video Microsoft cmon;)

Wow, the kid that made this isnt even 18.

That is nothing short of amazing. The best WP ad ever!

Definitely better than official videos. I'll make it viral on WhatsApp now. :D

Wow.. We can send videos on WA now? :P

Yes. If they are stored in your photo gallery.

Wow... Just wow. Great job from this guy/gal. Microsoft... Take note...

Great video. Microsoft should ask if they can use that for an advert. (and pay him of course)

That was pretty good. think the editing and timing was excellent, the entire video was only good though. I liked it a lot however, but the first two cards with text were unnecessary. The third one was a nice invite to come join. Overall I liked it. Keep practicing!!

Yah kena internet positif, numpang pejiwan aja deh :D

This was a great ad :o Microsoft should totally hire this guy

Ms needs to buy the rights to this video. Its comparable or better than most!

So, I'll just share this on all my social networks... Hopefully some android and IOS friends will reconsider Wp8.1.

Nice, but to fast for me.

For an old Windows Phone fan
....this video...just sorts of rekindles a fire...

Nice video and would not be out of place if it turned out to be a real advert, good work.

Hey ... I am very happy to see my app in this video! The weather app at the end. Color Weather

Wow.. Really nice video..

Really good video :). Great to see just how far Windows Phone has come. All of us here are like part of Windows history (lol, oh them tears in me eyes) ;-).

It's a really nice video, but check this out: http://www.youtube.com/watch?v=cO3rsfE7GM0 This video, that has created by Apple in last September, looks like the same thing, only advertising the iPhone. That's a nice video for a fan, but only I'd you don't know it's source.

It's okay. Should slow it a notch down. Won't make sense to many who have never seen the modern language.

There is something lacking from the video. Maybe it's because of the random order things are shown or of other things missing. In now way I am dissing this. It's a great video and proud to have watched it. This guy should work for Microsoft.

This ad is fantastic! Absolutely finger licking good! Slick as can ever be.

Was that landscape orientation there for a sec? :) Slightly off topic now but I'd really like to see lock screen and start in landscape. I know all the arguments against I'd but... I don't know, I think it would look awesome, especially on devices like the 1520. Windows tablets handle start screen rotation just fine, but for that to work on a phone we would need tile grouping, to avoid utter mess... Anyway, just pondering, that's all. :)

What?!! This looks so awesome! Even better than the ones that Microsoft makes.

Mint video makes me want to buy another windows phone, use my phone, play with my phone!

That ad was amazing. It said everything without saying a word and it did it with class and skill. The recent ads on UK tv actually make me feel embarrassed to own a windows phone sometimes - not because of the phone, I love it - because of the association of the most abyssal tacky ads EVER!

WOW.. Now that's something

All I can say is WOW.
Microsoft should hire this guy!

Awesome video! We should share it on social media to convert our iphone and android friends :).

Its a really cool vid Microsoft should air it :)

Wow. Brilliant fan video.

Hmmmm, looks pretty much like the Google Adverts (Google Now)... even the animation, is OK do!

This is Windows Phone by a true fan! Hats off!

Hey Microsoft! This guy is a must-hire for you.
Love this video.

Enough about the hiring,we can only hope so ,in meantime spread this video around to your friends to help promote the platform

MS can't make a commercial like that. They don't understand 'cool'. Bravo btw, amazing job.

Hey ... I am happy to see my app in this video. Color Weather!

Pretty awesome video! a few niggles like the slider for the volume used and he could have used a more eye catching weather app (really nit picking here :p, anyway it is great commercial ). Goes to show the Marketing team at MS really needs an injection of youth... not a big fan of their Commercials (although they do have a few good ones to their name) however I am a fan of this one! :D

I like it, Microsoft have a thing with people using their logos in things without permission tho so I wouldn't be too shocked if vimo copped a takedown notice, but I think it wad really well done, I like it :)

I'M FROM SAVANNAH GA! Maybe the person who made this video goes to SCAD.

This is exactly what WP commercials need to be!!!

That is awesome! See @microsoft....marketing is not that hard.....can't figure out why you guys are so bad at it.

effects are cool but the music sucked and the video didn't really put interesting features of WP

Can't play it on Lumia 520

We need to kickstart that ad. Maybe Microsoft will wake the heck up then.

At least the first 3 seconds of the video are pure FACTS!!!!!

Very nice video, very well done

I just wish I could use more background colors than just black or white

Very colorful video and made by a boy under eighteen we only have to give him congratulations.

That was an absolutely stunning video. Great background music, and the transitional pieces were epic. This designer should get a job in Microsofts advertising department to spruce things up a bit. I think a video like this would definitely get people's attention for WP. +920

Anyone who doesn't like what this kid did needs to make their own video or zip it!