Windows Phone Game Review: Wizard Wars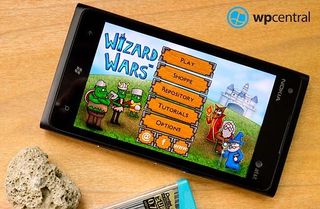 Wizard Wars is a simple, yet challenging tower defense game for your Windows Phones. In the game, Wizard Wars pits the power of wizards up against an invading horde of Wrorcs that are trying to destroy your castle.
Wizard Wars is a nicely animated game that has thirty levels of play. Each level can be replayed to better your previous score, giving Wizard Wars plenty of gaming. In addition to the tower defenses, you can buy special items to give you an edge over the invading hordes. It may not appeal to everyone but Wizard Wars is a nice way to pass short bits of time with and an overall nice addition to the Windows Phone gaming library.
Wizard Wars main menu has options to enter the game, visit the Shoppe, view the Repository (glossary for towers and enemies), view the Tutorial, access the Options (sound/music on or off), and visit the game's Twitter/Facebook/Website pages.
Game play with Wizard Wars isn't much different than any other tower defense game on the Marketplace. You have a road that leads from one end of the screen to your castle. The invading hordes travel this road and it is your mission to place defensive units along the road to wipe them out.
There are four different defensive units; Archer Tower, Ice Tower (slows down your enemy), Nature Tower (poisons your enemy) and Fire Tower. Each tower can be upgraded or sold as the need arises.
In addition to the different tower units, you can spend gold on special items that can be used to defend against the attacks. From the Shoppe you can purchase bombs, repair units, and spells that will give you an edge.
Wizard Wars game screen layout has your vital stats up top that covers your damage to the castle, gold count (used at the Shoppe and to build towers), mana (used to build towers), attack wave, and game timer. In the lower right corner is a pouch that contains the items you've purchased from the Shoppe. In the lower right is a power pip control to access any special powers your towers have.
Towers can be built on any grid that has the tool symbols. Just tap on a square to pull up your purchase menu. Grouping similar towers together boost their power and each tower can be upgrade three times. As you take out the enemy, gold will appear on the trail and you have to tap the gold to collect it. If you don't tap on the gold, it disappears and is uncollected (which kinda sucks). Mana is collected automatically as you take out the enemy.
The game screen will grow beyond the single screen as you progress through the Wizard Wars levels. This adds a challenging element to the game by having to defend a larger area. You can zoom into to the map for a closer look at things but you can't zoom out to eliminate the need for scrolling around to check on things.
At the end of each level, your scores are totaled and coins are awarded that can be spent in the Shoppe. While your gold and mana doesn't carry over from level to level, your coins are cumulative.
All in all, Wizard Wars is a nice tower defense game for your Windows Phone. Graphics are nice, animations good, and the invading hordes will keep you on your toes. Wizard Wars isn't necessarily a game you'll play for hours on end but if you have fifteen minutes or so to waste, it's a good option to help pass that time.
There is a free trial version available for Wizard Wars to let you try before you buy. The full version runs $1.29 and you can find Wizard Wars here at (opens in new tab) the Windows Phone Marketplace.
George is the Reviews Editor at Windows Central, concentrating on Windows 10 PC and Mobile apps. He's been a supporter of the platform since the days of Windows CE and uses his current Windows 10 Mobile phone daily to keep up with life and enjoy a game during down time.
Does anybody remember the game Heroes of Might and Magic?
They should bring that to the Marketplace! I remember a third-party version for WinMo years ago...

Heroes Of Might And Magic = Best Game Ever

A nice animated game that has thirty levels of play. It may not appeal to everyone, but it is a nice way to pass short bits of time with. - Ariella Kapelner

Comes up with a message in marketplace saying this app is not available for my area. :(

We'll look into it Terantek, but it might be a while due to how long the submission process takes for the marketplace. That being said we can't make any promises.

Heroes of might and magic, missed those. Like, N-Gage level nostalgia.

Before I buy this why exactly does the game need to access my microphone ?

It doesn't actually use your microphone at all. The code libraries used for the music and sound effects include microphone functions, so it's automatically listed for the app even though they're never invoked.

Great, cheers for the explanation :)

But now id like to buy it in New Zealand it says it does not work on my HTC titan, this a phone type issue or region lock problem ?

Glad to see that Fletch. It isn't anything to do with region or hardware issues it's more to do with certain markets like Australia and New Zealand require different tax information that we hadn't covered when submitting so we left those markets out for now.
Windows Central Newsletter
Thank you for signing up to Windows Central. You will receive a verification email shortly.
There was a problem. Please refresh the page and try again.