Windows Phone Game Round-up: Doodle Games
Windows Phone Central's round-up of doodle styled games for your Windows Phone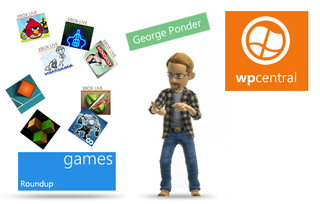 The Windows Phone Marketplace is full of quality apps and games. Each week Windows Phone Central will round-up a handful of applications or games that fit a certain theme. For example last week we looked at panoramic photography apps. Future round ups may deal with sports games one week and news apps the next.
This week the round up focuses on doodle styled games. These are games where the animations and graphics are doodled on to your Windows Phone, often with a graph paper backdrop. We have games where your running a line, dodging balls, and jumping from a perfectly good airplane.
As with every round-up or best of list, we choose the titles that stand out to us. If a title doesn't make the round-up it shouldn't reflect poorly on that title. If we've missed one, feel free to speak up in the comments.
Dodgeball (Free): Dodgeball is a simple game with a simple goal plus the is drawn up rather nicely. The object of Dodgeball is run your stick person along the bottom of your Windows Phone screen to avoid the bouncing balls.
Movement is controlled by tilting your Windows Phone this way and that. Your score is based on how long you survive and the longer you last, the more balls come into play making the game nastily challenging. There are bonus items that drop and Dodgeball has an online leaderboard.
Dodgeball is a free game and you can find it here at (opens in new tab) the Windows Phone Marketplace.
Doodle Invasion (Free Trial/$1.99): Doodle Invasion has a group of pesky aliens trying to invade the local beach. Your job is to defend the beach front with a series of missile firing boats and helicopters. You can corral the invading aliens with a breaker line to delay the onslaught and give your ships a chance to vacuum them out of the water. The ships and helicopters will also prove helpful you take out the mother ship with their missiles.
Doodle Invasion is a decent time waster but while help screens appear as you progress through the multi-level game, there isn't a centralized help section. The game is easy enough to figure out in time but for a while it feels as though you have no idea what you're doing while playing the game. If too many aliens get past your defenses, game over.
There is a free trial version available for Doodle Invasion and the full version will run you $1.99. You can find Doodle Invasion here at (opens in new tab) the Windows Phone Marketplace.
Line Birds (Free): Line Birds is just an enjoyable game to play that is well drawn up and challenging enough to keep you on your toes. The game is a best seller over at the iTunes Store and it's not doing too shabby at the Windows Phone Marketplace.
With Line Birds you fly your birds through a maze, collecting bird seed along the way. Your score is based on how far you travel and each bird has a special ability that can help you get past the dangers. Line Birds is a free game and a nice addition for your Windows Phone. You can find Line Birds here at (opens in new tab) the Windows Phone Marketplace.
Line Runner (Free): Line Runner calls for you to guide a running stick man across a line while jumping over and under various obstacles. Hit an obstacle and you're toast. The object of Line Runner is to see how far you can run before wiping out. The further you run, the more challenging the pace becomes and the higher your score.
Line Runner includes ten tracks to compete on and a practice track to let you get used to the jumping and ducking movements. There's an online leaderboard for bragging rights and you can customize how your name appears on the board. Line Runner is a free app that you can grab here (opens in new tab) at the Windows Phone Marketplace.
Parachute Panic (free trial/$2.99): Parachute Panic is an Xbox Live title that is just wonderfully drawn up and has some of the best background music around. The game calls for you to jump stick figures from a plane that passes across the top of the screen, deploy their parachute and land them safely on a boat that is drifting along the bottom of the screen.
As you progress through Parachute Panic, you have to avoid helicopters that will pass by and shred your parachutist. All in all, Parachute Panic is a fun game and it was one of the first Windows Phone games to add extras such as downloadable ringtones.
There is a free trial version available for Parachute Panic with the full version running $2.99. You can find Parachute Panic here at the (opens in new tab) Windows Phone Marketplace.
Duudle (Free version/$2.99 ad-free version): Any doodle styled gaming round-up would be incomplete if it didn't include the Windows Phone game Duudle. Duudle is a multi-player (up to ten players per game), turn based, online game much like Pictionary (opens in new tab). Players are given a word to illustrate and doodle the best they can. Others take turns guessing what is being drawn.
Don't have the time to commit to a multi-player game? Duudle now has a single player mode with an endless stream of doodles for you to guess.
There are two versions of Duudle available. There's a free, ad-supported version that you can find here and a paid, ad-free version that can be found here (opens in new tab) for $2.99 at the Windows Phone Marketplace.
Doodle Jump (free trial/$2.99): Doodle Jump is another Xbox Live title that is your typical jumper game. You control Doodle the Doodler up your Windows Phone screen. Along your journey you avoid broken platforms, monsters, black holes, UFO's and other dangers.
The goal with Doodle Jump is to jump as far as you can and the higher you make it, the higher the score. Asides from addictive game play Doodle Jump includes achievements, leaderboards and gaming stats. There is a free trial version available for Doodle Jump with the full version running $2.99. You can find Doodle Jump here at the (opens in new tab) Windows Phone Marketplace.
So there you have it. A round up of the doodle styled games for your Windows Phone. Next up... we're thinking sports apps. ESPN, Scorecenter, the SEC app, etc. If you have any suggestions on sports styled apps (not games), feel free to send us a tip.
George is the Reviews Editor at Windows Central, concentrating on Windows 10 PC and Mobile apps. He's been a supporter of the platform since the days of Windows CE and uses his current Windows 10 Mobile phone daily to keep up with life and enjoy a game during down time.
Why are doodle games so expensive?

Error on doodle jump, it says at the beginning (free trial/.99) but at the end has the correct price of $2.99.

That said, there is no reason in the world that this is $2.99 either, this should be at .99 no question.

Plz make free doodle jump plzzzz

Let's Draw from StackPop Studios is worthy of a mention. It's a free ad supported drawing and guessing game.

crazy survival is another fun game to try out.

Don't forget doodle pool!!! Whiiiiii!!!

You forgot the best: http://www.windowsphone.com/en-US/apps/d2ede014-a146-490b-aa62-ea187d217dd1
Windows Central Newsletter
Thank you for signing up to Windows Central. You will receive a verification email shortly.
There was a problem. Please refresh the page and try again.