Windows Phone gets more iPlayer - BBC Radio Player Pro - Exclusive First Look Video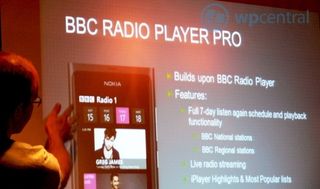 Igneous Software, not content with making their excellent BBC Podcast Lounge are surely striving for greatness with their upcoming launch of the BBC Radio Player. We had previously reported on their plans but were finally able to get hands on demo of it at last night's Windows Phone User Group (WPUG).
The new player will improve on the previous version in a number of ways. The UI has been updated to closely follow that of the official apps on other platforms. Igneous have taken great care to replicate the colours and visual cues from the iPlayer whilst taking advantage of Metro's inherent slick delivery of typography and graphics.
Tantalising Feature Set
Full 7 Day 'listen again' schedule and playback functionality, giving users access to National Stations. What's interesting about this app is that it will actually go further and provide the full schedule for Regional Stations also. That will put is above the current iPlayer offerings available on competing platforms. Pro will also offer Live radio streaming and access to highlights.
So far the full list of features are as follows:
Full 7-day listen again schedule and playback functionality
BBC National stations
BBC Regional stations
Live radio streaming
iPlayer Highlights & Most Popular lists
Recommended alternatives
Episode history
Programme search
List programmes by category
As for availability, the app is still work in progress but we have been told to expect a beta by end of this month and perhaps a launch around August time. Igneous have received a great deal of positive feedback from their BBC orientated products and it's clear that Richard is keen to keep plugging away to bring new features and experiences to Windows Phone. I really like what I have seen so far of the BBC Radio Player Pro, it is a slick implementation of the BBC output.
When this app hits the marketplace, Igneous software look set succeed where the BBC themselves have failed dismally and bring the outstanding iPlayer content to Windows Phone. After all, the BBC is paid for by us all in the UK, I would expect all platforms to get similar treatment to that of iOS. I have often wondered if the folks at the BBC regard the iPlayer as an Apple first product designed to complement the fruit themed technology companies i-devices?
What do you guys think? What happened to the BBC's cross platform availability for iPlayer content? Does the 'I' in iPlayer have a deeper meaning? Are you excited to try Radio Player Pro on your Windows Phone? Do let us know!
If you want to try the existing BBC Radio Player app here is the link. Or for the other apps click here and take your pick!
Please make free gud apps ....

I get annoyed that the BBC are lagging with the Windows Phone platform, but I can understand why. Until it has a greater market share it wouldn't be money well spent.

Robe, The BBC has a commitment to ensure that all the major platforms are covered. They have invested heavily in producing both an iPhone app and an iPad app. Both of which are top quality products and in the UK at least will be reason enough for some to buy these devices. In effect, the BBC is helping cement the iOS devices as the go-to option for gaining mobile access to their content. Windows Phone is not on its own with a lack of support, Android devices have to rely on Flash content to get iPlayer. Quite simply, the BBC are helping ensure that Apple have an an almost exclusive content partnership to sell their wares. The cost of building a Windows Phone client would be negligible for the corporation, consider how much some of the daytime TV they trot out costs to produce. RB

You have a point. It is hard for organisations to develop apps for a platform that has such a small market share. That being said, I think many have started to look at the platform more since the announcement of Windows Phone 8.
The one OS across all devices is a good idea, its great for companies like the BBC as they will for certain be investing in delivering iPlayer for Windows 8 desktop, tablets, XBOX (which has iPlayer now) and by doing so, pretty much means they have delivered it for Windows Phone 8 too. The benefit for Microsoft is that the app store will grow rapidly and it becomes so easy for companies to deliver apps for Windows Phone 8.
I really wouldnt be surprised that in 18 months time we see apps hitting our desktop, tablets and windows phone 8 devices before they surface in iOS app store or Android....

The problem with the BBC is they are not currently making any app for Windows Phone, so far we have seen some excuses as to why but technically it is possible. Until they do commit to producing an app then nothing will change. The total silence from the BBC on bringing an app to the Xbox shows how fickle and lacking in transparency the process is. The BBC for the most part are infatuated with Apple, almost every program and news segment has one or the other featured heavily in it. Their choice to not bring proper clients to either Android or Windows Phone is purely their own, they seem accountable to nobody whilst actually being accountable to everyone. I would love to hear from anyone from the BBC that has a good reason for this.

When porting apps to Windows Phone, I wish they would please drop the silly "i" from the name of the app.

N00b comment - BBC iPlayer has long been the name of the BBC's IPTV catch-up service. ;-)

@RB well said. It really is a scandal, and, as non-partisan, public service funded by us all, should be looked into.

I just love Igneous' apps. They work so well and look great. Podcast Lounge is my absolute fave app so really looking fwd to Player Pro coming along as the BBCs podcast inventory misses out on so many of my fave programmes

It is scandalous (IMHO) the way that the Beeb focuses solely on IOS devices. I have to say I regularly contact them as "mr angry, of Scarborough" to complain about this very issue. They ran an article on (consumer affairs program) Watchdog about "the HTC android phone" (sic) generally slagging "it" off and even managing to work in the very telling quote "its a bit like a poor man's iPhone".
Remember Auty Beeb, I pay for you due to the "unique way that you're funded", so get some work done on other platforms besides your beloved IOS.
Windows Central Newsletter
Thank you for signing up to Windows Central. You will receive a verification email shortly.
There was a problem. Please refresh the page and try again.