Updates on the way for the Windows Phone photography apps Fhotoroom and Fhotolens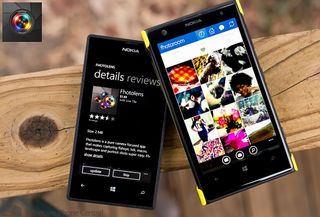 Two popular Windows Phone photography apps are in the process of being updated. Fhotoroom is a Windows Phone app that combines a photo editor, photo-sharing network and camera app under one roof. Fhotolens, from the same developer, is a camera app for Windows Phone 8 that is fitted with a virtual 10-24mm lens to offer a fish-eyed perspective on things.
The developer, Thomas Lock, is constantly working to improve these two apps and has released updates for both the Windows Phone 8 and 7.x versions of Fhotoroom. The version 1.8 update for Fhotolens had to be pulled to address a few bugs and should be rolling out in a few days (submitted for certification this past Friday).
Fhotoroom
The Fhotoroom updates come in two flavors. The Windows Phone 8 version of Fhotoroom has been updated to version 10.3 and mainly deals with bug fixes to the new Film Style filters.
Fhotoroom Windows Phone 7.x Screens
The Windows Phone 7.x version of Fhotoroom goes a little further by updating the app to version 4.0, which adds:
New user interface changes in-line with the Windows 8 version
New Filters (Vibe, Musk, Portrait, and Faint)
New Frames (Round White, Round Black)
Updated Ansel and LowDef filters
Added the ability to block confirmation pop-up windows
Customary performance tweaks and minor bug fixes
Fhotoroom is a fantastic photography app for our Windows Phones and with each update, the app gets a little better. Fhotoroom is a free app that is available for both Windows Phone 8 and 7.x devices.
You can find your copy of Fhotoroom here (opens in new tab) in the Windows Phone Store.
Fhotolens
The Fhotolens update hasn't gone live just yet but we expect it to start rolling out any day now. The update was due to be released along with the Fhotoroom updates but at the last minute, the developer noticed a bug that effected stability and withdrew the update. The stability issues have been fixed and the update was re-submitted for certification. The update should be rolling out in the next few days.
Fhotolens HDR Settings
The update will take Fhotolens to version 1.8 and will include address several camera issues with the five exposure bracketing in the HDR filter. Along with those bug fixes, an Advanced Tone Mapping option will be added to the HDR settings which will improve the dynamic range/quality of the HDR images. This option does add to the overall processing times and will have fast, low, mid and high settings that can be used to minimized the processing time increases.
Fhotolens 10mm Wide Angle Macro Sample
Along with adding more meat to the HDR capture function, the version 1.8 update will address a handful of bugs, such as the one affecting the flash, and a few overall performance tweaks.
Fhotolens may not appeal to everyone but if you're looking for a creative tool for your camera, it's worth checking out. There is a free trial for Fhotolens with the full version running $1.49. Fhotolens is available for Windows Phone 8 and you can find your copy of Fhotolens here (opens in new tab) in the Windows Phone Store. Look for the version 1.8 update to roll out in the next day or two.
George is the Reviews Editor at Windows Central, concentrating on Windows 10 PC and Mobile apps. He's been a supporter of the platform since the days of Windows CE and uses his current Windows 10 Mobile phone daily to keep up with life and enjoy a game during down time.
These are already great apps

Which app does not make yellow wash whenever pic is captured ?My pics are getting affected due to mothafucking yellow tint which is ruining my quality pics :'(

Nokia camera, it is their White Balance that is a known issue, some app try to handle it but it something many are hoping Black update will address.

When you say Nokia camera, do you mean the app or the actual phone camera? My phone has the Black update and its still taking yellowish pictures

well that is not good, when a capture an image the RAW data goes through a hardware level that converts it to JPG, this jpg conversion does things like White Balance, Sharpening, Leveling etc... This is where the problem is. App let users manually adjust to fix this but it should be much better. Any professional photographer will tell you the same thing an i can also direct you to an excellent review from a pro photographer and write who put this in full detail.

he also adds that the new RAW support for the 1020 is great cause it never gets processed.

The highres raw brings some noise to it in my experience, I'm a photographer and used to eliminate noise, but it's hard to do on the 1020 raw pictures. For some reason the processing going on on the phone for jpegs are better when it comes to noise than what I can do in LR or PS.

Are you using the RAW convert in Photoshop to remove the noise or post processing after in 8 or 16bit and do you mean the full res JPG or the 5MP, just curious.

Nokia Camera is getting better and better with its updates. I'm using a 625, hence, the 5-megapixel camera only. But, the pictures I've taken recently were more than satisfying! Colors are great. Oh, by the way, Fhotoroom is a great app, too. Thanks for the continuous updates.

Will be Rich's or Marks next post. Btw when is watsapp update coming??? next week?

Nobody knows :/ I hope it will come in February...

And no news of telegram till now

u ca use migram beta:) http://www.windowsphone.com/en-us/store/app/migram-beta/36c719bc-5460-48...

I don't know how Thomas get these apps and updates done so quickly. He's a machine!!

ty dalydose, i am making another app but it will be exclusive to members only.

Love Fhotoroom. Dev doing a great job...

ty, with the next update of fhotolens i am really trying to fill the HDR and fisheye gap on WP. This update will bring really fancy detailed HDR tone mapping, the kind you see from iOS apps like Pro HDR or True HDR.

Its like these two apps are updated every week...

cause i am always trying to push the app and make it better as WP fan, now considering fotor and avairy both don't develop anything Win anymore. but i wonder.

I was just saying... ur app is already awesome...n brilliant..nd i constantly use fhotoroom...i wish u released..them in a bigger update package...sorry if u felt that way..

I appreciate that, i get a lot of request an never once considered that my updates annoyed anyonye. So i apologize for that. Jumping between WP7, WP8(fhotoroom and fhotolens), Win8/RT, desktop, iOS and the site i sometimes feel like am neglecting Fhotoroom on WP.

I think what vaibhav might be getting at is that apps updated too often risk update fatigue. It's the difference between "Oh, yet another 0.0.1-level update [yawn]," vs. "Cool, look at this awesome update!" Once a month should be plenty often enough.

thank you, but since i have to updated both WP7 and WP8 i have to submit them both every single time. So if i have to fix WP7 bug it locks WP8 until it gets approved and vise versa. Maybe i will spend more time building my iOS app thank you.

I don't feel "update fatigue". I think it's amazing how fast and great these updates are. I actually think we get a little spoiled. :)

Is there any app which has collection of new Sherlock Holmes series??

if what you are fishing for is i think rudy may have an app tv something.

Fhotoroom is such a cool app. Love it!

ty, i think you will also like my next app which will also be free but exclusive.

ty George for the always appreciate the support you have given.

I'm new for these kind of apps... I have 1020 phone so r these 2 apps any good than the Nokia camera? I'll try the free app one and the other that costs money I'll let u guys tell me is it good

things that fhotolens can do that no other app can do. - 5xp Bracketing
- Interactive 10-24mm emulation real time and full screen. (not even mention the quality of results)
- Capture a HDR+Fisheye+Macro or LongExposure+Fisheye+Macro
- Image Viewer with Comparing using Mirror movement to see which is better.
- Only Image Viewer with Full Rotate,Translate,Zoom and work in both landscape and portrait mode.
- I am the only developer to create PointEV metering in the camera with Range control.
- Second fastest camera loading app.
- Fastest HDR capturing. That is off the top of my head of what fhotolens can do that no other app can do on WP. This does not include all the things that fhotolens and other apps can do. And when the next update gets released v1.8 it will produce incredible HDR tone mapping shots the same as you would get from a desktop app.

I don't know if its been asked already..can you improve the post processing or can you avoid those greenish tints in the photos?if you can it would be an instant buy for most of us here...thanks

I can definitely fix, i was hoping Nokia would do it. I will wait a couple of weeks before doing it. I update the apps a bit much seems to be a consenus here.

I disagree with the "too many" updates thing.

ty dalydose, i am at a bit of loss but i can chill out. Just work on my iOS app and my exclusive WP app.

These are excellent apps. I use Fhotoroom and it's amazing. Keep the good work dev!

Windows Phone 7.x Support for the Fhotolens ?

it's just not possible on WP7 i am sorry.

I like Fhotoroom but I'm considering switching to another photo app just because of the constant updates. WP needs automatic updates ASAP, that and the notification centre are the two things I miss the most from Android.

That makes no sense to me. If (for some reason) you don't want to update then don't update. So you are going to go to one of the multitude of apps that never seem to update?

So can both apps edit photos? Or is it just Fhotoroom that can do that?

fhotoroom - network+basic camera+very powerful editor (upto 22MP editing) fhotolens - pure camera app (set point and shoot) + very feature rich image viewer These 2 apps works very closely together and can call each other and even know when one calls the other.

Just curious here.. How come i can't get fhotoroom?? Btw i'm in malaysia using a 1520..

v1.8 of fhotolens has just been approved. Please make sure to try the HDR mid and high processing methods. High can sometimes be a bit extreme and actually bring out even lens specks, then try the mid and it would do the trick.

Please make the G3 and T1 of VSCO cam
Windows Central Newsletter
Thank you for signing up to Windows Central. You will receive a verification email shortly.
There was a problem. Please refresh the page and try again.