Windows Phone RAM capacity now shows up in update for Lumia Extras + Info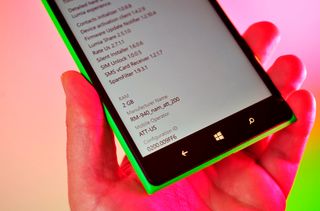 Microsoft has released an update to its Extras + Info app for Lumia Windows Phone devices, and while the change notes claim there are just "general fixes and improvements", it appears that this update adds one interesting feature. It now allows Lumia Windows Phone owners to see how much RAM they have on their device for the first time.
While this is a pretty minor addition, it could be helpful for device owners who might not know if their Windows Phone has 512MB, 1GB or 2GB of RAM inside. Let us know if you see any other changes or improvements with this update.
Windows Central Newsletter
Get the best of Windows Central in your inbox, every day!
Technically, this feature is already present in WP 7. Go to settings> about and you can see the ram capacity :)
Sent from my dazzling white Lumia 620

white shell of lumia 620 gets dirty pretty easily.

Mine is like light cream color by now :D I've had it for almos a year and a half :D

Is it me or is that some sort of a leak/tease with RM-940??

Was thinking the same thing. The only device I know with 2GB ram is the 1020, 1520 and 930.

That's the nokia icon actually. Its not hard to imagine when it says vzw which stands for VeriZon Wireless.

And it shows welcome to denim

I got this too. It was like, "lol, wut?"

Yep i thought when I was sleeping Santa came with denim:D just joking

So we've actually had Denim even before we knew it! xD

Mine is showing Lumia Denim too. We had Denim all along?!

After that update show me"Lumia denim" but I don't have them yet..

https://www.windowscentral.com/e?link=https2F%2Fclick.linksynergy.co...

Would you people pls clear the confusion regarding denim update in India..

Ya man no update for Lumia 525 and 520 here

I have updated my Lumia 520 yesterday to denim!

What confusion? Microsoft release the update and on the next days all devices will receive Denim.

They said its already available in India but its not.. If I uncheck pdf it shows Lumia denim if I check pdf it shows Lumia cyan.. Crazy!

Thought this update would fix that bug

what you are experiencing is a bug. Now regarding the official Denim update, the reason YOU have not received it yet is because it can take several days for your region to get it. India is pretty massive right? so imagine the rollout must take days if not weeks. Be patient. At least some of your people in india are receiving it, its only a matter of time before you do! :)

But you're saying that us PDF users can receive the update from Nokia whenever we are enrolled to the PDF account?

Lumia Play To also updated :-)

OFF TOPIC: hey guys any boy here on instagram

Follow me @apourv1803 for 1020 photography

I will never go Android or apple.. NEVER.. But it saddens me to see how far ahead of us they are.. The loading and resuming screens and the lack of functionality in apps for WP is way too much for my liking:(

The Loading and Resuming screens aren't going anywhere. Why? Because it's there to preserve the battery.
Sorry mate, if it wasn't like this, our battery would last as long as Android phones. ;)

That's why I always closes my app with multitask view and never with back button, after 8.1 update the back button doesn't terminate the app anymore.

I get a day and half on my android.

What's the problem of android batteries? Htc one M8 lasts nearly 2 days, xperia z3 is also impressive

YouTube experience is terrible, also Internet explorer has serious problems rendering pages.

I don't understand how you can say the Youtube experience is terrible, mytube is so elegant and easy to use. I understand if you want the official app but saying our youtube experience is terrible is such bs.

Dear, myTube doesn't show the full description of a video and I don't find any way to reply comments or see replies from other people, so at least for me, myTube doesn't offer a full experience. The web version of YouTube is good, but Internet Explorer doesn't like it. We all know the "Decode Error", but sometimes when I am watching a video on full screen a gray rectangle appears on the screen and then I have to reload the page, also when I try to see the comments while the video is playing my screen goes black and that is crazy lol.

I second that! Things were quite stable before cyan.

Hey regarding the rendering pages, don't you feel the windows central website takes pretty much time to render irrespective of browser or device. I am saying when it is compared to gsmarena or tech2.

That is because the site is bloated with ads. It is terrible experience, and one of the reasons I am not coming here so often as I did before. I HATE it.

Stop complaining and do a hard reset, mainly if you install DP, if you don' do a hard reset after installing developer preview, you will get more resuming and the battery life will be bad.

My phone is not updating to Denim.. But whenever I tick on Preview for developer my extras+info is showing that I have denim and when I uncheck it changes to Cyan.. WTF.

Lol, jst tried it, and does the same as u said :D

Yup I tried same here :-o :D

Looks like you have that bug lol.

You're in PFD, so you have all features that you phone its able to do. What you want? A placebo update? Low end and mid end doesn't need a new firmware to run features of GDR1 (or Denim).

"Lumia Cyan" sucks......"Made in China"....WTF!

I'm sure he's not drunk, he just has something terribly wrong with his head.

Have you been living under a rock or something? China has been the factory of the world for aeons now.


No update on my Lumia 1320.

And now this thing tells me i have Denim, again. I have not!

Technically you have all features that Denim has, but with PFD. Uncheck PFD and come back for extra+info and you see Cyan again. ​

Can you clear something up for me. I thought pfd was for gdr updates and denim is a firmware update. So if I've pfd how did I get denim features?

Yes it is. But what features you don't already have?

OS features != firmware features. OS brings things like Cortana, live folders and action center. While firmware features brings improved imaging algorithms, battery life improvements, and more accurate screen calibration. That's a whole lot of difference.

I know the difference. But, please, show me where did you read that Denim has theses improvements and calibration. The only feature that Denim has it's for Lumia Camera and Hey Cortana, and both are for high end phones.

I don't recall mentioning Denim specifically. I said "firmware". I was trying to point out the difference between OS and firmware so I specified a general example to make my point. And you answered your initial questions yourself, because the ability to record videos in 4K and passive Cortana activation isn't enabled via an OS update, but a firmware update. So those are the features that we don't have on DP builds. And hence the reason why Extras+Info shouldn't be showing Denim in the first place.

Exactly ... 4K and Hey Cortana are from firmware update but low and mid end are not getting these features. So these phones doesn't need a new firmware, that's my point.

And how do you know that nilsderbaer and shishu1 is running on low-mid range phones? Your statement "you have all features that Denim has, but with PFD" is pretty inaccurate and too much of a generalization. It confuses people, especially new WP users.

'Cause it's pretty obvious. And already some others comments from them. I'm not confusing anyone, but MS it is.

Well, I think you are wrong, if you simplify the firmware update just for features you know of. There is for sure more than that, otherwise MS wouldn't bother to update low end devices at all. Why would you push megabytes of data to millions of devices for nothing?

They are pushing for non-DevPreview users. Normal users, so they can get all features from GDR1.

For low and mid end phone Denim will be just GDR1 (to catch up with preview features) and no changes on firmware number. Look at the Europe page update, and check the firmware number for a 520 CV with Denim and a 520 CV without it.

One clarification for all the firmware not yet changed at least for 520 India... And also only update available for 520 in India nothing for 525 it's a mistake....

low and mid end will not receive new firmware, just GDR1 (Denim + 81.1.). There's no need for a new firmware for that features on this devices.

https://www.windowscentral.com/e?link=https2F%2Fclick.linksynergy.co... go and see -_- stupid Microsoft

This is not a great addition or say needless. They should show how much quantity of ram memory an app is using in the task manager and should show the available free memory.

Yes, just like on iPhone and Android... Oh wait!

Field Medic will show memory use, its an MS app. It scales to device memory size as my M8 uses about 1.5gig.

The single most useful post in the entire topic! I follow 3 major WP sites, none of them (including WC) had a damn 1liner about this utility. Where did you get the tip about the existence of this great tool?

I have uninstalled it way before -_-

Getting error while updating this.

It shows more details than mentioned in those two images in the article

For me it did even solve the problem where Cyan was shown in Denim color, and I saw that the firmware update notifier is a newer build.

Go to store > setting > Check for Update

https://www.windowscentral.com/e?link=https2F%2Fclick.linksynergy.co...

If we could see how much is used in real time would be better

Why do you want to know it?

I'm unable to open my extra+info after denim update. Wat is the problem? I'm not in pfd.

I'm on cyan having the same problem. Soft reset doesn't work... Please tweet @WinPhoneSupport for advice..

One problem noticed. The helps+ tips app still shows cyan even after updating to denim.

Lol I feel everything messed up

They also fix that wrong notification "Welcome to Cyan" for Denim update.

what an update!! it took 2 years to add the RAM. in 2019 we will be able to see the RAM usage

I agree, because it is a so needed feature, wow! I will die if I can't read the ram size from my phone... /s

Yep need a task manager which shows ram use.A must needed feature.

I am convinced the windows phone team at MS is kept isolated from the world. They really don't know how late they are at everything they do.

This type of update is making us feel shame on owning a windows phone..

My question is: why do I have Glance Pinboard App Agent installed when I don't have Glance?

But I ain't getting one thing.... That how can someone buy a phone without knowing its ram and den blame the manufacturer that they haven't added the ram display management???

what about equalizer of denim. ​ ​

I can't access my extras+info on my phone... Suddenly crashing... And why is that?

Same problem with my l525
Check this tweet posted by me
#microsoftgonecrazy
It's telling me to buy extrasplusinfo

You should go try get some advice from @WinPhoneSupport.

Extras+ infos not opening when tried saying to buy our uninstall and reinstall

Extras+infos telling me to buy the app or uninstall when I tried to open it. If you don't believe it check the image in(tweet) posted by me
#microsoftgonecrazy

Looks like an update to Rate Us as well. Stoked!

It should be inside Setting-'About' alongwith os details....

My 920 has the latest Cyan and DP, but doesn't show RAM?

Update extra+info and then check

How is it still Lumia Black?!!

Does any one know how big is lumia Denim

Not as big as Cyan, but probably still pretty popular.

with such innovations such as showing me what it says in the box, who needs windows phone 10.

I have just updated and there is a bug cause it says i am already on Demin but that is not true. Does this will afect my phone in getting demin i am still rocking a 920 mx variant

No, you'll get Denim when it becomes available to your phone.

Taking this latest extras+info update has broken the backup feature for apps+settings on all of our phones. The error appears shortly after the backup is ~97% complete. I have isolated this issue to this specific update since on one of the phones, this was the only change made prior to the appearance of the backup failures. 920s with DP updates enabled

Interesting, so the 1020 DOES have 2GB of RAM available to the system...

Nothing here in the US for the 1020.

Wow android has had this for years but it's nice to see Windows catching up after all these years Posted via the Windows Central App for Android

Updated extras+information in 720, Mexico-Telcel carrier