What's on your Windows Phone Start Screen, Mark Guim?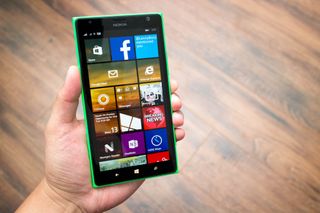 (Image credit: Windows Central)
I've been using the Lumia Icon for a while, but recently switched to the Hulk, also known as the green Lumia 1520. I didn't back up and restore any of my previous items since I wanted to start fresh. I've noticed my new Start Screen is different on the new device, so this is a perfect time to show it off.
Daniel started off the series, with Sam, George, and Seth sharing their Start Screens, too. Read on and watch the video to see what's on my Lumia 1520.
Page One
Windows Phone Store - I like to keep this on top, so I can check on app updates right away.
Facebook, Twitter, Mail, and 6tag - These are my most frequently used apps. As you can see, they are pinned near the top of the Start Screen.
Cortana - I can quickly access Cortana with the dedicated search button on Windows Phone, but I like having it on the Start Screen. The live tile occasionally displays interesting news.
Messages folder - I've included Facebook Messenger, WhatsApp, GroupMe, and the Windows Phone Messaging app in this folder. Most of my friends use Facebook for messaging, while a few people are on WhatsApp and GroupMe. I wish there was only one app that everyone agrees to use, but that's not the case. I don't use the default Messaging app, but I keep it there for important messages from my carrier.
Calendar - I like the default Windows Phone calendar live tile for quick reminders on upcoming events or appointments.
WPCentral - I absolutely love the WPCentral app. This makes it very easy to add comments and replies to our articles. (Store Link)
Breaking News - I like the live tile for Breaking News. If I see anything interesting, I open the app to read more. (Store Link)
Nextgen Reader - This is my Feedly app of choice. This is how I keep up to date with all my favorite blogs and news sites. (Store Link).
OneNote - This is where I write down article ideas for WPCentral. I love that this is cross-platform. I can write notes on my phone, and they also show up on OneNote on my Macbook Pro and the Surface Pro 3.
HERE Maps - When I need to find a place or navigate somewhere, this is my go-to app. It has gotten me lost several times lately, though. I should find alternatives. (Store Link)
Page Two
Photos - Access to my camera roll, screenshots, and other albums. It's not that interesting, but I use it often.
Yelp - This is what I use when I need to find a place to eat. Yelp is especially great when I'm in a new area. (Store Link)
FIFA 15 Companion - This app lets me manage my FIFA 15 Ultimate Team when I'm away from my Xbox One. (Store Link)
Xbox One SmartGlass Beta - Love that I can type on my Xbox One and control video playback from this app. (More coverage, Store Link)
Games folder: I place my current favorite games in this folder. I currently have Pako, Chronology, Neon Battleground, Daddy Was a Thief, and Lep's World 3.
MixRadio - I prefer streaming music instead of downloading and storing them on my phone. MixRadio has nice playlists. (Store Link)
Spotify - When I don't like what's playing on MixRadio, I open this app. (Store Link)
NBC Sports Live Extra - Love this app for streaming Premier League games or watching highlights from games I've missed. (Store Link)
Uber - This is so much more convenient than waiting for taxi or calling for car service. If you haven't tried it yet, you should. First ride is free up to $30. Use code uberapp30. (More coverage, Store Link)
Phone - I don't use this often, but it has to be on the Start Screen.
I like to keep my Start Screen short, so I don't have to scroll that much. The most important apps stay on top. Are there any surprises here? Do you have recommendations? Sound off in the comments.
I organize by grouping, social here, tools there, media up there, decor tucked here, etc :3

I arranged most of transparent tiles on top while the rest are on bottom. Well most of my tiles transparent so it shows somewhat beautifully

Yes mine also like that, transparent tiles are on top.

Yours start screen is really boring mine is an awesome one :) would share it if the option would be available on the app

I just organise by most used, regardless of transparency and categories.

Check out this http://imgur.com/a/NAo04

I just rearranged mine not long ago. Made it a lot simpler. It was kind of crowded.

hey! I'd be very interested to see how your new Startscreen looks like. Many Windows Phone fans already share their startscreens, with Picturex, the app to easily exchange high-quality pictures of any event, here: https://picturex.ch/go/YRwl29 In this free picture album, there are also new awesome backgrounds for your start (or lock) screen you could download. Enjoy ;)

Nice and simple, good work. I have taken a different tack by using multiple folders - social apps and messaging; music including pinned artists and radio/mixes; news; shopping; etc. Folders is one of the greatest additions to the OS. I can reduce my need to go to the All Apps view and keep my background more prominent due to transparency. I can sill see some information without even opening the folder.

My first thought was "who the hell is Mark Guim?". But then i opend the article and saw. :/

Mark seems alright. Ill B back to give feedback after reading the article and watching the video. Awesome.

Mark is or was from "the nokia blog" I think. He's was or is a Nokia enthusiast. Could be wrong.

I don't know. Mark are you from the "Nokia Blog"? Please confirm. Nice home screen. But you are missing a few good apps. Please add OneNote, OneDrive, Games, music+. Excellent home screen review. Thanks

Yup! Used to say "hey Nokia fans!" in my video intros

Hey just a suggestion if you don't like the official Twitter app try using Tweetium app. Its really great! It costs 2 or 3 dollars but its a very great Investment!

I don't think tweetium is on Windows Phone, at least not on mine

Yep! There is a Tweetium app for Windows Phone, and it's very good! :)

Here you go:
http://www.windowsphone.com/s?appid=8f328427-666d-4b6d-8a58-042ff6a17e41

Thought there would be a free trial but thanks anyway :)

Please tell me what tweetium has that the offical app lacks.

Simple and clean, the biggest complaint I get from iPhone or Android user is how messy window phone can be.

I.e. How lazy they are to make it their own.

It's only messy because theirs can't do it

Any Android user who thinks Windows Phone's home screen is a mess has too much lead in their diet!

That's ridiculous. I never hear that. Android is probably the messiest looking OS there is

I agree. Android can look clean if you keep your apps under 8, but when you go any higher then add a busy wallpaper, that's when your eyes began to work for their pay.

And your comment is by far one of the stupidest I've read..android isn't messy you fool.. Posted via Windows Phone Central App

Ridiculous, both Android and iOS are stupidly messy compared to how Windows Phone is. And that is speaking from years of experience, thanks very much. Posted via the Windows Phone Central App for Android

After long i have seen this lind of post

Me and a few others are posting #startscreensaturday pics on instagram. Worth sharing yours and looking at others!

Dude I would love that!!!!!!!!

Cup-O-Noodles for the win!

I think this article was sponsored by them. LOL.

I have my 1520 lined on either side with the smallest icons and all the way down the middle the widest icon. I like it, makes the screen longer as I have several apps I use the wide tile for but its clean.

I notice lots of people don't prefer the smallest setting for tiles. I love the small setting for tiles, it seems most like the medium and wide tile.

the small tiles seem too small for me even on the Lumia 1520.

I use them sparingly. They work well and help add variation to the layout.

:) Always post your background image from now on, you guys know how to make your startscreen look good.

Is it possible to disable the cover image on the Facebook app so that it just shows the icon like in the screenshot?

I use Skype on desktop, but haven't really needed it on my phone. Most of my friends are on Facebook messenger.

I noticed beyond folders, I don't see small tiles...interesting...I use a lot of small tiles...

I feel like they're too small.

Expecting Lumia Denim release officially. ( liked Bluetooth net sharing & live folders very much )

Wouldn't it be awesome if MS added messaging to the people app and let it link to all the big ones like Facebook what's app etc that way ask your messages could come to one spot and when you send a message it found go out on all the synced services at the same time.

Ok on my start screen i have Calls, Cortana, People Messaging, Data Sense Hotmail, Calendar, Battery Saver ,Store, Wpcentral, Storage Sense, Fhotoroom, ESPN NASCAR, Photos, Barclays Mobile Banking, Me Tile, Twitter, TVtag and MSN weather all on one page You can view it here https://twitter.com/ThinkDIGGITYDAN/status/519892495254450176

Lol the phone is at the bottom

That's so strange, not even the people hub.

Not strange, or surprising. People don't communicate via voice on the phone like they once did. I feel so old...

He gets twitter notifications! We hardly get those this days, the twitter app doesn't send notifications for some weeks now

Background pic please? It's awesome

Got it from interfacelift.com

And to think that one of the most often heard/said/written compalints about Windows (phone) since launch is that it cannot be customized...

I try having everything on my icon minimal

Ugh, Nextgen Reader is excellent, but their new Icon is not. Ugly and way too big. The old one better suited a Live Tile that gets three digit numbers on it.

page 1: http://instagram.com/p/uG68uZOCQQ/

page 2: http://instagram.com/p/uG7mJVOCRf/

goes streaming music for like 3 hours a day use much data? anyone!?

I stream at least 5 to 6 hours a day.

and does it use a lot of data? that's what I'm trying to find out

It's kinda relative... How much data do you have to work with? I have 2 gig and never use all of it. But I don't stream over data all that much (but never stress about it). Usually over Wi-Fi.

page 3: http://instagram.com/p/uG7vDPuCRz/

hmm ok. start screen not to my taste but that's the beauty of windows phone. It can be so personal now. I'd like to see the other guys like daniel do a video update like this for their start screens


Same. I love how customizable the Start Screen is on WP! People can truly make it theirs. =)

less icon, more quick ;)
http://i.imgur.com/224RgcE.png

I'm still trying to get used to tiles , I'm so used to android.

Having a bunch of small tiles, and/or just using the Apps List can partially emulate icons found on Android and iOS.

I know what you mean. I was fortunate enough to have a friend show me how the live tile adds value to the phone experience. One of the things that he showed me was you want the apps that utilize the live tiles the best whenever you have a choice. Now I'm frustrated with my iPhone and GS4 because they now feel so primitive and boring.

Starts screen on my 1020 http://1drv.ms/1syWcF6

If you want to customize it with a nice old school bity style, check Pinbits Pixelart http://www.windowsphone.com/s?appid=fad56065-04de-4f70-a92a-940b80559dc1

I keep my most visited sites, like slickdeals pinned in a folder. Beats typing them up every time.

Yo Mark, there is an app called Transparency tiles which can make Yelp, Twitter, Facebook, Here Maps, Spotify, Nokia Mixradio and some more app tiles transparent!

I like how Mark has his messages from various apps all in one folder.

Pieces like this are why I liked the idea of a name-change to Windows People Central.

My screen looks smarter and with my girlfriend so awesome

IMO he isnt really using the best of the tile sizing. With a 1520 your display has more room and could be utilized better IMO. IE...Add a horizontal row of small tiles between google mail and the Cortana row. Make the Store tile small starting on the left and follow with... Store
IE
BBM
Whatsapp
FB Messenger
Messages. This now leaves you with 2 medium tile open spots. Move the Cortana tile next to the Mail til. Now you have a full large tile slot, move the Photo album tile to here. Gives you another beautiful life tile for your "Start page". Customize as you feel from there. IMO, spend more time in the 8.1 Forum with the Start screenshot layout guys. We do good work over there = )

Referring to yourself in the third person isn't awkward at all, Mark Guim...

The folder system is amazing. Totally increases the usefulness of WP..

Still wish games wouldn't show up on app screen (run choice)?

Too bad u can't add pics to post. I have a clean looking start with many me apps at the top like people phone email data sense etc in varying sizes with a large Cortana front and center. Then from there to bottom I have folders organized like my surface pro 3. Example social/media etc. Then on the right of each large folder the primary app I use in that category in medium size. On pro 3 I have groupings that are named and lead in with the large tile. Not the same but close. I wonder about 10.

Why i dont have an app folder on my 720?

This app is only for developers preview. Wait a little and you'll get it.

My Mail app doesn't show the newest emails. This is the default app?

Make sure your email refresh time limit isn't set too far back. It could be data saver also.

Nothing thanks to fucking Verizon

Well nothing since vzw has not released the 8.1 update

Mine is almost in default layout, with the addition of Cortana and Files.

I've also found Here unreliable. Trialed CoPilot and that was very accurate, not as good looking as Here, but better. I'm in the UK though, so not sure if it is as good in other countries.

Not bad. Sam's start screen is really stunning though if comparison was to be made. Sad to not see the baby tiles. I baby tile everything that doesn't have live tile animation. I think it's a waste of waste. Bod acha hey.

That 1520 looks so beutiful! I wonder if verizon will ever get a WP Phablet.

Worstly organized screen. Sorry for that.

My start is cuter than yours, that's all..wish it was possible to post screenshots in the comments section!

You can share screenshots via link

Big icons with the emergency calls.

What is the picture you have on your Start screen? Link or something please.

Many Windows Phone fans and me are posting exchanging our startscreens in a shared photo album using the free Picturex app: https://picturex.ch/go/YRwl29. It's worth sharing yours and looking at others' screenshots!

sorry for being a noob, but how do you make folders like that in the start screen? thanks guys.

hey! You need to have WP8.1 Update 1 installed. Then you can drag an app on top of an other app and a folder is created :)

Many Windows Phone fans and me are posting exchanging our startscreens in a shared photo album using the free Picturex app: https://picturex.ch/go/YRwl29. It's basically a free app to exchange pictures in high quality of an event, e.g. your party, wedding, vacation with the people who matter - but we thought we create an album to exchange screenshots of our startscreens and new background pictures. It's worth sharing yours and looking at others' screenshots!

I can get over the size of that "phone" ( spatula ? fly swatter ? cement trowel ? umbrella ? a child's snowshoe ? ) - dumbest thing I've ever seen used by a human being other than a clown in the circus -which is where is belongs - LMAO !

Am I the only one who doesn't like the start screen wallpaper feature? I keep it dark green, or however Microsoft called it.

DIALER!? :o Posted via Windows Phone Central App

Check out this http://imgur.com/a/NAo04

Messaging app,analog clock tile,cortana,wp central,photos and all of my social apps in one folder,and oh!office!i like to have a lot of live tiles

The 6tag app shows "Instagram" as the app name with a background pic too. How? Mine just shows a the 6tag logo,

Tip: Pin 6tag from within the app instead from the windows phone app list.

I'm surprised to see no weather app and browser on your start screen, Mark. How do you keep up with the weather outside? And how do you... well browse the internet fast?

Internet explorer is there near the top

Ah yes I see now. But how about a weather app on the start screen? I use Forecast both on the lockscreen and the start screen as a live tile. :)

Hi,someone can help me saying how he get to put some apps in a Folder' ..as far as I know it will come in Denim, I was looking on the store but I don't find any app called Folder. I have a L720 with Cyan.
Thanks in advance

Preview for developers on cyan wp8.1

Yours start screen is really boring mine is an awesome one :) would share it if the option would be available on the app :)

Simple but not that efficient for everyone :)

What wallaper are you using
Windows Central Newsletter
Get the best of Windows Central in in your inbox, every day!
Thank you for signing up to Windows Central. You will receive a verification email shortly.
There was a problem. Please refresh the page and try again.