Windows Phone Store Collection: Cute Monsters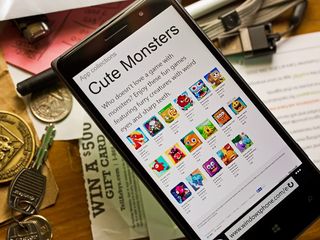 Windows Central Roundup: Cute Monsters Collection
Monsters are often at the center of video game and the titles in the Windows Phone Store is no exception. More times than not the monsters play the role of the villain (often misunderstand) in such Windows Phone games as Evolved: Hunter's Quest or Halo: Spartan Assault.
However, there are occasions where the monster plays the central role in games - sometimes the hero or just the unexpected participant. The Windows Phone Store has put together a small collection of Windows Phone games that feature monsters in a non-adversarial role. The Cute Monsters Collection in the Store is a small gathering of games where the monster isn't looking to destroy civilization.
We've pulled a few of the titles from this collection to highlight in this week's roundup.
Monster Pinball HD
Monster Pinball HD is a wonderfully animated pinball game for our Windows Phone that is billed as simply the most action packed pinball game you have ever played.
The game includes six pinball tables that are interlinked during game play. Just think of it as a multi-level pinball table. Ports will send your pinball to the adjoining tables and it can be challenging to pick up on each table's features as you transition from one table to another.
Monster Pinball HD has a host of achievements you can work towards, some of which will open individual tables up for single table play. There is no transition between tables with this mode and your game play will not go towards your achievements. However, it is a nice feature to give Monster Pinball HD a little variety and the opportunity to practice on each table.
Mechanics are simple. Tables have two sets of paddles (lower and upper) that are controlled by tapping the left or right side of the screen. Your ball launch is controlled by tapping/sliding back on the plunger. From there it is just a matter of keeping your pinball in play and score as many points as possible.
Animations and graphics are well done with Monster Pinball HD and the physics engine replicates pinball action nicely. You can even shake your Windows Phone for a little action on the ball but be careful, shake it too much and you will tilt the game.
Monster Pinball HD is available for low-memory Windows Phones and the only downside to the game is that it lacks a trial version. I do not think you will be disappointed if you take the plunge but it would be nice to try things out before buying.
Monster Stack 3 HD
Monster Stack 3 HD, as you might guess, is the sequel game to Monster Stack 2. The Windows Phone game is a physics based game where you are tasked with stacking an assortment of monsters (both in shape, size and color) to reach a floating piece of food.
Some monsters are square, some are rectangle and some are in cages that bounce around. You work off platforms that may or may not be level and once your tower of monsters reach its goal, things will have to be stable for a few seconds before victory can be declared.
Monster Stack 3 HD has sixty levels of play, along with the ability to create your own levels, share them with other players and play the custom levels they create. The sixty pre-set levels can be rather challenging, testing your imagination, patience and skills at balancing objects to solve the puzzles.
The game is available for low-memory Windows Phones as well as Windows 8 devices. Monster Stack 3 HD may not be the most action packed monster game in the Store but it is a fun way to pass the time.
Cut the Rope
Cut the Rope is another physics based puzzle game in the Windows Phone Store. It is also one of the elder statesmen of Windows Phone gaming with a sequel available ( Cut the Rope Experiments) that is an equally enjoyable title.
The game has you feeding an adorable little monster, Om Nom, candy that is dangling from ropes. While the first level is a straight drop for the candy once you cut the rope, the other 349 levels aren't so direct in their solution.
To add to the challenge of Cut the Rope, as your piece of candy falls towards Om Nom it must collect stars that are positioned around the gaming screen. The more stars collected the better your score and more levels of play will become unlocked.
Cut the Rope is a simply laid out Xbox gaming title for Windows Phone but don't let the simplistic layout fool you. Some of these puzzle levels can be real head scratcher. The wonderfully drawn up graphics and animations are also tops.
Cut the Rope is available for low-memory Windows Phones and Windows 8 devices. There is a trial version available with the full version running $.99. The Windows Phone game may be an oldie but it is definitely a goodie.
Rufus and the Magic Mushrooms
Rufus and the Magic Mushrooms is a casual Windows Phone that has a slight platformer game feel about it.
The goal of the game is to bounce Rufus around the game screen to collect mushrooms that magically appear in the sky. You swipe at the Rufus to get him airborne and continue to swipe at him to move him around.
Sounds easy right? Well…to help make things interesting spikey little balls will fall from the sky and mushrooms will randomly turn poisonous. If Rufus comes into contact with either, the game ends. The longer you survive in the game, the more hectic the pace becomes with more poisonous mushrooms and spikey balls (could be porcupines) appearing.
Collected mushrooms, along with making Rufus happy, will translate into stars, which can be used in the game's store to unlock four costumes, eleven bonus items and five additional worlds to collect mushrooms from.
Rufus and the Magic Mushrooms may not be everyone's cup of tea but I can see it as an enjoyable game to pass short bits of time with or a fun title to add to your Windows Phone's Kid's Corner. Rufus and the Magic Mushroom is a free gaming title and available for low-memory Windows Phones.
All the games in the collection have a certain amount of appeal. Personally, Dragon Mania Legends has been my latest obsession but I do like to revisit Cut the Rope from time to time.
Okay. We have cast the spotlight on a few of the titles in the Cute Monsters Collection from the Windows Phone Store and now it is your turn. Do you have a favorite game from the collection that did not make the round-up? Or is there a cute monster game in the Windows Phone Store that you think should have made it to the Collection?
Feel free to toss out your recommendations below in the comments. And remember, if you try any of these games out be sure to let us know what you think and be sure to rate the game in the Windows Phone Store. It is the easiest way to send feedback to the developer.
George is the Reviews Editor at Windows Central, concentrating on Windows 10 PC and Mobile apps. He's been a supporter of the platform since the days of Windows CE and uses his current Windows 10 Mobile phone daily to keep up with life and enjoy a game during down time.
Sonic is a monster... Right?:P

Well, an anthropomorphic hedgehog. Which is a monster...

Experiments isnt the sequel its actually the 3rd game in the series

It's the sequel to the previous game

Games are joining wp store on supersonic speed

Cut the rope needs to be universal. I don't want to pay for it twice.

I miss Monster Burner. I really liked wasting time playing that game

Didn't know about Monster Stack 3.

No one noticed i think.. :D

Is a Monster Truck a 'monster'?? Hmmmmm.

When I heard the word 'monster' only Monster Hunter comes to my mind lol

You guys should feature RED STRIPE DEALS also.

Needs "my singing monsters from ios/android and five nights at Freddy's Posted via the Windows Central App for Android

I wish you wouldn't say "our Windows Phone", it's so terribly childish.

You forgot Monster Burner!!!
Windows Central Newsletter
Get the best of Windows Central in in your inbox, every day!
Thank you for signing up to Windows Central. You will receive a verification email shortly.
There was a problem. Please refresh the page and try again.