Windows Phone Store Collection: Hidden Object Games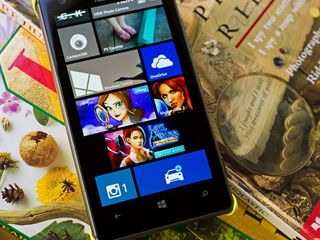 Windows Phone Game Roundup: Hidden Object Games
For those not familiar, the Windows Phone Store has combed through the hundreds of thousands of apps and games to create a series of Collections to help users get started in the right direction. You have Collections for voice command apps, photo apps, Disney games, racing games and more.
This week's Windows Central roundup is going to focus on the Hidden Object Games Collection. These titles offer a casual approach to gaming and call upon you to find objects hidden in plain sight, much as you would find in a game of I Spy (opens in new tab). While the games lack fast paced action, they can still present their fair share of challenges. They test your powers of observation, patience and most will throw in a few mysteries to solve along the way.
Before we get into things, there is a few housekeeping notes to pass on. First, each of the games in this week's roundup are available for low-memory devices.
Second, we kept this week's roundup brief mainly because two developers dominate the Hidden Object Games Collection and we didn't want to be too repetitive. Along with the Disney title, we kept things to a minimum by choosing one of the more popular titles from each of these developer's portfolios.
Disney Hidden Worlds
While Disney has its own Windows Phone Store Collection, the Hidden Worlds game has found its way into the Hidden Object Games Collection. The game has you searching for hidden objects in scenes from several popular Disney movies that include Beauty and the Beast, Tangled and Aladdin.
The game's storyline has you meeting Chrona and the Inklings who are trying to protect the Disney Kingdom from a mysterious villain who is stealing the color from the land. As you find the hidden objects and solve the puzzles, color is restored to the Kingdom.
Not only will you be tasked with finding hidden objects in various scenes but also have a game mode where you have to identify snippets of detail from the scene. Each scene contains over fifty objects and as you progress through the game, the objects become harder to find. If you need a little help searching the scene, you can zoom into the picture and there is a hint button available. Just use the hint button wisely because the hints are limited in numbers.
Disney Hidden Worlds is also available for Windows 8 devices and with as much detail as is in some of the scenes, the game plays nicely from the larger screen of a tablet.
Disney Hidden Worlds fetches a 3.5 Star rating in the Windows Phone Store, which we think is about half a star too low.
Mysteryville 2
When you check out the Hidden Object Games Collection you will notice that two developers dominate this collection. Mysteryville 2 is a gaming title from one of the two developers, Nevosoft, and combines the hidden object game with the mystery of a detective's novel.
The game has you playing the role of journalist Laura Winner who returns to the small town of Mysteryville and must solve the mystery of the disappearance of her friend Bill. The game is full of hidden object puzzles to use to help solve the mystery behind the disappearance as well as plenty of character dialog that offers up clues as well.
To help mix things up a little, Mysteryville 2 has a small assortment of mini-games along with the hidden object games such as jigsaw puzzle, word scrambles and more. You also have a hidden objects mission where the lights are out and you have to use a flashlight to search for objects.
As with all the hidden object games in this week's roundup, you can zoom into the game scenes to help find the items.
At last check, Mysteryville 2 scores a 4.5 Star rating in the Windows Phone Store. Who are we to disagree with 100 reviews?
Left in the Dark
The other Windows Phone developer that dominates the Hidden Object Games Collection is Artifex Mundi. The developer has about two dozen hidden object games in the Windows Phone Store and we tapped Left in the Dark to represent the collection in this week's roundup.
Much like Mysteryville 2, Left in the Dark melts the hidden object games into the mystery of a detective's novel. You find yourself investigating the re-appearance of a ship that has been lost at sea for years.
Game play is a combination of hidden object and mini-puzzle games, all designed to find clues to the mystery of the ghostly ship. Some clues are easily discovered while others will take a little work to uncover. Hidden object gaming segments will let you zoom into the scene to better find things and a hint lamp rests at the bottom right corner to help nudge you in the right direction.
The free version of Left in the Dark has plenty of gaming to give you a feel for the game. You can unlock the full adventure through an in-app purchase ($3.99). Left in the Dark nails a 4.5 Star rating in the Windows Phone Store, which is spot on for this Windows Phone game.
Best of the Bunch?
It can be challenging to develop a hidden object game interesting enough to keep you pulled into the game. All three games in this roundup have met that challenge really well.
Disney's Hidden Worlds has more of a relaxed gaming atmosphere than the other two games. You do have a storyline driving game play but it doesn't have the level of mystery about it as Mysteryville and Left in the Dark. However, by no means does this imply Hidden Worlds is without challenge.
Mysteryville 2 and Left in the Dark are two games cut from very similar clothes. Both combine hidden object gaming with a mystery theatre of sorts. Both games also include plenty of mini-games to help keep the game experience fresh and you will need to stay sharp to avoid missing any clues that may pass by.
I do think the graphics are a smidgen better with Left in the Dark. Mysteryville relies on character photographs throughout the game while Left in the Dark is fully illustrated. It gives Left in the Dark a graphic novel feel and makes the story line a little more intense.
I do not think you can go wrong with any of these three games. All three take the hidden object style of gaming beyond what the classic game of I Spy does with plenty of mysteries to solve as well as items to find.
So what is your favorite hidden object game? Is it one of the titles in this week's roundup? Maybe another title from Artifex Mundi or Nevosoft? Feel free to toss out your recommendations below in the comments.
Windows Central Newsletter
Get the best of Windows Central in your inbox, every day!
George is the Reviews Editor at Windows Central, concentrating on Windows 10 PC and Mobile apps. He's been a supporter of the platform since the days of Windows CE and uses his current Windows 10 Mobile phone daily to keep up with life and enjoy a game during down time.
I hate hidden object games !

i am a guy but i really love hidden object games these games are so cool specialy about games sound

Hidden Object games aren't gender biased ;) I like them only when the whole focus aren't on repetitive hidden object mini games with the same places used over and over again and only the items changing. To be honest they are the only games, well and some platformers, that I play on mobile. They are good time wasters. I love old school adventure games but they just don't work on mobile at least I haven't played one I like yet.

But I think this is a great game. Maybe not for you guys :))

The Disney game crashes all the time and looses connection. That's why it has lower ratings. Why does it need a constant internet connection anyway idk

Hidden object games are a waste of time, money(if you bought it), space, etc. I also hate these types of games. They are more played by the babies and girls.

I love the Artifex Mundi games. I think it's time for me to revisit their catalog...

Normally I dislike hidden object games but Artifex Mundi has some really good selection, hidden objects with a twist in each.

Agreed, I hated them, but got hooked at these ones

I ❤ HOPA's (so does most of my friends). It's interesting that HOPA gamers is a very quiet group, non of my dedicated HOPA friends visit Windows Central, and if they do, they never comment. Artifex Mundi is the best there is. Enigmatis series is my favorite. Artifex also have a close relationship to there customers on there Facebook page, games there I won, or been given games for free by them just for participating in there discussions.

Why do you have to comment if you dislike the games? Didn't your moma teach you? :)

I guess there is a clear divide between those that like and those that dislike hidden objects games. I really like them, especially Artifex Mundi's games. Why anyone would bad mouth this game type and even writing something as stupid as that they are a waste of time is very strange. It's a game and its whole existence is to be a waste of time, a fun waste of time. I guess some people need to strengthen their image of them self and clearly declare there stand point in this very important question. (as I have now) :-)

Mysteryville 2 is not free, at least not for me in Germany. It costs 1,49€ I am not sure if it belongs into this category but I really loved Machinarium
http://www.windowsphone.com/s?appid=8c574a5d-d0d4-4383-8fa5-bb13452af643

Off topic, but on WMPoweruser.com, there are pics of the new MS Lumia 1320. Or it's successor.

Ummm Mysteryville isn't free.

People hating on hidden object games, yet play hidden subject games (angry birds, temple run, candy crush), as in no story or point

I'm gonna try these out. Liked Ada on the RT, and Mundi series, I can understand the displeasure for these games but there quite good if you think about it, especially the interactive cinematic ones. I think there is a need for more blending with other genres - increased puzzles, match three etc.

Love Enigmatis 2 from Artifex Mundi :)

Thanks for this article, i looove hidden objects games! I already played artifex mundi games, can't wait to try nevosoft

Mysteryville 2 isn't free, at least not in the US.

Of all violett is my favourite.

I love the hidden object game

Me also, since FPS and TPS are hard to control with touch screen, hidden object and adventure games strongly based on story and atmosphere are the best for mobile gaming...

"...cut from very similar clothes."

Oh dear - George, I think you mean "cut from the same cloth". It was cutting garments from the same cloth (so they would look the same) that gave rise to the phrase. As for HO games, I think they can be very enjoyable, if they are done well. Like others have mentioned, I think Artifex Mundi do some of the best ones out there - well designed, great graphics, sounds and voice-overs and typically a good storyline to boot. My favs are the Enigmatis series (the voice of the prisoner in #2 is brilliant), the Nightmares from the Deep series, and the Time Mysteries series. Well worth the money IMHO. I've also played Voodoo Whisperer: Curse of a Legend from Gogii Games, which is really well done except for the fact that the ending has been really cut short.

Mysteryville 2 is not free.