Disney Hidden Worlds Review: I Spy with a Magic Kingdom flair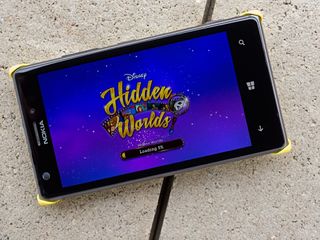 Disney's Hidden Worlds hit the Windows Phone Store late last month and challenges you to find objects hidden in plain sight. A game of I Spy (opens in new tab) of sorts that takes you to three different worlds based on three Disney stories.
The story behind the game has you protecting the worlds of Beauty and the Beast, Tangled and Aladdin from a mysterious villain who is threatened these worlds' existence. You team up with Chrona and the Inklings to keep these worlds safe and restore their story lines.
While the game is fun with Hidden Worlds, I couldn't help but feel navigation could have been a little less busy. Nonetheless, Disney's Hidden Worlds has plenty of picture puzzles to solve and, overall, is a fun title to add to your Windows Phone gaming library.
Hidden Worlds Layout
Hidden Worlds has a user-friendly layout that sends you directly into game play from the get go. When you launch the game, you immediately meet Chrona who is seems to be the caretaker of the three worlds involved in the game. Along with a band of misfits, the Inklings, Chrona protects these worlds from danger and keeps things running smoothly.
A dark ink (that looks like fog) falls over these three worlds and a mysterious villain is threatening to disrupt these three stories. Chrona greets you from the start of the game and walks you through game play rather intensely over the first few missions. Chrona and the Inklings will maintain a presence throughout the game, leaving very little guesswork with missions. Which is a good thing in that there is not a help section that you can tap into for reference or how-to directions.
You still have to do the heavy lifting in finding the hidden objects in the various picture puzzles.
Speaking of which, each picture puzzle represents a key movie moment from the Beauty and the Beast, Tangled or Aladdin. Each picture will have over fifty hidden objects that you'll need to identify through various missions. There will be puzzle where you are given a word description of the item you have to find or a thumbnail section of the picture you have to identify.
The game has a few menu displays that are more or less world maps. There is the Worlds View that displays all three worlds you must protect, the individual view of each world and Inkspire. Across the top of each menu view, you will find your experience points/level, your energy level and your gem counts. Energy is used to take on missions and both gems and energy can be purchased through in-app purchase opportunities that range from $.99 to $99. Fortunately, your energy will be replenished over time and as long as you pace yourself, you should be able to avoid the IAPs.
Gaming world views are laid out in similar fashion with missions or quests line the left side of the screen. In the bottom right corner of the screen, you will find options to visit your Friends hub, visit the craft center and find a mission to play. The Friends Hub is where you can chat with Facebook Friends and gift items or energy.
You also have an Inkspire Button that sits about mid-way up the right side of the screen that sends you to Chrona's world that serves as a gaming summary area. Tap on each section of Chrona's world to pull up gaming stats, missions that need to be completed and more.
Hidden Worlds Game Play
Game play with Hidden Worlds isn't very complicated but has many facets. You have to tackle a series of missions or quests to restore order to the world you are visiting. Along the way you will collect items that can be used to craft items that will also help you restore the story line of the world.
The primary game is where you are presented with a picture and have to identify hidden objects from within. You do have hints available and the quicker you solve the puzzles, the higher your score.
Find the object and tap on the screen to pull it out of play. The game does register taps that are not correct so you'll need to be careful at randomly guessing. If you get stumped, there are hints available to highlight the area of the picture you need to concentrate on.
As you solve the puzzles, you will earn items (ink, paper, etc.) that will be used to craft special items to lead characters back on script or to upgrade buildings to restore them to their old selves before damaged by the ink fog.
You may find yourself tackling the same puzzle twice to build up your inventory to craft the needed items or upgrade a building so you can advance to the next mission. As you advance through the game or re-play the same picture puzzle, the difficulty of finding items increases. Luckily, you can zoom into the picture to help you find the items.
Again, you final score is based on the accuracy of finding the items, the speed in which it is done and any consecutive items you discovered. The more points, the more stars you earn and the more items you can earn as well.
Overall Impression
Disney's Hidden Worlds is a fun, challenging game but game play seemed to be all over the place at times. While there is game structure, if Chrona didn't pop-in to make sure you were headed in the right direction I could see players getting frustrated and lose interest quick.
Hidden Worlds isn't a terribly hard game to figure out, there is just a lot to digest.
As far as game performance goes, the puzzles are well drawn up and challenging. The only nit I have is that at times the touch screen can be a little difficult. There were times I would have to double or triple tap an item before the screen recognized things. You do hear a little jingle when you tap the right item but I would like to see some form of feedback on a wrong choice as well to avoid constantly tapping an item.
I've gotten used to Disney's IAP's and have learned to pace my game play. While the energy supply is limited, it will replenish in time and to avoid the IAPs all you need to do is pace yourself. This will also help the game from growing stale too quickly or you finishing all the missions too soon.
While I wouldn't mind seeing a better organized menu structure as long as Chrona is around I cannot complain too loud. Overall, Hidden Worlds isn't a bad gaming title from Disney. I don't think it will top Maleficent or the Where's My Water series from Disney, but it is worth checking out.
Disney Hidden Worlds - Windows Phone 8 - Free - Store Link
Disney Hidden Worlds - Windows 8 - Free - Store Link

(opens in new tab)
Windows Central Newsletter
Get the best of Windows Central in your inbox, every day!
George is the Reviews Editor at Windows Central, concentrating on Windows 10 PC and Mobile apps. He's been a supporter of the platform since the days of Windows CE and uses his current Windows 10 Mobile phone daily to keep up with life and enjoy a game during down time.
Are you guys going to review GT Racing 2?

It's difficult to get a kid to pace themselves, if the parents don't allow the IAP the kids won't play this for long.

Disney should fix Words of Wonder first. The game is too buggy and crashes all the time. Also it's pathetically slow! Further the only way to increase your gold is to buy it, no way to earn it through game progress. I really wanted a game like 'Bookworm' by popcap, but couldn't find any. -Lumia 920 with WP8.1DP

Say NO to microtransactions! XD

Disney can sod right off with putting £99 IAPs in their children's games. Boycotting permanently.

I would really want to play it, but on 1520, this is bot an option. It freezes the device, every scene has constant graphical glitches making it impossible to play them, and on top of all that, even when I close the game properly, it NEVER saves and restart my profile from the tutorial. This is the only game or app I've had so far that was buggy and making my phone crash, and aeeing this coming from Disney who has many many awesome, top-quality games oit there is more than disappointing.