Windows Phone Store picks up a minor update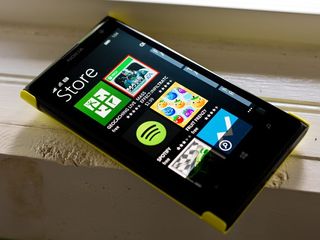 Looks like the Windows Phone Store picked up a UI update that now features a description of the featured app. The tile size of the featured app has also been changed, and is now significantly larger than others.
Other than the change to the homepage, we don't notice any other updates to the store. It is likely that the new layout is being rolled out across regions, so all users may not see the new layout just yet.
How are you guys liking the new layout? Let us know in the comments.
Thanks everyone for sending this in!
I was surprised. The first app tile is pretty huge on my Lumia 1520.

Does it just come or you have to update it?

Its a backend update you don't have to do anything.

Alright cool thanks dude:-)

Yaw my fellow Ghanaian, it will just come. You don't need to do anything.

Kenzibit.. You here in Ghana??.. What phone do you use??

Yeah in Ghana and I use L920

Is not the first time I saw this change

Yes it just came since the flipboard came at the same time.

It also happened a week ago too, so not updated now..

I saw it last week and I thought I hadn't seen or paid attention to it before.

So the capital S in Store is here to stay?

Yeah!!! big future in there

The store needs so much more!!!
- viewing the developer's website and the support email address on the "details" page
- show entire update history, not only the news of 1 version
- filter searches bei Suche
- filter reviews by current version/all versions
- showing IAPs directly in "details" page

I would like to add Video previews like on Play Store, sometimes images isn't enough. ;)

Yeah that would be awesome!!

That's why we have TRIALS

Yeah, but not all apps do have Trials. Another thing Video support on Store give developers richer advertising for their apps.

is not the same thing tbh

Would be good to have trials and videos though, the more options the better.

Videos would be a cool add on to the window store especially if it plays nicely in the store not some redirect to google tube.. Having app trials is great for the store but a short trailer will let users know if that game that's 1gb is worth the download. Its quicker to stream a short video then download a large file.

Show the downloading speed and progress bar

Isn't showing on my 1520 in the UK. Yet...

Not in India either...... Yet.

Not yet for me, here in Romania on Lumia 1520

No link its automatically done

Nice hope more changes in the UI to come. Like the transparent image in the background in WP8.0 I really miss it.

To be honest, I really miss the store homepage from WP8.0, it was simply *faster* and better. Otherwise, I like everything about the WP8.1 store.

+930
The black background is just too boring, right? ;)

Yep, missing the exact same image background in the Photos hub.

Thanks for the info..been like this for two weeks.... Was wondering myself.,

Does the store scale well on the Lumia 1520?

Yes, looks good as they did it, could use nice background

they should get back the app album art style which was there on wp8.

Seeing in India from yesterday onwards.... After the subway surfers update notification came...

Really? Haven't seen it on my 520 yet

Had been seeing this for a week now....

Already seen when Microsoft published Age of Empires.

Saw it this morning now its gone.

It was showing but now again its normal for me...

Yeah..!! Great i saw it way before this about 4 hours ago... In India.. But the featured ago tile is very large and in fact for me it shows Subway surfers, which i just updated yesterday.. So it doesn't recognize already instated app

I think I saw this when Flipboard was officially launched, and get featured on the same day. last week maybe?

Exactlt, you're not the only one to saw this ;)

Yes!! Same here with Flipboard.

Not showing any differences in my Lumia 720 India...

Same here as with Lumia 720 in India on wp8.1 with Lumia cyan.

mine also not showing any difference,720 India

+520 Posted via Windows Phone Central App

So when do we get the option to 'organize' our purchase history by allowing us to DELETE, duplicated, 'no longer available' apps, and/or at least allow us to alphabetize our purchsed apps?? Anyways, the update was timely as I have just full-flashed one of my Lumia 1520's. Yeah it's showing, alright.

Yeah there's some apps I've tried that I don't want my g/f to see I ever installed :-P

Tile was already large for flipboard few days ago without this update ! ;)

This is not an update, but server change from Microsoft side I think. This change is depending on some apps arrival.

I noticed this when flipboard was officially released. I asked within that article but got no reply. Glad to see some of the promised improvements coming through. Now for the games app please MS.

I would love to be able to filter my searches. For instance, when I type a search in the search bar, I'd like to have the ability to sort the results by rating.

Agreed. The store is so basic, they need to add features like sorting and filtering that we take for granted on websites these days.

Honestly I'm not a big fan of the store layout, I'd prefer something closer to the iOS app store or Google Play Store layouts

Then go get an Android or IOS device Too much complaints from WP users, freakin boring!!!!
If u don't like something get a 'better' version

"Hurr durr, Windows Phone is perfect, it can never be improved" stfu you flagrant fan boy. I use a Windows Phone because I prefer it, but idiots like you don't seem to grasp that there's still room for improvement.

Really! U resorting to insults and baseless assumption? No need to argue with you. No smartphone OS is perfect, WP needs to be worked upon more true. But trying to make it look like IOS/ Android? I just don't get that. Thanks for ur reply

I never said anything about making the whole OS look like iOS or Android, but the store layout is not good, and it would benefit from having a layout closer to the preexisting platforms.

Yeah improvement not copying you don't like it cuz it don't copy from IOS and android but that's were I think its cool WP beat the a rythm of its own drum

No, I don't like the store because it's rather ugly.

I don't see that in my HTC 8X united kingdom

Good observation, I didn't pay much notice at the store this morning. Its always great to see changes and improvements being made.

I hope that was a reason Store was slow and wierd last few days. :) Now it can be normal again! :)

Does the store tile work now? (no change here in Sweden yet)

I think this is still only for the US. Maybe this will change in Denim release.

Almost as great as the Material design update of the play store:) just kidding

Looking nice. This UI update. :)

I noticed that on my 1520. Iraq (US Region)

Ohh yes's...want more update..

Waiting in Germany too!!!

Still can't get the live tile to work! Any ideas?

Check ur STORE settings
Then choose
Allow tiles to update via Wi-Fi

Saw dis mrng and now its not appearing i dnt knw y

No wonder it looked different.. I was like what!

I saw it and was shocked. Looked weird at first but it's nice.

Nothing changed. #Lumia_520 #India

It's still the same, nothing changes.

Maybe they're hinting at a new tile size!

On the subject of the store, does the live tile work for anyone? I'm on a Lumia 930, so thought I should get a store live tile.

This feature is a bit oldie. I have this since a month ago

I just want a white version of the store!

But store UI still sucks...not even close to what google has done to theirs

Microsoft isn't google thank god and WP ain't android why does everyone want WP to look like android its unique and that's what I like about it and I'm glad it don't look like that abomination that is the playstore

I'm no Google fan, but there's always the odd thing that they get right and when that happens it'd be good if MS added those features if it'd make their own products better. It wouldn't take away from uniqueness of WP.

actually u told what i was tryn to say...

I think i know the answer:
Anytime an App requires an update, the home screen on the Store, displays those apps with larger sizes, the app with most Mbyte gets the largest screen space. Viola!!!! My thoughts! Those who have all apps updated check your STORE again, it would be back to normal.

I dint get any new feature! neither the live tile nor the UI change. I'm from India can anyone help me with this?

No change here yet on Lumia 1020 in the U.S.

It's definitely looking much better than the previous UI.....

India l720 - store looks like google play

The store is like before only from india

WP store is horrible. There's no wishlist and you have to swipe twice just to see the size of the app.

Cry little more that it ain't like google play ah hell with it people just will never understand or give a shit

Still nothing here in Malaysia, on a Lumia 1520

Yep id like a wish list too. Hope that will be available

Why do you want pr need a wish list if you want it download it

No, lets say I want to keep it in mind but dont want to download as yet, or maybe my sd card is out of space.

Wen this update comes to India???

Not yet available on my 1020 here in the US.

I lost my lumia 625 today... can anyone suggest me how do i track it? Its a inlocked fone, i m from india.. n currently the fone is switched off Posted via the Windows Phone Central App for Android

Go to windowsphone.com and log in, from there you can select find my phone. Not sure how much it will help if your phone is switched off. It might not work at all.

They need an X in the text entry bar to delete search text. Also when you tap the text field with a writers already in it, the word should be auto selected so you can stay typing a new search without having to highlight and delete manually.

They need an uninstall button in the store for broken apps!!!! I have apps that aren't shown in the app list!!

Anybody have they fixed the issues of slow download speed of apps on High speed Wifi ?

Can't tell if I got this update.

I honestly have not noticed this yet

Wish they'd fix the bug on updates where if you click on the app half the time it never loads the "what's new" section. Not that developers fill that in as much as they should, but that's another issue.

Does the front page of the store support light theme yet?

Am I the only one for whom the automatic app updates don't work?

Why aren't the app reviews in store sorted by date with the most current ones listed first? I am tried of scrolling through reviews of old app versions to see current reviews.

+ to that. Old format was better w/ current#1 being first!

Does anyone actually use any of the features of the Windows Phone Store? I use it for checking for updates and if I'm looking to install a specific app. I don't use any of the Quick Links, I don't use the categories, I don't care about the "for you" list, or any featured apps. It's mostly a wasteful app for me.

I think it should be slightly smaller, ridiculously big.

Nothing in Canada, I'm guessing it's a slow update :P

More try apps, bought Plex for phone and is useless w/0 PC.

Any news about the extension in more countries (like Italy) of personalised app reccomendations?

The Store needs a wishlist feature and a far better search engine. I don't care about cosmetic changes.

Why doesn't my live tile work on Lumia 930 dev prev with latest update?

How about MS fix the in app purchases! I paid to have the ads removed in the vastly superior Modern Music app but a few week back it started to show them again.

Nope no UI update in store yet. However I was receiving errors while accessing the store early in the afternoon.

I wish the store looked like the Xbox one smartglass storee

Not in my country yet... but it doesn't look good,,,

No updates is being seen in India till yet

And Ms plz bring popular app and games of android and ios to windows phone like candy crush and all.....

Two days and nothing still in India.

3 days and still nothing here for me in India

No any changes in lumia 720 india
Windows Central Newsletter
Get the best of Windows Central in in your inbox, every day!
Thank you for signing up to Windows Central. You will receive a verification email shortly.
There was a problem. Please refresh the page and try again.